Best Luxury Hotels in Siem Reap, Cambodia
Behold: Seven exquisite oases in the heart of Siem Reap, or in the lush countryside surrounding the lively Cambodian river town.
See All Siem Reap Hotels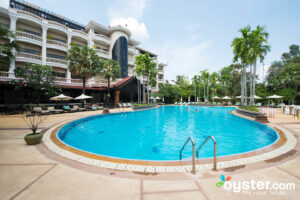 The Privilege Floor @Borei Angkor is a VIP-style stay available exclusively to the 4th floor guests of the Borei Angkor Hotel. These 19 rooms are stylish enough, with polished wood floors and furnishings and brass accents, but their main draw are the additional perks, such as free minibar snacks, laundry, and breakfast with extended hours. Guests also receive access to the private Damnak Lounge where abundant free drinks and tapas are served with a sunset view. And then there's the rest of Borei Angkor's fine facilities, which are also available to Privilege Floor guests, including Siem Reap's best spa, a large wonderfully equipped fitness center, and a free-form pool. The only drawbacks here are the high price tag (as expected) and the location, which is out of the main tourist area and slightly farther from the temples at Angkor compared to other resorts.
One of Siem Reap's finest hotels, the Park Hyatt is a luxury property located right in the center of downtown, yet hidden away from the hustle and bustle of its main street. The stunning public spaces provide an oasis of refined charm, as is apparent in the Courtyard, a rectangular terrace with hanging daybeds gazing onto a banyan tree illuminated by torches at night. Traditional Apsara dancing is performed here almost nightly, and food and drinks are served, too. The 109 guest rooms are all elegantly decorated in Khmer and contemporary decor, with high-end details such as Nespresso machines, wall-mounted media-hubs, Italian marble bathrooms, and sunken tubs. The one drawback, rooms lack a view or any outdoor space. Two swimming pools are on-site as well, along with a world-class fitness center, a fine spa with a yoga room and steam room, and several chic and upscale drinking and dining options.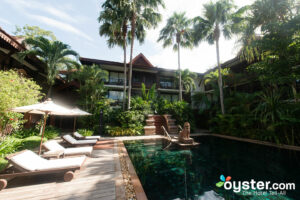 The Belmond La Residence d'Angkor is a small luxury resort with 62 rooms set along the Siem Reap River, just a short stroll from Pub Street and the Old Market area. The elegant resort has handsome teak and Buddhist art throughout, and rooms offer a sharp contemporary style with local accents. In-room amenities include DVD players, iPod docks, and flat-screen TVs, plus lovely balconies or patios. The resort has a garden swimming pool, an excellent spa, fitness center, and two excellent restaurants, along with an upstairs bar.
The Raffles Grand Hotel is one of Siem Reap's oldest and finest properties. With a colonial building dating from 1932, featuring a cage elevator and French gardens, this luxury property is set across from the Royal Palace and is thus centrally located. It's a 10- to 15-minute drive to the airport and Angkor temples, and 10 minutes on foot from downtown and plenty of restaurants and shops. Rooms here are stately, and elegantly furnished with fine wood floors, Cambodia objects d'art, and colonial-style furnishings, and have bathtubs with signature toiletries and handmade silk bathtubs, plus modern conveniences like full minibars, flat-screen TVs, and free Wi-Fi. The hotel has a bevy of facilities, from a huge swimming pool, well-equipped fitness center, and world-class spa with sauna, steam, and hot tub to a host of fine dining options, colonial-style bars, high-end boutiques, and art shops.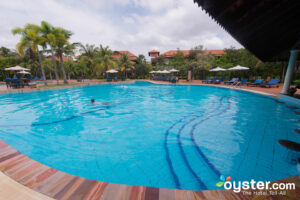 The 260-room Angkor Palace Resort & Spa is a luxury hotel in the quiet countryside outside of Siem Reap. The sprawling grounds include a driving range, tennis courts, and a large free-form swimming pool, plus the hotel has a fitness center and large spa. Rooms, suites, and villas are elegant, with polished wooden floors, teak furniture, and modern amenities. Three on-site restaurants include a traditional wooden Khmer House serving authentic Khmer cuisine. While it's a 10-minute drive from the center of town, a free shuttle is a plus, and rates aren't nearly as high as other luxury properties in the area like Raffles Grand Hotel d'Angkor or Borei Angkor Resort & Spa, making this resort a great value.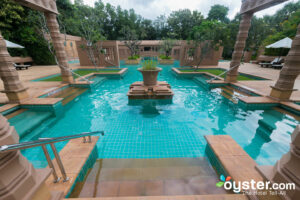 The 213-room Le Meridien Angkor is a secluded luxury hotel set on gorgeous grounds that's outside of Siem Reap, on the road to Angkor Wat. Rooms are spacious, with fine wood floors and Khmer art pieces, while bathrooms feature separate bathtubs and walk-in showers. The hotel has a wonderful outdoor swimming pool set in an Angkor temple re-creation, as well as a fitness center and spa. Dining options include two restaurants, a sophisticated bar, and lobby lounge, but expect high price tags. For a luxury option that's closer to the action in town, travelers should consider the Park Hyatt Siem Reap, though rates will be higher.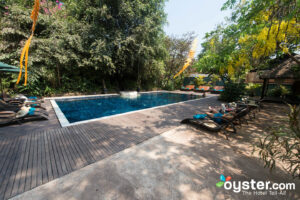 The Heritage Suites is a small boutique hotel with only 26 rooms that have fine wood floors and premium linen, along with espresso machines. Suites feature outdoor showers in stone gardens, plus steam rooms and roll-top tubs in each open-plan bedroom. The hotel sits off a dusty road outside the town center, but it is away from the tourists and feels very local, not to mention its location also makes it closer to the temples of Angkor than other hotels. The Heritage Suites also has its own restaurant and bar offering fine dining, and there is a small spa and inviting swimming pool on the premises as well. While the standard rooms are slightly subpar compared to other upmarket spots like Shinta Mani or the Victoria Angkor, the suites at Heritage offer numerous amenities -- but come at prices that reflect this.