Best Boutique Hotels in Central Business District, Singapore
Take a look at the best boutique hotels in Central Business District.
See All Singapore Hotels
The 37-room AMOY by Far East Hospitality is an upscale boutique hotel created from a temple and historic shop houses. Its location in the Central Business District and close to Chinatown is ideal for both leisure and business travelers, with numerous shops, restaurants, businesses, and attractions nearby. It's also just a five-minute walk to the MRT station. Historic rooms are charming and feature traditional Chinese furnishings alongside sharp contemporary accents, although they can be small. The list of freebies is long, including airport transportation, a welcome drink, breakfast, minibar items, Wi-Fi, and parking, though features are thin. Travelers looking for a nearby boutique hotel with more amenities could check out The Scarlet Hotel, which also has lower rates.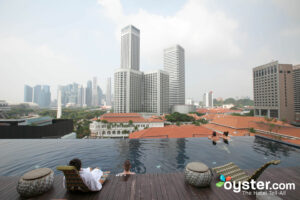 Naumi Hotel is a super-stylish, upscale boutique hotel located in Singapore's business district, surrounded by excellent restaurants and high-end shopping. While the hotel's highlight is the superb infinity pool with awesome city views, the 73 guest rooms are also impressive with outstanding technology -- though beware some are small and windowless. The Naumi is one of the most hip and happening hotels in the city, but if travelers want something a bit more traditional, the Conrad Centennial Singapore near the marina offers a good alternative.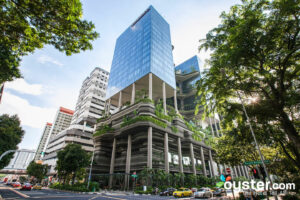 PARKROYAL on Pickering is the most luxurious of the PARKROYALs in Singapore, offering 367 spacious, stylish rooms housed in an impressive high-rise inspired by terraced rice fields and teeming with lush sky gardens and green walls. A dedicated wellness floor includes an outdoor infinity pool with scenic city views, poolside bar, cabanas, spa, fitness center, and an elevated garden walkway. There's also a trendy restaurant, a patisserie, and a bar on the ground floor. Guests staying in the upper-category Orchid Club rooms and suites have access to free breakfast and drinks in the rooftop Club Lounge. With views over Hong Lim Park, the hotel is a short walk to Chinatown, Clarke Quay, and Marina Bay. Travelers might also want to check out the Conrad Centennial Singapore, which has similar amenities and offers lower rates, though the ambience is decidedly less extravagant.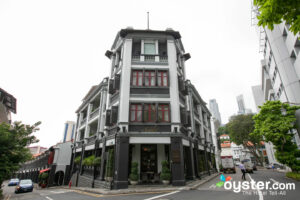 Located near the lively Chinatown area, the 80-room Scarlet Hotel is an upscale property that is a good fit for couples. The interior has a swanky, romantic vibe and there are intimate places to relax while taking in the city views, including a secluded hot tub and a rooftop bar. The rooms are chic and cozy, though some are small; the suites are more spacious and stylish. The hotel offers a competitive rate given the convenient location, and guests will be hard-pressed to find a better upscale hotel for the price nearby -- though those willing to spend a bit more may also want to consider the Sofitel So. Wi-Fi is free throughout.
The Hotel Kai is a stylish three-pearl, boutique hotel in the City Hall neighborhood, within walking distance of public transportation options. Its 33 rooms maximize their space with white-on-white decor and smart layouts, but entry-level units are tiny. Some larger rooms have microwaves and washers and dryers. A free breakfast is served in a long, street-facing room with exposed brick, where drinks and casual fare are also offered. Travelers shopping around for a boutique property in the same neighborhood may want to compare rates at the Strand Hotel.
Naumi Liora is a three-pearl heritage hotel in Singapore's buzzing Chinatown. This boutique property occupies a row of burnt-orange 1920s shophouses and brims with traditional details like Chinese double-leaf doors and preserved original timber floors. The 79 rooms are chic and comfy, with amenities like air-conditioning and free Wi-Fi -- but they are tiny and some lack windows. Features are limited to a free cafe breakfast and a help-yourself sweet-treats station, which is a cute touch. The small rooms and at times claustrophobic feel won't suit everyone, but with the right expectations, this is a good-value stay in a charming heritage property. For a more upscale vibe and additional swanky features, it's worth checking out The Scarlet Hotel instead.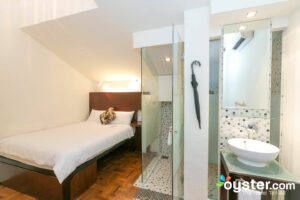 The Hotel 1929 is an upper-middle-range boutique located in a historic building just outside Chinatown, near nightlife, restaurants, and public transit. It has 32 clean and stylish rooms (including single rooms) and is known for its eclectic chair collection. While rooms are on the small side (some are teeny tiny), they offer flat-screen TVs, iPod docks, mini-fridges, smartphones, and free Wi-Fi. Glass-enclosed bathrooms lack privacy, but they're clean and modern. The hotel has a nice, modern restaurant, but lacks a bar or wellness facilities. For a more business-oriented property and extra amenities (like a pool and spa), travelers might consider the M Hotel Singapore, though it lacks the ambiance of this boutique property.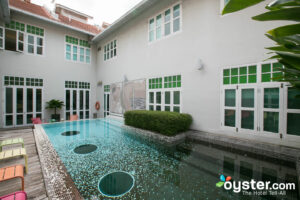 The New Majestic Hotel is a small, historic boutique just outside Chinatown. This stylish hotel has 30 individually decorated rooms with great amenities including Nespresso machines, Kiehl's toiletries, and plush bedding. While rooms are modern and comfortable, most are small and have glass-enclosed bathrooms that don't offer too much privacy. Hotel highlights include a nice pool, a modern Cantonese restaurant by acclaimed Chef Yong Bing Ngen, and a small fitness center. The location is also walking distance to nightlife and the night markets.