Best Boutique Hotels in Rochor, Singapore
Take a look at the best boutique hotels in Rochor.
See All Rochor Hotels
Located in the Jalan Besar heritage district, The Vagabond Club is an upscale boutique property that's packed with vibrant style. Rooms here are on the small side (the suites are bigger, of course), but all 41 of them are gorgeously decorated. They also come equipped with high-end amenities, including Egyptian cotton linens, well-stocked minibars, Nespresso machines, and free smartphones with unlimited data. Features include a well-equipped fitness center and an Executive Club in the lobby, where club-level guests get free meals and refreshments. Those not staying in the club rooms and suites can simply pay for club access on a per-day basis. Travelers might also want to check out the nearby Wanderlust, which has an outdoor whirlpool hot tub, but do note that it lacks a fitness center.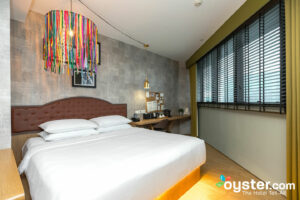 Located between near the Bugis shopping district, Hotel G is a boutique-inspired property with interiors worthy of an Instagram feature. Its 308 rooms are small (though the entry-level option can only be described as tiny), but include great extras like free-to-download newspapers and magazines and upscale toiletries. On-site there's a laid-back burger and liquor bar as well as a casual French restaurant, where breakfast is served daily. The hotel has a spacious gym that's as photogenic as the rest of the property, but there's a lack of lounging areas and guest-only communal spaces. For similar prices, you can stay at Ibis Singapore on Bencoolen, which offers a little more in terms of features, like loaner bicycles, free public transit cards, and -- for business travelers -- meeting rooms.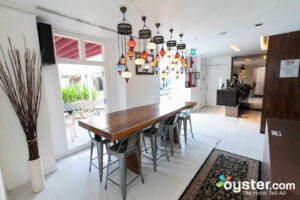 The Daulat Hotel is a small upper-middle-range boutique in the vibrant Little India neighborhood, near dining and nightlife. Its 16 rooms are packed with amenities, from Nespresso machines to 42-inch flat-screen TVs; mosaic tiled bathrooms have rainfall showers. The standard rooms are cramped and noise from neighboring bars can rage late into the night, but by day, the little rooftop pool and garden terrace are the picture of urban tranquility. The lobby cafe isn't quite a full restaurant, but it serves Western cuisine and exotic Kopi Luwak coffee, along with free breakfast. It's worth comparing rates at the nearby design-heavy Wanderlust, which has similar amenities.
Wanderlust is an upscale boutique hotel for thrill seekers and design connoisseurs with unique interiors created by four different Singapore-based architecture firms -- one for each floor of the hotel. The result is an adult playground of sorts filled with wild art and fantastical rooms brimming with both character and amenities. Rooms range from tiny and capsule-like with bathrooms that lack privacy, to large loft-style units inspired by themes such as rocket ships and tree houses. Amenities include a rainbow-tiled hot tub in a quaint lawn outside next to a sun deck and there's a casual French restaurant where an included breakfast is served. The hotel feels slightly inaccessible as it's tucked away on a side street in Little India, but more adventurous travelers will be at home the colorful neighborhood.
The 64-room Sultan Hotel is a lovely boutique in the historic district of Kampong Glam. Though there are few hotels in the area (most tourists choose to stay in downtown or Chinatown), the location is within walking distance of numerous sights. Constructed from 10 historic shops, the hotel has attractive period details including arched doorways, wood-beamed ceilings, and latticework screens. The rooms, however, aren't quite as charming as the lobby or the on-site restaurant. Suites have some attractive features and design touches, and standard rooms are decorated in clean, contemporary decor of whites and light woods -- but they're small, and bathrooms are cramped. Amenities are modern, however, and include flat-screen TVs, iPod docks, and espresso machines. Hotel highlights include the rooftop bar, and Pasha restaurant, serving Moroccan cuisine.
The Santa Grand Hotel Little India is a value hotel right in the middle of Singapore's Little India neighborhood. The only other area of interest beyond the location are the 20 modern -- albeit small -- rooms with clean and contemporary bathrooms and top-notch amenities like flat-screen TVs, mini-fridges, and kettles. Unfortunately, there's not much else to the hotel beyond free Wi-Fi, so don't expect a gym or even breakfast. While budget travelers will appreciate the modern room digs and low prices at Santa Grand Hotel Little India, there are budget hotels in Singapore that offer more value for the same price. As an alternative, the Harbour Ville Hotel provides free cell phones per room, a gym, and snack bar for around the same rate.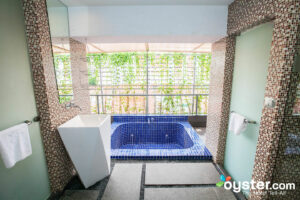 Moon 23 Hotel is a stylish upper-middle-range boutique in Little India with more affordable rates than many of its competitors, but at the cost of fewer amenities. The Standard Rooms are cramped and many have no windows behind their decorative curtains. Trendy wallpaper and rainfall showers help offset some of their faults, but even the Executive Rooms feel small. Guests who can't spring for the Moonlight Suite with its beautiful outdoor tub should check out the nearby Wanderlust, where the slightly higher rates include the use of a backyard whirlpool tub.