Best Kid-Friendly Hotels in Soufriere, Soufriere Quarter
Take a look at the best kid-friendly hotels in Soufriere.
See All Soufriere Hotels
1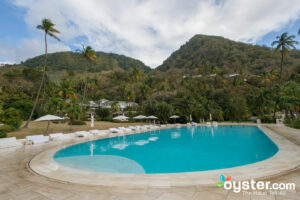 This luxurious Viceroy is truly a stunner. It has arguably the best location on St. Lucia, right in between the Pitons, St. Lucia's famous volcanic spires, and on a beautiful white-sand beach. Its 79 rooms are minimalistic, chic, and mostly white, and all come with private plunge pools, butlers, and 24-hour room service; the larger villas and cottages offer living rooms and huge bathrooms (some with outdoor showers and hot tubs). Features include a family-friendly pool, fitness center, tennis courts, and free water sports. The romantic tree-house spa is one of the island's best. The resort's restaurants and bars are pricey, but all-inclusive rates are available to help guests keep costs in check. On St. Lucia, only the adult-only Jade Mountain can compare -- but it lacks the on-site beach found here, and its spa isn't as nice.
2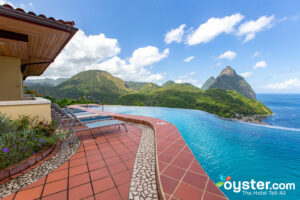 La Haut Resort is a two-and-a-half-pearl hotel located on a 52-acre property outside the town of Soufriere. The hotel's 17 guest rooms have a faded charm, and all include Piton view balconies as well as kitchenettes; not all rooms, however, include air-conditioning and TVs, and the decor could use an update. Striking mountain, Piton, and ocean views add appeal to the hotel's unassuming restaurant and two pools. There's no beach on the property, but La Haute provides free shuttle service to Soufriere and Anse Chastanet Beach. Other freebies include breakfast and tours of the hotel's plantation. Travelers might want to compare rates and amenities with Hummingbird Beach Resort, which is within walking distance of town and offers beach access.
3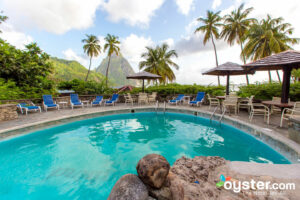 The Hummingbird Beach Resort is a two-and-a-half-pearl hotel located in Soufriere, on the island's west coast. The hotel's 10 rooms are tidy and many have superb views of the Pitons, but their dated decor could use an update. Hummingbird's modest array of amenities includes a breezy restaurant that attracts non-guests, a cool batik gallery, and an outdoor pool facing the Pitons. The location is tough to beat -- it's right on the beach and within walking distance of the town's restaurants and shops. Marigot Beach Club in Marigot Bay offers a solid alternative for budget-conscious guests, but it doesn't have Hummingbird's Piton views.
4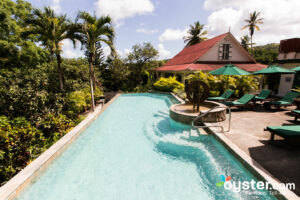 La Dauphine Estate is a three-pearl property that's about a 10-minute drive to Soufriere. The estate includes two colonial-style cottages, and a lap pool. Both cottages have full kitchens, separate living areas, and pretty porches overlooking leafy grounds. While long on colonial charm, the cottages are a bit short on modern conveniences -- there are no TVs, no air-conditioning, and no phones, although they do have free Wi-Fi. The estate's appeal lies in its fertile grounds, which include a working cocoa plantation (tours available) and scenic hiking trails. Not everyone will love the no-frills cottages, but many will appreciate the distinctive setting, pool, and reasonable rates. Travelers might also want to compare prices and amenities with nearby Fond Doux Plantation and Resort.
5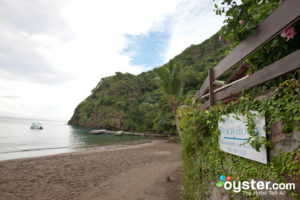 This budget-friendly five-room inn along Soufriere Bay has no gym, no spa, and no pool -- in fact, the only extras are direct access to a subpar public beach and a breezy restaurant and bar. Rooms are average in virtually every way, except for the incredible views of Petit Piton, which appears at arm's length from every room's private balcony. Travelers looking to be pampered should head elsewhere, but adventurous couples and families on a budget will find the Still Beach House's location exceptional and its accommodations satisfactory. Vegetarian meals are cooked upon request, and a good variety of options exist for all meals. Plus, the inn is within walking distance to Soufriere, so there's lots of local flavor to be found.