Best Luxury Hotels in Tenerife
The largest of the Canary Islands, Tenerife is a wellspring of natural and archeological treasures. Whether upscale travelers are visiting the island to hike its ancient forests and volcanic countryside, meander through its Spanish colonial villages, or simply gaze at the sea — keeping an eye out for the whales and dolphins that are so often seen off of Tenerife's coast — they might find themselves most comfortable and content at these 10 luxury hotels, ranked by Oyster's hotel investigators to be the best of the best.
See All Costa Adeje Hotels
1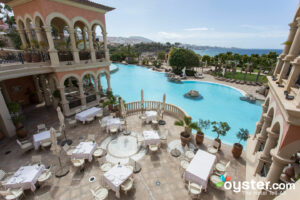 This is one of the top hotels in Costa Adeje. The adult-only hotel, built in Moorish Revival style with neo-Roman accents, has a heated pool overlooking the ocean, luxurious spa, and high-end services. All rooms are elegant and romantic, with canopy beds, natural bathrooms, furnished terraces, and walk-in closets, and details that are Moorish-inspired (lamps, latticework) and beachy (wicker armchairs, tiled floors). The common spaces full of columns, fountains, and arched entryways are grand and impressive, if a tad ostentatious for some tastes.
2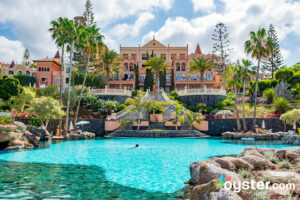 Housed in several neocolonial buildings built amid hundreds of square feet of lush tropical grounds, Gran Hotel Bahía del Duque is one of the largest resorts in this part of Tenerife. The resort's location, right on Costa Adeje's prettiest beach, is a major selling point, but its long list of on-site amenities -- four large free-form pools, eight restaurants, a beautiful spa -- certainly don't hurt. Rooms are decorated in a soft palette of ocean neutrals -- taupe, seagrass green -- with touches of beach-y wicker. And all rooms include a furnished balcony or terrace. Villas are a notch above standard Double Rooms and feature more upscale furnishings, large terraces, and private pools. It's more expensive than its luxury resort neighbor, Vincci Seleccion La Plantacion del Sur, but has far more features.
3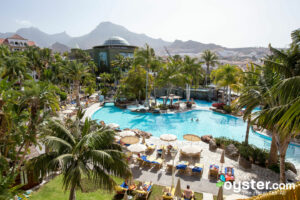 This Art Deco-style hotel is one of the best luxury picks for the price in Costa Adeje. With five buildings, two pools, three restaurants, four bars, and a wide array of on-site amenities, the hotel is large, but sprawling grounds allow for uncrowded and mostly serene spaces. The 271 rooms have elegant decor, balconies or terraces, and large bathrooms. There's a rooftop deck with loungers and views, but if guests want to get even closer to the ocean, the hotel is located just across the boardwalk from a sandy beach.
4
Built and decorated in an elegant Canarian colonial style, La Plantación del Sur is a stylish hotel with a serene setting above the hustle and bustle of the beachfront area. Appealing and romantic rooms have furnished balconies or terraces (some with outdoor hot tubs), upscale bathrooms, and solid amenities, like flat-screen TVs, pillow menus, and minibars. Four beautiful pools, two solid restaurants, a spa set in a volcanic cave, and a well-equipped fitness center with group classes make this a great pick for leisure travelers. Neighboring Gran Hotel Bahía del Duque offers more on-site features, but it is also pricier and busier.
5
Located about a 15-minute walk from Playa del Duque -- one of the best beaches in Costa Adeje -- the upscale Meliá Jardines del Teide is the best all-inclusive resort in the area. Its 300 rooms are large (all have enough space for a sofa bed) and feature solid amenities, including flat-screen TVs, minibars, a wide array of toiletries, and furnished balconies. They're not as stylish or modern as some may expect for the price, but many have great ocean views. With two pools, a buffet restaurant, daily entertainment, and plenty of kid-friendly amenities, the property offers similar features to most other four-pearl hotels in town -- but there is no full spa here, and Wi-Fi comes at an extra charge.
6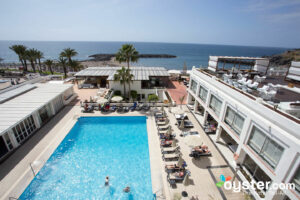 A glossy high-rise, the 365-room H10 Gran Tinerfe ticks all the boxes for a quiet, easy beachside vacation. The adults-only policy attracts a lot of vacationing couples looking for a sunny getaway without splashing families or party animals. Large pools, direct access to a sandy beach, two restaurants, and a spa add to the appeal. Guest rooms are contemporary, with wood-laminate floors, espresso-colored furniture, and soft gray-and-white bedding. The result is tasteful, if a little generic. But the rooms have one major drawback -- no Wi-Fi, which is only available in common spaces. It's unexpected for an upscale resort at this level. The location, within walking distance of several beaches, restaurants, and shops, makes it an excellent pick for those who want to explore the area.
7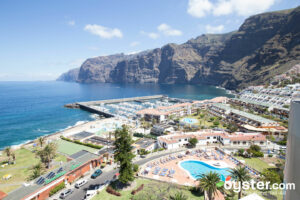 It's all about the views at the upscale, adult-only Hotel Los Gigantes. The hotel's lobby, spa, two restaurants, two pools, and many of its 225 rooms have been designed to make the most out of the serene surroundings, dominated by the ocean on one side and the impressive Los Gigantes cliffs on the other. Located within walking distance of restaurants, bars, and a quaint harbor, the hotel is a good pick for those looking to spend some relaxing days in the sun -- but guests should be aware that the nearest beach is a 10-minute drive away. Some bathrooms could use an update and there is a pesky fee for Wi-Fi.
8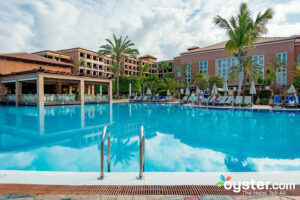 Located in a quiet residential neighborhood, this large all-inclusive is a 10-minute walk from all the action. Its 467 guest rooms are spacious and sunny, with contemporary decor, furnished balconies, flat-screen TVs, and free Wi-Fi. The property offers all the amenities expected for an upscale property at this level: three pools, three restaurants, fitness and wellness facilities, and a kids' club. The hotel's beach, however, is narrow, rocky and not quite appealing. Guests looking to take a dip in the ocean can use the free shuttle bus service to Las Americas or walk to Playa del Duque
9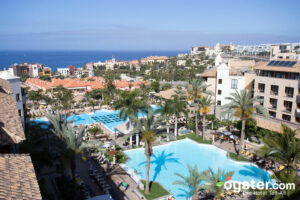 Costa Adeje Gran Hotel is a 458-room family-friendly hotel located a five-minute walk away from the beach, bars, restaurants, and stores. With three large pools (including one on the rooftop deck), a buffet, an a la carte restaurant, four bars, a hydrotherapy spa, a tennis court, and a mini-golf course, the all-inclusive-optional hotel offers a solid upscale resort-style stay in a central location. However, some guests may find rooms a little plain for a hotel that advertises itself as a luxury property, and extra fees can add up.
10
With a location right on sandy Playa del Duque, beautiful pools, several good restaurants, and a wide array of on-site amenities, the upscale Dream Hotel Gran Tacande is a great option for those looking to spend some relaxing days on the beach. Rooms are spacious, with classic decor, modern amenities, and balconies -- but some may find their style to be a little bland given the hotel's advertised luxury status. The hotel is large and popular among families, but somewhat quieter than other resorts in Costa Adeje.