Best Boutique Hotels in Tuscany
Oyster knows what luxury travelers look for in hotels. When we review luxury properties in person around the world, we evaluate how every feature stacks up against the competition, from the rooms to the pools to the restaurants. So if you're planning a posh getaway and need a place to start, you've come to the right place. Take a look at our expert top picks for boutiques in Tuscany and get inspired!
See All Tuscany Hotels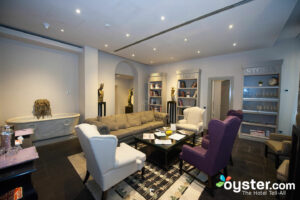 This artsy and stylish boutique hotel with 42 spacious and air-conditioned rooms is a short walk to many of Florence's main attractions. It offers guests use of the adjoining fitness center and spa, with a sauna, Turkish bath and a whirlpool -- a rarity for Florence hotels. Similarly trendy hotels in the area may offer a slightly better value, but not the same access to amenities.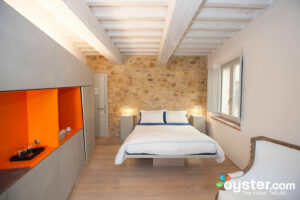 La Bandita Townhouse is a 12-room boutique hotel housed in an old convent, right in the center of Pienza, a small village in the province of Siena. The townhouse has modern, stylish, minimalist rooms and great food, but it has neither a pool nor spa. Guests who don't mind being in a more remote location and who want a pool might prefer the hotel's similarly priced sister property, named simply La Bandita, which is a 20-minute drive away via a long bumpy road.
The 1865 Residenza D'epoca is a five-room bed-and-breakfast located in Florence's Santissima Annunziata area, within walking distance of attractions, public transportation, shops, and restaurants. The three-and-a-half pearl hotel is luxurious and grandiose, from the velvet and leather furnishings to the exquisite frescoes on the ceilings. Each air-conditioned room is named after a famous writer and has a blend of modern styling and antique decor. The free hot breakfast gets rave reviews from guests and the hotel features free Wi-Fi and pet-friendly rooms. The front desk hours are limited though, and the on-site and valet parking cost extra.
This 12-room Renaissance-era palace just south of the Arno River preserves the atmosphere of living in an ancient private residence. The five-pearl property features a dozen large suites with original architectural features and antiques. Prices are on par with similar historic properties farther away from the city center, such as the Grand Hotel Villa Cora. Though there are plenty of places to eat in the neighborhood, one downside is that the hotel doesn't have a restaurant.
Once an 18th-century hospital, the four-pearl Palazzo San Lorenzo is now a refined, relaxing hotel that enhances its original space with contemporary touches. The 48 guest rooms are bright and sophisticated, with comfortable beds framed by leather headboards, separate seating areas, and luxurious bathrooms. The Palazzo has a full-service luxury spa with an indoor hydromassage pool, a sauna, rainfall showers, and various treatments. There's also a restaurant, a breakfast room, and a bar that is accessible to non-guests. The property is located in the quiet town of Colle Val D'Elsa, within driving distance of both Siena and Florence. Free Wi-Fi, breakfast, and parking along with low rates make the Palazzo San Lorenzo an excellent value -- though there is a pesky charge to use the swimming pool.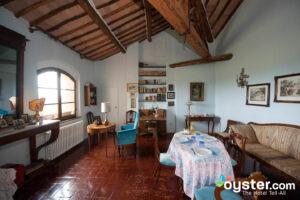 Staying in a castle is an undoubtedly romantic experience, and the Castello Delle Quattro Torra is an affordable and familial alternative to many of the more opulent castle hotels found in the Italian countryside. A short drive from Siena, this family-run bed and breakfast has only three rooms, including an apartment and a two-story tower room, all of which can be rented by the night or -- for a discount -- by the week. There's little to do in the surrounding area, and guests really need a car, although those who love walking can hike to Siena in about 45 minutes.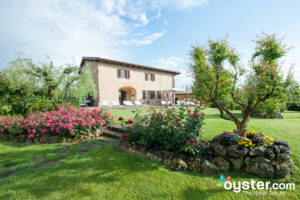 This small renovated farmhouse property within the rolling green hills of Tuscany oozes relaxation and romance. With only five classically rustic rooms and an adults-only policy, the upscale Aia Mattonata Relais' intimate vibe is ideal for couples seeking a secluded starting point to explore Siena and other nearby areas of Tuscany. The ultra-boutique B&B may be quaint, but with a wellness center with Turkish bath and body treatments, a saltwater infinity pool, and small exercise room, it is not lacking on features. Since it's a few miles outside of town, guests will either need to have their own car or rely on public transportation. The attentive owners aim to do what they can to accommodate guests.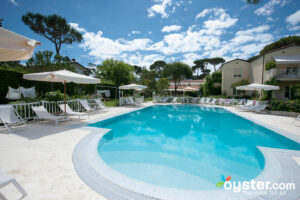 The general ambience and attitude of the Villa Roma Imperiale mirrors the surrounding neighborhood of the same name: sophisticated and upscale. Aromatic and well-tended gardens are a real highlight, especially if you opt for an outdoor massage, and the pool area is a great place to unwind. The overall feel is exclusive, leaning towards the luxurious, but it's not a cheap place to stay.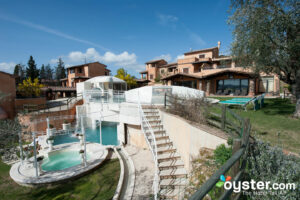 An intimate, family-like atmosphere pervades this hotel and spa in the Tuscan countryside. The 25 rooms are laid out around well-kept grounds, and the conscientiously maintained outdoor pools are sourced from the hotel's private spring, one of Saturnia's famous naturally occurring thermal waters. The excellent restaurant serves local fare in a country-style dining room. Hotel Saturno Fonte Pura is a simpler but very comfortable alternative to the the palatial and more expensive Terme di Saturnia Spa & Golf Resort, a better known hot springs hotel that is located three kilometers away.
Saturnia Tuscany Hotel's chateau-style building and small but well-designed spa are with easy reach of the Saturnia baths. The upscale hotel offers a clean, well-maintained and relaxing location from which to explore the nearby waterfalls and spas, and, further afield, several picturesque towns. While the hotel has its own spa, many guests have commented on its modest size; Terme di Saturnia, a considerably larger resort with thermal baths and its own set of spa offerings, is just down the road. Saturnia Tuscany's own restaurant is widely considered good, and has gluten-free options upon request.
The 22-room Hotel Palazzo del Capitano is an exclusive upscale property set within the grounds of an ancient medieval palace. Olive trees and fragrant plants create a relaxing, lush environment while rustic Tuscan decor blends with luxurious style. Filling out the small spa and wellness facility are hot tubs, caves, and various body treatments.Al Vecchio Forno trattoria serves creative Tuscan cuisine and offers vino from its wine cellar. The pedestrian-only area means cars must be left outside the palace walls, but porters are available to help with luggage. This is ideal for anyone looking to escape the touristy vibe and have an authentic Tuscan experience.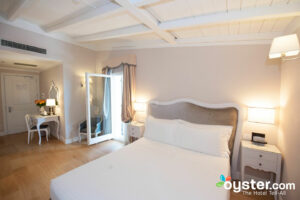 The 26-room Rapallo Hotel is a charming boutique on a busy street near the train station, a 15-minute walk from the Duomo and other historic sights. Renovated in 2012, the design is elegant, with sophisticated colors giving a chic update to this 19th century property. The atmosphere is soothing and minimalist -- think single orchids rather than riots of flowers. Rooms are soft and lovely, in blush, grey, and white, and bathrooms are modern and lit to flatter. Wi-Fi is free, but some guests may not be happy with the location on a congested street.