Best Kid-Friendly Hotels in Ubud, Bali
Most kids aren't too concerned about a hotel's authentic ambience, elegant decor, or fine dining options. They may, however, be more interested in a resort's exotic on-site wildlife, tropical rainforest surroundings, and proximity to a monkey sanctuary. Here are the hotels that Oyster's experts consider the most appropriate for children in Ubud, Bali (where properties tend to focus on serenity and the natural beauty of the landscape over kiddie amenities).
See All Ubud Hotels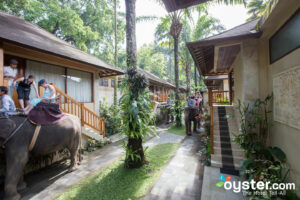 Staying at this 25-room luxury lodge offers the unique experience of interacting with endangered Sumatran elephants. Guests can watch an elephant talent show, go on an elephant safari, and even climb onboard an elephant chauffeur, which will take them from their doorsteps to dinner. Some guests complain, however, about elephants being chained for certain times of the day. There's also a gift shop, a botanical garden, and a museum featuring a 15,000-year-old mammoth skeleton. This hotel offers a tourism attraction that involves animals. You can learn more about the cruelty animals suffer in captivity here.
Located in central Ubud on busy Monkey Forest Road, KajaNe Mua is a Balinese-owned property with fantastic resort facilities and within walking distance of Ubud Palace and Sacred Monkey Forest Sanctuary. There are 22 rooms ranging from spacious doubles in the main building to private rustic-chic villas with their own gardens and plunge pools. All rooms offer free Wi-Fi, air-conditioning, flat-screen TVs, and DVD players. The property's slew of freebies (shuttle service within Ubud, bike rentals, pool toys, baby cots, afternoon cakes, and breakfast -- with 10 different set menus) makes it an ideal choice for families.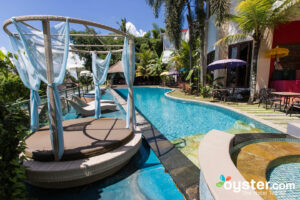 The upscale Mansion Resort Hotel & Spa is an unconventional and often affordable property located in Ubud's artistic Penestanan village. With elaborate Balinese artwork, several tropical-themed pools, a poolside cafe, and 165 creatively decorated rooms and villas, it has no shortage of beautiful features. The country club offers fishing, ping pong, volleyball, badminton, a movie/music room, and a piano lounge, as well as such children's activities as swimming classes, bicycling trips, and arts and crafts. Breakfast, Wi-Fi, parking, and a shuttle to downtown Ubud are all free.
The 53-room Ayung Resort Ubud is a luxurious-yet-affordable jungle getaway on the Ayung River where monkeys are sometimes spotted swinging from trees. The property has two large pools with shallow areas, free Wi-Fi, an amphitheater that hosts Balinese dance performances, and two restaurants (one serves Italian fare, including stone-fired pizza). It's about a 25-minute drive from downtown Ubud, and offers free shuttle service throughout the day. Accommodations range from standard rooms with large balconies to villas with private pools. The resort's concierge can assist with arranging activities like rafting trips and elephant safaris.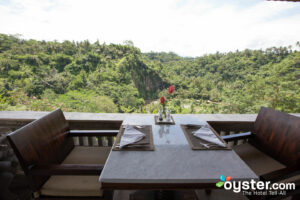 Over 40 acres of rolling hills near the Ayung River make up this luxurious resort, where the multi-level, open-air lobby has intricate patterns of flowers, animals, and deities carved into almost every surface. Large, beautiful villas range in size from about 900 square feet to over 1,300 square feet, and feature private gardens and pools. There are also three shared pools (one fed by spring water, a large main infinity pool, and the 260-foot Lagoon Pool, which functions like a lazy river and is equipped with a current and small boats and floatations), as well as a free kids' club (kids' clubs are not common in this area) and periodic shuttles to and from Ubud.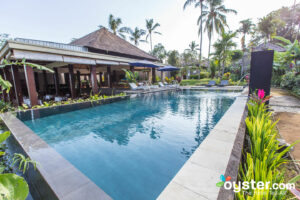 A 25-minute drive north of Ubud, this 17-room property is simpler than many in the area, but can be a decent value for families in want of the private villa experience. One- and Two-Bedroom Villas are modern and feature full kitchens and private plunge pools, though the decor and design isn't quite as stylish as many properties in Ubud. The hotel also features an on-site restaurant with free breakfast, an outdoor pool and kids' pool, many activities, free Wi-Fi, and a free area shuttle.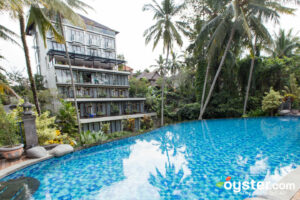 The 52-room, upscale Plataran Ubud Hotel & Spa is a modern oasis amid the rice fields near Ubud. The hotel's gorgeous and naturally landscaped grounds are within an easy walk of Ubud's sights, including the Sacred Monkey Forest Sanctuary. (There is also a free shuttle.) Rooms and suites are spacious and contemporary, with 42-inch flat-screen TVs and free Wi-Fi (which is available throughout the hotel). Two restaurants offer Indonesian and Western fare plus free breakfast, and a free high tea with Balinese cake is offered every afternoon.