Best Ski-In Ski-Out Resorts in the U.S.
For skiers and snowboarders who want to maximize their time on the slopes, a prime ski-in ski-out hotel is a must-have when making your vacation plans. Nothing beats the convenience of lounging in your room — or sipping a coffee by the fireplace — and hitting the slopes right outside your door. Whether you're vacationing with your family, cozying up with your partner, or just looking for some high-energy fun with your friends, we've found 12 great picks from the East Cost to the West Coast (and everywhere in between). Read on to see the best ski-in ski-out hotels in the U.S.
If a ski vacation in Europe is more your speed, check out our the best ski lodges in the Alps. Featured image courtesy of Kevin Bree on Unsplash.
The name St. Regis conjures images of white-gloved service and luxe amenities, but that's only the beginning of the amazing experience at the St. Regis Deer Valley. This celebrity-magnet of a hotel offers ski-in ski-out access to Deer Valley Resort, and a host of other extras. Expect fine dining, an amazing wellness program including yoga and Pilates, a heated pool, and elegant rooms with spectacular views. The property swells with A-listers during Sundance and downtown Park City is only an eight-minute drive away.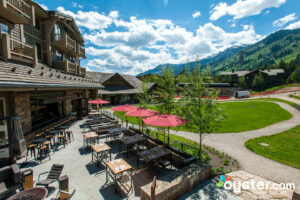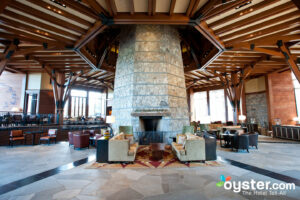 The Ritz-Carlton Lake Tahoe delivers top-notch amenities and service, which is no surprise given this brand's reputation. Picture-perfect mountain views can be had from just about everywhere on the property, and it has ski-in ski-out access to the Northstar California Resort. After a day on the slopes, ski valets haul off guests' equipment to clean and store it, then ferry it back on request. There's also a massive spa, heated outdoor pools, fine dining, and a bar with sweeping views of the Martis Valley.
If you're looking for boutique-sized mountain luxury, you won't find much better than The Little Nell when you're in Aspen. But first, let's talk about the hotel's ski-friendly advantages. Not only does it offer an exclusive ski concierge team, but Aspen's main lifts are just outside and you'll score first-track benefits with your stay here. We love the modern lodge style, and all rooms have fireplaces. Many also feature beautiful Rocky Mountain views. Dining options score high marks for those traveling with pets, expect honestly pampering pet services.
The Montage Deer Valley is a great choice for families who want to hit the slopes together. Ski-in ski-out access to Deer Valley Resort makes it easy for parents with first-time skiers who might tucker easily, and the kids' club gives adults get alone time for spa-going or a romantic meal together. The overall atmosphere is casual and features include a sizable outdoor pool, an indoor pool, and apartment-style guest rooms.
If you're looking for luxury at the Stowe Mountain Resort, then The Lodge at Spruce Peak is for you. Amenities are numerous here, should you have extra time when you're not enjoying the ski-in ski-out access to Spruce Peak (one of Stowe's two mountains). Expect an inviting spa, big outdoor pool with mountain views (it's heated), acclaimed restaurant Solstice, and an excellent children's program. Rooms have a simple mountain style and most feature working fireplaces.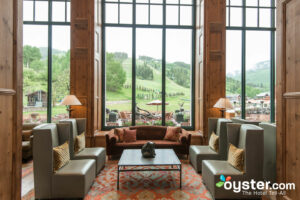 The 190-room Park Hyatt Beaver Creek Resort and Spa offers luxury resort features in a relatively small package. It also has direct lift access to the Buckaroo Express Gondola in the Beaver Creek Ski Resort. Aside from that, you'll find an ice-skating rink, heated outdoor pool, and a wonderful spa. Kids' need a little entertainment? There's indoor camping and a game room. We can't help but love the fireside dining and s'mores kits after a day on the slopes, and you'll find fireplaces in many of the suites if you opt for an upgrade.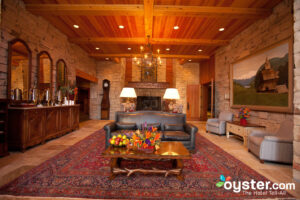 If you want to feel like you're holed up in the cozy lodge of your dreams, Stein Eriksen Lodge is the right pick for you. This luxe property is all about embracing its mountain location, with lots of beautiful hardwood details and cuddle-ready furniture throughout. Ski-in ski-out access to the Deer Valley Mountain Resort adds to the property's value, as do the sharp rooms. Additional amenities include an excellent spa, two restaurants (one of which may very well serve one of the area's best burgers — named after the hotel) and year-round outdoor pool.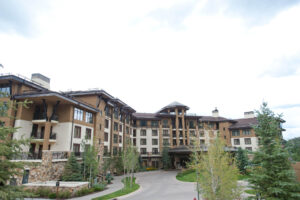 The Viceroy Snowmass offers an excellent array of features and a more contemporary style than other ski lodges. You have direct access to Snowmass' Elk Camp Gondola and the property is at the base of the Assay Hill green run. Ski valets will take care of everything from your gear to booking lessons. A 7,000-square-foot spa, heated pool, fire pit, and terrific mountain views are all featured here as well.
Breckenridge has its share of upscale and luxury hotels, though we can't help but love Crystal Peak Lodge. Situated right on Breckenridge Peak 7 along the Breck-Connect Gondola, you don't have to travel far at all to be on the slopes. But even when you're indoors there's a lot to like here. Expect cozy details like exposed wood beams and stone fireplaces in the big, individually owned condos. While other on-site amenities are a bit limited, guests have free access to One Ski Hill Place's features, like indoor pools and bowling.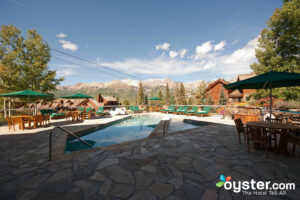 If you're traveling with a family or a group of friends, the Mountain Lodge Telluride is an excellent option. All units here come in multi-bedroom condo configurations, giving everyone plenty of privacy. They're all done up in comfy, homey lodge style, with plush furniture and lots of hardwood details. View of the Rocky Mountains are often spectacular from most spots in the hotel, and ski-in ski-out access also helps make this a winner.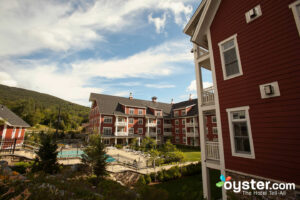 Located right at the foot of Sugarbush, this family-friendly Vermont ski resort is a smart choice for those who want spacious apartment-style accommodations. There's certainly no lack of activities off of the mountain either, with an outdoor heated pool, game room with a kiddie pool, and access to a large fitness center. All rooms at Clay Brook at Sugarbush come equipped with full modern kitchens, fireplaces, and plenty of space to spread out.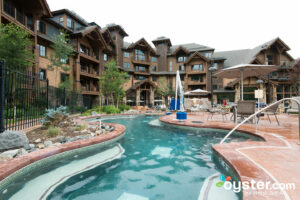 Located right at the bottom of Breckenridge Ski Resort's Independence SuperChair, Grand Lodge on Peak 7 is great for independent travelers who still want proper resort amenities. This ski-in ski-out resort puts you right in the heart of the Peak 7 action, and has apartment-style rooms that all include kitchenettes or full kitchens. It's a great bet for families or groups of friends who want a little extra space, and extras like a spa, indoor and outdoor pools, and hot tubs all make this a great place to unwind after a day on the slopes.