Best Boutique Hotels on the Upper West Side
Safe, residential, and full of families, the Upper West Side is situated between Central and Riverside parks in Manhattan. Take a look at the best boutique hotels on and around Broadway, one of the neighborhood's major thoroughfares.
See All Upper West Side Hotels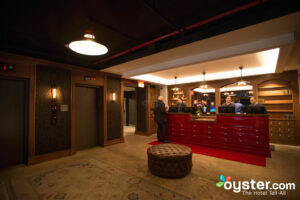 Industrial chic meets jazz-age cool at the beautifully designed NYLO New York City on the Upper West Side. Think: exposed brick walls and visible air ventilation mixed with leather tufted sofas and a dimly lit, subdued atmosphere. The overall vibe is upscale cozy. The hotel's three restaurants are each notable in their own right and there is a wonderful library off of the lobby. Outdoor terraces on the 14th and 16th floors provide sweeping views of the Hudson River, Central Park, and Midtown skyline. At 291 rooms, NYLO is far larger than what we generally deem a "boutique" hotel, but its beautiful high-design style, renowned restaurants, cool lobby bar, and well-curated art collection make it the number-one boutique hotel in the neighborhood, despite its size.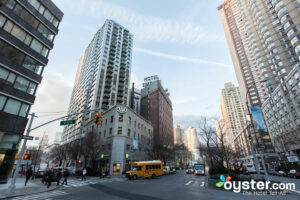 Dating back to the mid-1890s, the Empire is one of New York's oldest hotels, and its iconic rooftop neon sign and traditional entrance preserve that nostalgia. But the hotel's interiors tell a different story. Outfitted with bohemian velvet seating with leopard- and zebra-print pillows, heavy bronze curtains, and modern chandeliers that resemble crash cymbals, the wide-open, two-story lobby looks like a classed-up but low-key pad suitable for liberated, 1960s jazzbos. Guest rooms have the same sexy, sophisticated allure of the public spaces, with dark yellow walls, Deco-like sunburst mirrors, and coffee-colored accents. However, they're much smaller than the rooms at NYLO, and loaded with sneaky fees (both hotels impose a fee for in-room Wi-Fi, but Empire charges for Keurig coffee, while NYLO does not).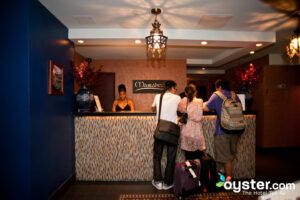 This 125-room walk-up hotel (no elevator!) is a bit cramped and worn around the edges, but a beautiful Moroccan-style lobby -- with tile floors, elaborately patterned furnishings, and a fireplace -- make it a fair option for those wanting to be near Central Park and Columbia University, in the non-touristy northern outskirts of the Upper West Side. Rooms are not nearly as stylish as the ones at NYLO or Empire, but they do have free Wi-Fi, which is more than those other two can say.