Best Kid-Friendly Hotels in Downtown, Washington, D.C.
Take a look at the best kid-friendly hotels in Downtown.
See All Downtown Hotels
1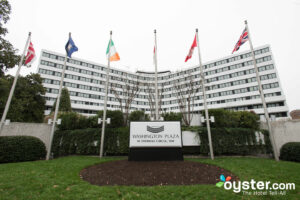 Opened in 1962, this upper-middle-range landmark hotel has a distinctive retro vibe and one of the city's best outdoor pools. Its 340 colorful rooms and suites pay tribute to their original design, but are also modern and practical, with coffeemakers, mini-fridges, flat-screen TVs, and pillow-topped mattresses. Factor in the competitive rates, the excellent and extravagant breakfast buffet, and the hotel's proximity to major D.C. sights, and the Washington Plaza is one of the best values in town. During the off-season (when the pool is closed), guests may fare better at one of the Kimpton hotels in the area, such as the Palomar or the Madera, which have free nightly wine receptions.
2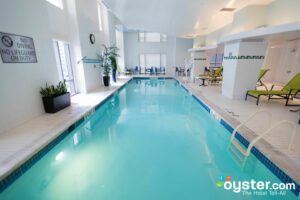 The 384-room Embassy Suites Hotel - Convention Center is an upper-middle-range option with amenities for both business travelers and families. While the vibe here is decidedly chain hotel, this one has plenty to offer with a restaurant and bar, fitness center, small indoor pool with a hot tub, gift shop, self-service laundry room, and business center. Freebies include an extensive breakfast and a two-hour nightly reception with free drinks. Wi-Fi isn't always free, though, and parking's pricey. All rooms are spacious suites with separate bedroom and living areas, and include pull-out sofas, mini-fridges, microwaves, and two flat-screen TVs. Travelers might want to compare rates with the Grand Hyatt Washington. And business travelers may prefer the Renaissance Washington DC Downtown Hotel, which is chicer but pricier.
3
Located in upscale Dupont Circle, just a short walk from some of D.C.'s best restaurants and nightlife, the Courtyard doesn't look dazzling, but its 156 bigger-than-average rooms, helpful staff, small indoor pool and Jacuzzi, well-equipped fitness center, quality independent restaurant, and nice perks (like free coffee, cookies, and Wi-Fi) make it an excellent choice.
4
THIS PROPERTY RE-OPENED AS KIMPTON MASON & ROOK IN APRIL 2016. WE WILL UPDATE OUR PHOTOS AND REVIEW AS SOON AS WE CAN.
5
Holiday Inn Washington-Central/White House is an affordable mid-range hotel located a short walk from Dupont Circle and the White House. Its 212 rooms were updated in 2016 and feature bright decor, in sharp contrast to the glaringly dated lobby and all-day restaurant. On-site features include a seasonal swimming pool, a modern fitness center, meeting space for rent, a business center, and expensive (but secure) underground parking. Guests are a mix of business and leisure travelers, and kid-friendly perks such as free dining for children and sofa beds in some rooms make it a good choice for families. Travelers willing to spend a little more may want to consider the nearby Washington Plaza Hotel, another kid-friendly hotel with an extensive breakfast buffet.
6
This three-pearl Homewood Suites is conveniently located near downtown Washington, D.C., within walking distance of two metro stations, top restaurants, and the White House. It completed a full renovation in 2016 and features 175 suites with kitchenettes, sitting areas with sleeper sofas, and moderately sized bathrooms. In addition to a free hot and cold breakfast buffet, the hotel hosts a weekday reception with a light fare and drinks. Other features include a sundries shop, business center and small fitness center. Travelers willing to spend a little more money might want to also check out the Embassy Suites Hotel Washington, DC - Convention Center, which has many of the same features as well as a pool and restaurant with bar.
7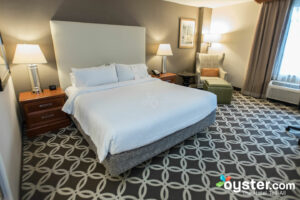 The upper-middle-range Hilton Garden Inn Washington DC Downtown is a solid choice for business travelers and tourists alike, offering attractive amenities and a handy downtown location. It's within walking distance of the White House and right across the street from a metro station. The contemporary and brightly decorated hotel features an indoor pool, full-service restaurant/bar, and a fitness center, but breakfast isn't included and the valet-only parking is expensive. Its 300 guest rooms are clean, spacious, and well equipped with microwaves, mini-fridges, Keurig coffeemakers, and free Wi-Fi -- though street noise can be an issue in some rooms. Rates are reasonable but there are several comparable hotels nearby, so it pays to shop around. The nearby Hamilton Crowne Plaza, Washington, D.C. is worth considering, but it doesn't have a pool.
8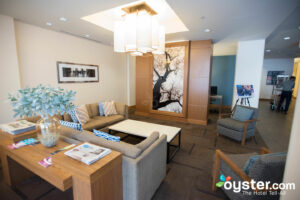 Opened in 2015, the Hyatt Place Washington DC/White House is a modern, mid-range hotel in the heart of downtown, a short walk from the White House and the metro. Designed to accommodate business travelers and tourists on the go, the hotel offers hot meals 24/7, including a free breakfast, and well-equipped 24-hour fitness and business centers. It also features a rooftop bar with terrific city views. Its 164 spacious rooms are fresh and bright, with floor-to-ceiling windows and sitting areas with sofas, though those on lower floors can get street noise. Rates are pricey, however, and expensive valet parking is the only option available for guests with cars. Better deals can be found just two blocks away at the Hamilton Crowne Plaza, Washington, D.C.
9
Its central location between the downtown attractions and the bars and restaurants of Dupont Circle, solid fitness center, free breakfast buffets, and even free dinners (Monday through Wednesday) makes the Residence Inn a fine pick for the price. But its rooms -- all kitchen-equipped studios and one-bedroom suites -- are older and more worn than the rooms at competing hotels.
10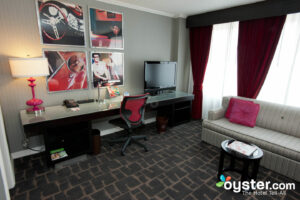 This upper-middle-range property is a few blocks from Dupont Circle, one of the city's most vibrant neighborhoods. With edgy modern design throughout the property and rooms featuring bunk beds, Xboxes, and animal print bathrobes, Hotel Rouge is easily one of the more fun-spirited and family-friendly hotels in D.C. (though couples and business travelers are equally welcome here). Highlights include large, sexy rooms; in-room spa treatments, and nightly wine hours. There are slightly cheaper hotels in the heart of Dupont Circle, but the Rouge delivers more style and perks than most of its competitors. However, visitors interested in seeing Washington's major attractions may want to consider a hotel closer to the National Mall.
11
Smack in the middle of D.C.'s business district and two blocks from the convention center, the Twelve & K Hotel Washington DC (formerly Four Points by Sheraton) is a midtier business hotel with comfortable beds, clean rooms, free internet, a well-maintained pool, helpful service, and a 24-hour gym. The area is a dead zone on nights and weekends, but downtown nightlife is eight blocks away. All in all, a safe choice for business travelers.