Best Kid-Friendly Hotels in Washington, D.C.
Washington, D.C. is basically museum central, with over a dozen free Smithsonian museums that are open 364 days a year, plus the International Spy Museum and Newseum, which has a piece of the Berlin Wall. Kids and adults alike will love visiting the zoo, the White House, and the many iconic national monuments. But if you're traveling with kids or teenagers, there are a few things to keep in mind before booking a hotel: how big are the guest rooms; the hotel's ambiance; and food options available for kids. To help you, a team of Oyster investigators visited the top hotels in the area to compare each and find the best family-friendly stays. Here are our expert picks for the best kid-friendly hotels in Washington, D.C.
See All Washington DC Hotels
1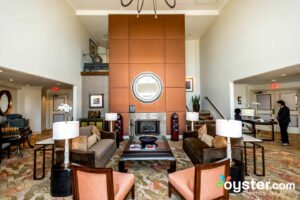 Opened in 2004, the 400-room Mandarin Oriental has the best spa, pool, and fitness center in the city. The guest rooms are large, but the hotel's beautiful location on D.C.'s remote waterfront has its trade-offs -- nothing to do or eat nearby; noise from the Amtrak trains, day and night. Though the Mandarin Oriental's heated, indoor pool is of the 50-foot lap variety (in a striking space with lots of natural light), it's still a fine place to take the youngsters. One on-site restaurant, Sou'Wester, is particularly informal and kid-friendly. The hotel gives each child a free stuffed animal as well.
2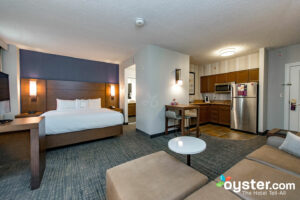 Food freebies and a convenient location make this Residence Inn a great value for families. A free hot breakfast buffet is served each morning, and a free "social hour" dinner buffet is served on Mondays through Wednesdays from 6 to 7:30 p.m (which includes a meat, veggie, salad, and dessert). The hotel is a 10-minute walk from the National Mall and the Smithsonian museums. If that isn't enough, kids will love the indoor heated pool, and parents will love the large, suite-style rooms with fully equipped kitchens.
3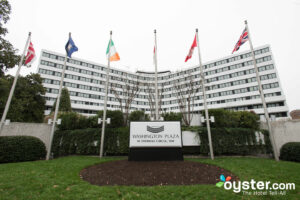 A five-minute walk to the White House and within five blocks of three Metro lines, the Washington Plaza is perfectly placed for families wanting to tour the capital's top attractions. Plus, there's a terrific outdoor pool deck for summer months, a reasonably priced restaurant with a kids' menu, and spacious (and, in many cases, newly renovated) rooms.
4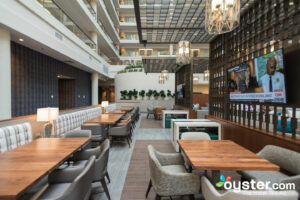 This hotel offers big suites with sinks, refrigerators, microwaves, and two 32-inch flat-screen TVs; a really solid free breakfast buffet; a small but recently renovated pool; and a fun atrium lobby with palm trees, waterfalls, glass elevators, and a koi pond where kids can feed the fish. The on-site Italian restaurant offers a lunch buffet and a kids' menu with fettuccine, pizza, chicken fingers, and the like. And the staff is tolerant of (and used to!) rambunctious kids running around the lobby. The rooms aren't pristine, and it's not within easy walking distance of D.C.'s prime tourist spots, but otherwise this is an excellent family choice.
5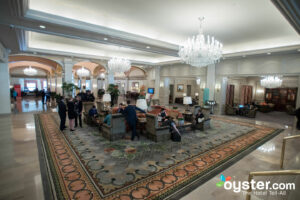 Given the Shoreham's excellent outdoor pool, ample space to play outside (assuming there's not a wedding going on), and a great location near the National Zoo and Rock Creek Park, it is an excellent choice for families in the summer. Kids get a free backpack upon arrival with games and treats from the Omni Sensational Kids program, including a first-aid kit, night-light, and outlet covers (for parents).
6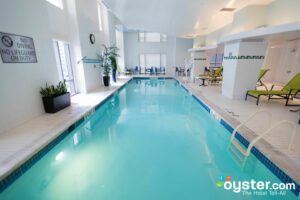 Families looking to spread out in a home away from home will find what they need at this Embassy Suites, where all guest rooms are suites with pullout sofas, a mini-fridge, and a microwave; cribs are available for free. Kids will enjoy the indoor pool (open 5 a.m. to midnight) and the on-demand video games and movies (each suite has a 32-inch flat-screen TV in the living room). Room rates include a free (and ample) breakfast buffet, and the on-site restaurant offers a kids' menu. When it's time to hit the sites, the hotel is walking distance to the White House, the Smithsonian, and the Mall. (Plus there's a trapeze school right across the street!) The only negative: The hotel is showing some wear and tear, and is due for a renovation.
7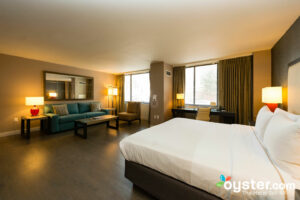 Conveniently located next to historic Georgetown, this upscale 124-room property (renovated in 2012) has stylish, modern decor and condo-style suites with fully equipped kitchens. Free perks like weekly yoga classes, cocktail hours, loaner Apple laptops, and local car service make Avenue Suites a good value in D.C.'s West End. Conveniences across the street from the hotel include a Trader Joe's grocery store and Capital Bikeshare stand.
8
A no-nonsense luxury hotel for the masses just steps away from the White House, the JW Marriott has a shopping mall-like multistory lobby and 772 cozy guestrooms. Add in a large swimming pool and relatively relaxed atmosphere, and the hotel is a solid family option.
9
Located three blocks from the White House, this hotel caters to families with little perks that keep both parents and kids happy: do-it-yourself laundry, freshly baked cookies all day, a kids' menu at on-site Nage Restaurant, and a small indoor pool. Standard rooms here are large (450 to 500 square feet), and can fit up to five people using a crib or rollaway bed (both available for free). The hotel offers a family package, the main benefit of which is getting a second guest room at 50 percent off. Guests also get free access to the pool and gym facilities at the YMCA across the street.
10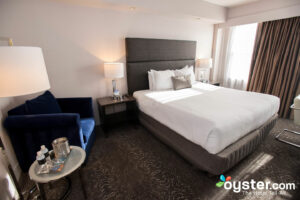 Parents shouldn't be intimidated by its sleek Art Deco lobby and tranquil atmosphere: The Carlyle Suites can be a viable choice for families, particularly thanks to its spacious Classic and Grande Suites with pullout couches, fully stocked kitchenettes, on-site restaurant menu options for youngsters, and delightful location near Dupont Circle and the Metro. It's tough to find a better all-around deal for families in this immediate area.
11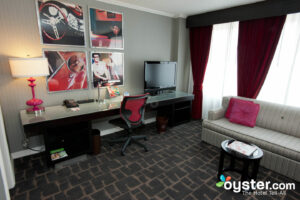 This upper-middle-range property is a few blocks from Dupont Circle, one of the city's most vibrant neighborhoods. With edgy modern design throughout the property and rooms featuring bunk beds, Xboxes, and animal print bathrobes, Hotel Rouge is easily one of the more fun-spirited and family-friendly hotels in D.C. (though couples and business travelers are equally welcome here). Highlights include large, sexy rooms; in-room spa treatments, and nightly wine hours. There are slightly cheaper hotels in the heart of Dupont Circle, but the Rouge delivers more style and perks than most of its competitors.
12
A comfortable, reliable option just steps from a Metro subway hub and near the Verizon Center sports arena and the Washington Convention Center -- the 459-room Marriott doesn't get points for flash, but it has better service and a better gymand pool than the massive Grand Hyatt, around the corner.