Best Luxury Hotels in Downtown, Washington, D.C.
Take a look at the best luxury hotels in Downtown.
See All Downtown Hotels
1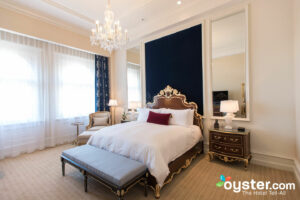 With the help of $200 million, the Trump family has turned D.C.'s iconic Old Post Office building into a 263-room hotel that aspires to be the most luxurious in the city. Guests will find beautiful rooms, a spa, steakhouse, a lounge serving wines by the spoon, modern fitness center, and a grandiose atrium lobby. Situated right between the National Mall and Downtown, the location is perfect for sightseeing and business – just don't expect much nightlife. Visitors should also consider the nearby St. Regis, Hay-Adams, and The Willard, which have similar amenities and competitive rates.
2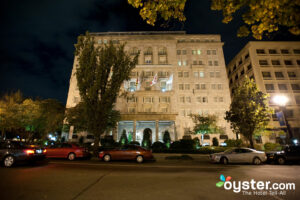 Quite possibly the most famous hotel in the capital, and deservedly so, the five-pearl Hay-Adams draws power brokers, dignitaries, and VIPs from around the world with its impeccable service, great bar and restaurant, and elegant rooms, some of which overlook its famous next-door neighbor, the White House. This historic property has stately, classically styled interiors full of Old World details, and its 145 guest rooms come equipped with an array of modern comforts, including large flat-screen TVs, well stocked minibars, and free Wi-Fi. Business amenities abound here, with a 24/7 business center complete with a Nespresso machine, free morning newspapers, and even Tesla car service around the downtown area. The Jefferson hotel has a similar historic and luxurious vibe -- plus added amenities like a spa -- but it doesn't beat the Hay-Adams' location.
3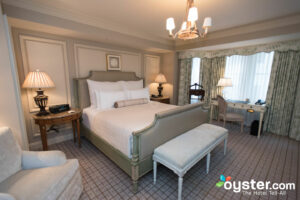 A historic luxury property with a boutique feel, the 99-room Jefferson is among the most elite hotels in D.C. It's not as famous as the Hay-Adams, but its subtle blend of technology (TVs embedded in bathroom mirrors; electronic housekeeping buttons) and colonial charms (intimate library, working dumbwaiter) are second to none. It also has a good location, just south of vibrant Dupont Circle and within walking distance of the White House. While The Jefferson may not offer the famous views of its closest competitor in the area, the Hay-Adams (which overlooks the White House), it does have larger rooms and is closer to the action in Dupont Circle.
4
With a history dating back to 1816, the 335-room Willard Intercontinental is among the most iconic luxury hotels in D.C. -- and indeed, the United States. Everyone from Abraham Lincoln to Martin Luther King Jr. to Michelle Obama's relatives have stayed at this palatial property, located within a five-minute walk of the White House. Highlights include a French restaurant, classic bar, fitness center, and spa. While not cheap, the Willard's prices tend to be lower than nearby luxury properties like the Hay-Adams and St. Regis.
5
This 237-room upscale hotel, part of a French-owned international chain, opened in 2002 in a former office building. With its spacious rooms, stylish bistro and bar, and a decidedly European feel in the center of old downtown near Lafayette Park and the White House, it's popular with both international and domestic business travelers and families. Its setting practically around the corner from the White House can't be beat, except perhaps by the Hay-Adams. Guest rooms are stylish and equipped with modern tech like 55-inch flat-screen TVs and Bose sound systems, but most lack coffee/tea facilities. There's a well-equipped fitness center on-site, but the property lacks a spa; for that, travelers might want to check out the W or The Jefferson.
6
The feather in Starwood's D.C. cap, the luxury St. Regis hotel is just two blocks from Lafayette Park and under a 10-minute walk of the White House. Beautiful, classically styled interiors include an atmospheric lobby bar and 172 guest rooms, where traditional decor is accompanied by modern amenities like flat-screen TVs, DVD players, and Bose iPod docks. The on-site Decanter restaurant serves haute American cuisine, plus a wonderful afternoon tea service is available and the hotel offers free evening Champagne. Other perks include a 24/7 business center, several meeting rooms, and free area car service -- but the fitness center offers a limited number of machines and high speed Wi-Fi incurs a fee (free for SPG members). Travelers might want to compare with the nearby Hay-Adams or the Jefferson, which offer plenty of charm and similar amenities.
7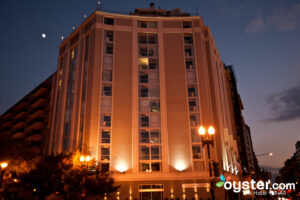 The Donovan House is a sleek offering that's helping define Obama-era D.C. cool along with hip counterparts like the W and the Dupont Hotel. From its dark-purple-and-white color scheme, to its pod-shaped "cocoon" showers, to its mod lobby, and rowdy rooftop pool parties, the Donovan House offers a sexy night in the nation's capital.
8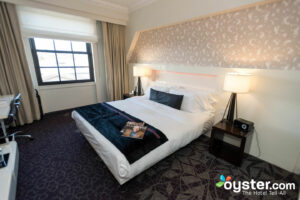 Possibly the most stylish hotel in D.C., the four-pearl, 317-room W has a tourist-friendly location and offers some of the best views in the city, particularly from its rooftop terrace bar. Highlights include three swanky bars, two restaurants, a modern fitness center, and a boutique spa. Room rates are competitive, depending on when rooms are booked, but look out for pricey extras -- fees for Wi-Fi, pets, and valet-only parking can add up fast. For a lower-priced version of the W, guests might want to consider one of the Kimpton hotels -- such as the Palomar, Hotel Rouge, or Topaz -- located in the livelier Dupont Circle neighborhood.
9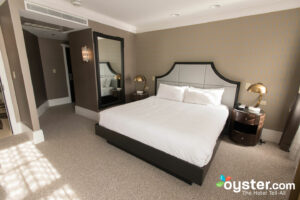 One of the most historic hotels in the city, the four-pearl Mayflower Hotel has 581 stylish rooms and elegant common spaces. Its location near the White House and powerful K Street corridor help make it one of the capital's see-and-be-seen hotels, especially for business travelers. A full-service restaurant, spacious 24-hour fitness center, concierge service, and extensive meeting space add to its appeal. As a result of top-to-bottom renovations between 2014 and 2016, the hotel was added to Marriott International's Autograph Collection. Rooms have fresh, but classic, appeal that includes handsome neutral tones plus features like flat-screen TVs, air-conditioning, and attractive bathrooms. Alternatively, it's also worth considering the Willard Hotel, which has historic character and adds a spa and 24-hour room service.