Best Luxury Hotels in the Amalfi Coast
Sure, Rome has magnificent buildings and Venice has its canals, but the Amalfi Coast is one of Italy's most picturesque regions. The coastal string of cities perched on cliffs have colorful houses and stunning views of the Bay of Naples and the Gulf of Salerno. For a truly relaxing vacation where you can drink wine on a flower-filled terrace, or lay out by a pool overlooking the water, cities along the Amalfi Coast are a popular pick. After visiting the region's top hotels, we compared each hotel to see how they stack up. So if you're looking for a posh stay, you've come to the right place. Take a look at the best luxury hotels in the Amalfi Coast and start planning your getaway!
See All Amalfi Hotels
1
One of the priciest hotels in Positano, this luxury boutique is also perhaps the most beautiful and it lives up to its upscale reputation with pristine grounds, thoughtful free extras (like snacks and boat trips), and a renowned restaurant. Rooms feature antique furniture and modern appliances, but some are small and/or noisy. That said, it's an excellent choice for those who can afford it and seek a central location, gorgeous spa, and spectacular views from all around.
2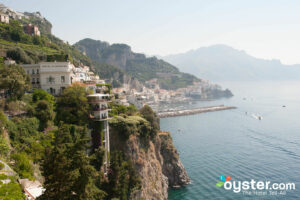 While most of the Amalfi hotels can claim excellent views across the coast, the 66 room-and-suite Santa Caterina Hotel has got five-star features, harmonious antique style, and fragrant gardens. Guests can take advantage of the wellness center, exclusive swimming pool access, and gym. Dining options range from the elegant Restaurant Santa Caterina to the more casual Al Mare eatery, along with an expansive wine cellar.
3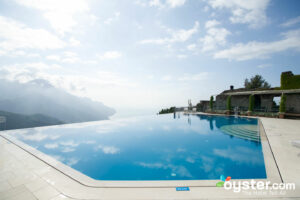 The Belmond Hotel Caruso is one of the top luxury hotels not only on the Amalfi Coast, but in Italy. Situated in an 11th-century palace and surrounded by fragrant terraced gardens, it is perched above the Tyrrhenian Sea at Ravello's highest point and offers full-on views of the sea and village. The 50 rooms and suites have beautifully tiled floors and marble bathrooms, and many offer terraces or balconies overlooking the water. Amenities include a truly jaw-dropping infinity pool, a small spa and gym, a piano bar, and a fine-dining Italian restaurant serving a free buffet breakfast. Many guests find the hotel well worth its considerable price tag; during our visit, it was fully occupied. On the Amalfi Coast, Santa Caterina Hotel and Le Sirenuse are among the only properties that can compare; some may prefer them for their more popular locations.
4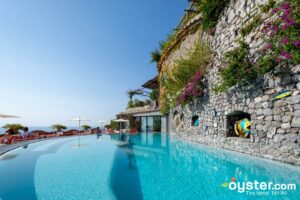 A member of the Relais & Chateaux luxury fellowship and possibly the most expensive hotel in Positano, Il San Pietro has enormous rooms with spacious terraces overlooking the sea, an elevator with access to a private cove beach, an on-site luxury spa, and a Michelin-starred restaurant. The downside is that it is not within easy walking distance to town, but a free shuttle can take you there 24/7.
5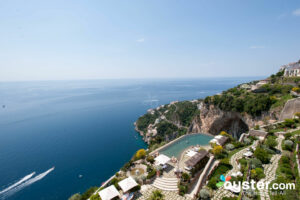 Luxurious and romantic, the Monastero Santa Rosa is a luxury boutique property with spectacular sea views, a high-end spa, a beautiful pool, a small outdoor gym, and fine and casual dining on-site. All rooms and suites look out onto the sea and some have spacious terraces. Although some past guests have mentioned wishing for more variety at the restaurant, the hotel overall does an excellent job of creating an enchanting experience for guests, so long as they can afford the high room rates.
6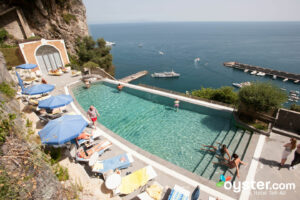 Part of the NH Collection chain, the Grand Hotel Convento di Amalfi is housed in a stunning, gorgeously restored medieval monastery dramatically situated on the Amalfi Coast, just minutes from the harbor and the town of Amalfi. The 53 rooms all have panoramic views of the sea, modern design, free Wi-Fi, minibars, terra-cotta floors, and lovely marble bathrooms, but they can be small. An infinity pool is carved into the natural cliff. Features include a spa, a restaurant, and a poolside bar.
7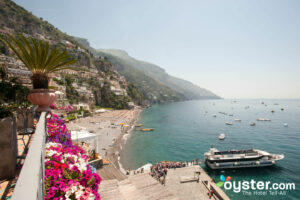 Of the three high-end hotels in the vicinity, the Covo Dei Saraceni is the only one on the beach with a pool overlooking Positano Bay and the spectacular Amalfi coastline. Crowds on the beach and boats headed to and from the nearby ferry dock can be a bit noisy, but rooms overall are pretty quiet and many are equipped with private hot tubs and two balconies. Exploring the ancient cliffside town involves a walk uphill, but the return trip is always downhill. There are three restaurants (including a brasserie with delicious pizza), and a gelateria, and though the Covo may be the most expensive hotel in the area, many guests feel it's worth it.