We know what you're thinking: cemeteries aren't often places you're dying to visit. (Excuse the pun.) They can be spooky, boring, and even run-down. But there are some graveyards around the world that are hauntingly beautiful with drop-dead gorgeous views and museum-worthy artwork. From Bonaventure Cemetery in Savannah to the cliffside Waverly Cemetery in Australia, these are 10 of the most fascinating cemeteries in the world.
1. Bonaventure Cemetery, Savannah
This charming Southern city is known as one of
the most haunted in the country, so it's only fitting that it would have a
cemetery worthy of a visit. Just five miles from downtown Savannah, Bonaventure
Cemetery has long been a stunning site with its moss-draped oak paths, but it was made even more popular by the hit book "Midnight in the Garden of Good
and Evil." It's easy to spend hours wandering the peaceful setting ,perched
on a scenic bluff of the
Wilmington River. And for history buffs, there are plenty of big names to
check out like singer Johnny Mercer, as well as notable Civil War figureheads.
Nearby Hotel Pick: Amethyst Inn at Sarah's Garden
2. Old Granary Burying Ground, Boston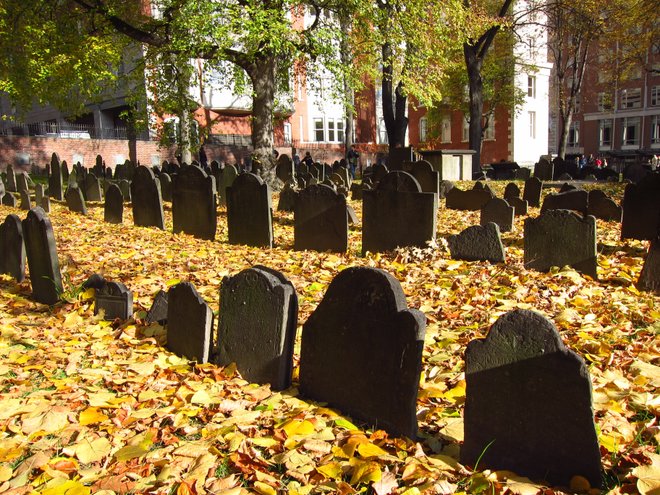 A walk through this 17th century graveyard
is like walking through a history book. Though not large in size, here is where many of
America's most notable citizens — including Paul Revere, John Hancock, Ben Franklin's family, Mary Goose, Nathan Webb, and Samuel Adams — are buried in the some 2,345
graves. Started in 1660, this cemetery is actually only
the third oldest in Boston, with King's Chapel Burying Ground and Copp's Hill Burying Ground taking the first and
second spots respectively.
Nearby Hotel Pick: Nine Zero Hotel
3. Woodlawn Cemetery; Bronx, NY
With 400 acres of rolling
hills, colorful trees, and winding paths, this cemetery feels more like a park to some. For over 150 years, the
historic site has steadily built a collection of over 1,300 mausoleums designed
by legendary architects and sculptors, and is the resting place for over
300,000 people. Notables like Elizabeth Cady Stanton, Miles Davis, Joseph
Pulitzer, and Duke Ellington all rest here. It
is also the home of the "Annie Bliss Titanic Memorial," dedicated to
those who died in the 1912 tragedy.
4. Saint Louis Cemetery, New Orleans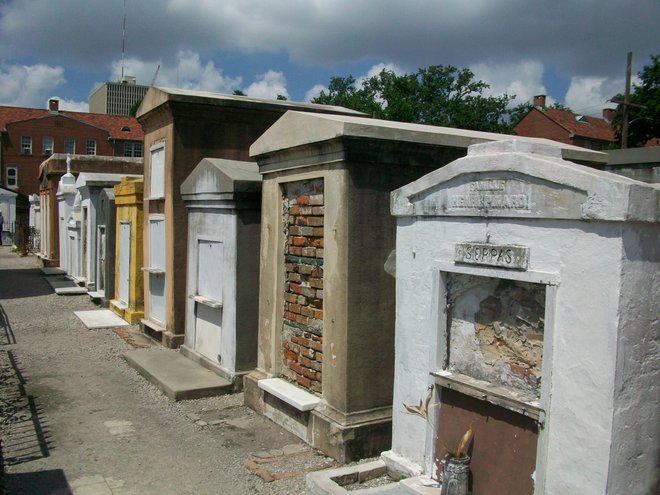 This graveyard is so ornate
that it even inspired Mark Twain to write about it, calling it "a city of
the dead." It's the oldest in the Big Easy and features more than 40 above-ground burial sites, complete with intricate sculptures and ornate mausoleums. The site became even more popular after it appeared in
the 1969 Jack Nicholson film "Easy Rider," making it a must-see spot for history and movie aficionados.
Nearby Hotel Pick: Maison Dupuy
5. Mount Auburn Cemetery; Cambridge, MA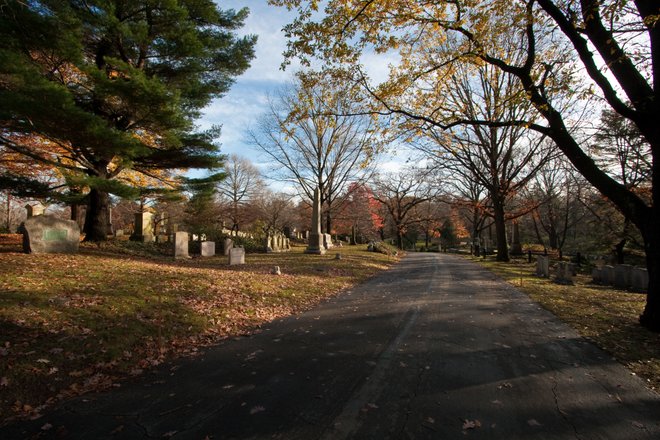 Situated just four miles west
of Boston is the first rural cemetery in the
United States, built in 1831. Now a National Historic Landmark, it was developed
as an "experimental garden," so you know it has to be pretty
impressive. It's home to the
Binney Monument from 1850, which is argued to be sculptor Thomas Crawford's
greatest work. If that's not enough to draw you in, the simple pleasure
of wandering the green gardens and stunning lakes certainly should.
6. Oakland Cemetery, Atlanta
Just in the shadows of the big city lights sits another
rural garden cemetery, this one built in 1850 as an alternative to the mostly crowded and visually
unappealing graveyards of the day. It was expanded to bury Civil War soldiers, making it a historic landmark, but has since become a refuge for city folk and
even a backdrop for wedding photos.
Nearby Hotel Pick: Sugar Magonolia Bed & Breakfast
7. Waverley Cemetery; Bronte, Australia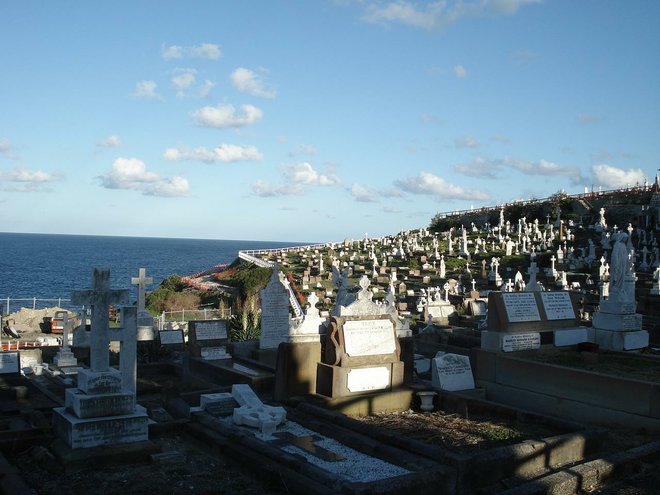 Talk
about a final resting place with a view! Opened in 1877, this cemetery is
located on top of a cliff that overlooks the Tasman Sea. Wander around to take a look at the largely intact Victorian and Edwardian monuments, and graves of many
prominent Australians (including the poet Henry Lawson and Australia's first
Prime Minister, Sir Edmund Barton) — all while taking in the endless water views
below.
8. Graceland Cemetery, Chicago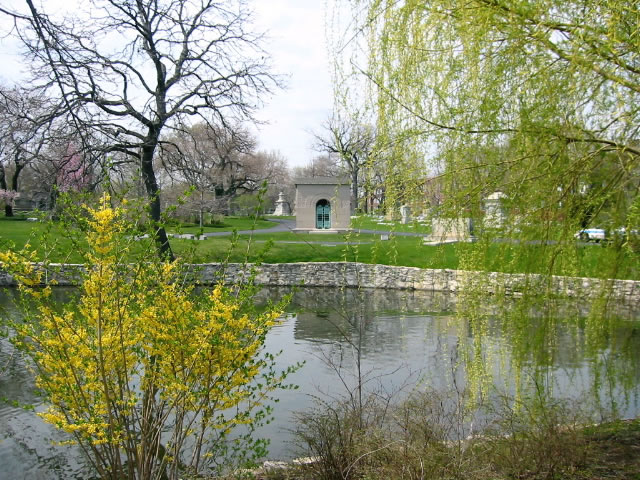 Forget about your
traditional headstones in this Victorian-era cemetery. Graceland's sculptures
are considered so valuable and precious that some are even protected by glass.
And like the architecturally prominent city in which it's situated, these
grounds are considered the "Cemetery of Architects." It was designed by
innovative architects of the day and tours are still run by the Chicago
Architectural Foundation.
Nearby Hotel Pick: Best Western Hawthorne Terrace
9. Hollywood Forever Cemetery: Los Angeles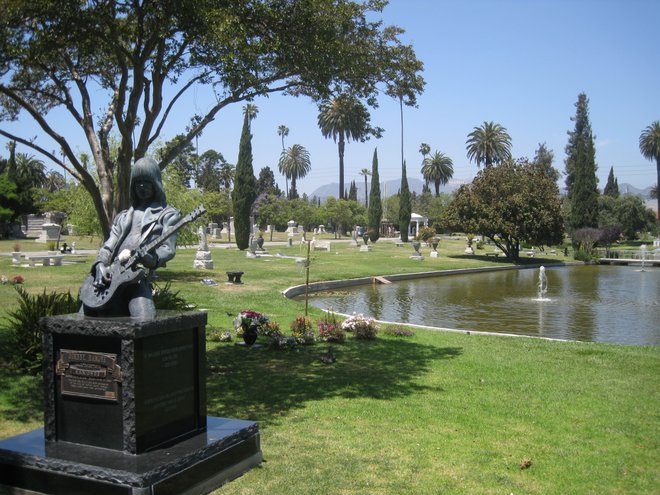 A lot of people would die to make it in Hollywood — and
some did. Founded in 1899, Hollywood Forever became the cemetery of choice for
most of Tinseltown's greats and the site is now listed on the National Register
of Historic Sites. Johnny Ramone, Cecil B. DeMille, Jayne Mansfield, Rudolph
Valentino, Douglas Fairbanks, and many more rest in peace here.
Nearby Hotel Pick: Hollywood Historic Hotel
10. Laurel Hill Cemetery: Philadelphia
Overlooking the Schuylkill River, this cemetery was established in 1836, and the key concepts that went into creating it were that had to be situated in a
picturesque location outside the city and provide a permanent burial space for
the dead in a restful and tranquil setting. Almost 180 years later, and the site still
offers that escape. It's one of the few
cemeteries to be designated a National Historic Landmark.
Nearby Hotel Pick: Homewood Suites by Hilton Philadelphia-City Avenue
Related Links:
All products are independently selected by our writers and editors. If you buy something through our links, Oyster may earn an affiliate commission.