While big cities may get mentioned more often in travel guides and on Instagram feeds, small towns offer distinctive opportunities to interact with history, navigate lesser-known pathways, and even post pictures to social media that everyone hasn't already seen. Here are 12 small towns (most with a population under 10,000) that are worth turning off the big highway to see.
1. Avalon, California
The southernmost town in Los Angeles County, Avalon is a resort getaway on Catalina Island, 22 miles off the coast of California's mainland. Getting to the island by ferry will take about an hour from Long Beach, or, if you're a high roller, 15 minutes by helicopter. Beaches and boating are the big draws to Avalon, which has a local population of about 3,700, but you can also go on underwater dives, fish, and play golf. Travelers hoping to relax more can check out the botanic gardens and marine reserve. There are also upscale restaurants, boutique shops, and top-shelf spas for those who are looking for a bit more glamour.
2. Dahlonega, Georgia
Many hikers come to Dahlonega, at the foot of the Appalachian Mountains, to rest up before beginning a stroll on the Appalachian Trail eight miles away. Visitors who don't want to undertake the approximately 2,180-mile trek can enjoy a more relaxing saunter by one of the eight waterfalls that are within a short drive from downtown. Dahlonega first made a name for itself during the Georgia Gold Rush of 1829, and a museum recounts the miner's life, which was anything but glitzy. Still, as it's part of the North Georgia wine country (about 20 vintners produce bottles of vino in the area), you can easily get a sip of the good life.
Related: 10 Best Beach Cities in America, Ranked
3. Marfa, Texas
With a population of just around 1,800, Marfa, a desert oasis in west Texas, is known for being an art hub. The art explosion launched in the 1970s, when minimalist sculptor Donald Judd decamped New York for the wide open dunes of Marfa, where he bought a one-time army base and filled it with his own work. The town now boasts a bustling contemporary arts scene, spas, and even a Prada Marfa art installation. That's to say nothing of its cuisine, which ranges from casual Tex-Mex to continental-inspired dishes served in the local hipster hotel. Those who want to get a quick taste of the place should watch the series "I Love Dick," which stars Kevin Bacon and is set in the stylish and dusty locale.
4. Maysville, Kentucky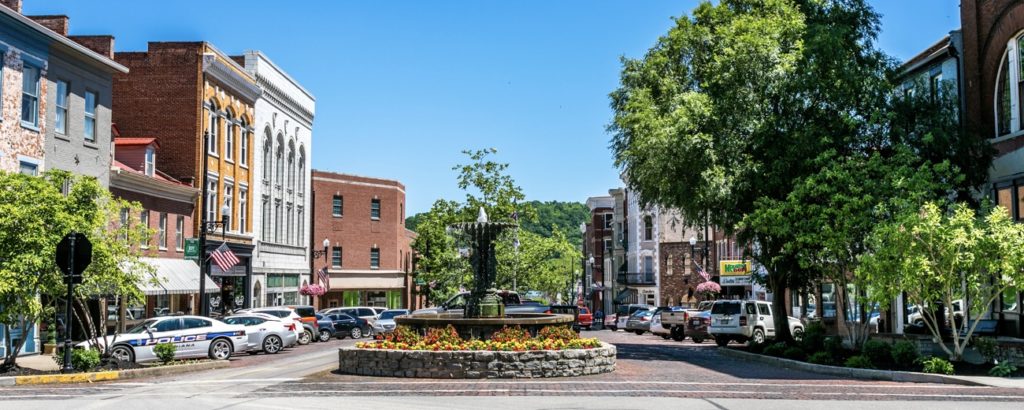 With a population just under 9,000, Maysville is a bit bigger than the typical small town but still has plenty of historic charm. Founded in part by frontiersman Daniel Boone, the northeast Kentucky outpost was once an important producer of bourbon and tobacco. The town's location, just across the river from the free state of Ohio, made it a final stop before freedom for many runaway slaves. These days, you can stop by the National Underground Railroad Museum. The town also makes great use of its vintage buildings. The 1886 Romanesque Cox Building is utilized for special events and the 1930 Russell Theatre continues to show movies. Maysville even has a bit of Hollywood glamour, as it's the former home of singer/actress Rosemary Clooney and TV host Nick Clooney (George's father).
Related: Here, Not There: 14 U.S. Destinations That Feel Like Europe
5. Breckenridge, Colorado
Founded in 1859, the town of Breckenridge was named after the 14th Vice President, John C. Breckinridge, with hopes of inspiring the U.S. government to give the place a post office. It worked. Now, the town of approximately 5,000 is known as a ski destination in the winter and a hiking haven in summer. Breckenridge is situated at the base of the Tenmile Range, and boasts a mountain that has one of the country's highest summit elevations (approximately 13,000 feet). When the town isn't covered in snow, there are numerous paths for hiking and biking, plus plenty of wide open space for golfing and fishing. For those who want to stick closer to town, the main street is lined with Victorian architecture and clapboard buildings, many of which date back to Breckenridge's early days as a mining town.
6. Mooresville, Alabama
Located between Huntsville and Decatur, Mooresville, Alabama, has a population of about 80 people. The well-preserved 19th-century town is listed on the National Register of Historic Places and boasts several beautiful specimens of classic American architecture. Mooresville's 1840 post office is the oldest operating mail carrier in Alabama and the 1839 Old Brick Church is available for weddings.
7. Leavenworth, Washington
In the mid-1960s, the citizens of Leavenworth, Washington, decided to transform their struggling logging town into a Bavarian vacation town—German beer, Swiss music, and plenty of lederhosen included. Sure, it's a bit of a gimmick, but you have to give the 2,350-plus Leavenworth natives props for pulling it off. Buildings on the main street are redone with Tudor-style facing. Oktoberfest and Christmas are both celebrated with numerous festivities. Plus, the Leavenworth Nutcracker Museum has over 7,000 pieces. In addition to enjoying the imported European culture, visitors can go mountain biking, horseback riding, rafting, hiking, and fishing.
8. Ketchum, Idaho
The reasons Ernest Hemingway loved Ketchum may also be why you'll want to stop by the central Idaho town, which boasts a population of around 2,800. Bordering town Sun Valley was built up in the 1930s as the nation's first destination ski resort, and in the mid-20th century, it hosted Hollywood stars such as Clark Gable, Marilyn Monroe, and Errol Flynn. More recent guests have included Tom Hanks, Oprah Winfrey, and Justin Timberlake. Beyond the slopes, Ketchum has the Sawtooth Wilderness, a federally-protected area with some of the cleanest air in the United States, according to the EPA. Canoers can glide along Redfish Outlet Lake and stop to fish. During your visit, head to the Sun Valley/Ketchum Visitor Center for an in-depth exhibit on Hemingway's time living in the area. You can also visit his memorial, which was created by his family.
9. Galena, Illinois
When Galena was in the midst of a mining rush in 1828, it had a population of about 10,000 and was a destination on the Mississippi River. Now, its population of 3,600 is dwarfed by the big city, but the echoes of Victorian grandeur continue to shine. Once the home of President Ulysses Grant, Galena has numerous 19th-century sites and a main street dotted with several turn-of-the-century buildings. Visitors who want to enjoy the great outdoors can go hiking, biking, and boating. The Galena Country Fair, celebrated in October, brings artists and craftspeople from around the area to celebrate in Grant Park.
10. Stowe, Vermont
Travelers looking for a quintessential New England small-town experience can probably find it in Stowe, Vermont. Between late September and early October, people flock here from around the country for the leaf-peeping. However, the town of approximately 4,400 may be best known as a ski destination. While the slopes aren't the biggest, the accommodations are some of the coziest. Hotel choices include the Trapp Family Lodge, which is still run by the famous family, whose story was told in the movie "The Sound of Music." Just south of Stowe, in Waterbury, is the Ben & Jerry's factory, which offers tours that include free samples.
Related: The 17 Best East Coast Family Vacations
11. Cloudcroft, New Mexico
People come to Cloudcroft, an approximately 600-person village in the Lincoln National Forest, for its hiking, skiing, and temperate climate. For hikers, the area is home to the Rails-to-Trails program that converts old railway lines into recreational trails. The Sacramento Mountains extend through the town, and those interested in the history of the 85-mile range can take a gander at the local museum. In the winter, skiers come to Cloudcroft to ride the snow down those peaks. Visitors who are more interested in nature can see wild horses and elk along State Route 244 and fish in the Silver Springs Pond.
12. Clarksdale, Mississippi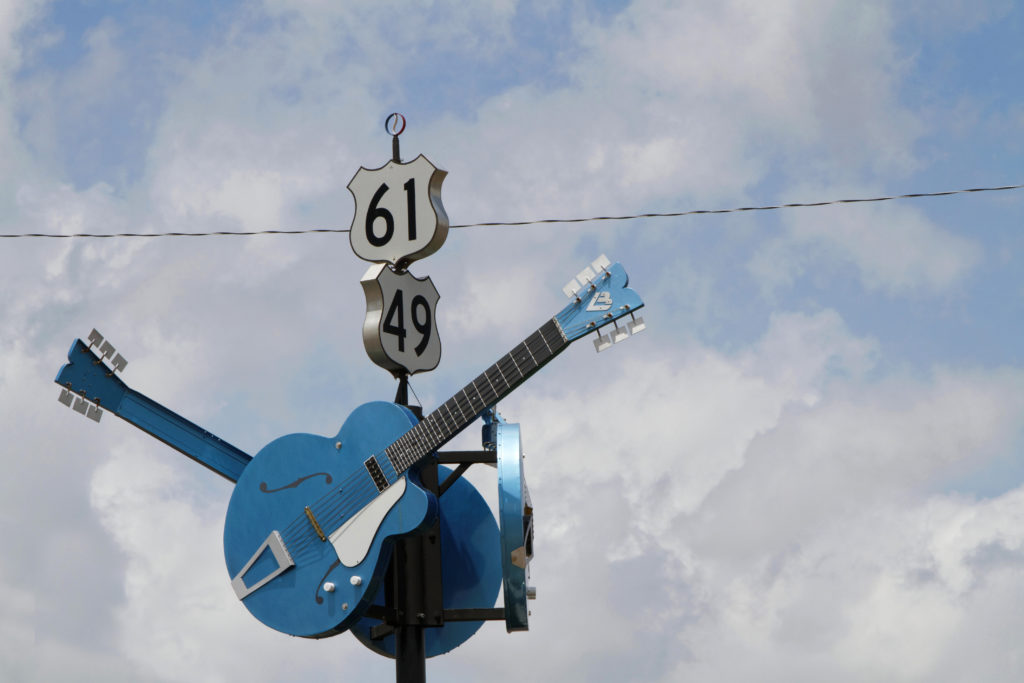 For fans of the Delta blues, Clarksdale is a seminal stop along the Mississippi Blues Trail. The crossroads where renowned bluesman Robert Johnson reportedly sold his soul to the devil to acquire his supernatural talent is marked in the northwestern Mississippi enclave, which is home to about 14,000 people. The Delta Blues Museum houses several notable artifacts, including the cabin Muddy Waters is believed to have grown up in. Plus, festivals occur throughout the year, bringing blues fans to the town. Pop into one of the watering holes with tin signs and walls that rattle from the sounds of guitars from within. There are also numerous food joints for BBQ, authentic Mexican, and down-home cooking. Not sure where to stay? Rent a room above the Ground Zero Blues Club, which is co-owned by Morgan Freeman.
All products are independently selected by our writers and editors. If you buy something through our links, Oyster may earn an affiliate commission.