What makes a hotel qualify as one of the best in Aruba? At Oyster, we know that the "best hotel" is different for just about everyone. For some, the best hotel is the best value, and for others, it's the one that offers the most for kids. We compiled lists of Aruba's best value hotels, best kid-friendly hotels, most romantic hotels, etc., but if you don't have time to read all that, not to fear. We selected one hotel from each list that bests its competitors (if only slightly). Below, we present the best hotels of Aruba.
See All Aruba Hotels
1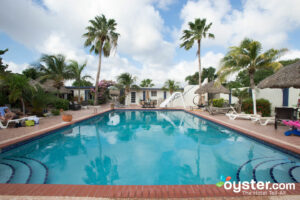 Club Arias Bed and Breakfast is a friend and family-run spot in the in Aruba's quiet southwestern village of Savaneta. Ten suites (and a tiny budget option, The Nook) are set within spacious and well-landscaped garden grounds with plenty of places to lounge. The entire property has a Mediterranean style, from the clay garden accents, to the large faux boulders and grottos, and down to the impressive hand-painted details covering walls, furniture, and signage. All suites include free cooked-to-order breakfast by Chef Gabriel, who also serves up pizza, pasta, wings, and private dinners. This is an ideal place for families or couples looking for local flavor or even just an escape from heavy tourist areas, but it's not on the beach and you definitely need a car.
2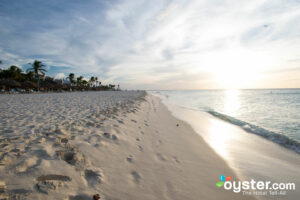 Costa Linda Beach Resort is a quiet, 155-room upscale beachfront resort just south of the Low Rise hotel zone. The large, two- and three-bedroom Premier suites have full kitchens with shiny appliances, private terraces, and contemporary beach decor, while the slightly snug Cayena suites are a bit dated and dim. There is no room service, but there's a handful of leased out restaurants and shops on-site and within the small surrounding plaza, as well as a spa, gym, and games. Its large units are well-suited for families as are the kid-friendly features such as a playground and dedicated kids' pool
3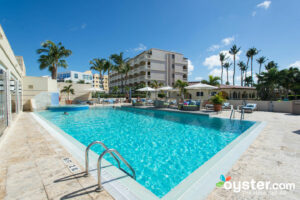 The Bucuti is a romantic, adults-only resort taking up a prime stretch of Eagle Beach in the Low-Rise hotel district. This intimate, 104-room property has 14 acres of beach, and the main activity here involves lingering on the sand under shaded palapas; there's also a chic infinity edge pool. The hotel has been open for 25 years, and the original owner can often be seen socializing during check-in while guests enjoy a free glass of champagne. Rooms have stylish furnishings and modern amenities such as iPod docks, laptop tablets, and free Wi-Fi. A free breakfast buffet is served daily, and there is a restaurant for lunch and dinner, though plenty more restaurants are within walking distance. The resort sees a high percentage of repeat visitors, so book early.
4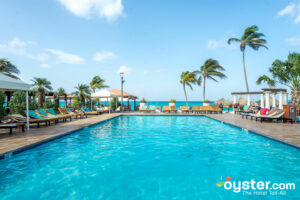 Perhaps the highlight of the entire resort is Druif Beach, a long, oval-shaped stretch of white sand that is free of debris and sharp objects. Not only is the area safe -- the beach is home to many Low-Rise resorts -- but the views face directly west for outstanding sunsets. The beach is cleaned daily, and because of the great expanse, it is impossible to feel crowded. The shore has lapping turquoise waves resembling a postcard -- great for swimming and long barefoot strolls in either direction. In fact, guests can walk all the way to Eagle Beach and beyond. All beaches in Aruba are public so there are no off-limits areas to worry about.
5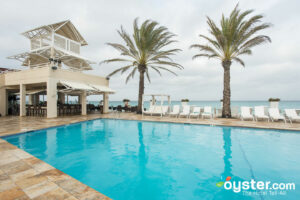 Tamarijn Aruba All Inclusive is one of five Divi properties on the island. This family-friendly, 236-room resort is situated close to the shore along Druif Beach, dotted with straw beach huts for shade. Though beach space in front of the long row of two-story buildings is tight, there's a broader stretch of sand a short walk north, in front of the slightly more romantic sister resort, Divi Aruba. The all-inclusive bracelet worn by guests allows for unlimited meals and drinks at both Tamarijn Aruba and Divi Aruba (nine dining options and seven bars, total) as well as nightly music and entertainment, water activities, a kids' club, tennis courts and a rock-climbing wall. All rooms come with ocean views, balconies, duvets, mini-fridges and flat-screen TVs. Bathrooms have been updated, though the property as a whole does show some wear and tear.
6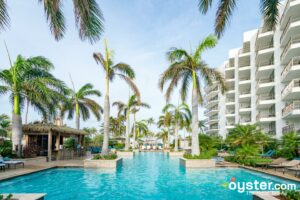 A comfortable, modern getaway for families with a great pool, gym, spa, and casino, the Marriott Resort is fancier than its only neighbors, the Marriott Surf Club and the Marriott Ocean Club. This Marriott is a bit farther from the airport than most Aruban resorts, but it's only a three-minute walk to the High Rise complex. The rooms are big and bright with quality technology, large balconies and great water pressure in the bathrooms.