Best Boutique Hotels in Bangkok
Bangkok is perhaps better known for its huge luxury towers than its boutique hotels — and the boutique hotels it does have tend to skew lower end. But not these. Our investigators visited tons of Bangkok hotels in person and took hundreds of honest photos to help you know what you're going to really get before you arrive — and these were the most charming upscale boutique options they encountered.
See All Bangkok Hotels
1
Sandwiched between the U.S. and Dutch embassies in Bangkok's leafy and residential Lumpini neighborhood, the Oriental Residence Bangkok is home to 145 luxury apartment-style residences that attract both long- and short-stay guests. Even without its romantic, French-inspired decor, the hotel would be impressive as the home of Michelin-starred chef Henk Savelberg's Thailand outpost; these, together with a stylized roof deck pool, modern fitness center overlooking the city, two other restaurants and bars, and full kitchens in every room cement its place as a truly luxe and discreet destination. That the nearest skytrain station is within walking distance (as is verdant Lumpini Park) is just icing on the cake.
2
The 24-room Ariyasomvilla is an upscale boutique hotel, hidden away at the end of a dead-end street off busy Sukhumvit Road, with its hundreds of restaurants, bars, and shops. The family-run Ariyasomvilla is quiet, snuggled against a canal on one side, and set off from the street by a garden on the other. Rooms in this early-1940s villa have polished teak floors, Thai decor with colorful cushions and textiles, flat-screen TVs, mini-fridges, free Wi-Fi, and elegant beige-stone bathrooms with separate bathtubs and rainfall showers. There's a lovely blue-tiled garden swimming pool, a small spa, fitness area with cardio and weight-training equipment, a meditation hall, and the Na Aroon restaurant, which prepares seafood and vegetables in the Thai style (no meat served). Prices are lower here than at the large Sukhumvit hotels nearby, such as the Westin Grande and Sheraton Grande. Ariyasomvilla, with its lush gardens and authentic Thai ambience, offers a respite from the roiling city.
3
In a city where hotel rates are competitive and there are hundreds of options to choose from, this intimate, 76-room boutique hotel still manages to stand out. It's one of the best values for an upscale hotel in the city, thanks to its stylish, colorful, Chinese-inspired decor, tranquil vibe, and extensive freebies (welcome drinks, minibar items, scheduled tuk-tuk service to major sights, and Wi-Fi among them). The location in bustling Chinatown is ideal for those who want to experience Bangkok's famous street food, and there's a quality restaurant on-site as well as a swanky lounge for drinks and jazz. There is no pool, however.
4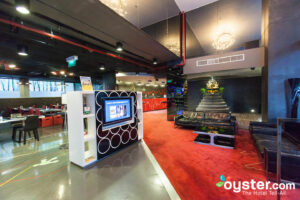 A trendy, modern boutique hotel with 188 fun, urban- and music-themed rooms, the Galleria 10 Hotel is popular with hip young travelers, especially couples. Located in Bangkok's trendy Sukhumvit neighborhood, it has two restaurants and bars that are popular with scene-y locals: one on the rooftop, next to the pool, with panoramic city views, and the other on the ground floor, where the popular daily breakfast buffet is served (for a fee). There's also a small rooftop fitness center, but no spa. Specialty rooms include extra perks like free breakfast, free drinks at a nearby blues bar, and free souvenirs. The hotel is within walking distance of nightlife, one of Bangkok's luxury malls, and both a skytrain and subway station.
5
The Golden Tulip Mandison Suites is a compact hotel located off of busy Sukhumvit Road on a quieter side street. The hotel is too far from the restaurants and bars of Sukhumvit to walk, but it does have a free tuk tuk shuttle for guests. The location is quiet, and the rooms here come with flat-screen TVs, electric hot water kettles, and free Wi-Fi. The hotel has one of the nicest swimming pools for a smaller property, located on the fourth-floor terrace next to the hotel's one small restaurant, and the adjoining bar shows movies on the big screen. There is also a fitness center and meeting room available. It's a great value for an upscale hotel.