Best Luxury Hotels in Brazil
Take a look at the best luxury hotels in Brazil.
See All Brazil Hotels
1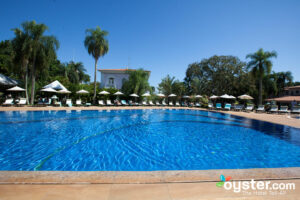 The 193-room Belmond Hotel das Cataratas is a luxury property with possibly the best location for visiting Iguacu Falls. It's the only hotel with direct falls views, and guests have access to the park when it's closed to the public -- a huge plus given the crowds that it draws. Rooms are decorated in a classic Portuguese colonial style with tropical accents, and some have falls views. Two restaurants, plus a bar with live music nightly, keep everyone fed and entertained, while the outdoor pool is heated for year-round use, and the spa provides relaxing treatments. Fitness and business centers, plus a tennis court, are other pluses. For travelers who want to be on top of the falls, this is the only option, and the rates reflect that.
2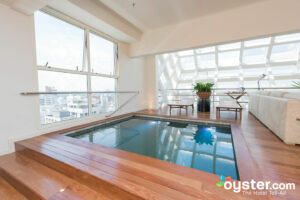 The 57-room Hotel Emiliano is a luxurious hotel in the upscale Jardins area. Despite being a boutique, the hotel has numerous features -- a spa, a 24-hour fitness center, a restaurant and two bars, a staffed business center, and even a rooftop helipad for guests arriving in style (though no pool). The mod rooms are sexy and sleek: Picture wood-paneled walls, clean lines, Charles Eames furniture, and high-tech marble bathrooms (the toilet has buttons.) However, some may find the minimalist style in the lobby and restaurant a tad stark. Nonetheless, this is a fabulous hotel with with excellent freebies (including a 15-minute massage), and the location is a short drive from downtown Sao Paulo.
3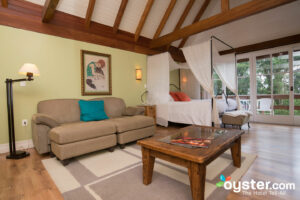 The 17-room Boutique Hotel Varanda das Bromelias is an upscale, romantic property located in Planalto, just outside of downtown Gramado. Owned by a glass designer, the hotel is a stylish and artistic retreat that's especially suited for couples. Rooms of varying sizes have a sophisticated, homey ambience plus modern features like flat-screen TVs, minibars, and air-conditioning. There is a small heated indoor pool, a fitness center, game room, and a full-service spa with a sauna and whirlpools on-site. The free daily breakfast buffet is served until late, afternoon tea is included, and valet parking is free. This property is such a popular pick that it often books up months in advance.
4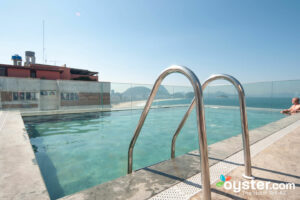 Miramar Hotel by Windsor is an upscale option in Copcabana's charming and vibrant Posto 6 area, a short walk from Ipanema. The hotel's top feature is its rooftop infinity pool with poolside bar and sweeping views of the ocean and mountains, though the famous beach across the street probably also merits a mention. There's a restaurant on site that serves an excellent free breakfast buffet, and the hotel's 200 sophisticated rooms have high-end touches like Nespresso machines and premium bath products -- some rooms come with ocean views. The hotel has more style than the nearby Orla Copacabana, though rates there can be significantly lower.
5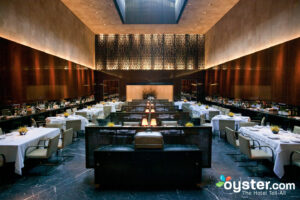 The 60-room Hotel Fasano is a luxury boutique in the upscale Jardins neighborhood. It offers impressive features, including a solid fitness center and an intimate, Zen-like spa. In addition, there are several popular restaurants and bars: The Italian fine dining restaurant is highly acclaimed, Baretto bar offers excellent live music, the lobby bar has art deco style, and the casual restaurant serves three meals a day. Rooms have cool, retro-modern decor -- including funky leather furniture and striped rugs -- as well as flat-screen TVs, DVD players, and iPod docks. Business travelers may also want to consider the nearby (and very similar) Hotel Emiliano, though it lacks Hotel Fasano's chic indoor pool.
6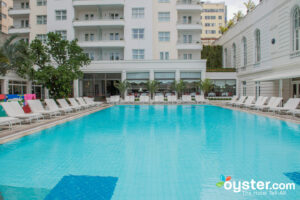 The palatial 243-room Belmond Copacabana Palace is an historic Art Deco hotel just off the beach in Rio De Janeiro. The luxury property, now part of the Belmond hotel group, is classic and classy, with spacious, high-ceilinged common spaces and service staff that attend to guests throughout the hotel, the pool, and on the beach. Rooms are plush and elegant, and many have city or ocean views, well-stocked minibars, and beautifully tiled Juliet balconies. Features include a luxe spa, heated outdoor pool, and three highly regarded restaurants, as well as a lounge with a live DJ. This is one of the best hotels in town, and among the most expensive. Guests seeking something less formal, though still luxurious, could try Hotel Santa Teresa MGallery by Sofitel, which sits upon a tropically landscaped former coffee plantation.
7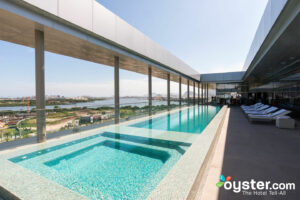 Four-pearl Hilton Barra Rio de Janeiro is an ideal spot for business travelers or those who don't mind long commutes to Zona Sul's hotspots. The property sits between two malls, and the bus station opposite provides good transport links. Features include a rooftop pool and bar overlooking the Jacarepagua Lagoon, plus a well-equipped gym, buffet restaurant, lobby bar and seating areas both inside and out. The 298 rooms and suites have a classy style and upscale amenities including Nespresso machines and 42-inch TVs, plus L'Occitane bath products. Unfortunately, the 45-minute commute to the Centro or Zona Sul is off-putting. The hotel's location keeps rates low for the category, but travelers willing to compromise on sleek finishes might consider Golden Tulip Rio Copacabana, which offers a more central base without sacrificing features.
8
On a hillside overlooking the Atlantic Ocean, Vila d'este has stunning waterfront views from its pool, whirlpool, on-site restaurant, and some rooms. With its lush grounds, this stylish upper-middle-range hotel feels like a romantic hideaway. The 19 rooms have airy, light decor, and a handful have ocean views. The on-site restaurant offers a free breakfast buffet and other a la carte meals. Despite the views, this property is not on a beach, and guests must travel to other beaches in the Búzios area in order to lay out on the sand. Travelers looking for an elegant beachside location in this neighborhood could try the Hotel Le Relais La Borie.
9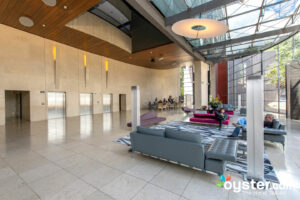 The 95-room Hotel Unique is a trendy pick near Sao Paulo's equivalent of Central Park. The rooftop bar, restaurant, and pool all overlook the park and have beautiful skyline views. The all-white rooms have a bit of a South Beach vibe and feature sexy open bathrooms with separate showers and soaking tubs (though some guests might think they lack privacy). In-room amenities include big flat-screen TVs, different pillow treats every day, and 24-hour room service. Hotel highlights include a large, open lobby with patterned rugs, funky furniture, and a nice lobby bar. An indoor pool, fitness center, steam room, and sauna are all available on-site. While this boat-shaped hotel is not located in the most central neighborhood, it is near attractions such as the Modern Art Museum, Ibirapuera Park, and restaurants.
10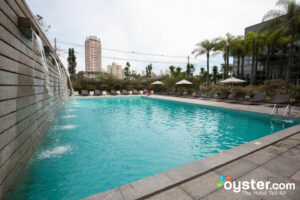 Popular with business travelers, the high-end Hyatt Grand Sao Paulo is a luxurious option not far from the domestic airport and within a 10-minute walk of shopping and dining. The 466 rooms and suites here are comfortable, modern, and up to business luxury standards without being grandiose; those on higher floors have excellent city views. There's also a huge fitness center, spa, indoor and outdoor pools, and seven restaurants and bars featuring cuisine from around the world, as well as Brazilian favorites -- business travelers appreciate not having to leave the hotel in the midst of meetings. All these perks come with a fairly hefty price tag, though, as well as the extra fees levied for Wi-Fi and parking.
11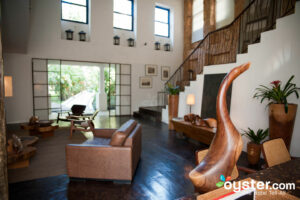 Hotel Santa Teresa MGallery by Sofitel is a historic mansion turned luxurious boutique hotel located on a former coffee plantation in Santa Teresa. It features gorgeous tropical decor, which includes bright cabanas in the lounge, lots of lush greenery (by the pool, on the grounds), tiled mosaics, and island-themed bed runners in the rooms. The lower-level rooms aren't quite as upscale as the rest of the hotel, but they do have sleek bathrooms, wood floors, flat-screen TVs, and a light, airy feel. Suites are higher-end, with extras such as four-poster beds of tropical wood, standalone tubs, and shady terraces. The hotel also features a gorgeous spa, a rooftop pool with sweeping views of the city, and a restaurant serving delicious French-influenced Brazilian cuisine.
12
Hotel Le Relais La Borie's best feature is its superb location right on the famous Geribá; it's a gorgeous swath of sand in the middle of a tony residential neighborhood. This upscale hotel has 41 spacious rooms and suites with light, breezy decor; some have ocean views. Alas, not all look over the beach, and some bathrooms are in need of a refresh. A peaceful swimming pool, small spa, and beach attendant add to Le Relais La Borie's luxury. The well-regarded on-site restaurant serves a hot buffet breakfast and a la carte meals for lunch and dinner. Travelers may want to compare rates and amenities with the neighboring upscale Serena Buzios Resort, which has a more modern look.
13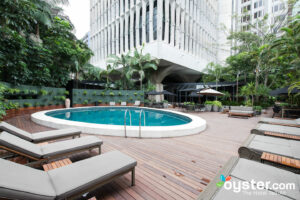 The 220-room Tivoli Sao Paulo Mofarrej is a luxurious option near the downtown area and Avenida Paulista. Rooms are decorated in neutral colors and feature flat-screen TVs, stocked minibars, and 24-hour room service, but bathrooms are on the small side. Suites and collection rooms might be worth the upgrade as they feature butler service. Hotel highlights include a spacious, light-filled lobby with a glass roof, a small outdoor pool (with odd orange tiling) surrounded by cabanas, and an upscale spa by Banyan Tree. There are several dining and drinking options on-site, including the top-level restaurant with beautiful city views. Family features include welcome gifts for kids and a policy where children under six eat free in the restaurants.
14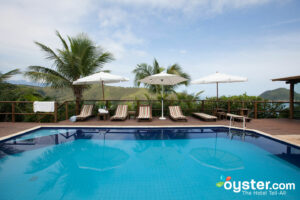 A boutique retreat situated 20 minutes from Sao Sebastiao, Ilha de Toque Toque Boutique Hotel is a peaceful hilltop haven overlooking the ocean. Guest lodging is limited to 10 suites, which have beautiful rustic-chic interiors and balconies with ocean views. On-site facilities include two swimming pools, a sauna, a hot tub, a game room and a restaurant with a breakfast buffet and fresh seafood at lunch and dinner. The hotel's secluded beach has calm waters that are ideal for swimming and snorkeling.
15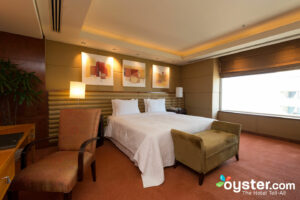 This upscale hotel is an excellent option in Sao Paulo for business travelers. It's part of the massive CENU business complex, and provides underground access to a shopping mall and the convention center. Business-friendly amenities include everything from 13,000 square feet of meeting space and a staffed business center to cell phone rentals and 24-hour room service. And though it does not have a kids' club (very few hotels in Sao Paulo do), the Hilton is a surprisingly kid-friendly business hotel, with children's menus in the three restaurants and children's video rentals. Plus, though it's a bit dated, kids will likely enjoy the indoor pool, which is part of the large 24-hour fitness center. Rooms are spacious, and also well-equipped for business travelers, featuring large work desks, flat-screen TVs, and marble bathrooms. Rooms have a chain-like look with a color scheme of whites and beiges, but they still feel sleek and contemporary.