Best Kid-Friendly Hotels in Guadeloupe
Building sandcastles on the beach, surfing in the gorgeous water, or hiking through the tropical forest are all family-friendly activities that can be done on the stunning island of Guadeloupe. The French overseas territory in the Caribbean is a popular getaway for families and many hotels have amenities geared toward children. After visiting the most popular hotels, we evaluated each to see how they stacked up against the competition. So if you're planning a family vacation, take a look at our picks for the best kid-friendly hotels in Guadeloupe!
See All Guadeloupe Hotels
With around 300 rooms and 47 acres of a beach-lined peninsula to itself, this mid-range, all-inclusive resort tries to ensure that guests never have any reason to leave, filling their hours with multiple food options, more non-beach activities than one person could accomplish in a 10-day vacation, and, thanks to the kids' club, no excuse to use the kids as an excuse for not having fun. All this comes with a price, of course, including the fact that the large crowds at the beach and hotel mean less privacy all around. Rooms are small, and show some small signs of age.
Like a Europop version of a Disney hotel, this 514-room, 35-acre, mid-range property with sun-baked plazas and grassy rolling hills is a sprawling complex of pools, beaches, faux-plantation guest-room buildings, and three restaurant options. Kids take precedence, and there's an active kids' club with supervised activities as well as a separate club for teens. Quiet it is not, though the sunlit, citrus-accented rooms come with outdoor kitchenettes give families the option to self-cater (meal plans are also available).
The modern, 211-room, mid-range La Creole Beach straddles the line between business hotel and family-friendly vacation hotel, though plenty of locals have started coming for its beachside nouveau-Creole seafood restaurant as well. It's a sprawling, 10-acre property centrally located in Gosier, within an hour of most of Guadeloupe's tourist destinations. Clean, basic rooms are a bit disappointing for the price (and not up to advertised four-star standards), and most have French balconies with nowhere to sit. The pool and man-made beach are the main draws here and for families, the kids' club, babysitting service, and free cribs on request are nice perks.
The mid-range, 241-room Le Manganao Hotel & Residences is one of the most affordable beachfront hotels on Guadeloupe's tourist-friendly southern shore. It's extremely family-friendly, and the seasonal kids' club and ample activities are geared toward children under 13. Most guests will spend their time on the small but essentially private beach rather than in the small and somewhat basic rooms, which lack privacy. Kids seem to be the ones really in charge at this hotel, which gears itself specifically to French-speaking families with younger kids. During our visit, we saw children rehearsing for talent shows or doing projects in the centrally located kids' club.
This 215-room former Club Med is on Bas Vent beach on the less visited side of Guadeloupe and guests essentially have this beach to themselves. The property offers tons of activities for all ages, from a wooden child-sized fort to Hobie Cat rentals to tennis courts to a petanque court. The clean but small and rather flavorless rooms pale in comparison to the beach scene, with most situated in a hulking building overlooking the ocean. Kids are everywhere, and there is a dedicated, staffed kids' club behind the beach bar with a sandy soccer pitch, a pastel-colored amphitheater, a pint-sized wooden fort, and an indoor area to color and draw. Teens are typically drawn to the surf and sail shop, with its promises of waterborne velocity in the form of sailing craft and jet skis.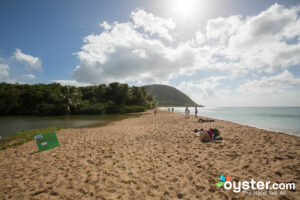 This 16-room, mid-range property dotted with tropical fruit trees is run by a couple from Lyons and located in Deshaies, an hour from the airport and the tourist hubbub in Grande-Terre but 500 meters from a beautiful beach. Cheerful, rustic rooms lack TVs and ocean views, but include kitchenettes. Parents may appreciate the lobby bar while kids will likely spend time at the outdoor saltwater pool. Just note that while the free breakfast is excellent, lunch and dinner are not served on-site, and Wi-Fi is mostly limited to the lobby.