Best Kid-Friendly Hotels in the Hamptons
Oyster knows what travelers look for in their hotels. When we visit properties around the world, we evaluate how every feature stacks up against the competition, from the rooms to the pools to the restaurants. So if you're planning a trip and need a place to start, you've come to the right place. Take a look at our top kid-friendly hotel picks in the Hamptons and get inspired!
See All Amagansett Hotels
1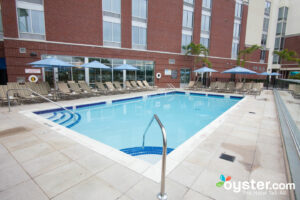 Families are drawn to the hotel for its proximity to the east end, but for children, the hotel will be a destination in itself, given the comfortably sized rooms with 42-inch flat-screen TVs; the indoor and outdoor pools (with a poolside grill in warmer months); canoe, kayak, bicycle, and paddle board rentals; and proximity to the Long Island Aquarium and Splish Splash Water Park. Freebies include breakfast, property-wide Wi-Fi, and cribs and high chairs to borrow (the hotel offers babysitting for a fee).
2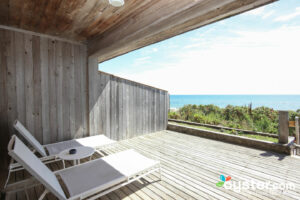 The 109-room, upscale Gurney's Inn stands out among Hamptons hotels, quite literally: It's one of the largest resorts in the area, and it also has the best beachfront location. No other Montauk resort compares in terms of features, and no Hamptons resort (except for the Panoramic View next door) can match its truly terrific, and massive, stretch of sand. All of this means that kids won't want for things to do here, though the waves can get rough -- meaning swimming is probably best-suited to older kids who like water sports.
3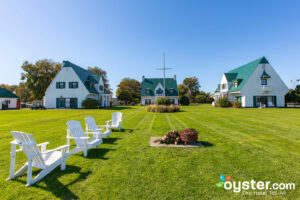 This family-friendly resort has a variety of renovated rooms, suites, and villas overlooking Lake Montauk. The views take advantage of the attached marina, bobbing with boats galore, and are crowned by a white lighthouse. The resort has more than 80 years of intriguing history, and rooms are pricey but nicely decorated in nautical style. Though the location is not directly on the ocean, on-site activities and restaurants, and the free shuttles to town make it a draw for an amenities-filled Hamptons getaway.
4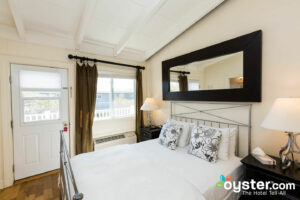 Smack dab between Amagansett and Montauk, the Sea Crest on the Ocean resort is a two-level condo property containing studio, one-, two-, or three-bedroom units -- great for families. Studios contain efficiency kitchens, and all others have full kitchens. Units vary greatly in decor depending on owner, so ask for a description when booking. The main attraction here is the easy and free access to the beach, but additional highlights include the outdoor pool, charcoal grills, and tennis courts. Located just off the Highway 27 artery, a car is needed to reach local restaurants and attractions (and there's no restaurant on-site). Second-floor rooms are more likely to have a view of the ocean.
5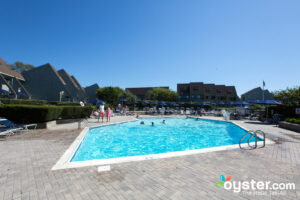 The main draw of the 92-unit Surf Club is its peaceful location directly on the beach in Montauk (and only a five-minute walk from all the shops and restaurants of downtown Montauk). The individually owned and decorated units vary; some can be quite dated. The One- and Two-Bedroom Townhouses have two floors with kitchens and separate bedrooms, plus private decks. On-site, there's a pool, fitness center, and tennis courts. Wi-Fi is free throughout the property. All in all, it's one of the most popular vacation spots in town.
6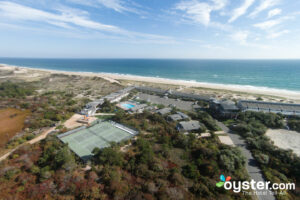 A quiet Montauk beach property with a laid-back vibe, the Driftwood on the Ocean is a collection of 52 condos on an uncrowded stretch of sand. Studios and One- and Two-Bedroom Suites are available with oceanfront or dune views, and all cottage-style rooms have kitchens or kitchenettes. The well-maintained grounds include playgrounds, barbecue grills, picnic tables, playgrounds, basketball and tennis courts, shuffleboards, and a large pool, plus there is a lounge with a ping-pong table and frequent beach bonfires for roasting s'mores.
7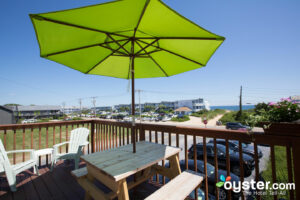 This 26-room, mid-range property is a throwback to a time when American seaside resorts were more about location than frills. The inn faces the Atlantic Ocean, but is separated from the beach by a street and a row of houses. The casual seaside resort has simple rooms with ocean-themed decor, and suites with hot tubs, and there's a cheerful courtyard with pastel umbrellas, redwood picnic tables, and a Weber barbecue grill, along with a pool at a hotel next door. Guests who arrive before check-in can drop off their luggage, put on a bathing suit in the changing room off the lobby, and head straight to the beach. For a similar feel in the same area, travelers should check out Beachcomber Resort at Montauk, which has a private beach and a tennis court.
8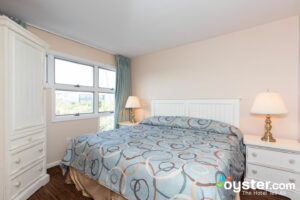 The best thing about this lower-middle-range, 150-room hotel is the location of its main building, which is directly on the beachfront and within walking distance of Montauk town center. Beach-house-style guest rooms have low ceilings, but are spacious, and have flat-screen TVs, free Wi-Fi, seating areas, kitchenettes (with microwaves, refrigerators, coffeemakers, and two-burner stoves), and balconies, some of which face the ocean (the main building's ground-floor rooms have direct beach access). The main attraction here is the beach itself -- a lovely, unspoiled stretch of sand -- but there are also two large heated outdoor pools, one with patio furniture, the other with loungers and sun umbrellas.
9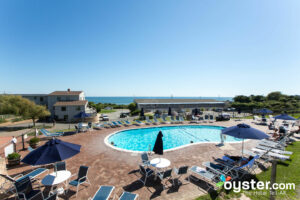 Popular with families and self-catering vacationers, this peaceful beachfront hotel offers homey accommodations in a pretty location across from the beach. All 88 individually decorated rooms have air-conditioning, a full kitchen, living area, and a balcony; there are several multi-room apartments available, too. The Beachcomber doesn't offer too many on-site features, but the requisite necessities are in place for an excellent beachside vacation: a heated pool, tennis court, sauna, and free Wi-Fi.
10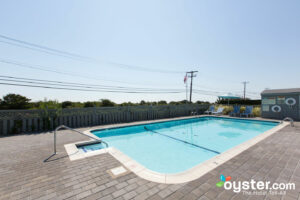 There are 29 individually decorated rooms at this three-pearl, condo-style Montauk property. It's a popular choice for a peaceful vacation, as the resort's quiet setting is a 15-minute walk from downtown Montauk. There's also a beautiful beach just across the street. All rooms have air-conditioning, a full kitchen, living area, and balcony or patio, some of which have fabulous ocean views. The hotel has a heated pool, barbecue and picnic area, and free yoga and fitness classes during the summer. Wi-Fi is also free throughout the resort. It's worth comparing with the Montauk Yacht Club Resort & Marina, which has more facilities, including a restaurant.
11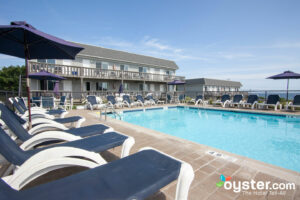 The family-friendly Hartman's Briney Breezes Motel is a small, welcoming property with a great location by the water and a few minutes from the Montauk town center. Owned by a local couple who live on the property, the hotel is casual and comfortable, offering thoughtful amenities including free Wi-Fi, free parking, barbecue grills, a heated outdoor pool, and green space, as well as reserved tee times for guests at the local golf course. Rooms are simple but clean and spacious and have pull-out sofa beds and kitchenettes, but balconies are shared which can limit privacy. Most rooms have a view of the ocean, but there is a main road that runs between the property and the beach.
12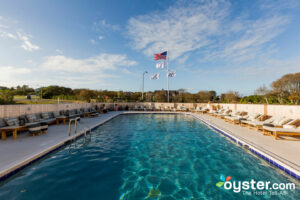 The two-pearl Oceanside Beach Resort is ideal for couples and families who wish to be near the beach and walking distance to town. Rooms have a range of colorful styles, but all come with flat-screen TVs, mini-fridges, coffeemakers, and balconies or porches. Some rooms have kitchenettes, while Efficiency units have full-size kitchens, minus a microwave. However, there have been some complaints of noise in rooms. On-site features include a pool, a large lawn with picnic tables, on-site parking, and free Wi-Fi, but there's no on-site dining. Travelers may wish to compare rates at the similar Montauk Blue Hotel.