Best Kid-Friendly Hotels in Ibiza
Ibiza, Spain may be best known for the raging nightclub and DJ scene, but that doesn't mean it isn't family-friendly. The Mediterranean island has some 50 gorgeous beaches, delicious cuisine, and historical sites like the Catedral in Ibiza City. But if you are traveling to Ibiza with children, it's best to find a property with plenty of amenities to keep the little ones busy. We visited the most popular hotels in the area to sleep in the rooms, eat at the restaurants, and swim in the pools, to see how they stacked up against the competition. Take a look at the best kid-friendly hotels in Ibiza and start planning your family vacation!
See All Ibiza Hotels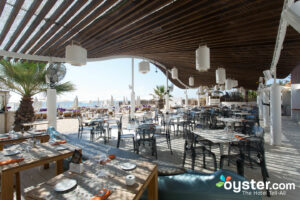 The 493-room Hard Rock is -- along with neighboring Ushuaïa -- one of a handful of true luxury hotels in Ibiza. With its 16,000-square-foot spa, indoor and outdoor pools, rooms and suites with swim-up pools, five restaurants, Fender guitar rentals, curated playlists, and a Michelin-star chef, the Hard Rock draws a bevy of celebrity guests and well-heeled couples. Although it can be loud and party-oriented, it's also kid-friendly, with the Hard Rock Roxity Kids Club, a nursery, and playground. The property, located on Ibiza's largest beach, is visually arresting, and rooms are among the most stylish in the area.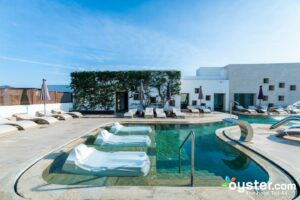 On a beachfront in a quiet area of Playa d'en Bossa, the upscale Grand Palladium Palace Ibiza Resort & Spa has two large freshwater pools, three theme restaurants, a fully equipped gym, a modern spa with an indoor/outdoor pool, extensive sports facilities, and kids' and teens' clubs, plus daily entertainment. Spacious, bright rooms range from Doubles to Master Suites with two bedrooms, and have balconies or terraces as well as bathrooms with jetted tubs and showerheads. Some of the rooms have dated decor not up to scratch for this caliber, while others have been updated. Packed with family-friendly facilities, the Grand Palladium Palace Ibiza is also within a five-minute walk of Ibiza's famous nightlife.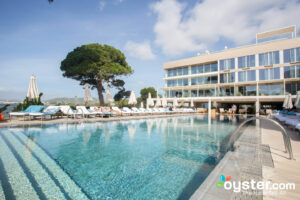 Located in a quiet area adjacent to famous Nikki Beach club, the 205-room ME Ibiza is one of the chicest properties in this part of the island. Minimalist all-white decor and soft lounge music lend this luxury property a relaxing, cool vibe, while top-notch services such as a private boat for day trips, rooftop massages, adult-only areas, and free yoga classes draw well-heeled couples and groups of friends. The atmosphere here is quiet and relaxing, but there is a kids' pool tucked away in a separate area where kids car run around and splash without bothering other guests. Additionally, the kids' club keeps children busy with lots of outdoor activities and a games room.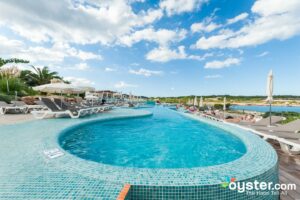 The 476-room Sirenis Seaview Country Club is an upscale property that is one of the most family-friendly hotels on Ibiza. It features a large, impressive water park with slides, several pools, and water features; studios and apartments for up to four guests with kitchenettes; and an activities program that sets the stage for fun for all guests, young and adult. The buffet restaurant is always crowded and can be a little chaotic, but the hotel offers two meals per week at any of the three themed restaurants. A small fitness center, a large pool, an adult-only bar, and proximity to the beach and hopping Sant Antoni de Portmany are all perks, but guests should be aware that this resort can be noisy and bustling.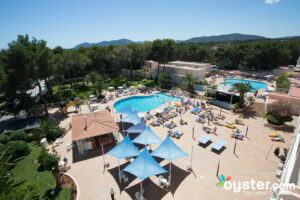 Invisa Hotel Ereso is a 240-room, two-and-a-half-pearl all-inclusive located a short walk from a sandy beach in quiet Es Canar. With a gated kids' pool, a kids' club, daily kid-friendly entertainment, and a playground, the hotel is a natural pick for families. But it has a good buffet restaurant, two pools, competitive rates, and an overall relaxed atmosphere that draws plenty of couples too. Room decor and amenities are basic, but the hotel offers good value for money, with competitive rates year-round, a convenient location near the beach and the city center, and nice on-site features. Grounds and rooms are kept spotless, and service is friendly and efficient.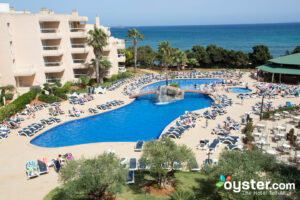 Situated in a quiet area a 15-minute walk from Santa Eulialia and the beach, the Tropic Garden Aparthotel is a value all-inclusive with 226 bright studios and apartments. All units are clean and equipped with kitchenettes, sofa beds, and large terraces (some with ocean views), but decor is painfully dated throughout. Though some common spaces -- the indoor pool area in particular -- have seen better days, the large outdoor pool surrounded by lounge chairs, decent buffet restaurant, kid-friendly amenities, and daily entertainment make it an average pick for a family vacation on a budget. Renovations are underway, with a few Superior units already featuring a much more contemporary look. Wi-Fi is free throughout, but service can be spotty depending on room location.
The 113-room Sirenis Hotel Club Siesta is a small, all-inclusive, upper-mid-range property located in quiet Siesta, a residential area a short walk from Santa Eulalia. Rooms are bright and welcoming, with somewhat generic decor in a beachy palette of blues and white, furnished balconies, and sofa beds for an extra guest. Room amenities are on par with other local upper-mid-range hotels -- but small tube TVs are a little underwhelming for the price and there is a pesky fee for Wi-Fi. Hotel highlights include a small pool (but be aware that most loungers have seen better days), a restaurant serving a varied buffet, an appealing glass-enclosed fitness center, and a number of kid-friendly amenities. Some rooms are a little dated, but overall it's a decent pick for a relaxing stay within walking distance of the beach.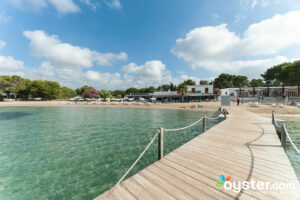 The 24-unit S'Argamassa Palace Suite Hotel is a small, all-suites, upper-mid-range property tucked away amid pine tree forests in a quiet area between laid-back Santa Eulalia and family-friendly Es Canar. The spacious units are all bright and well-equipped, with separate living areas, fully stocked kitchenettes that include electric kettles and microwaves, and balconies with plastic furniture. There is an outdoor pool, a sunny fitness center, a wellness room, and an outdoor playground; everything is on the small side but spotlessly clean. Although the many family-friendly amenities make it a natural pick for those traveling with kids, the atmosphere here is hushed and relaxing. The location within walking distance of a cute sandy beach is a plus. Wi-Fi is free throughout, but can be spotty.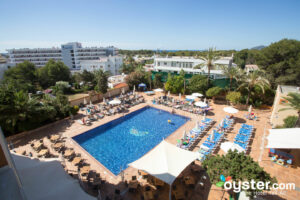 The 123-room Atlantic is a mid-range property located a couple of blocks from a sandy beach in laid-back Es Canar. With apartments and studios with separate bedrooms and kitchenettes, lots of kid-friendly amenities, and an array of meal plans, the centrally located Azuline Hotel Atlantic draws mainly families -- be prepared for lots of children, who can be noisy. The hotel also has a large freshwater pool with sunbeds, a whirlpool tub, a gym, a Finnish sauna, and a terrace, but Wi-Fi comes with a fee. Most guests choose the all-inclusive plan, but the hotel offers a variety of meal plans for those who plan to explore the area or eat out. Be aware that only guests booking "accommodation only" have access to room kitchens.
The family-oriented, all-inclusive 305-room Fiesta Hotel Cala Nova sits on a small, sandy beach in a quiet part of town. This mid-range property has a splash pool and mini-club with a playground for kids, mini-golf, and a game room. The pool area features a view of the ocean, and has a snack bar. The hotel also offers an arcade game room with darts, boules, and pool tables, a cocktail bar, and reasonable rates -- at least for Ibiza. Bright, air-conditioned rooms have private, furnished balconies, but use of the in-room mini-fridges, coffeemakers, and safes comes with a fee, and Wi-Fi -- for a fee -- is available only in certain common areas.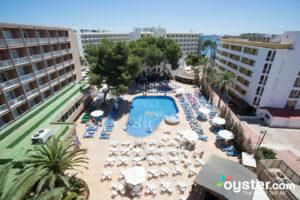 Located a short walk from two sandy beaches, the 255-room Coral Beach is a budget-friendly property with all-inclusive options and plenty of family-friendly amenities, including a kids' club and pool, playground, and entertainment. The rooms are bright and spacious with large sliding doors that open onto furnished, private balconies, but the decor is dated and amenities are limited -- expect tube-style TVs, no coffeemakers, no mini-fridges, and a fee for Wi-Fi.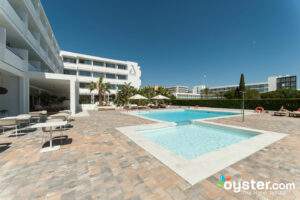 Anfora Playa is a 108-room value property located a short walk from the beach in quiet Es Canar. This family-friendly hotel features two pools with a kids' pool and a snack bar, a lobby bar, entertainment options throughout the day and night, a kids' club with tons of activities, and a buffet restaurant. Well-maintained, no-frills rooms offer furnished balconies and basic amenities such as telephones and hairdryers, but they lack TVs. Most other amenities cost extra, and there are fees for air-conditioning, Wi-Fi, safes, mini-fridges, and even kettles.