Best Boutique Hotels in Iceland
Thrill-seeking design nerds, this one's for you. We've compiled a list of the best boutique hotels in Iceland, from a geothermally-powered adventure hotel in a remote mountaineous lava field to a downtown Reykjavik property with a moody, Nordic-minimalist look inspired by the stark Icelandic landscape.
See All Iceland Hotels
1
Situated in a classic dark wood log cabin with large windows, the remote Hotel Ranga is a luxury property that has hosted everyone from celebrities to honeymooners. Standard and Deluxe Rooms offer the look of a traditional cabin, with lots of wood furniture and pine accents. Higher-end rooms are more wildly decorated with continental themes. (The Antarctica-themed Master Suite is a real standout, decorated entirely in chic black and white.) The Ranga has a riverside restaurant offering modern Nordic dishes, three geothermal outdoor hot tubs, and lots of stylish common areas, but the most special features are those aimed at stargazing and viewing the Northern Lights: the hotel has its own astronomical observatory, where, via computerized telescopes, guests can see details on the surface of Mars, the rings of Saturn, or observe the sun with a special white-light filter.
2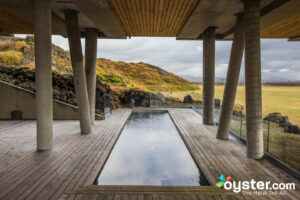 Powered by a nearby geothermal station, this striking hotel incorporates natural materials -- salvaged wood and volcanic rock -- with chic Scandinavian design. Guests come here to get away from it all, and almost all aspects of the hotel are geared toward the outdoors, from the outdoor deck, punctuated by slim concrete columns and a long hot tub that's fed by local hot springs to the bar that was built with Northern Lights viewing in mind. The sleek spa has a sauna built of lava rocks and offers treatments that use Icelandic herbs, and the 45 rooms feature organic amenities, modern technology, and frequently gorgeous views.
3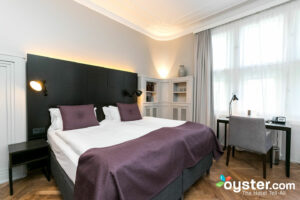 The upscale Apotek Hotel attracts a chic, well-heeled international crowd with its contemporary, understated atmosphere. The hotel's circa-1917 masonry-and-wood building, with an iconic square tower, was once a pharmacy; a shelf-lined wall in the sexy cocktail bar hold amber glass vials in tribute. The 45 rooms -- including a suite in the tower and eight junior suites -- have high ceilings and casement windows that look out on the city. Guests recommend the rooms that overlook Austurvoller Square, a well-tended green space. Rooms are spacious with sitting areas, parquet floors, and large windows that let in plenty of natural light.
4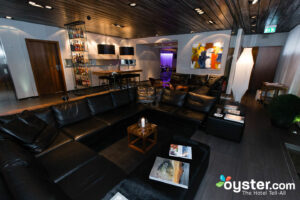 The 52-room CenterHotel Thingholt is an upscale boutique property around the corner from the city's main shopping street and a short walk to cool cafes, restaurants, and bars. The moody, Nordic-minimalist design is inspired by Iceland's stark natural beauty, and there's seasonal cuisine and whisky flights available at the on-site restaurant and bar. Industrial-chic rooms have large rainfall showers and modern amenities. A buffet breakfast is included in room rates, and there's a stylish spa on-site, though the one-time spa entry fee isn't included in the hotel's somewhat pricey rates.
5
This upscale property offers an exclusive boutique experience in the center of Reykjavik, with Reykjavík Art Museum and Volcano House Exhibition Center nearby. Its 10 units are actually spacious suites decorated in a sleek contemporary style, with fully-equipped kitchens and luxury gadgets, like Nespresso machines and iPads. Black Pearl is one of the most expensive options in the city, however it offers few on-site amenities for its big price tag. There's no on-site restaurant, pool, or spa, but guests have the option to book these services off-site with the concierge.
6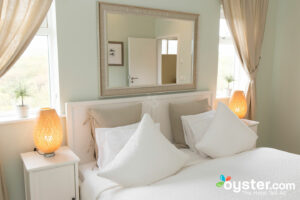 Hotel Grimsborgir has a secluded countryside location next to River Sog and within the Golden Circle tour, one of the popular tourist routes in Iceland. The hotel's 64 units are split between airy, elegant rooms and apartments. Decor differs among the rooms, however, all have wooden or white-tiled floors, a white-and-tan color palette, modern chairs, chic art pieces, and soft rugs. All rooms are equipped with flat-screen TVs, tea- and coffee-making facilities, minibars, and terraces with outdoor seating. On-site dining is a highlight at this property, and the Grimsborgir Restaurant is open for breakfast, lunch, and dinner and offers a variety of Nordic and international options.
7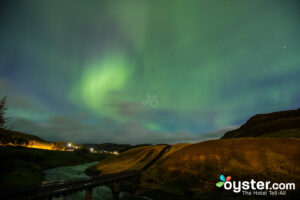 Frost and Fire Hotel's remote setting along the Varma River is a great spot for romantic getaways, and suited for any traveler looking for an authentic Icelandic experience. The restaurant's atrium ceiling and outdoor patio maximize the views of the hotel's otherworldly terrain. All the rooms have private entrances and great views, but the Budget Rooms are cramped. The river is one of the hotel's main attractions, naturally heated by the region's hot springs and warm enough to wade into depending on the season. It also allows for salmon fishing, which the hotel can provide permits for. Hiking trails abound and other excursions, from horseback-riding to river-rafting, can be arranged. The outdoor lap pool is heated and there are two riverside geothermal hot tubs and a geothermal sauna.
8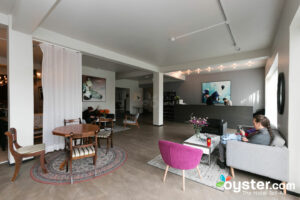 The 18-room, mid-range Hlemmur Square Hotel is situated on the fifth floor of a building that's also home to a third and fourth floor hostel. The two share a stylish lobby, elegant restaurant that serves international sausages, and casual bar with a large selection of craft beers and daily happy hours. Rooms are minimalist, but modern, and include comfortable beds, minibars, and small en-suite bathrooms with rainfall showerheads. Hlemmur Square is well-located on the shopping street of Laugavegur, within a 10-minute walk to the Sun Voyager Sculpture, but it's a 15-minute walk to the heart of downtown Reykjavik.
9
The mid-range Kvosin Downtown Hotel sits next to Iceland's Parliament, a short walk from some of Reykjavik's best shopping and dining. It's a boutique apartment hotel, ideal for tourists who value style over facilities, and families who will make use of the generous square footage in each of the 24 units. Even the smallest rooms have kitchenettes, with decor befitting a modern Scandinavian apartment. Free breakfast is offered at a cafe around the corner and the hotel has its own sharp wine bar, but few other amenities.