Best Boutique Hotels in Long Island
History buffs, scenesters, romantics, and laid-back beach lovers will all find their perfect place to stay with our list of Long Island's top boutique hotels.
See All Long Island Hotels
1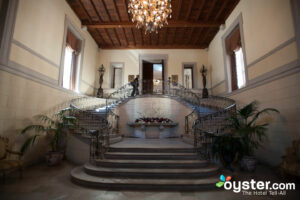 Oheka Castle is a one-of-a-kind hotel. It was built in the 1920's as the second-largest private residence in the United States for financier Otto Kahn. Its grand ballrooms and meeting spaces have hosted lavish parties attended by heads of state and celebrities -- including Charlie Chaplin and Douglas Fairbanks -- and some of the wealthiest families in the country have called its rooms home. Oheka Castle features 32 elegant rooms, and is listed on the National Register of Historic Places. Its stunning grounds, top-notch services, exclusive feel, and gorgeous accommodations have made it the top wedding venue in the United States.
2
The trendy and laid-back Montauk Beach House is a 33-room boutique hotel known for its lively party scene. It's not on the beach, but it has two outdoor pools that serve as the property's central hub -- it's here where guests come to not only to swim and sunbathe, but also to mingle and kick up their heels during the Saturday night pool parties featuring a live DJ. The poolside bar and grill, open daily, offers simple meals and sandwiches. The hotel also offers a free continental buffet breakfast. The guest rooms at spacious and bright, thanks to the large windows and attached balconies. The trendy decor is beach-house shabby-chic, with wide-plank wooden floors, high-beamed ceilings, and vintage-inspired furnishings like wrought-iron beds, Edison lamps, clawfoot bathtubs, old-fashioned pedestal sinks, and bronze bathroom fittings.
3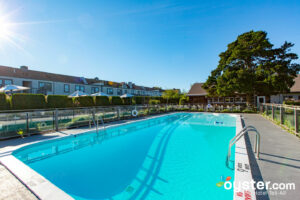 This 67-room boutique combines has the sort of sophisticated-slash-low-key vibe that makes some city slickers dream of quitting their jobs and joining the Montauk surf culture. Like Montauk Beach House, Sole East isn't directly on the beach, but it does have a lovely outdoor pool with food/drink service and beautiful gardens with hammocks and ample lounge seating. An on-site organic restaurant and bar features live music or DJ sets on weekends. (Breakfast is not included here, like it is at Montauk Beach House.) The decor in the bungalow-style rooms and Cabana Suites is modern beach-chic and their amenities include Italian linens, Aveda toiletries, and bottled water.
4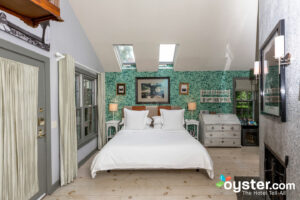 The Maidstone's white-and-green awning comes into view on East Hampton's main thoroughfare, where traffic can be a snarl, especially in summer months. To enter the sprawling and historic cottage, close to town and beaches,is to instantly infiltrate the iconic Hamptons scene. While some nearby inns make you feel a million miles from Manhattan, Maidstone does the opposite, thanks to its modern design and sophisticated, see-and-be-seen crowd. The chic property appeals to trendy Manhattanites with its Scandinavian-inspired rooms and suites (16) and cottages (three). The pretty front porch, trendy organic restaurant, and distinct amenities (like yoga classes in the Buddha garden) make this a popular choice for those who have money to spend. There's no pool here, though, so travelers in want of a lively pool scene will be happy with Montauk Beach House or Sole East.
5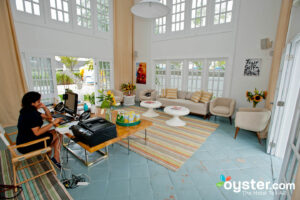 This 30-room boutique hotel in Southampton is geared toward the cool crowd with its chic restaurant and designer amenities, like L'Occitane beauty products and Croc hair dryers in the rooms. Live DJs keep the pool party scene going until late hours on Friday and Saturday -- but the place becomes an oasis of calm midweek. Rooms are expensive, but they aren't the main draw; instead, steep prices give you direct access to a see-and-be-seen summer crowd (it's only open from May through September). But you'll have to drive to the beach, and the restaurants and shops in Southampton are a long walk away.
6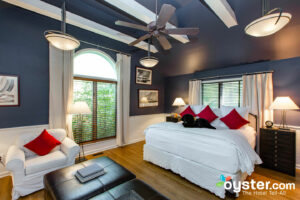 Though this historic home turned bed-and-breakfast in East Hampton is just a short walk from the village center, it feels like a hidden gem. The 10 rooms and suites are filled with personal touches from the owners and upscale amenities like Italian linens, quilts and down comforters, gas fireplaces, Tivoli fireplaces, and free Wi-Fi. The location is not directly on the beach and rooms come at a high price, but the top-notch breakfast served in either a lovely dining room or the rose garden (option for in-room dining in suites) and easy walk to restaurants and shops make it a stand-out option. However, this is not the place for partiers -- see-and-be-seeners will prefer Maidstone or Capri.
7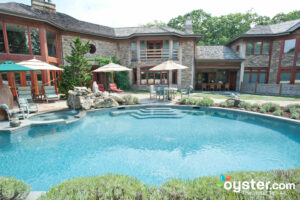 This elegant bed-and-breakfast in East Hampton is exactly what its name suggests: a house full of art. It was designed and decorated by the owners, Michael and Rosalind, who combine mutual talents in art and hospitality. Though the Art House only has four guest rooms, it has all the amenities of a larger property, including ample communal spaces, an outdoor pool and hot tub, and fitness center with indoor exercise pool. Guests have round-the-clock access to a pantry stocked with snacks and drinks. It's a similar experience to Mill House Inn, but while Mill House is walking distance to the village of East Hampton, Art House requires a 12-minute drive. Another distinction is that Mill House is a historic, 1790-built home, and Art House is a modern construction, so it is mostly a matter of preference on location and style.
8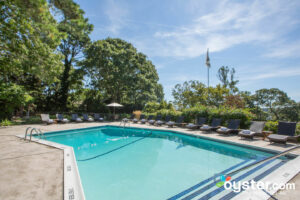 The 29-room Hampton Maid has been in the same family for four generations and maintains a cozy and welcoming atmosphere. It's the sort of place where guests can expect to meet members of the owning family at reception, the gift shop, or the restaurant. Set on a hillside overlooking Shinnecock Bay, the property is spread across five acres of lawn space dotted with wooden Adirondack-style loungers, towering old trees, and a lovely, tree-lined outdoor pool. The 29 cottage-style room occupy one- and two-story buildings with weathered-wood siding and decks, and contain individualized decor, wooden decks, and sleek mini-fridges. One of the buildings has a giant windmill that enhances the property's charming, understated kitsch. Locals and guests flock to the on-site restaurant for its farm-fresh, made-to-order breakfast, though it's not included with rates. (As a comparison, but Mill House and Art House include gourmet breakfasts in their rates, but those rates are much higher than Hampton Maid's.)
9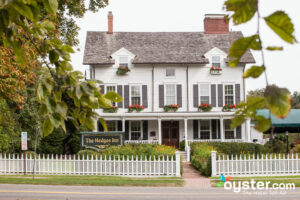 With a brick pathway leading to the front door and wooden rocking chairs on the porch, the 1870-built Hedges Inn has Victorian charm and a quaint, laid-back vibe. The shuttered windows and potted geraniums perfectly offset the white picket fence and exterior, making the Inn inviting-looking from the outside -- a vibe which continues on the inside as well. With a total of 12 unique and immaculately clean rooms, decorated mostly in calming and seaside-appropriate whites and blues, this hotel has several inviting common spaces, including a sunny breakfast room/bar, a lobby with working fireplace and backgammon table, and a bright den area with a computer and jars of sweet treats. Expansive grounds and gardens are perfectly maintained with a terrace, hammock, and gazebo. (However, there is no pool here, like Hampton Maid.) During warmer times, swans can be seen in the village pond, which this property overlooks. After all is said, it's not a surprise that this inn sees many guests return year after year.
10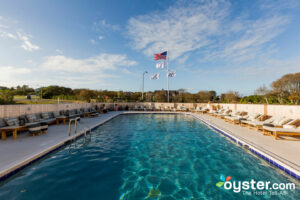 New ownership and extensive renovations throughout 2016 and 2017 have transformed a simple rustic motel into a chic, small-scale boutique. Airy, white-washed rooms feature white-plank wood floors, white beds backed by wood headboards/benches and strewn with colorful woven pillows, and beige woven wall hangings. All 30 have flat-screen TVs, stocked minibars, bathrobes and slippers, facilities for coffee and tea, and balconies or porches. Housekeeping cleans twice a day and turndown is provided at night. On-site features include a pool, a large lawn with picnic tables, on-site parking, and free Wi-Fi, but there's no on-site dining. Also, while Hedges Inn serves a terrific homemade free breakfast daily, Hero Beach offers a continental breakfast on the weekends only and for a fee. In all, Hero Beach ideal for couples and families who wish to be near the beach and walking distance to town.
11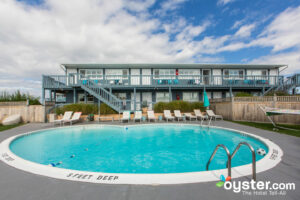 This cool and quirky boutique motel has 27 bright and modern rooms with mini-fridges, coffeemakers, flat-screen TVs, and free Wi-Fi. Just as appealing are the common areas, which include an outdoor pool with day beds and lounge chairs, a garden with fire pit and barbecue grill, and an on-site shop selling clothes, jewelry, and boogie boards. North of downtown Montauk, the hotel's quiet Montauk Harbor area is just a five-minute walk from the harbor's bars and restaurants. Overall, it's a similar property to Hero Beach Club, but we gave Hero Beach the edge since due to its more recent renovation and right-on-the-beach location (Haven Montauk is across the street).
12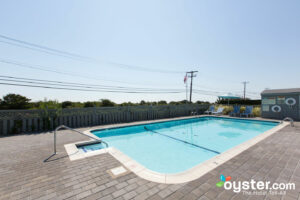 It's not as trendy or cool as Hero Beach or Haven Montauk, but in terms of small, humble beachside lodging, the Beach Plum Resort ticks all the boxes -- it has a homey ambience and a laid-back ethos that's all just a short walk across the road to the beach. All 29 individually decorated rooms have air-conditioning, a full kitchen, living area, and balcony or patio, some of which have fabulous ocean views. The hotel has a heated pool, barbecue and picnic area, and free yoga and fitness classes during the summer. The property attracts both couples and families looking for the chance to stay right next to the ocean, without any pretense or fuss.
13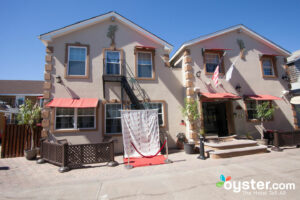 This laid-back, 27-room boutique hotel is located just minutes from the ferry landing in the Ocean Beach section of the island. It's best described as a collection of lodgings versus a hotel, since there are rooms in the main hotel as well as separate cottages, bungalows, suites, and efficiencies. In other words, your stay will largely be predicated on the type of room you book. No matter what size space you end up in, however, you can rest assured that it will be clean and comfortable (though perhaps somewhat small) with comfy bedding as well as modern amenities. Some rooms have full kitchens and patios as well. There's also an interior courtyard with loungers and barbecue grills, and a private "beach" near the bay.