Best Hotels in Los Angeles
What makes a hotel qualify as one of the best in Los Angeles? At Oyster, we know that the "best hotel" is different for just about everyone. For some, the best hotel is the most luxurious, and for others, it's the one that offers the most for kids. We compiled lists of the best luxury hotels, value hotels, best kid-friendly hotels, most romantic hotels, best boutique hotels, best hotel spas, best best party hotels, most pet-friendly hotels, most amazing hotel rooms, best hotel pools, best bathrooms, and best hotel gyms. Don't have time to read all that? Not to fear. We selected one hotel from each list that bests its competitors (if only slightly). Below, we present the best hotels of Los Angeles.
See All Los Angeles Hotels
Remember where Richard Gere and Julia Roberts stayed in Pretty Woman? This is the place. At the glittery corner of Rodeo Drive and Wilshire Boulevard in Beverly Hills, the iconic 395-room Italian Renaissance-style tower hotel underwent a renovation in 2006 and 2007 that added a spa and a Wolfgang Puck steakhouse, CUT, designed by Richard Meier. Rooms are classically luxurious, with Italian marble bathrooms and 400-thread-count sheets. The hotel's best asset, though, might be its utter lack of stuffiness: Everybody gets treated like a friend here, not only the celebs and royalty. Just like in the movie.
This 137-room hip boutique offers stylish lodgings and a prime Sunset Strip location for lower rates than the Mondrian (but with less luxurious rooms). Scuffed-up hallways and elevators, but you won't get this much (cool pool, cheap 24-hour restaurant, great nightlife) for this little elsewhere on the Strip.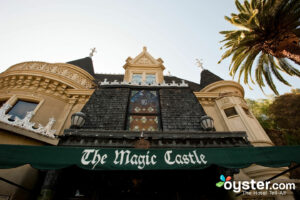 This quirky 40-room hotel is next to Hollywood's Magic Castle, the members-only headquarters of the Academy of Magical Arts. Staying here lets you into magic shows open only to members and their guests (although only the weekend brunch show allows children). But even if you never make it to a show, your kids will love the 24-hour heated pool. The spacious one-bedroom suites with full kitchens can fit a family, and the free breakfast, free afternoon popsicles, free minibar snacks, and free DVDs to watch are no sleight of hand.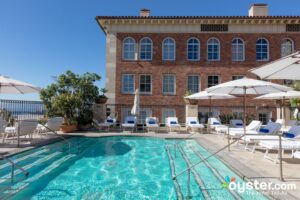 A location right on the sand (one of only two L.A. hotels with this feature), gives Santa Monica's luxury Casa del Mar plenty of opportunity to exploit stunning, romantic views -- be it from the 5th-floor rooftop pool and hot tub, the large, sumptuous suites with Jacuzzi bathtubs, or the elegant Veranda restaurant with its 20-foot high windows. Couples can sip cocktails and listen to live nightly jazz in the intimate lobby, enjoy private in-room massages -- or take them poolside in the ocean breeze -- and walk barefoot on the beach just a few feet from the hotel. An excellent, accommodating staff that's keenly respectful of privacy ties it all together.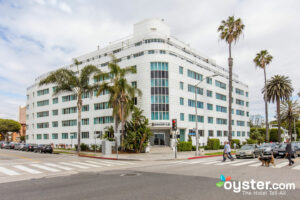 For a stylish and luxurious oceanside getaway, the Shangri-La is mighty close to perfection. The exterior of this recently renovated boutique overlooking the Pacific evokes an elegant ocean liner, and the dazzling pool and lounge area pick up on the maritime theme. The rooms are interesting and pristine, with an Art Deco touches and luxury features like 42-inch flat-screens, iPod docks, and marble-topped soaking tubs. The service, meanwhile, is superb.
The Beverly Wilshire's sleek 8,000-square-foot spa stands out for its day facilities, which hotel guests can use for free. There's an aromatherapy-crystal steam room, a tranquility lounge, and "experience showers," which use colored lights, scents, and different water pressures to create the sensation of a "Cool Mist," an "Atlantic Storm," or "Caribbean Rain." A full range of massages, facials, body treatments and waxing are available as well, from $80 to $800.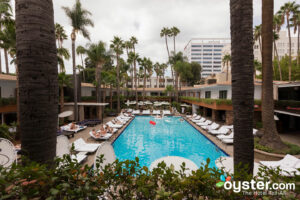 The A-list party scene here centers around a massive pool area, where the Tropicana bar serves drinks until 2 a.m. The scene often includes internationally known DJs and a who's who of Hollywood starlets (Lindsay Lohan, Paris Hilton, Lauren Conrad). Guests can rub shoulders with the stars at the pool, but to get past the door at the exclusive Teddy's nightclub downstairs (where partygoers have included Justin Timberlake, Jessica Biel, Jay-Z, and Penelope Cruz), you'll have to dress your absolute best and pray for a little bit of luck.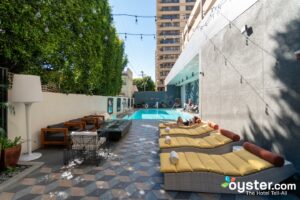 At Hotel Palomar -- part of the pet-friendly Kimpton chain -- all types, shapes, and sizes of pets are welcome, and at no additional cost (some L.A. hotels tack on as much as $150 to the bill). Water bowls sit outside the front door, and pets can roam freely (though the restaurant and bar are off limits). Guests can order bowls and beds for the room, and the concierge can arrange just about any pet service, from a vet visit to a pet massage.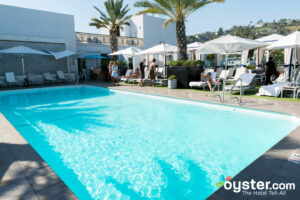 These are undoubtedly some of the best rooms in L.A. (the hotel calls them suites); they're comfortable, quiet, very spacious without feeling empty, and impeccably furnished. None of the 200 rooms are smaller than 750 square feet, and all have open floor plans.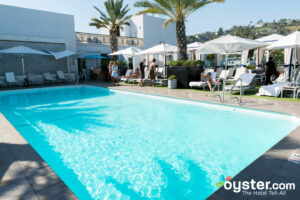 The London's gorgeous rooftop pool offers outstanding views and plenty of comfortable lounge chairs. The poolside food service is handled by chef Gordon Ramsay's restaurant downstairs.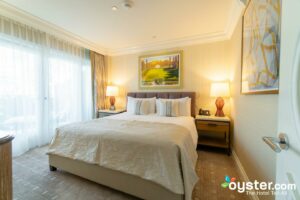 Gold-plated brass fixtures complement the bathroom's pink Grecian marble. What else would you expect at the "pink palace"?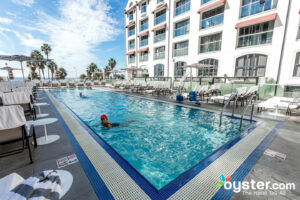 The spacious, sun-bathed fitness center at the Loews Santa Monica has a separate spin class/yoga/aerobic studio, free fruit and fruit-enhanced water, and a locker room with a sauna and steam room. The Technogym cardio equipment features personal TV screens and iPod docking stations. Full gym access, including classes, costs $10 per day.