Best Montauk Boutique Hotels
Montauk may be one of the Hamptons' least built-up and most peaceful towns, but it still has plenty of scenester appeal. Here's where to stay to find DJ pool parties, lounge-y outdoor space, and chic rooms.
See All Montauk Hotels
1
This trendy four-pearl boutique hotel with a young and trendy vibe is a place where people come not only to relax but also to party. To make up for its lack of beachfront, the hotel has two outdoor swimming pools and a large sun terrace. There is a poolside bar and grill, and guests are also offered a free continental buffet breakfast, though it gets mixed reviews. Guests can use the hotel's bicycles for free, and free Wi-Fi is available throughout the property. The 33 guest rooms are spacious and bright, thanks to the large windows and attached balconies. The trendy decor is beach house shabby chic, with wide-plank wooden floors, high-beamed ceilings, and interesting vintage furnishings, like wrought-iron beds, Edison lamps, and clawfoot bathtubs.
2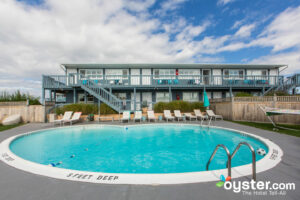 Just across the street from a beautiful and quiet beach that tends to be very quiet, the 27-room Haven Montauk a cool and quirky boutique motel. Though it's one of many simple, bungalow-style motels in the area, it has a trendier atmosphere that's a bit bespoke Brooklyn by way of the Atlantic Ocean. In the lobby, for example, mismatched lengths of driftwood form the front desk, and a small shop sells chic swimsuits and beach coverups. Light, bright, and modern rooms feature boutique accents, like mod circle chairs with faux-fur throws and potted succulents. Amenities include mini-fridges, air-conditioning, flat-screen TVs with satellite channels, coffeemakers, and free Wi-Fi. Outdoor space includes a small pool with a hammock, day beds, and lounge chairs on the surrounding grass. In the evenings, the fire pit is lit -- a popular feature with guests -- and there's also a barbecue grill for guests to use. Haven doesn't offer free continental breakfasts, like Montauk Beach House, but it does provide free coffee and pastries by reception morning. Bikes can be hired free of charge, same as Beach House.