Best Boutique Hotels in New York
Take a look at the best boutique hotels in New York.
See All New York Hotels
1
The 48-room Casablanca Hotel is a cozy boutique located in the heart of bustling Times Square. Despite its small rooms, this hotel offers a retreat from the hustle and bustle of Midtown Manhattan. Lovers of the Bogart classic film or Moroccan style (or at least the movie version of Morocco) will find the place charming -- Rick's Cafe is a nice spot where a free continental breakfast and evening wine and cheese hour is served. This hotel offers an excellent value for the location, and Wi-Fi is free.
2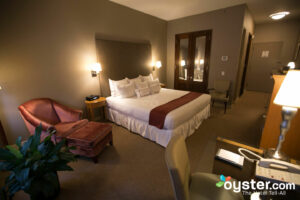 Named after owner Henry Kallan's favorite animal (and because of its tall, slender design), the 75-room Hotel Giraffe is an Art Moderne that will appeal to fans of NoMad architecture, the trendy neighborhood restaurants, and fans of "Sex and the City: The Movie" (in which the hotel was prominently featured). Rooms have understated contemporary decor, and the hotel offers homey extras such as a daily wine and cheese hour and free continental breakfast. There's no gym, but free passes are offered for one nearby. First-time visitors to New York who are determined to hit the sightseeing checklist will probably want to stay somewhere more uptown, however.
3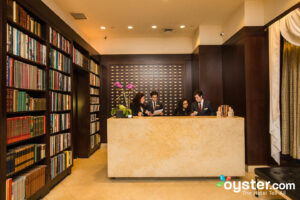 A quirky 60-room hotel just a tome's throw from the New York Public Library, this lovingly book-themed tower is a bibliophile's dream stay. It's also within walking distance to many Midtown tourist attractions, several transportation hubs, and enough bars and restaurants to keep one's non-lettered hours plenty busy. This intimate boutique is missing many features guests may expect at this price point (such as a fitness center), and the stodgy Midtown location isn't as trendy as many of the guests who choose to stay here, but the cozy lounges, contemporary (if small) book-filled rooms, and thoughtful extras such as free wine and cheese help make this one of the most charming picks in the neighborhood.
4
710 Guest Suites is an intimate home-away-from-home, upper-middle-range alternative to a generic hotel room. The chic and modern walk-up brownstone is located in Harlem's Sugar Hill, a safe Manhattan community with a rich history and diverse cultural makeup. Four apartments are divided among the five-story building and individually decorated by blending a classic design, neutral color palettes, and bright, artsy accouterments. There aren't any public spaces or features here, as the apartments are complete with a full kitchen and free Wi-Fi; some have a private terrace. The owner is happy to provide directions and recommendations for restaurants and entertainment. Note that guests must stay for a minimum of 30 days. For a shorter brownstone stay in Harlem, check rates at Chez Michelle.
5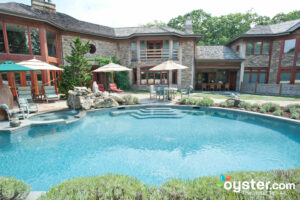 This elegant B&B in East Hampton is exactly what its name suggests: a house full of art. It was designed and decorated by the owners, Michael and Rosalind, who combine mutual talents in art and hospitality. There are only four rooms for rent, but there are all the amenities of a larger property, including endless communal spaces, an outdoor pool, and fitness center. Although big in scope, the Art House retains all of the personalized charm of staying with friends, making it a distinctive option in the Hamptons -- though it comes at a high price.
6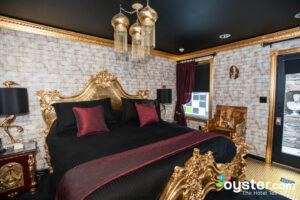 The Roxbury is one of the funkiest hotels in the region. All of its 27 rooms have bright, bold decor, flat-screen TVs, microwaves, and mini-fridges; Theme Studios have style inspired by movies, cartoons, and TV shows from the 1960s and '70s. The inexpensive spa with relaxation and treatments areas; free Wi-Fi; free continental breakfast; and central location within easy driving distance of skiing, hiking and ziplining, are all highlights. But the hotel lacks an on-site restaurant (there's one across the street), and most weekends have a minimum two-night stay.
7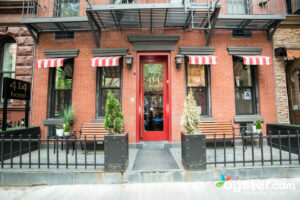 The 414 Hotel is a 22-room boutique in Midtown West, along a quiet, tree-lined stretch of Restaurant Row (a popular area for pre-theater diners). Times Square and its eight subway lines are a short walk away, as are Broadway's main shows, making this a convenient stay for tourists. But the hotel also feels miles away from the hustle and bustle of NYC -- a vibe created by the homey nature of the hotel. Two historical town houses make up the 414; rooms in both buildings are bright, airy, and modern, with flat-screen TVs, iPod docks, and mini-fridges. Many face the hotel's charming courtyard, where guests can enjoy the hotel's free continental breakfast and evening wine and cheese in warmer months. Guests who need an elevator (414 Hotel does not have one) might prefer the French Quarters Guest Apartments, a nearby boutique hotel with an elevator and a popular on-site restaurant serving Creole-style cuisine.
8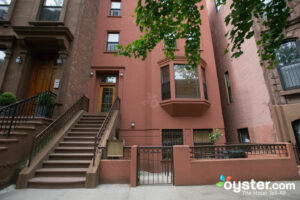 The owner -- and namesake -- of this two-room property comes from France and caters largely to her compatriots. Michelle resides in the basement apartment while her guests have the first floor to themselves. The two rooms are comfortable and bright, overlooking either a quiet brownstone-lined block of Harlem or Michelle's private backyard garden. Only the front room -- named after John Lennon -- has a private bathroom. The other (named for James Dean) has access to a bathroom in the hallway. There are no other amenities on-site, but the overall homey vibe, solid rates, and proximity to the famous Apollo Theater make this an attractive B&B option in New York City.
9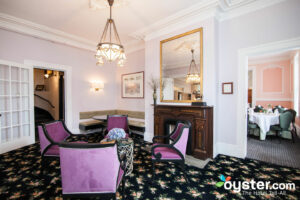 The three-pearl Saratoga Arms is a historic boutique hotel located in the heart of downtown Saratoga Springs. The property feels like an elegant bed-and-breakfast, with a traditional yet friendly ambience and a full breakfast included in the rate. Other extra perks include a 24/7 pantry with free snacks and drinks and a wrap-around porch where guests can enjoy the small plates menu and wine list at day's end. The 31 clean and spacious rooms are individually-decorated in a traditional and thoughtful fashion. Some include fireplaces, living rooms, and balconies. The budget-friendly Junior Queen rooms are significantly smaller than Standard Queens. Another good option with a pool and lower rates, is the mid-range Best Western Plus Saratoga Springs, but it's an eight-minute drive outside of town.
10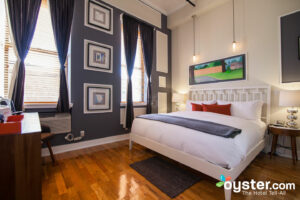 Set in a renovated 19th-century warehouse in Greenpoint, Brooklyn, this boutique hotel has stylish decor with vintage details -- plus knockout Manhattan skyline views. The three-and-a-half-pearl property's location at North Henry Street and Norman Avenue (hence its name) is a little far flung from area hot spots, but its 50 guest rooms feel like loft apartments, with exposed brick walls and mid-century-inspired furniture, and amenities like 42-inch flat-screen TVs, iPod docks, minibars, coffeemakers, and kettles. But bathrooms are far less attractive -- even in Penthouses -- and toiletries are skimpy. Upgraded units add full kitchens, seating areas, and some have private furnished terraces overlooking the city. Highlight features include a rooftop terrace with panoramic views, a gym, and free Wi-Fi throughout, but no on-site restaurant or bar is a major drawback. Travelers looking for a step up can check out Williamsburg's Wythe Hotel.
11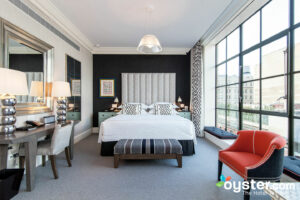 Opened in October 2009 on a quiet, cobblestoned street in SoHo, the 86-room Crosby Street Hotel offers spacious, impeccably furnished rooms to a sophisticated set who can afford the sky-high rates. The hotel manages to be both lavish and welcoming, especially at the restaurant and in the vibrant public spaces.
12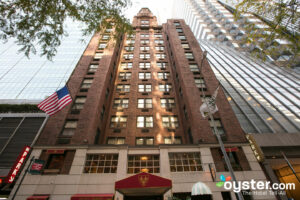 All Old World charm and elegance, the 103-room, upscale Hotel Elysee is superbly located for the high-end department-store shopping of Midtown East and the Upper East Side, and has enough tales to keep history buffs entranced for an entire stay. (They may feel as if they're spending the night with some of the city's most interesting friendly ghosts.) The free Wi-Fi, breakfast, and happy hour help enhance the boutique feel. Younger hipsters with an eye for scenes and not history, however, may wish to find somewhere sleeker to stay.
13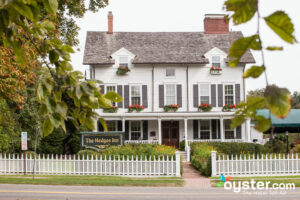 This charming East Hampton inn is a cozy gem. Built in 1870, it still retains its original Victorian charm while also offering modern comforts such as free Wi-Fi, contemporary bathrooms, and flat-screen TVs. With a total of 12 unique rooms, decorated mostly in calming and seaside-appropriate whites and blues, this hotel has several inviting common spaces, including a sunny breakfast room/bar and a bright den area with a computer and jars of sweet treats. A perfectly manicured garden has an expansive terrace and the lobby has a fireplace. The homemade free daily breakfast is creative and top-notch, served with pride by the caring staff.
14
Hotel 50 Bowery offers travelers stylish digs and a hip atmosphere in Lower Manhattan's Chinatown, across the street from the Manhattan Bridge. This 229-room upscale property opened in 2017, and it features a restaurant that serves dim sum and other Asian-inspired dishes, plus a chic rooftop bar and lounge (and an equally chic crowd to match), with sweeping city views. Guest rooms are spacious for Manhattan, all with oak floors and furniture, floor-to-ceiling windows, original art, and subway-tiled bathrooms with rainfall showers. In-room amenities include minibars, bathrobes, 42-inch smart TVs, and free Wi-Fi. The hotel also has gallery exhibits, a 24-hour gym, and meeting rooms, but there's no spa. Guest may want to compare decor and prices with The Roxy Hotel, a trendy Tribeca hotel with similar amenities.
15
One of New York's sexiest boutiques, conveniently sandwiched between Grand Central and Times Square, the Bryant Park Hotel caters to fashion and entertainment types and discerning Europeans. The combination of friendly, personalized service, a great bar and restaurant, and cool, comfortable rooms -- all within a 128-room art deco building -- makes it a distinctive pleasure.