Best Luxury Hotels in Palm Springs
Oyster knows what travelers look for in their hotels. When we review properties around the world, we evaluate how every feature stacks up against the competition, from the rooms to the pools to the restaurants. So if you're planning a posh trip and need a place to start, you've come to the right place. Take a look at our top picks for luxury in Palm Springs, and get inspired!
See All Palm Springs Hotels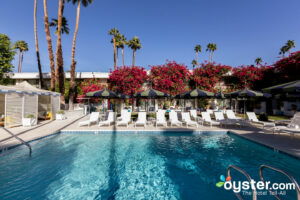 If it has anything, the Parker has style. Expect eclectic and 70s-inspired decor with a modern edge, and an entranceway that belongs on a movie set. The Parker has two dining options: one a breakfast-all-day diner and the other a dinner-only spot with a menu that changes daily. The Parker manages to be dressed-up glamorous and laid-back cool all at the same time, with tons of on-site amenities: a golf course, tennis courts, a top-notch spa, four pools, the list goes on. The rooms are just as impressive, with white brick walls, white decor, and private balconies.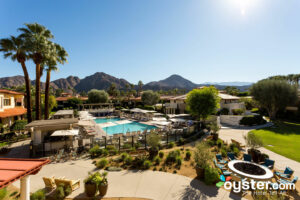 Located in the vacation town of Indian Wells, which is full of golf courses and tennis courts, the Miramonte Resort is a destination in itself. It's a peaceful haven, with a first-rate spa, multiple pools, an organic restaurant, and lush gardens. The Tuscan decor and abundance of greenery combine to create a luxurious Mediterranean vibe. The real highlight of this hotel, however, are the rooms; with large marble bathrooms, updated amenities like huge flat-screen TVs and free Wi-Fi, and colorful, comfy decor, they're some of the best accomodations in Palm Springs.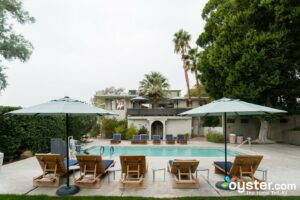 The upscale Two Bunch Resort and Spa is renowned for its natural mineral springs -- such as its relaxing grotto with waterfall. Set on 56 acres of nature, guests come here to relax and take advantage of the amazing spa, hot springs, many hiking trails, lakes, and free yoga classes. Al Capone supposedly came here when he wanted to unwind. Airy rooms, located either near the spa (the "Grotto rooms") or past the meditation lakes (the "Fountain" rooms), can have details such as tile floors and wood beam ceilings.