Best Luxury Hotels in Rome
A historic city with enough museums and sculptures to keep visitors busy for weeks, Rome is one of the most popular travel destinations in the world. From the Spanish Steps and Colosseum to the opulent Trevi Fountain and Vatican, there's so much to see in Rome that days here can be exhausting. Retreating to a luxurious hotel that spoils you from the moment you step in the door can be a wise move for those needing to relax. After visiting over 700 hotels in Rome, we've found the best of the best, from jaw-dropping historic hotels like the St. Regis Rome to fresh modern finds like J.K. Place Roma. Read on for our favorites in the Eternal City.
See All Rome Hotels
1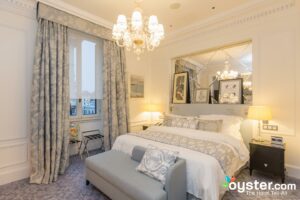 The St. Regis Rome is a grand five-pearl hotel that hails from Rome's Belle Epoque era. A massive renovation was completed in early 2019, and interiors now blend the sumptuous look of classic Rome with bolder, modern touches. Concierge and butler services here are exceptional, and the property features include a beautiful spa, a fine-dining restaurant and wine tastings, as well as one of the most famous formal afternoon tea services in the country. Elegant rooms blend are adorned in soft hues, with just the right amount of Old World style (though amenities are fully contemporary). Its location is also ideal, within an easy walk of the Trevi Fountain and Spanish Steps.
2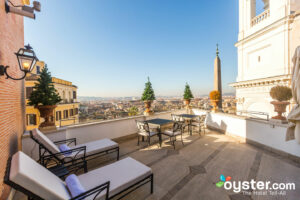 Sometimes it can be worth it to pay for incredible views, and Hotel Hassler makes that case convincingly. Perched atop of the Spanish Steps, this luxury property blends Old World elegance with modern accents and a prime location. The property dates to the 19th century, and it has lavish interiors plus Michelin-starred dining, a spa and bright gym, and a fantastic rooftop terrace with splendid city views. The 92 guest rooms and suites are elegant, with plenty of amenities to match the pampering service. It's pretty enough to never leave, but with a location like this, you'd be hard-pressed to stay indoors for too long.
3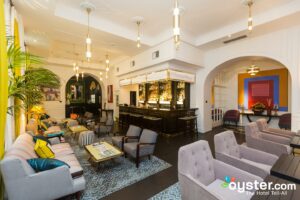 If you're after chic style, boutique charm, plenty of history, and a perfect location, the Hotel Vilon is your pick. Situated in posh Campo Marzio, interiors meld Art Deco and contemporary trends, with an incredible attention to detail and bold design work throughout. Antique espresso sets with biscotti while you're waiting for your room? Yes, please. And what a treat those 18 rooms are, with incredibly spacious interiors, bold art collections, Smart TVs, Bluetooth soundsystems, and gorgeous marble bathrooms. Many overlook the gardens of Palazzo Borghese behind the hotel. The bar is a scene in its own right, while the restaurant serves a popular weekend brunch. You won't score a spa or pool here, but if style, space, and amazing art are your thing, the Hotel Vilon is for you.
4
Situated among the countless upscale and luxury hotels near the Spanish Steps and Piazza del Popolo, the 122-room Hotel de Russie combines style and comfort in equal measure. Renovations completed before our 2018 visit reveal interiors that shine brighter than most upscale and luxury hotels across Rome. Bright rooms feature tasteful, modern decor and marble bathrooms, while suites add perks like small private balconies. The spa is a major highlight here, and includes with hammock-like loungers, jetted pools, and Turkish steam bath, while the gym is one of the best in Rome hotels. We also swoon for the all situated interior courtyard, where you'll find a beautiful terrace and gardens.
5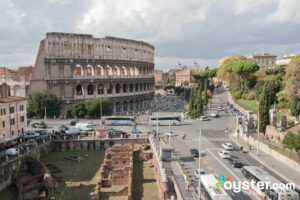 This luxury boutique hotel stands out for its incredible views -- guests can take in the nearby Colosseum from the rooftop restaurant and lounge, as well as from their rooms (these view rooms cost a bit more). The 16 rooms themselves are quite spacious for European standards and have modern decor, flat-screen TVs and dim lighting (that's almost too sexy to be practical). The rooftop restaurant, Aroma, offers fine dining and spectacular views -- and serves a free American-style buffet breakfast daily. All in all, it's a great option, but there aren't many sights or restaurants in the immediate area. The hotel does not have a spa or fitness center, though guests are given access to a nearby fitness center for discounted rates. Its gorgeous rooms are impressive enough to put this hotel higher on our list than luxury options with more amenities.
6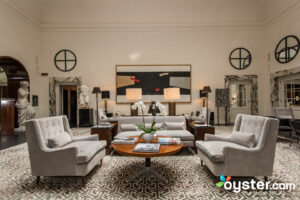 This chic hotel near the high-end shops of Via Condotti and a short walk from the Spanish Steps is a stunner. To be honest, it's hard to find anything to criticize about it, though the lack of a spa or gym might be a con. The 30 boutique rooms are the definition of style and feature a blend of classic, mid-century, and modern accents with Italian marble bathrooms, big flat-screen TVs, and free Wi-Fi. The hotel serves an excellent free breakfast buffet, and it's vintage-chic restaurant offers Italian and international dishes for lunch and dinner. The style is classic and contemporary at the same time -- much like the city outside of its walls -- and we can't help but swoon over the bold art that complements every aspect of the property.
7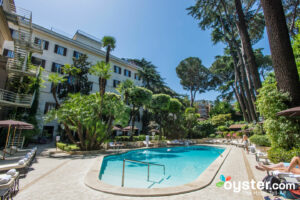 The five-pearl Aldrovandi Villa Brogheseis is one of the classic Roman hotels that convincingly transports you to a different time. Situated in the quiet and residential Parioli district (which is flush with high-end local dining spots), the leafy lawns of Villa Borghese and the city's modern art museum are within an easy walk. This 19th-century stunner is loaded with rich period details, and has 103 rooms that are spacious and elegant. The lush, relaxing garden area, new La Mer spa (and well-stocked fitness center), plus the hotel's fine-dining restaurant add luxury. And if you're visiting during Rome's hot summer months, the outdoor pool is an immeasurably welcome extra. Sure, you're a bit removed from the city-center buzz here, but the Aldrovandi Villa Borghese makes for a quiet place to recharge before heading out again.
8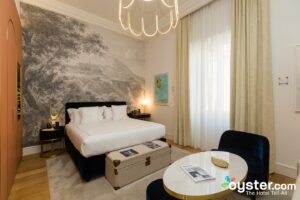 The Elizabeth Unique Hotel is one of the best boutique hotels to open in Rome in 2018. The faultlessly contemporary style here is equal parts edgy, timeless, and refined. Art plays a major role in creating the atmosphere, forming a cohesive package that complements Rome's own historic beauty. The 33 rooms feature perks like Nespresso machines, Bose speaker pods, free minibars, and even double rainfall showers in some units. Partnerships with local purveyors like Galleria Russo add authentic local charm, and the location -- amid Campo Marzio's shopping-mad streets (and just west of the Spanish Steps) is hard to beat.
9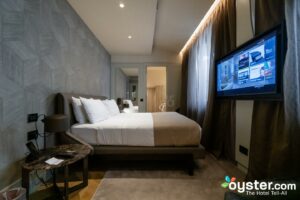 Margutta 19 matches its quaint neighborhood's vibe with a subdued style that feels like walking into a luxury home of your own. There are only 16 rooms here, ranging from cozy Deluxe Rooms to Garden Suites, and all are packed with a ton of extras. Those include Frette linens, free snacks, and replenished free minibars. The handsome style throughout the property blends classic Art Nouveau details and contemporary accents, with chic and sober art found throughout. It's a peaceful, refined property and the breakfast spread includes a generous array of local sweets and savory dishes. In the evenings, Assaggia restaurant offers gourmet Roman cuisine in a discreet, romantic setting. What's more? This is one of the quietest hotels you're likely to find in central Rome.
10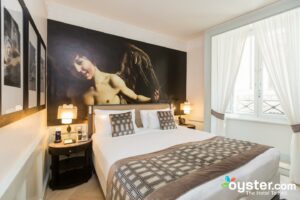 The Hotel Indigo Rome - St. George is a luxury boutique hotel in a fabulous location: on a cobblestone street in Old Rome, within walking distance of restaurants, shops, and some of Rome's most popular sights. Rooms were redecorated in 2014 and now have vibrant colors, iconic Italian accents, and extras like iPod docks. Luxe perks include a wine bar, and traditional Italian restaurant, and a great spa.
11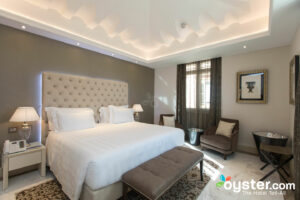 This 96-room Aleph Hotel Rome near the Piazza Barberini is a sharp upmarket property with several features that give it its luxury finish. Once a bank, and with some of the original decor used to dramatic effect, the property is now a modern option in the heart of Rome. The sharp spa is a rarity in this part of the city, and the seasonal outdoor pool is a welcome place to cool off and escape from Rome's hectic streets below. Rooms feature a soothing blend of white, beige, and cream tones that look fresh, and include Nespresso machines, rainfall showers, and -- in the most luxurious -- spacious terraces with nice city views.
12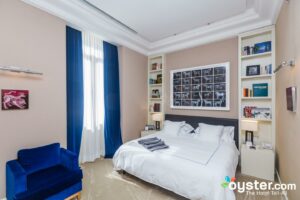 The First Luxury Art Hotel is a 29-room boutique in the historic center of Rome near the Spanish Steps. The property has an elegant, modern design with contemporary art and top-notch technology. Rooms and suites have ample space, iPod docks, Nespresso machines, and big marble bathrooms. The hotel's restaurant has a Michelin-starred chef and the rooftop cocktail garden has 360-degree views of Rome, but some guests note the hotel is difficult to find.
13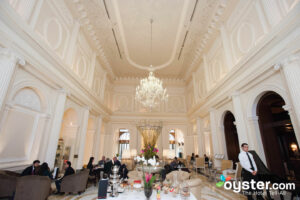 With its fittingly majestic setting right on Piazza della Repubblica, Palazzo Naiadi is one of the original five-star hotels in Rome (and still lives up to that storied legacy). The location puts Termini Station, the Diocletian Baths, and the trendy Monti neighborhood all within an easy walk. Decor in the hotel's common areas skews classic and opulent (think: sculpted busts, gray marble, and soaring columns), while rooms are more modern. Amenities are what set this property apart, including multiple dining options, a wildly popular afternoon tea, and original historic details in the extensive meeting areas.