Best Kid-Friendly Hotels in Sao Paulo, State of Sao Paulo
Take a look at the best kid-friendly hotels in Sao Paulo.
See All Sao Paulo Hotels
1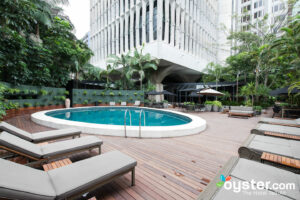 The 220-room Tivoli Sao Paulo Mofarrej is a luxurious option near the downtown area and Avenida Paulista. Rooms are decorated in neutral colors and feature flat-screen TVs, stocked minibars, and 24-hour room service, but bathrooms are on the small side. Suites and collection rooms might be worth the upgrade as they feature butler service. Hotel highlights include a spacious, light-filled lobby with a glass roof, a small outdoor pool (with odd orange tiling) surrounded by cabanas, and an upscale spa by Banyan Tree. There are several dining and drinking options on-site, including the top-level restaurant with beautiful city views. Family features include welcome gifts for kids and a policy where children under six eat free in the restaurants.
2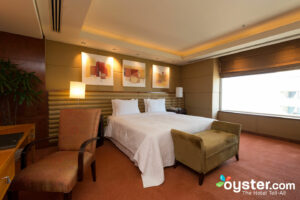 This upscale hotel is an excellent option in Sao Paulo for business travelers. It's part of the massive CENU business complex, and provides underground access to a shopping mall and the convention center. Business-friendly amenities include everything from 13,000 square feet of meeting space and a staffed business center to cell phone rentals and 24-hour room service. And though it does not have a kids' club (very few hotels in Sao Paulo do), the Hilton is a surprisingly kid-friendly business hotel, with children's menus in the three restaurants and children's video rentals. Plus, though it's a bit dated, kids will likely enjoy the indoor pool, which is part of the large 24-hour fitness center. Rooms are spacious, and also well-equipped for business travelers, featuring large work desks, flat-screen TVs, and marble bathrooms. Rooms have a chain-like look with a color scheme of whites and beiges, but they still feel sleek and contemporary.
3
The 76-room L'Hotel Porto Bay attracts mainly business travelers due to its location near financial firms and offices. The decor is classic -- some might say on the verge of dated -- but many guests praise its small size and comfortable rooms. Beyond the large marble lobby, the rooms are elegant, if a bit bland, with floral curtains and neutral tones. All rooms have free Wi-Fi, flat-screen TVs, and marble bathrooms. The hotel does have a spa with a nice sauna, though stark treatment rooms aren't particularly inviting. Hotel highlights include an attractive restaurant with a nice terrace, a small gym, and an indoor pool with an open roof.
4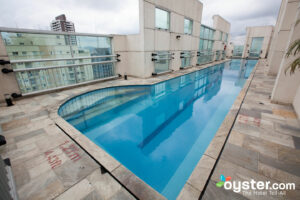 This mid-range hotel is located in the emerging Pinheiros neighborhood, situated between the nightlife of Vila Madelena and the upscale shopping of Jardins. The hotel's distinguishing feature is that all it's rooms are suites, which offer more space than standard rooms in the area, including a small seating area -- some units have space for a kitchette. Beyond the rooms, the amenities -- a drab restaurant with a free breakfast buffet, tiny lobby bar, and rooftop lap pool -- are functional but uninspired. For families or business travelers looking for rooms with extra space, the Comfort Suites Oscar Friere offers a good value. But for a stay in Pinheiros with more style (but smaller rooms) check out the nearby Mercure Sao Paulo Pinheiros Hotel at a similar price point.
5
Maksoud Plaza has been a well-known establishment in Sao Paulo for decades. This storied four-pearl hotel with 416 rooms and suites has a vibe that oscillates between vintage and, perhaps too often, dated. Nothing about the hotel is boring -- one-of-a-kind features include a vintage bar named after Frank Sinatra, an indoor pool, and a habitable art installation. While the history and grandeur might dazzle at first, the devil is in the details: carpets are worn, furniture is old-fashioned, bathrooms are overdue for updates. It's true that some elements don't live up to the upscale category, but when considering all the hotel offers at reasonable prices, the Maksoud becomes an appealing option with charm for days. A much more modern luxury alternative is the Tivoli Mofarrej -- but prices are higher.
6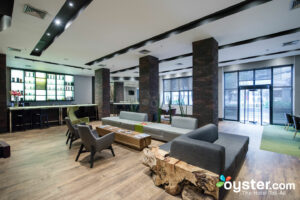 The three-and-a-half-pearl Melia has a cosmopolitan feel and some of the polish of an upscale property, offering a good value. The 350 rooms and suites have decent updates, including nice wood finishes and flat-screen TVs. The stylish lobby bar and indoor pool are the stars of the show, and there's an international restaurant. The location, however, is not for everyone. It's located far from the popular Paulista Avenue thoroughfare and it's about two miles from the closest metro stop. But for those looking to stay in the Moema neighborhood and near Ibirapuera Park, the Melia Ibirapuera offers a more refined style and nicer amenities than many of its nearby competitors. Comfort Hotel Ibirapuera offers lower rates, free hot breakfast, and an outdoor pool.
7
A modern hotel in central Sao Paulo, Transamerica Prime International Plaza offers 312 spacious apartment-style rooms with kitchenettes, flat-screen TVs, and free Wi-Fi. On-site facilities includes a small outdoor pool with waterfall, plus a sauna, fitness room, relaxation room, and restaurant, as well as a 30th-floor rooftop bar that offers stellar views of the city. While not especially upscale, the Transamerica is a good contemporary option for both business and leisure travelers who want to be near the shopping, dining, and offices around Paulista Avenue.
8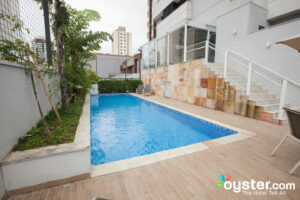 The Hotel Comfort Nova Paulista is a standard, budget chain hotel with updated furnishings, though it's generic style feels quite plain in vibrant Sao Paulo. The 171 guest rooms arranged over 19 floors cater to both value-minded business travelers and families alike. Rooms are arguable the most appealing part of the hotel, since they're decorated with bold colors. There's a simple restaurant (breakfast included), an outdoor pool, and a tiny fitness room, but overall the amenities don't stand out. While not actually located on Paulista Avenue, the hotel is situated close to the metro. It's a reliable, budget-friendly option with few surprises, but also little personality. For something with a bit more pizazz, check rates at the nearby EZ Aclimacao Hotel.
9
The Landmark Residence is a value hotel with 49 rooms arranged over 13 floors in the heart of Sao Paulo. The hotel's best feature is undoubtedly its location in the Jardins District, just two blocks from bustling Paulista Avenue. While the decor in some of the guest rooms has a '90s vibe, the hotel has elements that appeal to value-minded families or business travelers on longer stays. For example, all rooms include a small kitchenette, suites offer spacious living rooms, there's a squash court, European restaurant, and a nice outdoor pool area. Overall, the Landmark Residence might work for those in need of a kitchen or a larger space while on a budget, but for most travelers to Jardins, check out the nearby Mercure São Paulo Jardins Hotel -- but rates are slightly higher.