Best Luxury Hotels in Sao Paulo, State of Sao Paulo
Take a look at the best luxury hotels in Sao Paulo.
See All Sao Paulo Hotels
1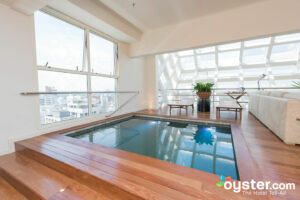 The 57-room Hotel Emiliano is a luxurious hotel in the upscale Jardins area. Despite being a boutique, the hotel has numerous features -- a spa, a 24-hour fitness center, a restaurant and two bars, a staffed business center, and even a rooftop helipad for guests arriving in style (though no pool). The mod rooms are sexy and sleek: Picture wood-paneled walls, clean lines, Charles Eames furniture, and high-tech marble bathrooms (the toilet has buttons.) However, some may find the minimalist style in the lobby and restaurant a tad stark. Nonetheless, this is a fabulous hotel with with excellent freebies (including a 15-minute massage), and the location is a short drive from downtown Sao Paulo.
2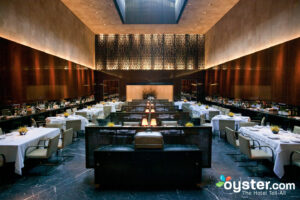 The 60-room Hotel Fasano is a luxury boutique in the upscale Jardins neighborhood. It offers impressive features, including a solid fitness center and an intimate, Zen-like spa. In addition, there are several popular restaurants and bars: The Italian fine dining restaurant is highly acclaimed, Baretto bar offers excellent live music, the lobby bar has art deco style, and the casual restaurant serves three meals a day. Rooms have cool, retro-modern decor -- including funky leather furniture and striped rugs -- as well as flat-screen TVs, DVD players, and iPod docks. Business travelers may also want to consider the nearby (and very similar) Hotel Emiliano, though it lacks Hotel Fasano's chic indoor pool.
3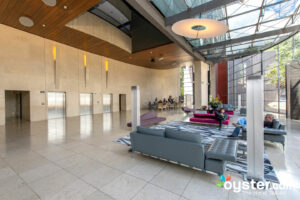 The 95-room Hotel Unique is a trendy pick near Sao Paulo's equivalent of Central Park. The rooftop bar, restaurant, and pool all overlook the park and have beautiful skyline views. The all-white rooms have a bit of a South Beach vibe and feature sexy open bathrooms with separate showers and soaking tubs (though some guests might think they lack privacy). In-room amenities include big flat-screen TVs, different pillow treats every day, and 24-hour room service. Hotel highlights include a large, open lobby with patterned rugs, funky furniture, and a nice lobby bar. An indoor pool, fitness center, steam room, and sauna are all available on-site. While this boat-shaped hotel is not located in the most central neighborhood, it is near attractions such as the Modern Art Museum, Ibirapuera Park, and restaurants.
4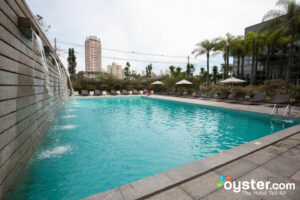 Popular with business travelers, the high-end Hyatt Grand Sao Paulo is a luxurious option not far from the domestic airport and within a 10-minute walk of shopping and dining. The 466 rooms and suites here are comfortable, modern, and up to business luxury standards without being grandiose; those on higher floors have excellent city views. There's also a huge fitness center, spa, indoor and outdoor pools, and seven restaurants and bars featuring cuisine from around the world, as well as Brazilian favorites -- business travelers appreciate not having to leave the hotel in the midst of meetings. All these perks come with a fairly hefty price tag, though, as well as the extra fees levied for Wi-Fi and parking.
5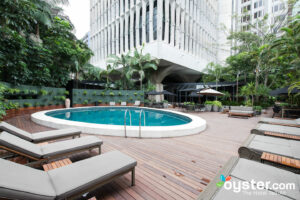 The 220-room Tivoli Sao Paulo Mofarrej is a luxurious option near the downtown area and Avenida Paulista. Rooms are decorated in neutral colors and feature flat-screen TVs, stocked minibars, and 24-hour room service, but bathrooms are on the small side. Suites and collection rooms might be worth the upgrade as they feature butler service. Hotel highlights include a spacious, light-filled lobby with a glass roof, a small outdoor pool (with odd orange tiling) surrounded by cabanas, and an upscale spa by Banyan Tree. There are several dining and drinking options on-site, including the top-level restaurant with beautiful city views. Family features include welcome gifts for kids and a policy where children under six eat free in the restaurants.
6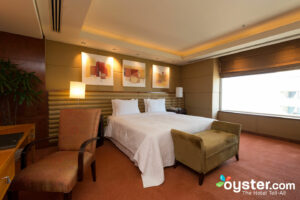 This upscale hotel is an excellent option in Sao Paulo for business travelers. It's part of the massive CENU business complex, and provides underground access to a shopping mall and the convention center. Business-friendly amenities include everything from 13,000 square feet of meeting space and a staffed business center to cell phone rentals and 24-hour room service. And though it does not have a kids' club (very few hotels in Sao Paulo do), the Hilton is a surprisingly kid-friendly business hotel, with children's menus in the three restaurants and children's video rentals. Plus, though it's a bit dated, kids will likely enjoy the indoor pool, which is part of the large 24-hour fitness center. Rooms are spacious, and also well-equipped for business travelers, featuring large work desks, flat-screen TVs, and marble bathrooms. Rooms have a chain-like look with a color scheme of whites and beiges, but they still feel sleek and contemporary.
7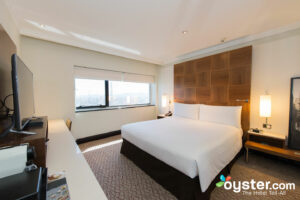 The enormous and upscale Renaissance Sao Paulo has a lot going on: it's a popular wedding venue, fast access to Paulista Avenue, an event center with more than 20,000-square-feet of space, three restaurants, a (surprisingly small) pool, a spa, a huge fitness center, and even a 200-seat theater. That's not to say that they rooms aren't notable -- they're also a highlight, with spacious marble bathrooms and city views. This business-traveler focused mega-hotel is much like the city of Sao Paulo itself: bustling, chic, and worldly. The major downsides are a small pool and some street noise from the road. For a smaller and cheaper alternative near Paulista Avenue, check rates at the Landmark Residence Hotel.
8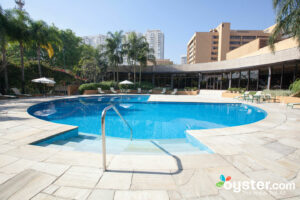 The Hotel Transamerica Sao Paulo is an upscale resort hotel featuring a freeform outdoor pool, a children's pool, restaurants, and athletic facilities. Rooms are spacious and come with flat-screen TVs and free Wi-Fi. The hotel's location isn't very convenient, and it takes at least 25 minutes to reach the city center. That said, it's well-positioned for conference attendees at the nearby Expo Center, and is a good choice for leisure travelers who want a wide array of recreation facilities. Overall, this spot is mostly popular with business travelers who appreciate the free Wi-Fi, VIP floor for quiet, and the on-site helipad.
9
The 76-room L'Hotel Porto Bay attracts mainly business travelers due to its location near financial firms and offices. The decor is classic -- some might say on the verge of dated -- but many guests praise its small size and comfortable rooms. Beyond the large marble lobby, the rooms are elegant, if a bit bland, with floral curtains and neutral tones. All rooms have free Wi-Fi, flat-screen TVs, and marble bathrooms. The hotel does have a spa with a nice sauna, though stark treatment rooms aren't particularly inviting. Hotel highlights include an attractive restaurant with a nice terrace, a small gym, and an indoor pool with an open roof.