Best Boutique Hotels in Sicily
One of Italy's 20 regions, Sicily is a gorgeous island featuring striking mountains, scenic coastlines, and fascinating historical towns. We visited the top hotels in Sicily to compare their guest rooms, amenities, and level of service, and find out which were the best of the best. So if you're looking for a charming, unique boutique experience while in the charming Sicily region, you've come to the right place. Check out the best boutique hotels in Sicily and start planning your getaway!
See All Sicily Hotels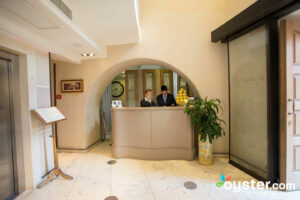 The 10-room Hotel el Jebel is a luxurious oasis set within the Historic Center of Taormina. The boutique hotel is located up a flight of stone steps off a tiny side street, this Catalan-style building has amazing views of the Ionian Sea and picturesque town, which can be seen from the beautiful rooftop terrace and the all-glass exterior elevator. The guest rooms are all individually decorated in an elegant, eclectic style that provides a refined yet comfortable atmosphere. The hotel includes a spa, two restaurants, and an intimate bar. Prices are high, especially since there isn't a swimming pool or gym, but free Wi-Fi and breakfast are a nice touch.
This hip, yet elegant four-pearl boutique hotel provides gorgeous views of the vibrant Mediterranean Sea from the many outdoor spaces, which are surrounded by beautiful lush gardens. Located on a slope off a windy mountain road, the Villa Carlotta is within a five-to fifteen-minute walk of many of the popular attractions within Taormina and the nearby area. 23 accommodations including guest rooms, suites, and villas are comfortable and nicely furnished, with large windows and pretty views. Luxe features include a shallow outdoor pool, access to a nearby health club, and an on-site restaurant serving organic Italian cuisine. Still, expect to pay for parking on top of already high rates.
The B&B Villa Sogno Charme e Relax Selinunte is a quiet upper-middle-range bed and breakfast catering towards couples. Rooms have a maximum capacity of two people, and children under the age of 14 are not allowed. The grounds and public spaces are beautifully decorated with an emphasis on Mediterranean plants and neoclassical design. A gourmet breakfast gets rave reviews for tasty details such as the organic homemade jam and strong coffee. There's an outdoor swimming pool and rooftop terrace with lovely views of the surrounding landscape. The location is secluded, so a car is required for visiting the coast and nearby Greek ruins of Selinunte Archaeological Park.
The family-run Hotel Baia di Venere is a small but charming mid-range property with Mediterranean-style decor. It is just a two-minute walk to San Vito Beach; there isn't much else within walking distance. Rooms are simple but comfortable and clean, and some have terraces and balconies. The hotel has a lobby bar, a cozy TV room with sofas, a breakfast room with an outdoor balcony, and plenty of spots to get some fresh air, including a rooftop terrace and outdoor patios. Free Wi-Fi and free breakfast keep rates low. Overall, this is an excellent and clean beach hotel for families and couples watching their budgets on the beach.
The 13-room Hotel Piccolo Mondo is a small, family-run property a couple hundred yards from the clear waters and clean sands of San Vito Lo Capo, a charming beach town west of Palermo. Quality service is of note here; the hotel's owners interact daily with guests. Rooms are individually decorated, immaculately clean, and offer mini-fridges and small flat-screen TVs (some rooms have balconies). There is a big rooftop solarium with water views. Parking in the immediately vicinity of the hotel can be difficult; shuttles transport visitors to and from a free lot into town (pay parking is available closer by).
This small hotel, run by a couple, receives consistently positive reviews for its proximity to the beach and its welcoming vibe. Guests have commented very favorably on the included breakfast, as well as on the cleanliness of the rooms and the common areas. The feel here is more of a bed-and-breakfast than a hotel (though the exterior resembles the latter type of property), and there is a decent-size dining room on the first floor. There are plenty of comfy places to hang out in the hotel, including a library on the main floor by the reception and a sundeck on the roof that is finished with terra cotta tiles. For those who wish to catch some rays on the sand, the beach is located across the street from the hotel.
This tiny bed-and-breakfast -- which is run by a couple -- consists of two rooms only. Both are spacious and have a homey vibe. The property is situated slightly outside the center of Trapani; it is located about a 20-minute walk from the old town, and is near plenty of restaurants and supermarkets. Guests have made a point to say that while the location is not as ideal as some, the owners will readily provide transportation with advance notice. A great draw of the hotel is the lovely backyard garden and the adjacent terrace, on which a homemade breakfast that draws frequent rave reviews is served daily at no extra charge.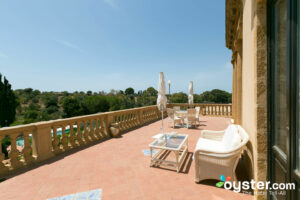 Located in the Valley of the Temples, the luxurious Hotel Villa Athena is in a prime spot for guests who want to be in the center of the famous UNESCO World Heritage site and don't mind driving a few minutes to get into Agrigento. This romantic property is ideal for honeymooners and features 27 renovated rooms and suites, some with views of nearby temples. Note that rooms advertised as having private terraces might actually share the space with neighbors. There's also a restaurant on-site and ample free parking. A small pool is open in summer months.
The 127-room Grand Hotel Piazza Borsa is located in a restored former bank building -- and a convent before that -- in the heart of the old city. The property opened in 2010 after a five-year renovation and it retains many original architectural details, including the vault with the security door, but has been stylishly updated. A beautiful courtyard off the lobby, surrounded by columns, has a retractible roof. Wi-Fi can only be used in the lobby and isn't available in the large, stylish rooms. A central location puts the hotel within walking distance of the city's attractions, and overall it is a good choice for tourists or business travelers.
The 33-room Hotel Porta Felice is a boutique hotel built into an old Sicilian palace on the outskirts of the historic city center of Palermo. Completely refurbished, the property has a sleek, modern design, large rooms, and a beautiful wellness center in which visitors can indulge in massages and a variety of treatments. Guests are served a free breakfast on the rooftop terrace each morning, and the restaurant is also open for dinner. While the facilities are pleasant, the area surrounding the hotel can be a mixed bag, as some guests have complained about rundown buildings and poor street lighting at night.
The 24-room Marina Holiday Resort & Spa is a small boutique hotel in the port town of Balestrate, about a 30-minute drive from Palermo Airport. A petite, quiet facility with a whimsical style, the Marina Holiday attracts mostly couples and adult travelers. Balestrate itself is not incredibly active, but it does have a few restaurants and shops to explore. The Classic Double rooms at the Marina Holiday are plain, yet moderately sized. Bathrooms are generally poorly lit but clean. For more space or greater style, guests can upgrade to Comfort or Superior units.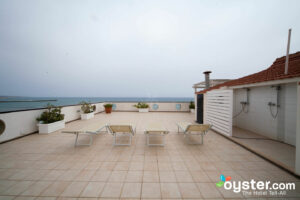 This small, 22-room hotel on the outskirts of the little village of Donnalucata has a prime seafront location with a private beach. Renovated in 2010, the property has light and airy nautical decor and serves its free breakfast on a beautiful rooftop terrace. The hotel doesn't have a bar, though the restaurant next door does serve lunch and dinner. The property is not too far from nearby cities, including Sicli and Ragusa, making it a good base for exploring the southeast coast of Sicily. Rooms are simple and there's no gym, but this property has a nice, laid-back vibe.