Best Luxury Hotels in Tahiti
An exclusive retreat on the island once favored by Tahitian royalty, a high-end resort centered around a turquoise lagoon, and an upscale spot for travelers in transit to other destinations in French Polynesia are the most luxurious hotels in Tahiti.
See All Tahiti Hotels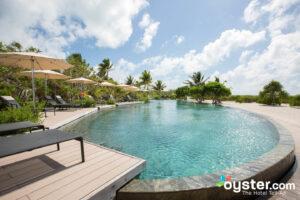 Named in honor of actor Marlon Brando, the Brando is one of the world's most exclusive private island retreats. The all-inclusive resort harbors 35 spacious and luxurious villas, each with a spa baths, private plunge pools, and direct beach access. The no-expenses-spared service includes daily spa treatments at the holistic Varua Spa and unlimited water sports and activities: Guests can take a self-propelled ride via paddleboard or kayak into the lagoon and out to explore the uninhabited small islands in the atoll; On land, there are cooking classes, Polynesian dancing, yoga, tennis, and a well-equipped fitness center. Guests can take their meals at anytime in their villa, by the huge infinity pool, or on the beach. There are two restaurants: the casual Beachcomber Cafe overlooks the lagoon and beach and serves breakfast, lunch, and dinner, while the more formal Les Mutines is overseen by Guy Martin, chef at the two-Michelin-star Le Grand Vefour in Paris.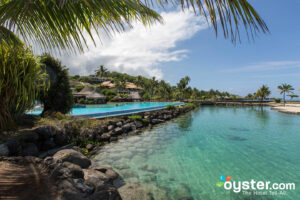 Set on a 32-acre peninsula, the Intercontinental Tahiti Resort and Spa is a 245-room upscale resort with modern lagoon-view rooms and stilted overwater bungalows with private terraces. The resort is built around a Lagoonarium, a calm, aquamarine body of water with a reef ecosystem, where guests can snorkel among the 200 species fish and sea creatures or simply watch as the staff feeds the fish and rays during its daily rounds. Le Lotus is the hotel's fine-dining restaurant, serving French food in an intimate overwater setting. A second, much larger restaurant, Te Tiare, is an open-air space with views of the infinity pool and its waterfalls. While the Intercontinental is one of Papeete's most luxurious hotels, the property is showing its age and is undergoing sporadic renovation.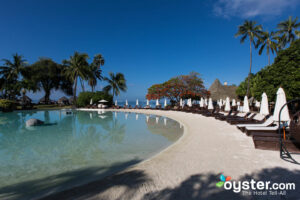 One of the only upscale options in Tahiti, the 150-room Le Meridien melds Tahitian architecture with contemporary style, and spacious rooms and suites -- including overwater bungalows -- feature the hotel's signature beds, private terraces, and views of the ocean. Other features include a huge sandy-bottom pool with a tiki-style bar, a narrow beach (free snorkels and kayaks are provided), two open-air restaurants, and a basic spa. Despite the fact that many areas of the hotel have been renovated, there are still some datedness issues, and some travelers may find that the hotel falls short of Le Meridien standards.