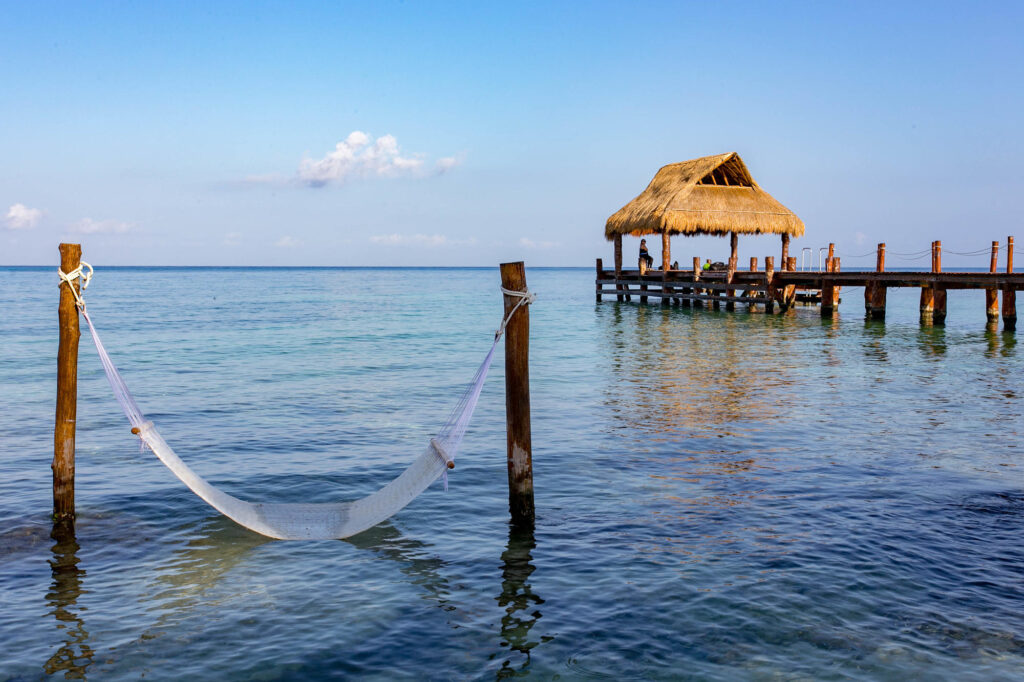 Vacation in Cozumel, and odds are that you'll go home utterly relaxed and with memories of spectacular scenery and friendly people. A 34-mile-long by 11-mile-wide island off of Mexico's Riviera Maya, Cozumel is quite unlike its neighbor. It's largely undeveloped, with expanses of jungle and untouched shoreline that are a rarity on the mainland. Travelers don't come for the partying, boisterous beach bikini volleyball games, or designer shopping. Instead, it's mostly about unplugging and enjoying the sun. There's also plenty to see and do in Cozumel aside from the beach. The city of San Miguel has a laid-back vibe, and there are stunning stretches of untouched nature to be found along the eastern and southern shores. We're covering everything from when to visit Cozumel to things to do on the island. So check out the 11 things you should know before setting off for Cozumel.
1. Snorkeling and scuba diving in Cozumel are incredible.
Just off Cozumel's southwestern coast lies the world's second-longest coral reef system (only Australia's Great Barrier Reef beats it). The Mesoamerican Reef System spans about 175 miles from the Gulf of Mexico to the coast of Honduras. The exceptionally clear waters put Cozumel high on many divers' bucket lists. It's common for divers to see vast coral heads, vivid sponges, tropical fish, and tunnels and caves housing species found only here, such as the Cozumel splendid toadfish. The Arrecifes de Cozumel National Park, a popular diving area, is home to several endangered creatures, including the loggerhead sea turtle, the queen conch, and black coral. The sea floor is also incredibly varied here, with ledges and cliffs creating dramatic underwater vistas. Private tours and group excursions are available from private business in the island's main town — San Miguel — or from almost every hotel and resort on the island.
2. Cozumel weather is pretty great year round, though there is a rainy season.
The Riviera Maya, Cancun, and Cozumel experience less severe wet and dry seasons than Caribbean destinations to the north and east. This means that there are more months to choose from when you can expect clear weather. December through May are generally the driest months, though you'll see more precipitation at both ends of that range. The wettest months of the year are generally October and November, so even visiting in the summer months (when hotel rates are lower) means you're likely to see more sunny days than not. July and August are generally the driest of the main summer months in Cozumel. However, the island isn't entirely without risk of hurricanes during this time of year and into the early fall. Temperatures stay quite warm during the day, year round. Of course, Cozumel is hottest during the summer (and incredibly humid), with drier warm temperatures from January through March. Keep in mind that sargassum seaweed blooms are a problem across the Caribbean (including Cozumel), and tend to spike during summer months, impacting beach usability.
3. Compared to other parts of Mexico and the Caribbean, Cozumel is safe .
We often get asked, "Is Cozumel safe?" And while no place in the world is 100 percent safe for all visitors all the time, Cozumel has low crime rates that should alleviate any fears you have of visiting. The drug-related crime in Mexico that makes the headlines is concentrated near the country's borders, and even the crime that has occasionally erupted around Cancun rarely affects tourists. To that end, violent crime on Cozumel is rare, even though the U.S. State Department does occasionally issue warnings. Keep in mind that a Level 2 threat-level ranking from the U.S State Department — which covers the state of Quintana Roo (where Cozumel is located) — is the same as France, Italy, and the U.K. Of course, you should still take proper safety precautions. For example, wandering on a beach alone at night isn't a smart idea, and always lock your valuables inside of your safe. To alleviate concerns about petty crime, carry as little money as you can, and divide up your cash and cards in different pockets and a money belt.
4. Cozumel is one of the busiest cruise ports in the world.
Cozumel is a stop on many cruise itineraries — in fact, on any given day there are up to eight cruise ships docking here and the island hosts over 3 million cruise passengers per year. Cozumel is also a popular day trip for travelers staying on the mainland in the Riviera Maya. These visitors generally arrive by ferry from Playa del Carmen. You might be thinking that Cozumel gets overrun with cruisers and daytrippers at this point. But don't worry. Cruise passengers typically don't venture much farther than the harbor areas, or only partake in cruise-offered beach excursions, so if you're aware of when the ships dock, the tourist crowd is easy enough to avoid. That's especially true if you stay in the southern and eastern parts of the island.
5. Beaches are everywhere in Cozumel — though the best Cozumel beaches are on the island's west side.
While there are plenty of Instagram-worthy white-sand stretches, it's worth thinking about what kind of beach you want. Pretty? That's all of them. Beyond that, if you're after the sandiest shores, you'll want to post up on the west and south sides of Cozumel. Search out Playa Palancar and Dzul Ha if you're after white sand and azure water. Beaches on the eastern side of Cozumel are rocky and the water is often rough, but they're beautiful and feel much more undiscovered than others on the island. Cozumel is not a surf destination, but beginner and intermediate boarders often sign on with a surf school for a day. Northern coast beaches, north of San Miguel, tend to be popular with families with kids, since the water is calm and shallow. Limestone "iron shore" beaches are top spots to go snorkeling — just make sure to wear water shoes. All of the beaches on Cozumel are public, but that doesn't mean they're free. Technically, the use of the actual beach is free, but many beach clubs impose cover charges that apply toward your bar or beach club food tab.
6. You can't drink the water in Cozumel.
Unless your resort purifies their own tap water system and takes assurances to let its guests know this fact, exercise caution. Tap water in Mexico is generally not drinkable for tourists, and is often a culprit in inconvenient gastro-intestinal illnesses while travelers are here on vacation. Stick with bottled water (even the locals often drink it), and try to keep your mouth closed in the shower, too.
7. You need a passport to visit Cozumel, but likely don't need a visa.
If you're planning on visiting Cozumel for a few days, you'll need a passport (as you would visiting any other destination in Mexico). The only exception is for those traveling on closed-loop cruises, which start and end at the same U.S. port. In that case, only a birth certificate and driver's license is required. However, should you miss your embarkation time from Cozumel or any emergencies arise that cause you to deviate from your cruise itinerary, you'll have a much harder time getting out. With that in mind, we recommend getting your passport at least four months in advance of any trip — cruise or not.
8. There are plenty of Cozumel all-inclusive resorts, making it an alternative to mainland Riviera Maya.
While Cozumel has less all-inclusive resorts than the mainland Riviera Maya, you'll still find almost all of the big all-inclusive brands here. That includes all-around resorts like Iberostar Cozumel and Melia Cozumel, as well as romantic adults-only options such as Secrets Aura Cozumel. Cozumel resorts are often a bit cheaper than those you'll find on the mainland, in part because these hotels are trying to lure guests who think of the island as little more than a day trip. However, there are far fewer luxury and upscale options on Cozumel. That fact aside, the vibe is almost always far calmer than what's on offer in Cancun and Tulum. Even so, the island has a great selection of smaller boutique hotels as well, if the all-inclusive option isn't for you.
9. Cozumel is easier to get to than you think.
Believe it or not, nonstop flights to Cozumel International Airport operate from a fair number of big cities in the U.S., including Dallas, Atlanta, Houston, Charlotte, and Miami. That list grows during high season (roughly early December through Easter). Otherwise, it's easy to catch a ferry from Playa de Carmen. It's about a 45-minute ride, and they run regularly.
10. You can use U.S. dollars in Cozumel and English is widely spoken.
Like most tourist destinations in Mexico, you can expect almost everything here to be tourist friendly. That ethos extends to how you pay and what language you'll speak. Most merchants cater to tourists in Cozumel will accept U.S. dollars — including hotels and restaurants — but will give change in pesos. Additionally, credit cards are widely accepted, but you should keep in mind that smaller vendors, market sellers, and street food outposts will likely only take cash. On a similar note, English is widely spoken. Of course, knowing a few phrases in Spanish will go a long way.
11. Things to do in Cozumel are numerous, and range from adventurous to relaxing.
Given its draw for everyone from couples to families and retirees, it's perhaps no surprise that there's a wide range of things to do in Cozumel. The island has a way lower profile when it comes to partying than mainland neighbors like Cancun and Playa del Carmen. Even so, there are plenty of casual bars in San Miguel, as well as beach clubs that are just lively enough all day long. Jeep tours are a great way to see the island's landscape, much of which is untouched by development — the island particularly wild on the south and east sides.
While you won't find anything on the scale of Chichen Itza here, you can explore the San Gervasio Mayan Archaeological Site to get your fix of ancient ruins. It's set in a jungle-like wildlife refuge (watch out for the iguanas!) that's other-worldly. This eastern outpost of the Mayan empire is fascinating even for those who aren't history buffs. Feel like setting off on your own and getting lost amid nature? Rent a moped and head to El Mirador, where the seascape rock formations are picture perfect, or to the lighthouse at Punta Sur (which is also an ecological park that's home to animals like crocodiles).
The Occidental Grand Cozumel is an all-inclusive resort with a great spot at the southern end of Cozumel, surrounded by a stunning nature preserve. The white-sand beaches are gorgeous, and the incredible offshore reefs make for memorable snorkeling and diving adventures. There are six restaurants and four bars, as well as plenty of activities for families and kids. The resort also has three big pools, a hot tub, tennis courts, fitness center, spa, and kids' club. Evening entertainment includes a nightclub with dancing.
Villas Las Anclas is an ideal mid-range pick for families and divers ("anclas" means anchors in Spanish) who want the comforts of home, a one-block walk to the beach, and a quiet, secluded ambience. This place has a lot of style, especially compared to the often dowdy hotels and resorts on Cozumel. We love the bright colors and boho design details. It's also a great pick for families, couples, or solo travelers. Seven, two-story villas include kitchenettes and built-in sofas. A small swimming pool plus a rack where divers can rinse and dry their wetsuits are also found on-site. The location is great for dining on local food, as there are a number of options all around.
You'll Also Like:
All products are independently selected by our writers and editors. If you buy something through our links, Oyster may earn an affiliate commission.