It may come as a surprise, but not that long ago, Ibiza was little more than a tranquil island full of fishermen and farmland. Times have changed, though, and these days, the reputation of this tiny Balearic Island precedes itself. The name alone graces many all-night clubs around the world, and everything from boozy beaches to foam parties come to mind just hearing the word. And while it's true that certain parts of Ibiza are every bit as rowdy as you've heard, the island actually has something to offer almost any traveler. So if you're craving abundant sunshine, mild temperatures, and shimmering blue Mediterranean seas, read on for the best towns the island has to offer. We're sure you'll find the perfect place to party, relax, or explore.
If the images that spring to mind when you picture Ibiza are all-night parties, endless streams of booze, and crowded club-packed beaches, you're thinking of Playa d'en Bossa. The town is actually part of Ibiza Town, the largest city on the island, and sits along the longest continuous stretch of sand found on Ibiza. During the day, guests bask in the sun and throw back cocktails at beach clubs and resorts up and down the sand. At night, the area's clubs come to life, drawing the see-and-be-seen set who are ready to party until well past dawn. If you do bother to wake up early enough, you can take a stand-up paddleboard for a spin, though keep in mind that this isn't exactly a quiet part of Ibiza. Hotel options run the gamut from luxury properties to crash pads, but party noise isn't to be underestimated around here. Investigate wisely if you're a light sleeper.
Playa d'en Bossa Hotel Pick: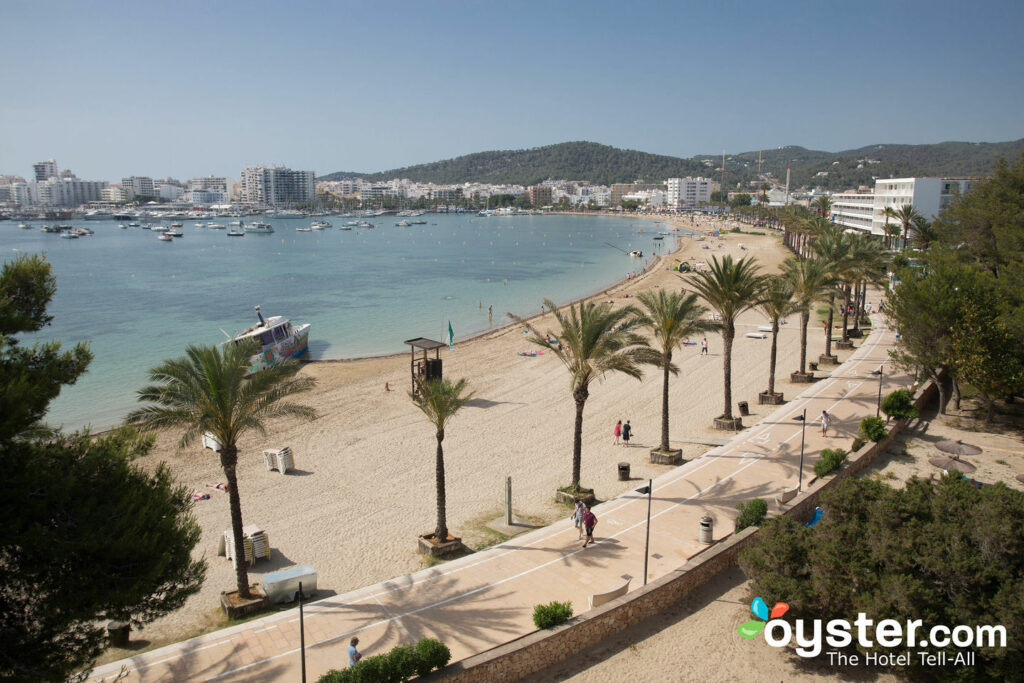 Also referred to as San Antonio, this is Playa d'en Bossa's slightly less polished, and far rowdier, sibling. Here, the high-end vibes are replaced by loud bars and clubs packed with young travelers from Europe's northern extremes. Most of the town's venues are found in the West End and along the Sunset Strip. The latter is especially famous for its sunset bars, where famous DJs from around the world spin as the sun dips down over the Mediterranean Sea. The West End is packed with rock bars and techno clubs where hordes of British tourists carouse from one to the next all night long. If you're looking to tie one on during the day, opt for one of the booze cruises that depart from town. Alternatively, Sant Antoni de Portmany does have a beach — though a hangover under the blaring sun isn't always the most pleasant experience. Maybe it's for that reason that the beach tends to stay relatively low-key when compared to the town's nightlife. As far as hotels go, expect lots of budget and mid-range properties of varying quality, plus tons of aparthotels.
Sant Antoni de Portmany Hotel Pick: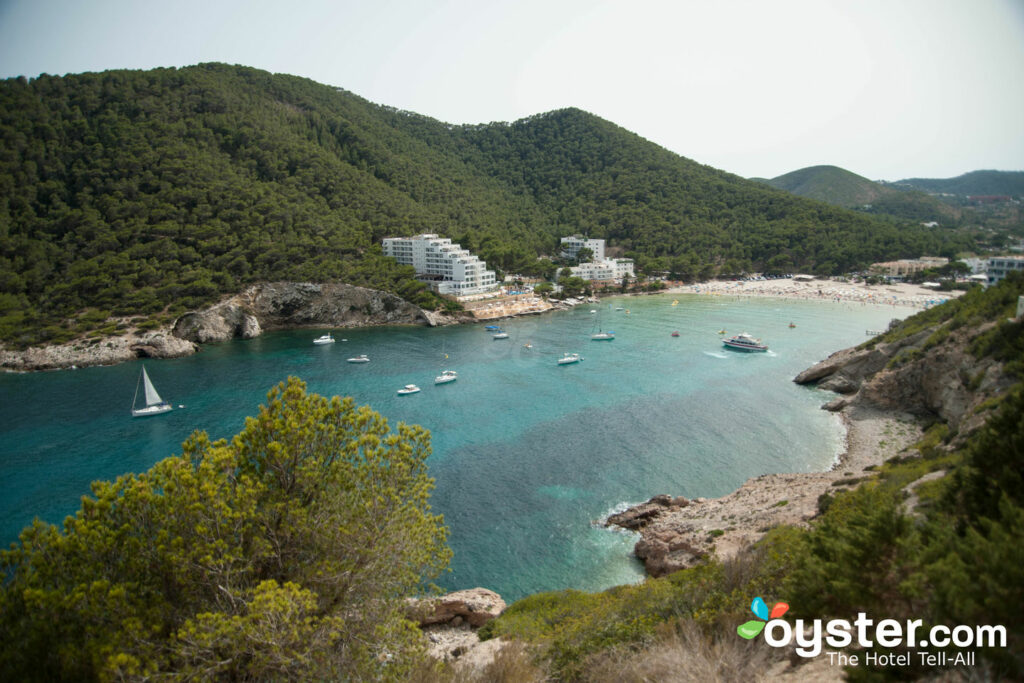 We weren't lying when we said that Ibiza really does have enough appeal to draw travelers from across the spectrum. And while the towns largely cater to two groups — mature travelers or young partiers — there are plenty of family-friendly spots, too. Cala Llonga is considered one of the island's best family destinations, and yet it's still quite close to the island's activity hubs. The town has kid-friendly play areas near the beach, and the water here is shallow enough for youngsters. It also throws family-friendly festivals during the high season, with movies shown right on the beach. While the beach here is clean, keep in mind that it can get crowded, particularly during peak season. The lack of loud nightclubs means that at night it's a breezy, low-key place that makes for a relaxing getaway.
Cala Llonga Hotel Pick: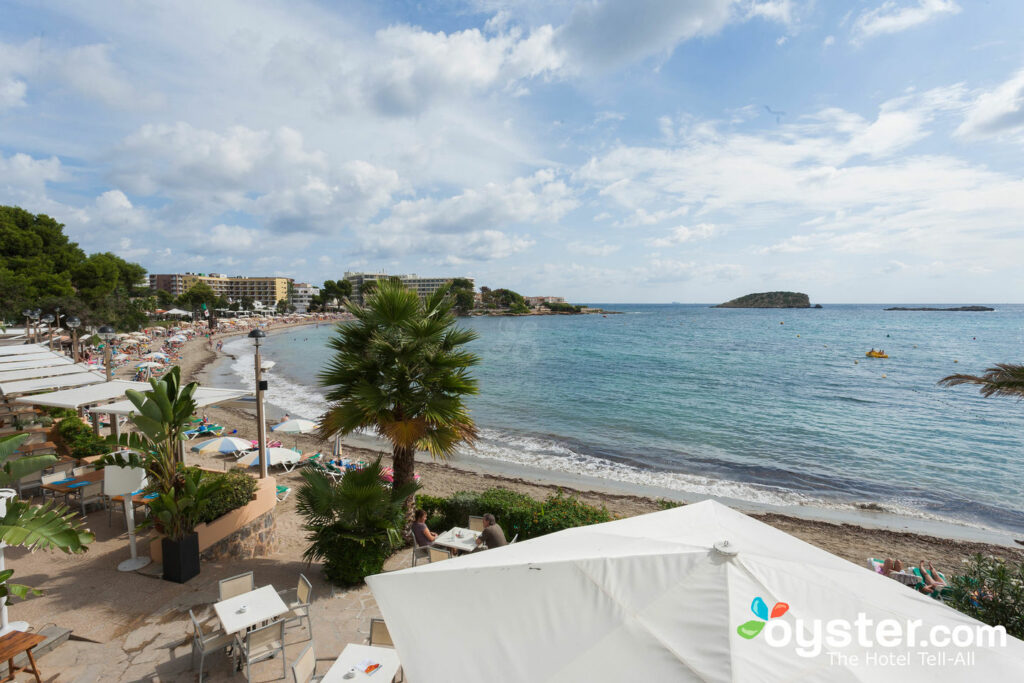 Somewhere between the relaxed atmosphere of Cala Llonga and the livelier offerings of Playa d'en Bossa, Es Canar packs a lot of holiday vibes into a small space. With seemingly countless hotels, shops, bars, cafes, and restaurants situated around a relatively small bay, it can feel busy. However, the upbeat ambience never reaches the levels found in Playa d'en Bossa or Sant Antoni de Portmany. There are numerous beaches to explore nearby as well, including pretty and serene Cala Martina. The water here is great for snorkeling and water sports.
Es Canar Hotel Pick: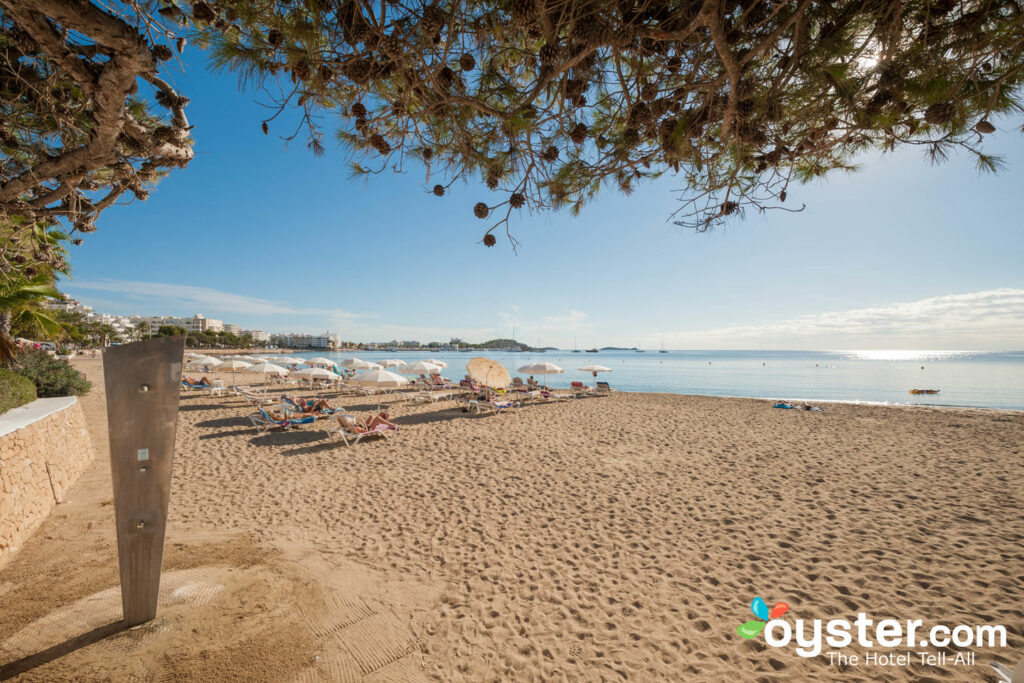 If you're looking to experience the poshest atmosphere on the island, make a beeline for Santa Eulalia del Río. The town takes the fancier trappings of Playa d'en Bossa and scrubs them clean of loud parties and drunken revelry. Instead, you'll find upmarket restaurants, art galleries, and pricey boutiques. Yachts cluster in its marina, and the beaches are lined with rows of lounge chairs (though these tend to be scooped up early). Don't come here expecting to party until late, either, as most of the bars close around midnight. That pace of life makes this place ideal for more mature travelers, or those who prefer to spend their time in the sun alongside peace and quiet. Hotels in the area are pricer than you'll find in nearby towns like Es Canar, but they're also generally far higher on the luxury scale as well.
Santa Eulalia Hotel Pick:
Travelers don't come to Sant Joan de Labritja — also known as San Juan — to experience pretty beaches, amusement parks, or international DJs. Instead, it's one of the last vestiges of old-school Ibiza, and still holds on to some of the island's charms from before the whole of Britain seemingly descended upon the Balearics. It's tucked in the hills high above the northern part of the island, and the closest beaches are within a 15- to 20-minute drive down steep, curving roads. The reward for making the trek here? Classic Ibiza style and Mediterranean charm. The town has whitewashed buildings, cobblestone streets, and a small clutch of bars and cafes alongside views of the neighboring hills. Don't expect much to do day or night, as it's really about soaking up the slow pace of island life here.
Sant Joan de Labritja Hotel Pick: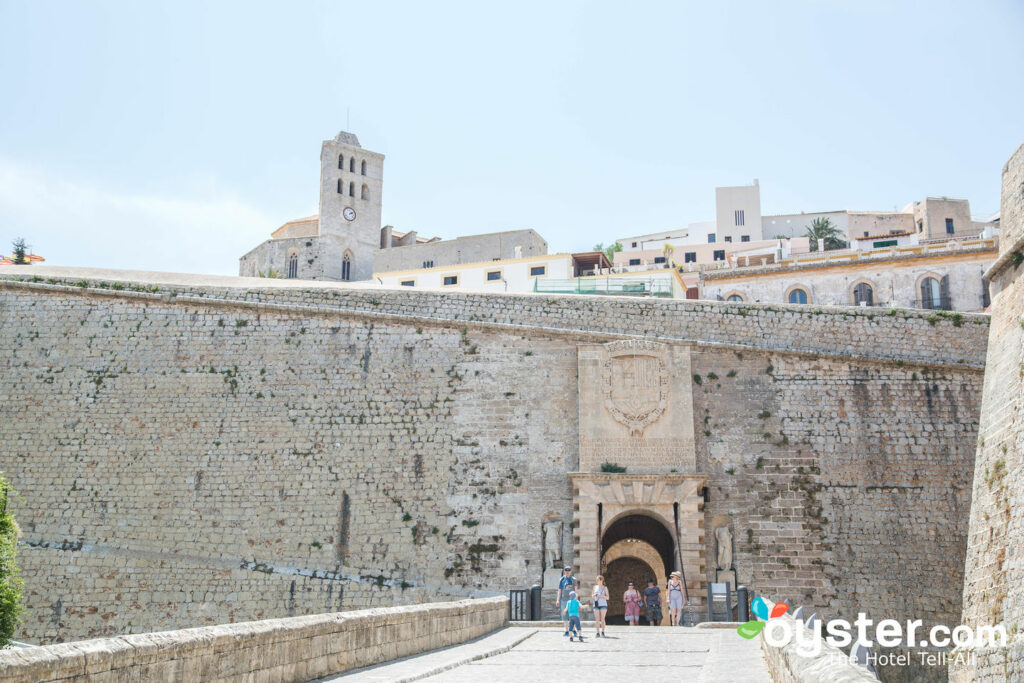 We'd be remiss to leave the largest city on the island off of our list, as it boasts a character of its own when compared to spots found elsewhere along the coastline. This is the historic heart of the island, and you'll find the lion's share of its millennia-old appeal tucked into the narrow lanes of the Old Town. Known as Eivissa to locals, the Old Town is packed with picture-perfect bars and cafes, as well as shops, museums, and historic sights. The marina is also lined with plenty of spots to really soak up those vacation vibes with a drink. And while all of these classically Balearic pleasures certainly bring some of the past into the present, the town is also home to one of the world's most famous nightclubs — Pacha — which sits just north of the marina.
Ibiza Town Hotel Pick: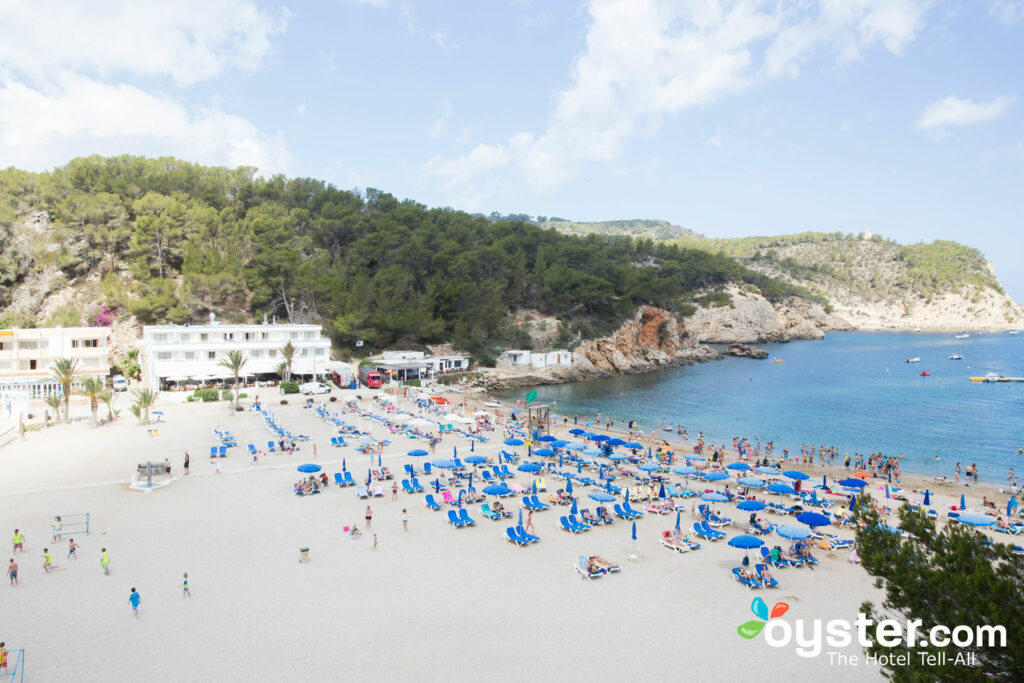 Cala Llonga isn't the only popular option for families visiting Ibiza. Port de Sant Miguel, in the island's northwest, makes for an even lower-key escape for families looking to enjoy little more than sun, swimming, and delicious seafood. The narrow, shallow, and tranquil cove here is flanked by pine-covered hills, and while there are a few tourist-oriented shops in town, the vibe is far less brash than what's found in the resort towns along Ibiza's eastern coast. Water sports are a big deal here, and the small beach has rows of loungers set up for sunbathing. The sea here stays especially calm, as it's protected from winds by the nearby hills. Aside from several excellent seafood restaurants and casual cafes, there's comparatively less development and bustle in town than Cala Llonga. For a day trip, the caves of Can Marca are a great family-friendly place to explore, just north of town.
Port de Sant Miguel Hotel Pick:
Ibiza is party central. To combat any hangover, try out Blowfish, the only FDA-approved hangover cure brand.
You'll Also Like:
All products are independently selected by our writers and editors. If you buy something through our links, Oyster may earn an affiliate commission.