While many tourists are steering clear of once-popular destinations due to safety concerns, Spain -- and namely, its Balearic Islands -- is one place that has reaped the benefits with a surge in bookings. But with four main islands -- each with its own distinct character, features, and foibles -- it's tough to know which one is right for you. To help, we picked apart this lovely sun-soaked Mediterranean archipelago to help you decide where to book your next Balearic break.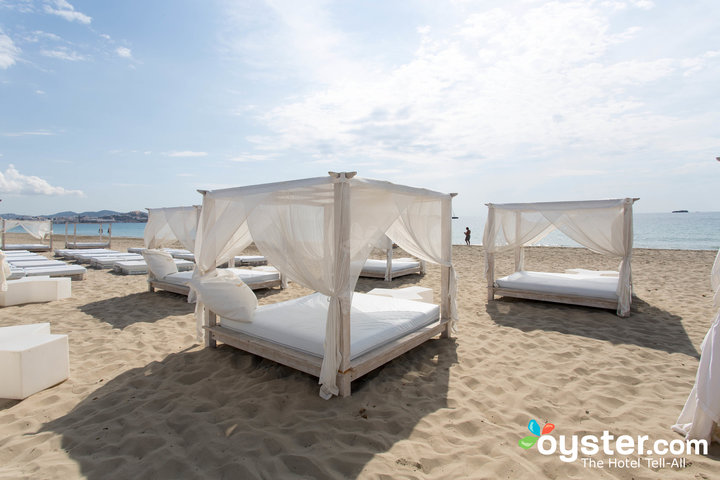 What it has:
The best known of the Balearics, Ibiza has been the throbbing heart of the Mediterranean's dance scene since the '80s, spawning not only a musical genre (Balearic beat), but the gleaming white aesthetics of the Ibiza beach club — copied the world over. But this island is not just about throwing shapes. Attracting a steady stream of artists, writers, and like-minded bohemians for almost a century, there's a thriving art scene, albeit generally tucked away from the more touristy areas. There's also a decent number of beaches, including long stretches of family-friendly coastline and numerous remote coves, plus the historic cobbled streets of the medieval Ibiza Old Town to explore.
What it doesn't have:
While the island has pulled in every superstar DJ worth their salt, culture vultures hankering after something a little more high-brow are likely to be disappointed. Also, although you're sure to find plenty of excellent bars and restaurants on Ibiza, locally-grown produce and wines don't feature highly, and fine-dining options can feel relatively limited.
Where to stay:
The Ushuaia Ibiza Beach Hotel in Playa d'en Bossa is hands-down the place to stay for world-class partying par excellence. For families, the Sirenis Seaview Country Club is packed with kid-friendly facilities and located close to the calm waters of Port des Torrent beach.
Is it for me?
There's still no doubt that Ibiza's main draw is its clubbing and nightlife, so if you're into partying hard and rejuvenating in stylish beach clubs or on stretches of golden sand, this is the island for you. However, this doesn't mean families can't also find plenty to enjoy away from the all-night raves and foam parties.
What it has:
Located an hour away from Ibiza by boat, Formentera is the smaller, quieter, and much more laid back of these twin isles. Tight building restrictions mean none of the high-rise hotels or apartments blight the Balearic coastline. Instead, there are miles of unspoiled beaches with white sand and crystal-clear water, backed by protected sea dunes or pine forests. Hippies also flooded here in the '60s, giving the place a distinctively free-spirited vibe (Bob Dylan also once lived in the island's Cap de Barbaria lighthouse). They're probably also responsible for the enduring tolerance and popularity of beach nudity.
What it doesn't have:
Formentera is the smallest of the four main Balearic Islands and the only one without an airport. This helps maintain its remote feeling, but makes it a bit harder to reach. And while it does have a beach club scene that has attracted quite a few A-listers, nightlife here is mostly a very low-key affair. A lack of theme parks and resort hotel facilities also means kids have to entertain themselves.
Where to stay:
The Hotel Casbah is a lovely boutique property that's nestled among pine trees and a short walk from a secluded beach. For panoramic views over the Mediterranean, the Hotel Club Punta Prima features sea views from its swimming pool and guest rooms.
Is it for me?
Formentera provides the perfect setting for recharging after hitting the Ibiza nightlife — if you can stomach the ferry crossing. Also, if you're looking to connect with your inner hippie or just want to relax au naturel on the beach, this is the place to come.
What it has:
Majorca, the largest of the Balearic Islands, pretty much has it all, from natural beauty (think sweeping bays, picturesque coves, majestic mountains, and lush pine forests) to a rich history dating back thousands of years, thriving art scene, world-class dining, and the beautiful Old Town in central Palma. Throw in dozens of resort destinations, ranging from the laid-back, family-friendly Pollenca to the notorious wild party scene of Magaluf, and you have something for everyone.
What it doesn't have:
Sadly, the island is increasingly becoming a victim of its success. Summer overcrowding makes it harder than ever to find that hidden unspoiled beach. Hotels are also often filled to capacity during peak vacation season, so bargain rooms are scarce and competition for that perfect poolside lounger is fierce.
Where to stay:
For those who want to dip their toes in the Magaluf nightlife without being in the thick of it, the ME Mallorca provides a seafront setting with a cool beach-club scene. Families looking for a kid-friendly, all-inclusive experience need look no further than Club MAC Alcudia, which offers free access to the neighboring water park.
It is for me?
Whatever your vacation interests may be, you're bound to find it somewhere on the island. Expect booze-fueled fun (Magaluf), unspoiled mountain views (Deia), countless coves (Cala d'Or), and beautiful historic heritage (Palma)– just be sure to research your destination first to make sure it ticks all the right boxes for you.
What it has:
While slightly larger than Ibiza, Minorca is still very much Majorca's little brother. The main point of difference, however, is that its long stretches of coastline are mostly unspoiled, with pristine beaches, shallow turquoise seas, and idyllic sheltered coves. There's also far less overcrowding here compared to Majorca and Ibiza. The island, which has megalithic monuments and standing stones scattered throughout, was also designed a biosphere reserve by UNESCO. There are two cities — the capital, Mahon, boasts elegant architecture with an 18th-century British influence, stylish shopping, and the second biggest natural harbor in the world (after Pearl Harbor), while Ciutadella (the original capital) has a more Spanish feel to it, with a picturesque old town, medieval cobbled streets, and many historic churches and monuments.
What it doesn't have:
Although Mahon has a few late night bars, there's very little in the way of nightlife. And unlike Majorca, there's no train system and bus service is limited, so hiring a car is the only practical way to explore the island.
Where to stay:
For a hotel in the heart of Ciutadella's old town, the boutique Hotel Tres Sants makes for a quirky pick. Or, opt for Carema Club Resort, which is just a stroll from an unspoiled sandy beach and kid-friendly.
It is for me?
If you're looking for a more laid-back and less developed version of Majorca, then Minorca is the island for you. Due to its often shallow and calm beaches, it's also a great option for families with smaller children. It's also a winner for nature lovers and archaeology buffs.
Related Stories:
All products are independently selected by our writers and editors. If you buy something through our links, Oyster may earn an affiliate commission.