Selecting a cruise ship, especially one from a major fleet, can be an intimidating task. The sheer number of onboard amenities, off-the-ship excursions, and potential upgrades are enough to have your head spinning. To help point you in the right direction, we took a look at the biggest cruise ship in the world currently -- Royal Caribbean International's Symphony of the Seas -- and compared it to the latest and greatest from the Carnival Cruise Line -- the Carnival Horizon. See how the two mainstream cruises stack up against one another in various categories, from atmosphere and accommodations to activities and dining, then choose the right one for you.
Atmosphere and Design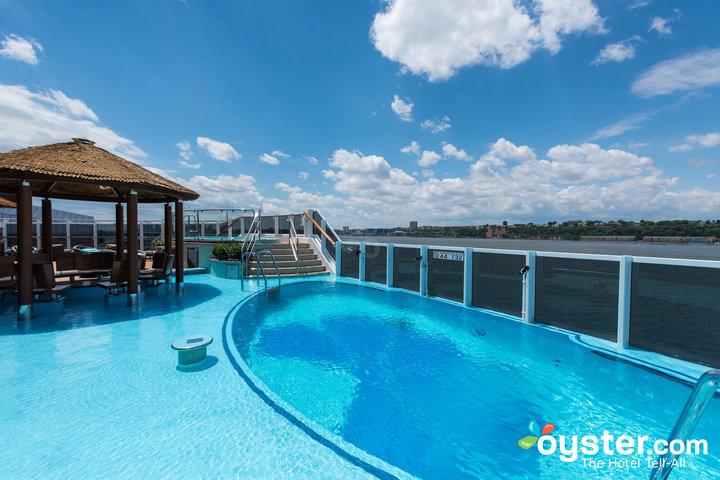 Size, it would seem, does matter. The Carnival Horizon is a 133,500-ton ship with a guest capacity of 3,960. On the other hand, the Symphony of the Seas is a 228,081-ton vessel capable of carrying 6,680 passengers. However, don't let staggering numbers deter you. Although the Royal Caribbean ship can hold nearly twice as many cruisers, it actually has the better passenger-to-space ratio of the two. In other words, the amount of available ship volume per person is slightly higher here than on the Carnival cruise.
Still, traditionalists might prefer the intimate layout of the Carnival Horizon. Interior promenades conveniently connect venues like the Ocean Plaza and Liquid Lounge by way of the Fun Shops. The outdoor Lanai promenade wraps around the exterior, providing lovely alfresco activities and dining opportunities. And the Havana Pool can be found at the stern of the promenade deck.
Alternatively, the Symphony of the Seas doesn't have a full perimeter promenade. Instead, it relies on its expansive width to showcase its outdoor courtyards. Central Park, landscaped with real plant life, and the playful Boardwalk are two area highlights. In fact, the ship is divided into such neighborhoods to make its otherwise sprawling nature much more manageable.
Accommodations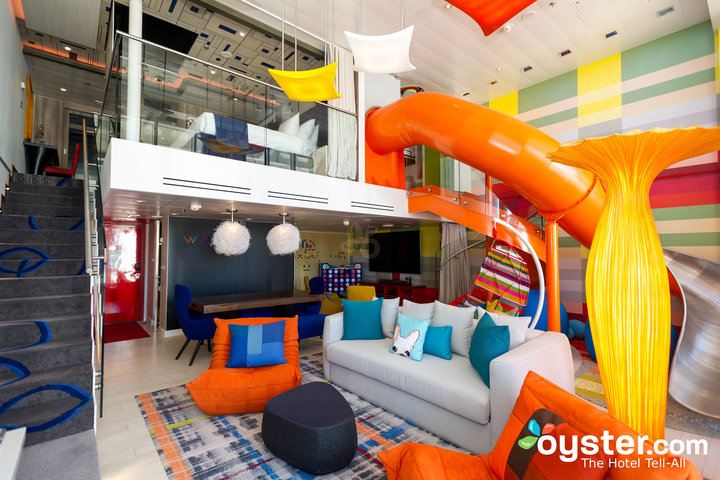 The massive Royal Caribbean ship houses lots of different cabin choices, including the singular Ultimate Family Suite, complete with its own spiral slide, air hockey table, and more. There's also a range of interior staterooms and double-decker suites that can sleep one to 14 passengers. Other accommodation features include optional verandas or virtual balconies, and bathrooms with fixed shower enclosures. Plus, suites come with exclusive perks, such as access to the Coastal Kitchen, Suite Lounge, and Suite Sun Deck.
By comparison, the Carnival Horizon does not have the same breadth of cabins, and standard bathrooms feature flimsy shower curtains. It does have a whole complex of large Family Harbor staterooms and suites that offer private access to their own Family Harbor Lounge (movies, board games, video games, and more, included). Cloud 9 Spa staterooms and suites, which serve up pampering amenities like bathrobes and slippers, priority spa bookings, free fitness classes, and more, are also available. Meanwhile, the Havana category specifically comes with exclusive access to the Havana Pool during the day. Havana Cabana rooms add extras like hammock chairs.
Activities
You might assume that the larger Royal Caribbean vessel has more to do onboard than the smaller Carnival ship. However, keep in mind that the Horizon is a so-called "Fun Ship." By virtue of its very branding, Carnival never slacks in the activities department, and the Horizon is no exception. Its most distinctive feature is the SkyRide, a thrilling roller coaster-like attraction. After pedaling to gain enough momentum, the suspended vehicles smoothly and speedily bank and coast along the track perched high above the ocean. Also unique to the Horizon is Dr. Seuss WaterWorks, a playful aqua park. Its aquatic features may be themed for young children, but its waterslides are exciting enough for kids of all ages.
The Symphony also has comparable waterslides, albeit sans themes, as well as the Splashaway Bay interactive aqua park. It additionally touts The Ultimate Abyss, a dueling dry slide that swiftly descends ten decks in an average time of 13.14 seconds. This is on top of signature favorites like a pair of FlowRider surf simulators, a zip-line, mini-golf course, solarium, spa, carousel, video arcade, and more.
The Horizon also offers a mini-gold course, video arcade, and spa, as well as the Serenity Adult-Only Retreat, which is similar to Symphony's solarium. Plus, the staff onboard always brings a large dose of fun to every proceeding, from trivia sessions to "Hasbro, The Game Show."
Dining
Regardless of size, both ships shine when it comes to dining offerings. Carnival has always offered a remarkable amount of complimentary food, making it an exceptional value. The Horizon continues the trend with its main dining rooms plus Lido Marketplace buffet, Fresh Creations (a custom salad bar), Pizzeria del Capitano, BlueIguana Cantina (for custom burritos and tacos), and Guy's Burger Joint. Many restaurants are included, except for Guy's Pig & Anchor Bar-B-Que Smokehouse | Brewhouse (a la carte), Bonsai Sushi (a la carte), Bonsai Teppanyaki ($25 or $30 depending on entree choice), Seafood Shack (a la carte), Fahrenheit 555 Steakhouse ($35 for adults, $10 for kids 11 and under), JiJi Asian Kitchen ($15 for adults, $5 for kids 11 and under), and Cucina del Capitano ($15 for adults, $5 for kids 11 and under). The Chef's Table experience ($75 – $95 per person) is also available.
On the flip side, Royal Caribbean's free food choices — in the main restaurants, Windjammer Marketplace, Park Cafe, Vitality Cafe, Cafe Promenade, Solarium Bistro, and Sorrento's (pizza) — aren't always as flavorful. El Loco Fresh (Mexican) is better, though. The Symphony's delicious specialty venues — the new Hooked Seafood, Chops Grille, Izumi, Johnny Rockets, 150 Central Park, Wonderland, and Jamie's Italian (from celebrity chef Jamie Oliver) — are available for a surcharge. Royal Caribbean impresses most with its watering holes — particularly the Bionic Bar, featuring robotic bartenders, and the Rising Tide Bar, which allows passengers to take a ride while sipping on a cocktail. But don't discount Carnival's amazing Alchemy Bar, perfect for concocting custom cocktails to suit your mood.
Entertainment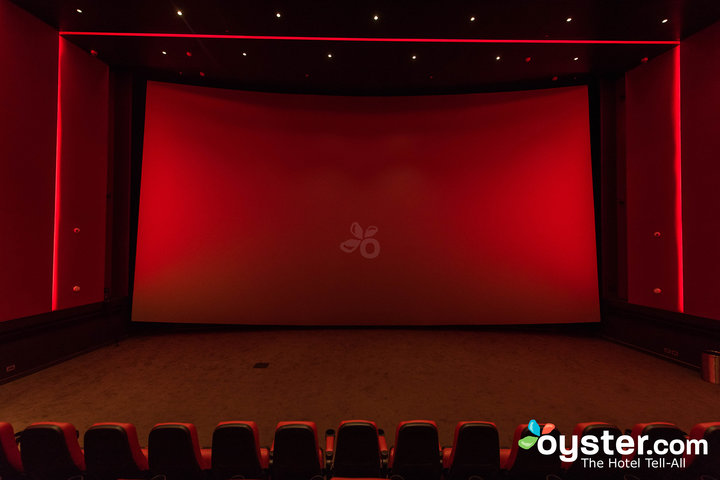 As for entertainment, the Carnival Horizon delivers top-notch diversions with its Carnival Multiplex, consisting of the Thrill Theater and IMAX Theatre. The former is a 3-D dark ride simulator, and the latter is a full-scale cinema that screens first-run films in the ultimate audiovisual presentation. Both cost extra, but for something free, head to The Punchliner Comedy Club (for hilarious stand-up sets) and the Liquid Lounge (for impressive stage shows). Carnival's live performances mostly follow a revue style, creatively reinterpreting classic and modern pop songs and following an abstract narrative thread. The production quality is phenomenal, thanks to the use of expert video wall technology and high-energy vocalists and dancers.
Upping the performance ante is the Symphony's trio of live venues: the Royal Theater, AquaTheater, and Studio B. The first hosts a dazzling rendition of "Hairspray," while the second presents an aquatic stage, aerialists, high divers, and synchronized swimmers. The outdoor space is activated by fountains and all sorts of kinetic action. Meanwhile, the third takes the original ice-rink-at-sea concept and pushes it to the limits with skaters as well as autonomous drones flying around the venue for a hypnotic display.
Naturally, it will come down to what kind of amenities matter most to you, and which cruise come at the right price point. Of course, you'll also want to consider where each ship is heading before making the ultimate vacation decision.
You'll Also Like:
All products are independently selected by our writers and editors. If you buy something through our links, Oyster may earn an affiliate commission.