There's no question that selecting a cruise ship can be a difficult task given the abundance of choices available. We're here to help you find the vessel that's most suited to your personality and individual needs. How, you ask? We'll be comparing two of the most popular cruises currently sailing the seven seas. For now, Norwegian's Escape and Royal Caribbean's Harmony of the Seas are the largest ships available from each competing brand. We put the two head to head to see how they stack up in a number of common categories. Check it out below.
Atmosphere and Design
While both ships are fairly sizable, Norwegian's Escape is considerably smaller than Harmony of the Seas. The former carries 4,200 passengers on a 164,600-ton vessel, while the latter accommodates 5,479 people on a 226,963-ton ship. Given these numbers, you may think the Escape is more intimate and less crowded, but some further math indicates otherwise. The passenger-space ratio (the effective area available to each guest onboard) is actually greater on Harmony of the Seas, meaning that it will feel more spacious overall. Of course, this also means that the public spaces on Harmony of the Seas are more spread out and take longer to walk to as well. Royal Caribbean's ship is divided into neighborhoods to break up its sprawling nature. There's a Royal Promenade, Central Park, and Boardwalk that separate the staterooms with voluminous courtyards in between.
By comparison, the Escape's layout is more traditional and easier to navigate. Instead of a central, inward-facing core of activities, the Norwegian ship showcases the three-deck hub of 678 Ocean Place as well as The Waterfront that encircles the outside of the ship. The latter offers an alfresco promenade that connects guests with the sea more than the Harmony does.
Accommodations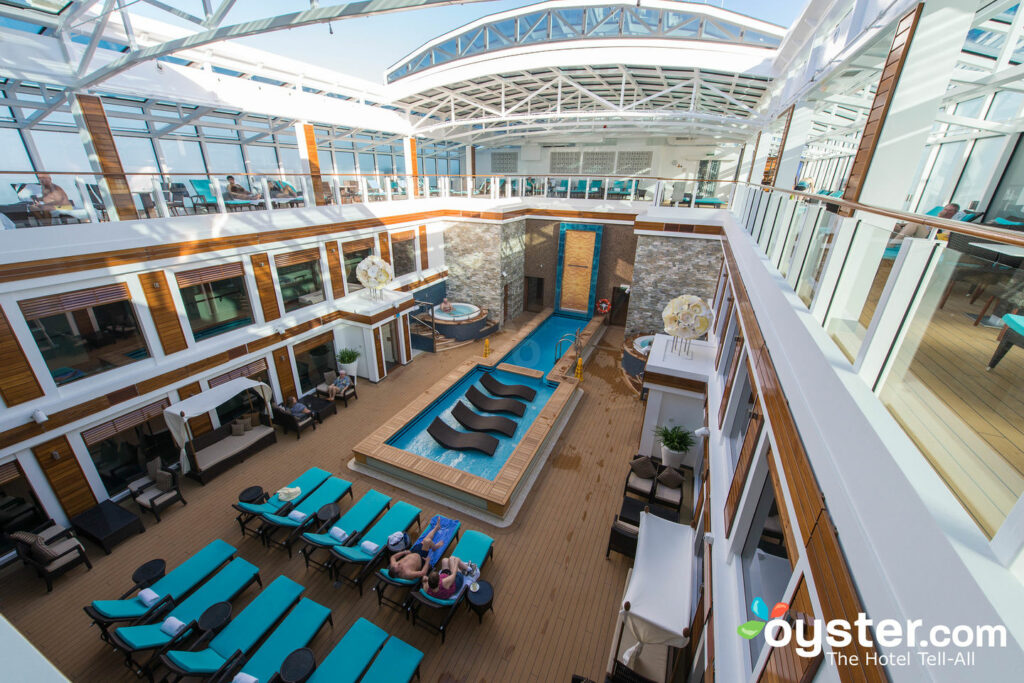 Other than heading to the upper outer decks and the open-air stern, Harmony of the Seas guests will need to retreat to their private cabins in order to connect with the ocean. There are plenty of staterooms and suites with balconies, as indicated by the vast amount of verandas that make up the ship's monolithic sides. Certainly, the same is true of the Escape's superstructure.
However, Norwegian's Escape has The Haven. This so-called ship-within-a-ship concept provides occupants staying in the vessel's best accommodations exclusive access to select areas, including a pool, sundeck, spa, lounges, concierge desk, bar, and restaurant. Meanwhile, Harmony of the Seas offers alternative veranda cabins that overlook the ship's inside spaces or the AquaTheater, as well as double-decker loft suites. Even its interior staterooms come with a view, courtesy of virtual balcony displays. Both ships feature amenities that cater to solo travelers as well as large groups and families, but the Escape has a special studio lounge for those studio cabins.
Activities
By virtue of its sheer size, Harmony of the Seas might technically have more to do, but the Norwegian's Escape should not be ruled out. Royal Caribbean's Ultimate Abyss is a pair of 10-story, fast-descending spiral dry slides that can't be found on any other line. However, Norwegian's waterslides tend to be more thrilling, particularly its two free-fall varieties. The Escape also has a stellar ropes course along with a wonderful waterfall grotto. Otherwise, Norwegian's pool offerings are a bit cramped compared to those on Harmony of the Seas — where the ship's expansive width allows for them to be positioned side by side, padded with ample lounging area. Meanwhile, overall deck space can sometimes be at a premium on the Escape.
Thankfully, spa facilities are sizable on both ships, but Norwegian's is the bigger of the two. A salt room and snow room are showcased here in addition to a large scenic thermal suite with a pool. On Royal Caribbean's Harmony of the Seas, there's no place to take a dip nor is there a view. Extra activities on the Royal Caribbean ship quickly total up, though, with everything from a classic carousel to a dedicated escape room. While not housed in an exclusive space, "Escape the Big Top" is Norwegian's escape room puzzle experience.
Dining
Norwegian has a reputation for abundant dining choices, and the Escape has the varied selection to back it up. The complimentary main dining room and buffet are still included, but optional specialty restaurants infill with French, Italian, Asian, Brazilian, and other fare. One popular a la carte offering is Jimmy Buffett's Margaritaville at Sea. Directly challenging it is the Johnny Rockets on the Harmony of the Seas. The Royal Caribbean ship also has imaginative courses at Wonderland, delicious plates at Jamie's Italian, and formal dining at 150 Central Park. Loyalists of the line will appreciate the classic Chops Grille as well. Of course, the Escape has its own specialty restaurants, including Cagney's Steakhouse plus Bayamo and Pincho Tapas Bar by Iron Chef Jose Garces. The battle goes back and forth pretty equally, but venues like Food Republic by the Pubbelly Boys and The District Brew House located along the Escape's scenic Waterfront might give it a slight edge.
Also not to be forgotten are the onboard watering holes. Each ship has its own highlights, like The Cellars on Escape and Harmony's Bionic Bar. One is a traditional educational venue, and the other is a modern robotic marvel. However, both are worthy contenders for libation lovers.
Entertainment
When it comes to putting on productions in their main theaters, the ships are also mostly neck and neck, as both spotlight Broadway performances. Escape presents the fun "After Midnight," but Harmony flawlessly brings to life "Grease." Norwegian also has the exceptional "For The Record: The Brat Pack," which musically recreates the 1980s John Hughes films. Other highlights on the Escape include "Wine Lovers The Musical," live duel piano music, featured comedians at Headliners, and a Supper Club experience. The latter delightfully combines the ship's fine dining with its theatricality in a handsome space.
All in all, there is more to amuse guests on the Royal Caribbean ship, especially when taking into account its AquaTheater and Studio B facilities. Studio B is the ice rink that puts on its own wonderful shows featuring expert skaters, staging, and projection elements. The AquaTheater astounds with dancing fountains, aerialists, and diving performances. Ultimately, value must also be considered, and the bottom line price for one cruise or another may be the swaying factor, especially if they vary significantly at the time you wish to sail.
You'll Also Like:
All products are independently selected by our writers and editors. If you buy something through our links, Oyster may earn an affiliate commission.