Celebrity Getaway Hotels in Jamaica
Numerous Jamaican resorts have played host to famous guests from Gwen Stefani — who loves the island so much she named her child Kingston — to 50 Cent to Sharon Stone.
See All Jamaica Hotels
1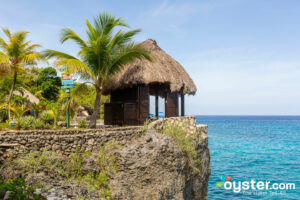 The Rockhouse's gourmet dining, intentionally low-tech rooms, top-notch spas and "no kids under 12" rule create a relaxing sanctuary perfectly suited for winter getaways. Stars like Keri Russell, Jude Law, designer Nanette Lepore, and retired boxer Lennox Lewis come to this hotel seeking a serene hideout during the cold months. Mad Men star John Slattery makes annual trips to this hotel in order to snorkel in Pristine Cove.
2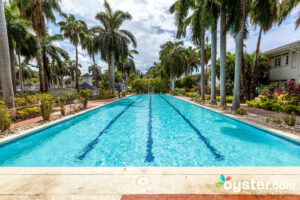 Half Moon is Montego Bay's home to the stars, especially when Reggae Sumfest rolls around. Lil Wayne stayed when he performed at Reggae Sumfest in 2007, and apparently 50 Cent and LL Cool J liked the resort so much they brought back their mom and kids, respectively. Eddie Murphy used to stay in one of the resort's private villas, and famous guests of the past include Queen Elizabeth I, JFK and Jacqueline Kennedy, Joan Crawford, Clark Gable, and George H.W. Bush.
3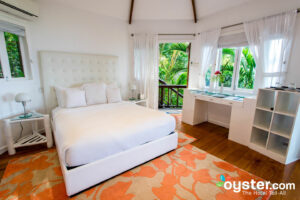 Made up of only five private cabins, isolated on a remote hilltop, the Geejam has drawn such celebrities as Gwen Stefani, Bjork and Grace Jones, though the hip circle has slightly subsided since the resort went public in March 2008. (Before then, it was a private hideaway for recording artists.) Sharon Stone stayed at the resort shortly after it opened, and The New York Post noted that the exclusive resort was perfect for seminaked sunbathing.
4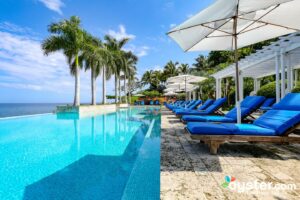 Designed by Ralph Lauren, this remote, unplugged property was the location for the film How Stella Got her Groove Back, and actor Taye Diggs returned to the resort for his wedding to famous Broadway starlet Idina Menzel. Dule Hill, of West Wing and Psych fame, used the same premises for his wedding to actress Nicole Lyn. Stevie Wonder is also a reported fan of the resort.
5
A bikini-clad Ashlee Simpson-Wentz was spotted locking lips with Fall Out Boy musician (and now-husband) Pete Wentz in the Ritz-Carlton Golf & Spa Resort pool in March 2008. Kanye West, Michael Jordan, and Lawrence Taylor have all visited the hotel, too, for a celebrity golf tournament.