Best Boutique Hotels in Los Cabos
Los Cabos, the southernmost tip of Mexico's Baja Peninsula, is anchored by the towns of Cabo San Lucas and San Jose del Cabo, about 35 minutes apart by car, with several beaches in between. It's a touristy area that's packed with seen-better-days budget hotels and all-inclusives. But these nine boutique hotels are total knockouts — for all of the right reasons. Think stunning dining terraces, tranquil organic spas, and beautiful rustic-chic design. Learn more about our top picks for the best boutique hotels in Los Cabos, Mexico.
See All Cabo San Lucas Hotels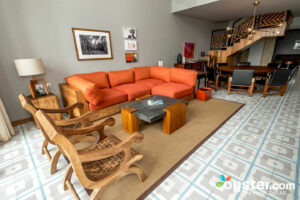 In a region packed with hotels that claim luxury status but fail to deliver on those promises, stepping onto the grounds of the Cape is a welcome change of pace. This is luxury, and the beachfront hotel lives up to the expectations for this ultra-swank brand. The modernist architecture is sleek and chic, but manages to stay out of its own way so that guests can focus on the stunning beachfront location. The 161 rooms vary greatly, but all have a sharp look plus luxury amenities including spacious glass-enclosed bathrooms, ocean-view balconies or terraces, in-room cocktail bars, and (optional) private hot tubs. Many include services like butlers and in-villa check-in. The property has two pools, an excellent surfing beach, a world-class Mexican restaurant, and a breathtaking spa -- it's unlikely guests will find much to fuss over.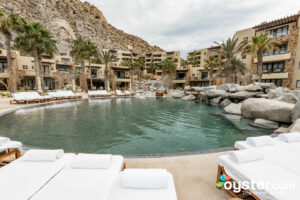 The design and decor at the Resort at Pedregal has been curated with an eye for all things artisanal, and you'll see lots of handsome hardwood used everywhere from ceiling beams to closet doors. The 118 rooms come with large flat-screen TVs, fireplaces, air-conditioning, free Wi-Fi (note that it can be spotty), Nespresso machines, minibars, and spacious furnished balconies with hot tubs and beautiful views of the Pacific Ocean and rocky cliffs. Service is impeccable, too -- expect thoughtful extras such as fresh peaches and chia water in the lobby and full-size bottles of premium tequila in the rooms upon arrival. And as far as on-site amenities go, it's tough to top the Pedregal's impressive list: two infinity pools; a large spa complex with a saltwater pool, a sauna, steam rooms, and ice rooms; and great dining star, the star of which is the cliffside El Farallon, and the adjacent Champagne bar. Although the waves at the hotel's beach area are too large to allow for swimming, safe beaches can be found within five miles. All in all, it's one of the best hotels in Cabo San Lucas.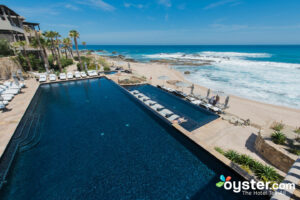 Along a stretch of coastline that's dominated by mega-resorts and exclusive residential developments, the casually elegant Esperanza stands out for its humble, yet luxe, personality. A dramatic cliffside setting means that stunning ocean views are available from almost everywhere, including the many terraces perched dramatically out into the Sea of Cortez at the resort's restaurant, Cocina del Mar -- one of the most iconic in Los Cabos. The 123 casitas and villas are rustic, bright, and refined, with romantic extras like bathrooms with side-by-side showers and separate soaking tubs. Balconies include plunge pools or hammocks, and pampering services include in-room check-in and personal concierges. The hotel has an elegant spa and large fitness center, and the main infinity pool is a stunner, though the beaches aren't swimmable.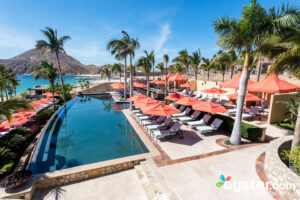 Hacienda Beach Club & Residences is one of the most peaceful spots to be found directly on Medano Beach, and the stunning views of Sea of Cortez and Land's End alone might be worth the hefty price tag. With a small collection of just over 100 contemporary Mexican apartments -- many of which are privately owned -- the vibe here is mature and refined. It feels like a proper, peaceful boutique resort, though the wilder parts of town are within an easy walk. Though it's relatively small in stature, the Hacienda Beach Club has a fairly extensive number of features to keep guests entertained or blissed out, including a lovely spa, gym (with free classes like yoga, pilates, and TRX training), a gorgeous zero-entry infinity pool with an adult-only level, and upmarket (and reasonably priced) Mexican restaurant. And the beach here is one of the few swimmable stretches of sea in Los Cabos.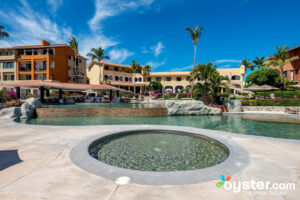 The luxurious Casa del Mar Golf Resort & Spa is not your typical beach resort. Here, guests won't find children scurrying around or wild spring breakers; rather, Casa del Mar's guests are treated to the tranquility of the Pacific Ocean in a resort that focuses on relaxation and overall wellness. The 42-room, hacienda-style property features yoga, tennis courts, dance classes, a walking path, wine tastings, and an on-site nutrition expert; and the restaurant menus are geared toward organic and gourmet cuisine intent on promoting health. It's located on a protected sea-turtle-hatching ground, and the open layout adds to the relaxing atmosphere. The rooms are large with white tile flooring and sturdy wooden furniture, though they are perhaps a tad plain for this category of hotel.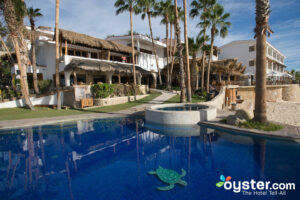 This family-owned, upscale boutique hotel in San Jose del Cabo enjoys gorgeous Pacific Ocean views from its two infinity pools, hot tub, and most of its 36 rooms. The somewhat hidden beach is a highlight here and continues to attract guests and locals for consistent waves; Mike Doyle Surf School (attached) offers quality instruction and rentals including paddleboards and beach chairs. Guests should expect (and will want) to spend money at the seafood restaurant and bar often, but there are more restaurants and a grocery store within a short drive. Also on-site: a spa, fitness center, and gift shop.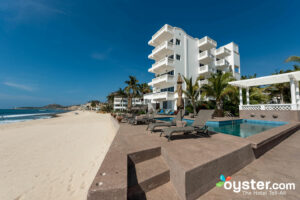 It's hard to top the charm at Casa Costa Azul, a 14-room boutique hotel on one of Los Cabos' few swimmable beaches. This hotel is ready-made for kicking back -- hammocks are strung between palm trees, and there's a sleek pool deck, a yoga studio, and an excellent homey restaurant. This family-run property's rooms are individually designed, with rustic hardwood furniture, free Wi-Fi, air-conditioning, and bathrooms covered in vibrant Mexican tile work. All rooms have at least partial sea views from terraces. There is a highway behind the hotel that's a bit noisy, but the surf is the loudest sound at night.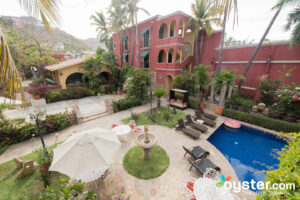 It can be hard to find much about Cabo San Lucas that's enchanting -- at least that's what we thought before visiting the calm oasis that is Casa Bella Boutique Hotel. This 14-room property is extra-quaint, and only a five-minute walk from the town's bustling marina. Rooms range from simple Standard Rooms to breezy suites, each individually decorated with thoughtful homey details and chunky, rustic furniture. The flower-filled courtyard holds a small pool, and the one-room spa offers Mexico-inspired treatments. Some noise from the wild strip behind the hotel is audible and there are no TVs, but the massive bathrooms and hacienda-inspired style are hard to dislike.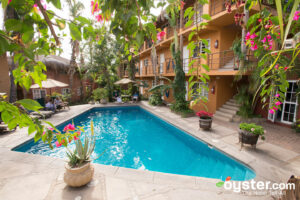 This laid-back, mid-range boutique hotel has just 16 suites (all with kitchenettes, some with two bedrooms), plenty of authentic Mexican charm, and a central courtyard pool. It has an inland location on the outskirts of downtown Cabo San Lucas. There is no full-service restaurant but rates include daily breakfast on the patio and several dining options are within walking distance. We encountered extremely hospitable service (hugs were common!). Taxis are readily available, but a car rental would be helpful for exploring the area.