The best kinds of friends make the best kinds of travel companions. If you and your bestie are travel pals for life, now is the time to plan the perfect BFF weekend in New York City. Unlike the romantic Caribbean and family-focused Florida, New York's food, shopping, entertainment, and cultural scenes are perfect for platonic twosomes in their 20s and 30s. We chose three millennial-friendly NYC neighborhoods and broke the weekend down by location, plus we threw in a few nearby must-dos that you have to see no matter where you're bunking down. We've got you covered with the best of New York for an unforgettable weekend BFF trip to the Big Apple.
Friday Afternoon: Check-In
Since you're only in town for a weekend, it's a good idea to book a conveniently located hotel in a neighborhood that caters to millennials — no offense to the Upper East Side, but this weekend is going to have more of a downtown vibe. Hotel Indigo Lower East Side's contemporary rooms sit in the heart of the party action on bustling Ludlow Street, and the public spaces are industrial chic. If you want a quieter neighborhood, check rates for bunk bed or double bed rooms at the fun and lively Ace Hotel New York in the Flatiron. And if you're comfortable with a subway, bike, or cab ride over the Williamsburg Bridge to get into Manhattan, The William Vale (and its pool) in Brooklyn is a hot spot for millennials. All three hotels are located in walkable neighborhoods with tons of dining, bars, shopping, nightlife, subway access, and well — millennials. After you check-in and unpack, take a stroll and get your bearings before dinner.
Friday Night: Dinner and a Party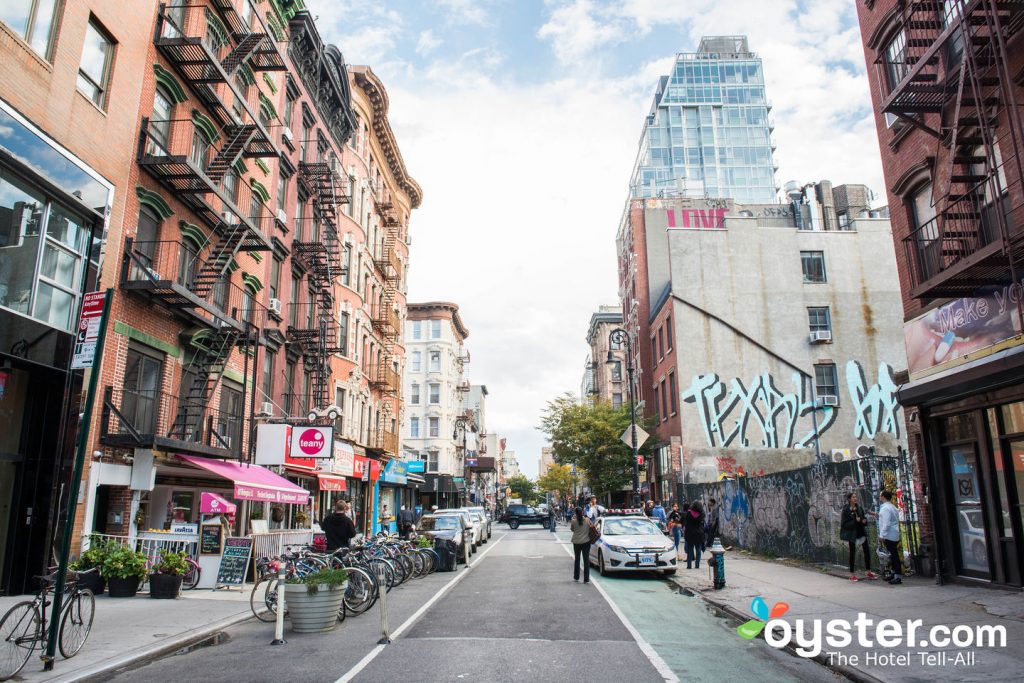 It's your first night in New York, so why not go big? New Yorkers eat late, so make a reservation for 8 p.m., and plan on two hours for the full experience. If you get to your next destination around 10, you'll be on the early side so don't worry if the dance floor isn't quite bumping. That happens around midnight — and don't forget that bars stay open until 4 a.m.
In Williamsburg, dinner and cocktails at the Peruvian Inn are an excellent choice. This plant-filled restaurant has a long list of creative pisco cocktails, plus small and large plates of ceviche and lamb belly accented with seasonal ingredients. After, it's a 10-minute walk over to The Black Flamingo. The two-story venue has a fun bar and lounge scene on the first floor that's ideal for flirting, but you'll want to go downstairs to dance. The tightly packed dance floor is anchored by a glowing disco ball and a cork-tile ceiling. DJs give equal love to house and hip-hop, depending on the night. If you feel like exploring (and need a snack) the nearby Alligator Lounge is a standby dive bar with free pizza and hosted karaoke.
On the Lower East Side, go Italian. Sauce is known for family-style housemade pastas, delicious pizzas, and a tantalizing wine list. In the summer, get a table on the sidewalk for excellent people watching. They also have a pizza window if you want to grab a late-night slice on the way back to the hotel. After dinner, walk south to Delancey Street for a rooftop cocktail at Delancey Lounge, or east to The Back Room for drinks served in teacups at the basement-level speakeasy. When you're ready to dance, the cover charge at bOb Bar is worth it for access to the most fun hip hop dance floor on the LES.
If you're up in Flatiron, consider a food crawl at Eataly in lieu of dinner at a singular restaurant. There's a rooftop restaurant for antipasti and full plates, or just graze on oysters, pizza, freshly made gelato, cheese, and wine in the marketplace stalls. For besties with a bigger budget, Eleven Madison Park's world famous fine-dining mecca offers a condensed version of their unrivaled tasting menu in the relaxed bar area. To party, walk five minutes north to Koreatown for a long stretch of karaoke bars. Or, do something completely different and book a table (a ping-pong table) at SPiN. There's a huge bar and a bathtub filled with ping-pong balls for Instagram snaps.
Saturday Day: Dim Sum and the Brooklyn Bridge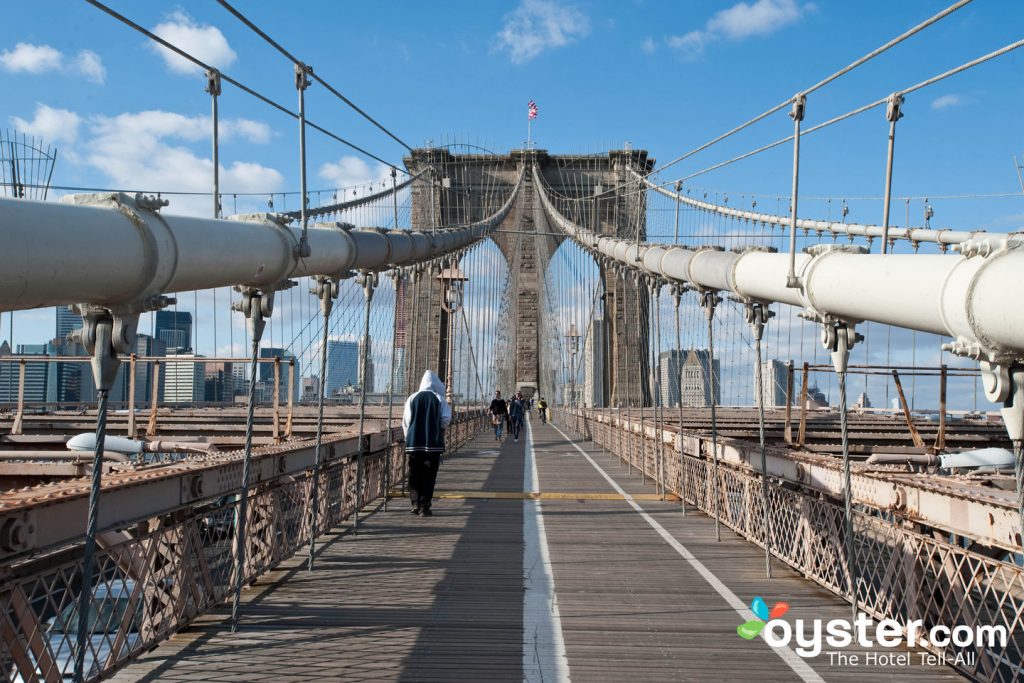 If you were out late, you'll want to snooze in a bit, but not all day. Get fueled up for a full day of sightseeing and fun with a dim sum breakfast in Chinatown. Nom Wah Tea Parlor has been serving fresh Chinese pastries, steamed buns, dumplings, and tea in a bustling space since the 1920s. Checking your desired items on a card is fun and efficient. After, grab a sweet bubble tea and walk to Magic Jewelry for an aura reading, complete with a short reading and souvenir Polaroid of your energy. It's about a 20-minute walk from Magic Jewelry to the start of the Brooklyn Bridge. If you're feeling brave, consider renting a CitiBike (via the app) and biking across the iconic structure, or simply stroll. Stop for pictures of the Freedom Tower, Statue of Liberty, and the Brooklyn skyline. Once you make it to the other side (about an hour if you dawdle) you're in Brooklyn. Brooklyn Bridge Park has a long promenade, carousel, public art, and huge lawns. In the summer, you can rent kayaks. It's also a great spot for eating: Brooklyn Ice Cream Factory, Grimaldi's Pizza, and Shake Shack all have nearby outposts. When you're done, walk, bike, or car-share back over the bridge for a Chinese foot rub in Chinatown. (You'll need it!)
Saturday Evening: SoHo Shopping and a Comedy Club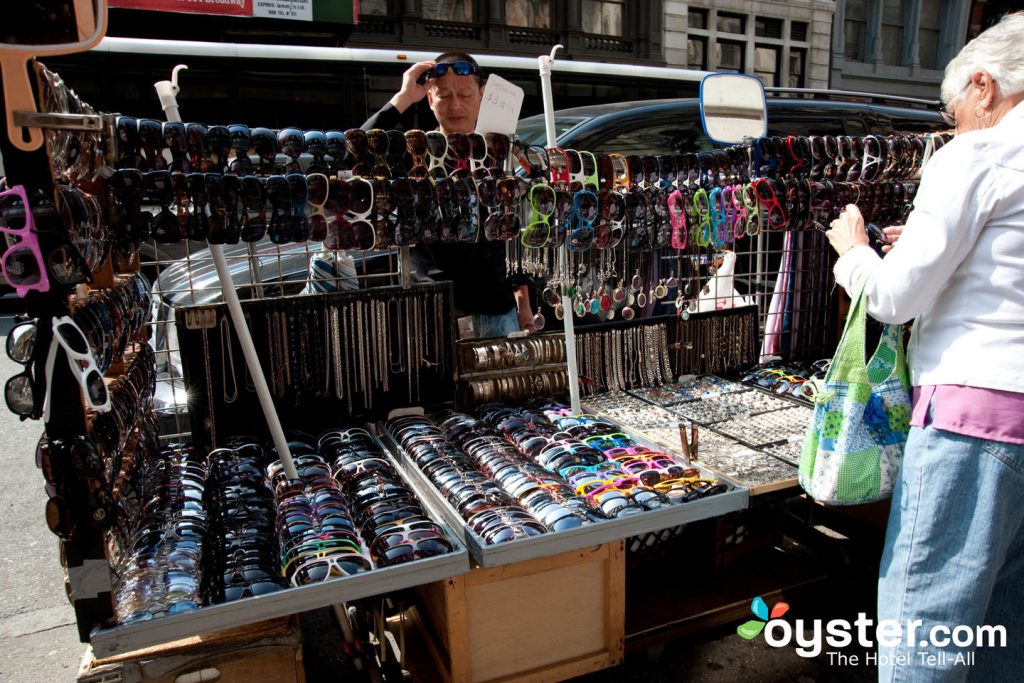 After your feet have been revived, head north to SoHo for some retail therapy. Broadway (from about Grand north to Houston) is a good place to start for chain shops like Zara, H&M, Bloomingdale's, Sephora, Uniqlo, Madewell, Nike, Topshop, and Forever21. Bite Beauty Lab lets you customize your own lipstick. SoHo is also home to pricey fashion houses like Prada, Gucci, and Louis Vuitton. Vendors line Prince Street with sunglasses and jewelry, and you can stop by Artists & Fleas for outposts of The Strand and vintage clothing markets. Dominique Ansel Bakery and Laduree are still two of the best spots in Manhattan for a pastry and early evening coffee. But don't eat too much. Notable dinner spots in the neighborhood include outrageous candy-laden shakes and burgers at Black Tap, upscale French bistro cuisine at Balthazar, and Blue Ribbon Sushi for fish flown in from Japan.
After dinner, the next destination is Greenwich Village for a comedy show. The Comedy Cellar is the most iconic and it showcases up-and-coming talent and surprise performances by some of the best in the business. Afterwards, the area around MacDougal Street is lined with jazz bars and dive bars that cater to NYU students and tourists. Be sure to check out nearby Washington Square Park, it's famous arch is lit up after dark. For a final nightcap, The Stonewall Inn is a historic LGBTQ bar with entertainment and dancing.
Sunday Morning: Brunch and a Museum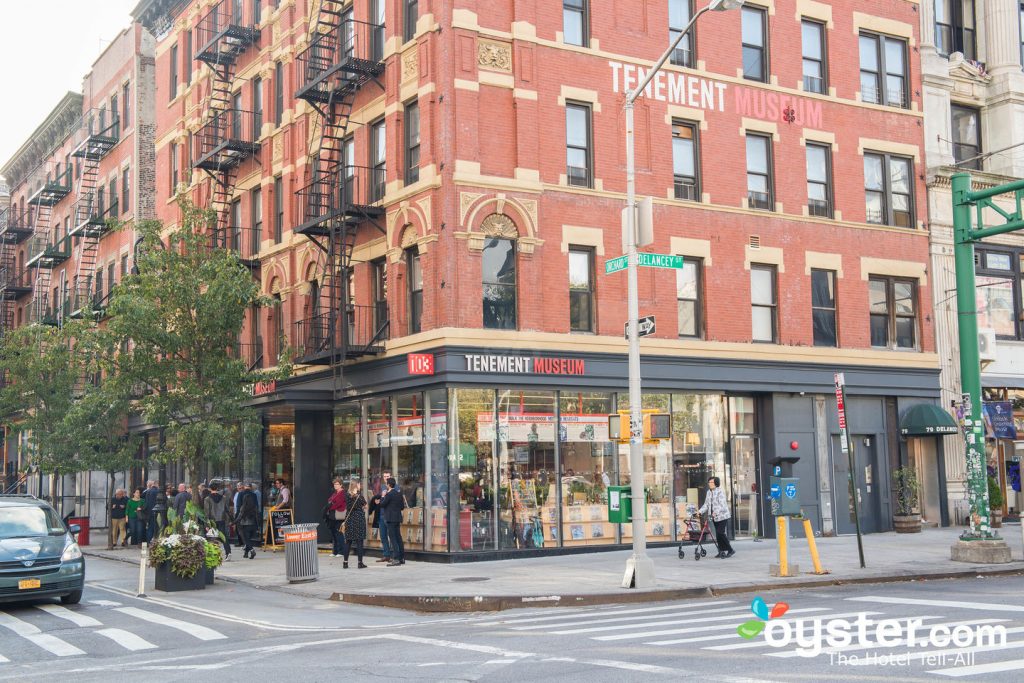 Brunch is considered a national pastime for many New Yorkers. To do it right, buy a copy of The New York Times at the corner bodega and maybe an iced coffee to-go, since there's often a wait for a table. On the Lower East Side, it doesn't get much better than a bagel board with smoked salmon and cream cheese at Russ & Daughters Cafe, the sit-down restaurant of the historic shop that perfected the bagel over 100 years ago. If you're in Williamsburg, Cafe Mogador offers a Moroccan spin on brunch with an excellent smokey bloody Mary. For Flatiron visitors, Sarabeth's is the spot for a fun take on American favorites, like pumpkin waffles and avocado burrata toast.
When your stomach is sufficiently stuffed, tend to your brain. The Tenement Museum on the Lower East Side offers incredible walking tours of the neighborhood from talented guides who explain what life was like for turn-of-the-century immigrants. From Williamsburg, it's easy to get to neighboring Bushwick for a street art tour that showcases local graffiti artists and muralists, plus an explanation of how gentrification is changing north Brooklyn. Flatiron visitors should head up to Grand Central Terminal for an audio tour of the architectural highlights and little known secrets of the massive landmark.
Sunday Afternoon and Evening: The High Line and a Boat Ride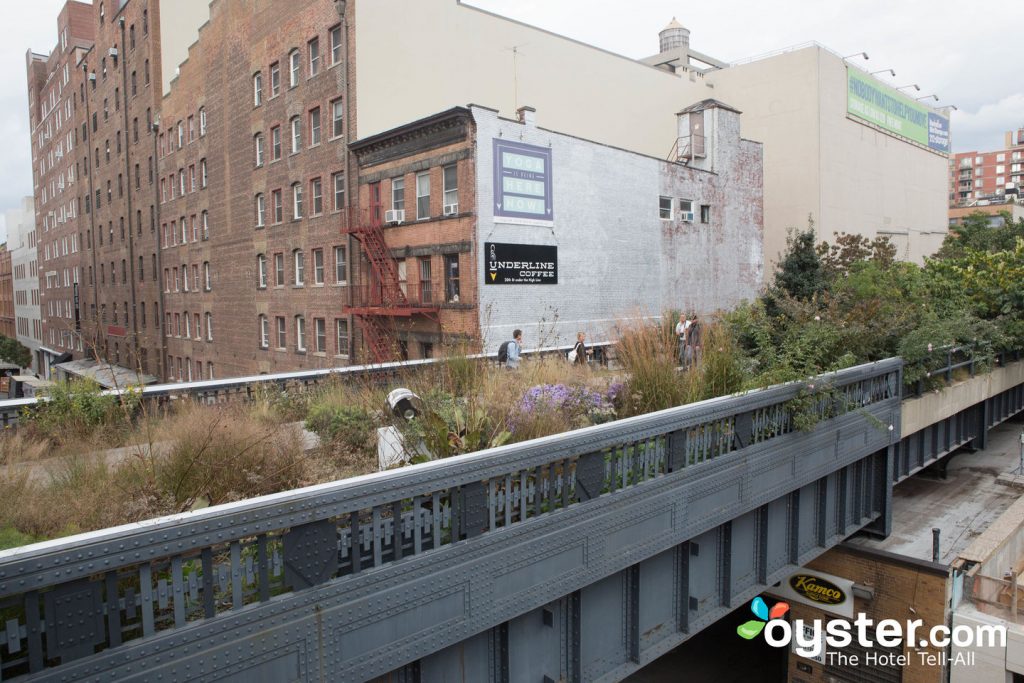 The Chelsea High Line is about a one-and-a-half-mile-long elevated linear park built 30 feet above the street on a former New York Central Railroad track. It's free to access and offers iconic views of Manhattan's industrial west side and the Hudson River, plus gardens and rotating art exhibits. There are more than 450 free activities every year that range from poetry readings to dance parties. The southernmost entry point is in the Meatpacking District, on Gansevoort Street, and the northernmost entry can be found on West 34th Street (east of 12th Avenue). When you're ready for a break, the massive Chelsea Market food and shopping hall has more than 35 vendors or the German-styled Standard Biergarten serves brews and bites.
For your final evening in New York City, get on a boat and see the city from a completely different angle. Hornblower cruises offers a three-hour sail with a three-course dinner and artisan cocktails. A DJ and dance floor keeps things fun all the way past the Statue of Liberty, Ellis Island, and the Brooklyn Bridge. Depending on the time of year you'll see the city turn from day to night. Likely, the sights will inspire you to book a return trip — there's always so much to see and do in New York City.
You'll Also Like:
All products are independently selected by our writers and editors. If you buy something through our links, Oyster may earn an affiliate commission.