Ask any New Yorker and they'll tell you that the city is expensive -- thanks to sky-high rents, pricey restaurants, and $15 movie tickets -- but there's also a way to experience NYC on a budget. From tours of the Brooklyn Botanic Garden and Chelsea Craft Brewing Company, to stargazing with telescopes on the High Line, to yoga at Socrates Sculpture Park, there are lots of free sights and events, if you know where to look. Check out our list of the eight best free things to do in New York City and get to planning. And hey, with all that money you save, maybe you'll be able to splurge on a Broadway show, a fancy dinner, or a designer handbag in SoHo.
1. Explore the Public Parks
Sure, it's obvious, but the numerous public parks throughout New York City provide a respite from the skyscrapers and honking cabs for locals and visitors alike. There's always a greenery-filled park nearby, given that there are more than 1,700 parks, playgrounds, and recreation facilities within the five boroughs. Walk around the Jacqueline Kennedy Onassis Reservoir in Central Park; watch kids splash in Washington Square Park's fountain; have an impromptu picnic at Prospect Park in Brooklyn; and hike around Pelham Bay Park in the Bronx. While summer tends to bring the largest crowds out to these oases, fall means stunning foliage, winter provides ice skating rinks and picturesque snow-covered lawns, and spring brings beautiful blossoming flowers.
2. Get Cultured at a Museum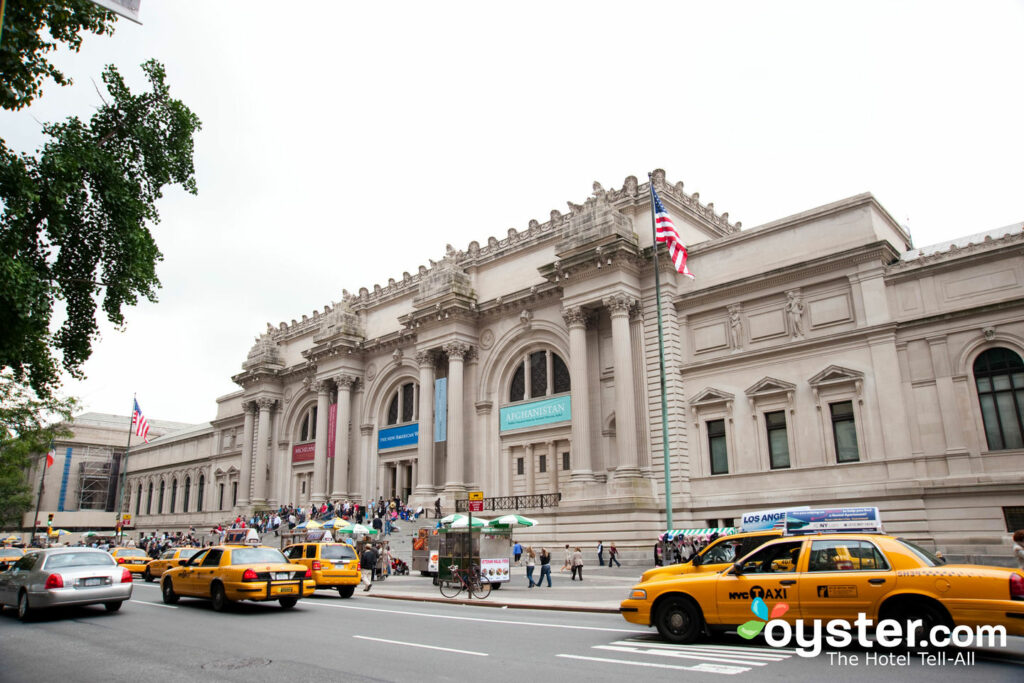 From museums that celebrate specific cultures — Asian, African, and Latino, to name a few — to those that celebrate certain styles of art, science, and technology, there's a museum to suit every traveler. Most days, the plentiful museums operate under a set-price or pay-what-you-wish model, but many also have a designated free day each week. Due to varying days and times (they generally only run for a few hours), you won't be able to hop around as you please, so pick a couple museums and plan your itineraries around them. The Metropolitan Museum is always pay-what-you-want at the counter; MoMA and The Morgan Library offer free Friday nights; Bronx Museum of the Arts is always free; the Brooklyn Museum is free the first Saturday of each month (select hours); and The Jewish Museum is free all of Saturday. See the full list of free NYC museums here.
3. Browse Art Galleries in Chelsea
If the free museum hours don't fit your schedule, or you're looking for something a bit more posh, head to the art galleries in Chelsea. Hundreds of contemporary galleries are within the stretch of 18th to 28th streets between 10th and 11th Avenues, making it easy to stroll in and out of several in one trip. (They're generally open Tuesday through Saturday, closing around 5 or 6 p.m.) While you can expect to see photography and paintings, a variety of installations, sculptures, metalwork, and multimedia present a good look at the art landscape of today. Additionally, Thursday nights are particularly enticing when several galleries open up and serve free wine — which always pairs well with art.
4. Get Ferried Away
On a budget but still want to see the Statue of Liberty? Take the Staten Island Ferry. The free ferry runs from lower Manhattan to Staten Island 24/7, with boats departing every 15 to 20 minutes. The voyage allows travelers to get a fairly close look at Lady Liberty and Ellis Island, as well as the Manhattan skyline. There's some outdoor standing area for better-quality photos, but indoor seating means the trip can be taken year-round. And if you don't particularly want to spend time in Staten Island, just disembark and make your way to the line to get back on. Additionally, a free ferry runs to the nearby Governors Island, a 172-acre park open to the public between May and October. It offers hammocks, festivals, food trucks, free bike rentals at select times, Castle Williams — a historic, circular fort — and play space.
5. Laugh It Up at a Comedy Show
Though big names like Kevin Hart and Aziz Ansari can be found selling out Madison Square Garden, and well-knowns like Louis C.K. and Jerry Seinfeld make drop-ins at Comedy Cellar, there are still laugh-inducing comedy shows for the budget-seekers. In fact, one of the most popular shows is free every Sunday night: ASSSSCAT 3000 at the Upright Citizens Brigade Theatre in Chelsea. Though the cast of improvisers changes, you're all but guaranteed a laugh at each show, and hilarious guests also often make appearances — Amy Poehler and Rachel Dratch were at the performance I saw. The first show of the night is $10, but the second is free for those that get in line early enough. UCB has additional free shows, as do several other clubs like Friends and Lovers in Brooklyn and The HiFi Bar in the East Village.
6. Sightsee To Your Heart's Content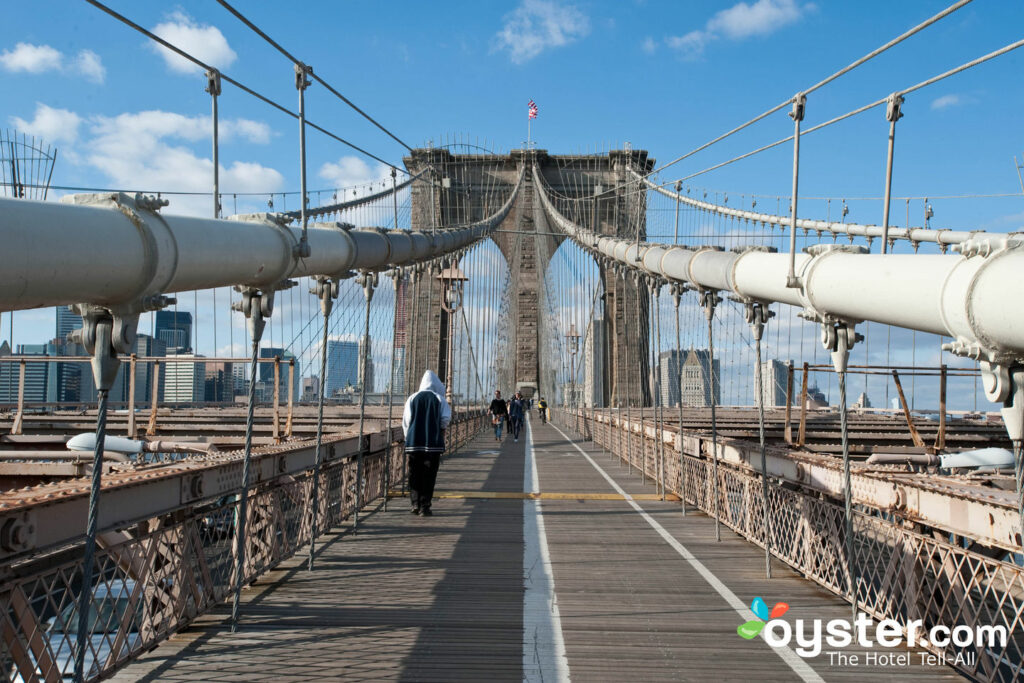 There are tons of iconic landmarks throughout New York City that are, fortunately, free to visit. From the striking St. Patrick's Cathedral and New York Public Library along Fifth Avenue to the walkable Brooklyn Bridge and buzzing Times Square, travelers can meander around and photograph some of the most recognizable sights and places in the Big Apple. Take your pick: Look up at the painted ceiling in Grande Central Terminal, see the golden statue at Rockefeller Center, or marvel at the array of colors at M&M's World.
7. Head to the Water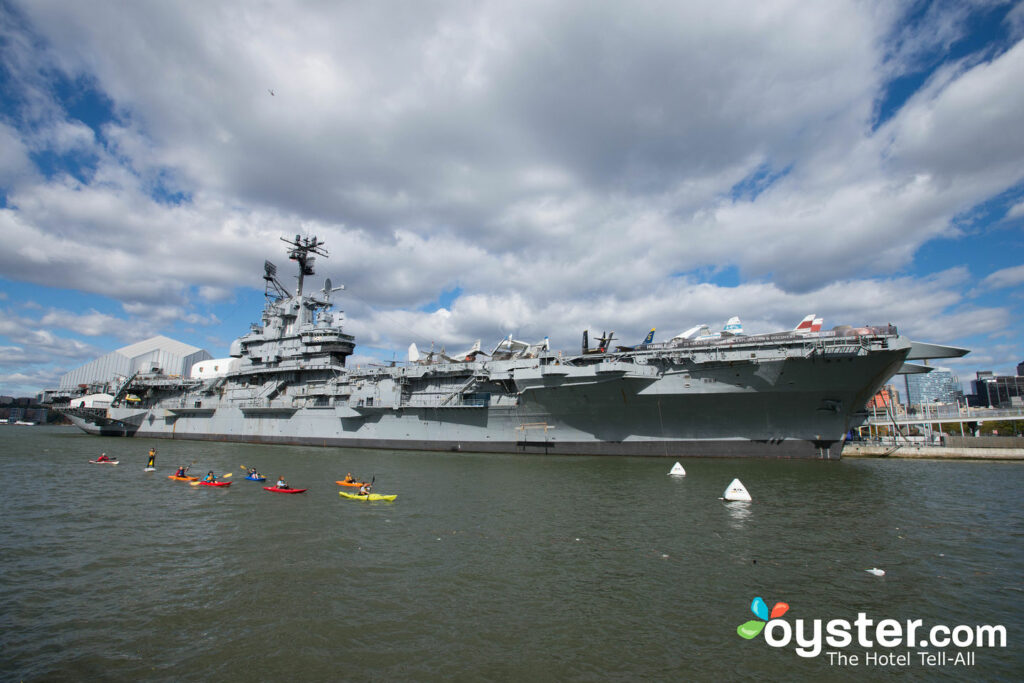 New York City is surrounded by lots of water, and while it's not all swimmable, there are lots of water-based activities to do for free. Perhaps most surprising to some people is that there are actually beaches within the city. For the price of a subway ticket, travelers can make their way to Rockaway Beach in Queens or Brighton Beach in Brooklyn, which has a large population of Russians and yummy Ukrainian eateries. Just adjacent is the Coney Island Beach and Boardwalk, where firework shows take place every Friday night in the summer months. Also in the summer season, the Manhattan Community Boathouse provides free kayaks (on a first-come, first-served basis) to take out on the Hudson River.
8. Hear Live Music Outdoors
You've probably heard of the free movies in the park during the summer, but there are also numerous free concerts across the city. SummerStage at Central Park is a very popular series — bringing in names like Gary Clark Jr. and Indigo Girls — while the New York Philharmonic performs at a larger area within the park, though locals having rosé-filled picnics mean it's hard to actually hear the music unless you're close to the front. The City Parks Foundation organizes concerts with gospel, jazz, Yiddish, opera, hip-hop, rock, and indie artists, meaning there's a music genre for all. Morning musical storytime (Summer on the Hudson: Locomotive Lawn) for children is also suitable for families.
You'll Also Like:
All products are independently selected by our writers and editors. If you buy something through our links, Oyster may earn an affiliate commission.