New York City is one of the world's most popular cities to visit, and with good reason. The Big Apple is home to some of the best culture, shopping, nightlife, and restaurants on the planet, making it a bucket list trip for many. Unfortunately, New York is also one of the most expensive cities to visit in the United States. But before you shell out most of your trip budget on a hotel room, check out our list of the nine best hotels in New York City under $200 a night. Keep in mind that rates fluctuate throughout the year, with the highest prices (often topping $200) found in the summer and around Christmas. Book one of these hotels now, and use that extra, hard-earned cash on enjoying one of the world's greatest cities.
The Pros: The fashionable Arlo SoHo is located in trendy Hudson Square, between TriBeCa and SoHo. It has bars, lounges, work spaces, and 325 rooms, yet still manages to feel intimate and focus on all things local. Artisanal goods are available in the Bodega. The restaurant is a bustling spot serving great Southern fare, and free classes are available through fitness partners like Surfset and Yoga Shanti. Rooms are sharp and bright, and feature free Wi-Fi and bespoke bath products.
The Cons: It's no surprise that the most affordable rooms are tiny, and some have bunk beds. Spacious suites with terraces cost more.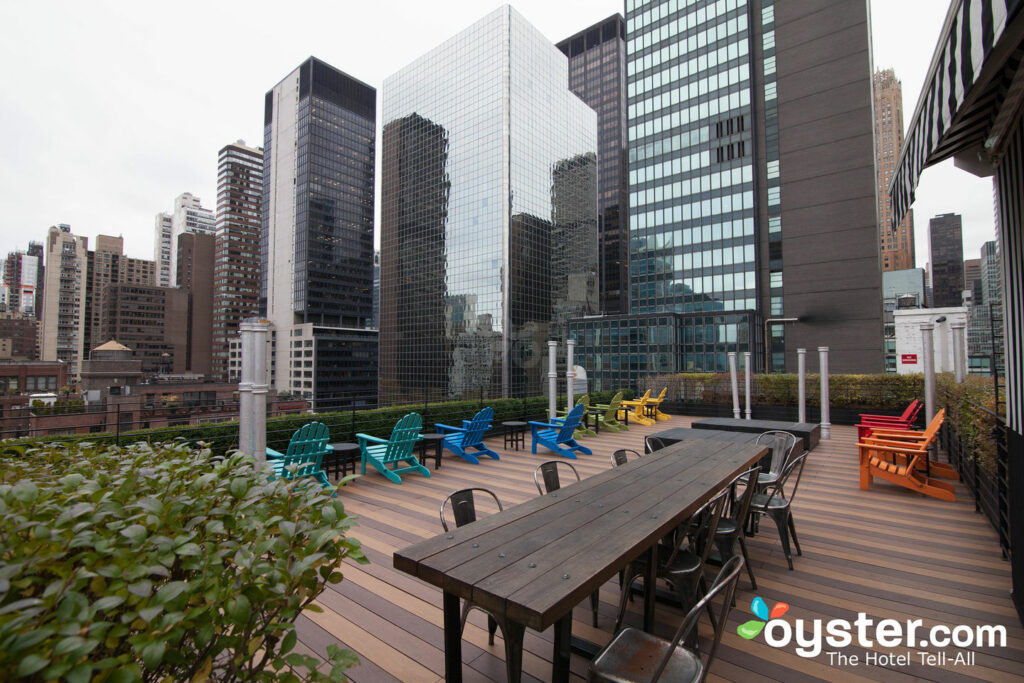 The Pros:Pod 51 is part-hotel and part-hostel, with a modern design and some fun features. Decorated with artwork by J.M. Rizzi, the lobby and hallways are painted in primary colors and accented with broad-lined scenes of people socializing in the city. The hotel stays pretty quiet throughout the day, though there are mingling spaces, including the 14th-floor rooftop terrace, the cafe, and April Bloomfield's Salvation Burger. Rooms are clean and come with free Wi-Fi, flat-screen TVs, and iHome docks.
The Cons: You're going to have to share a bathroom if you truly want a deal on a room.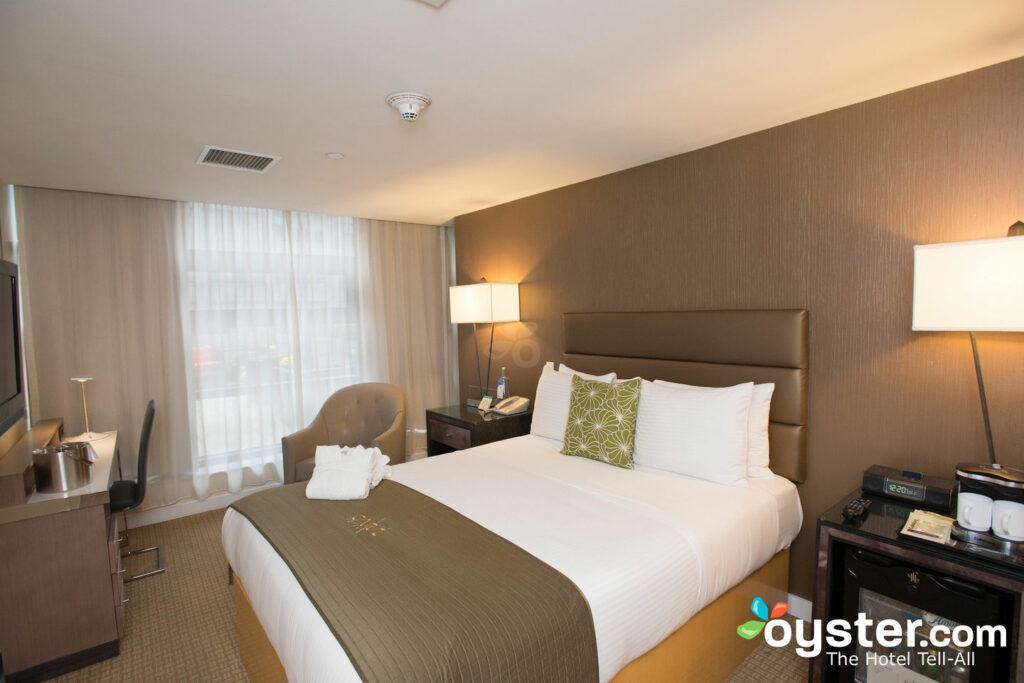 The Pros: The 40-room Carvi Hotel is a contemporary boutique set in the heart of Midtown East. Benefitting from a complete redesign in 2014, the hotel features a glossy lobby with shimmery walls, small but well-tailored rooms, and a stunning rooftop terrace with 360-degree skyline views. Pleasant rooms come with two-cup Cuisinart coffeemakers and mini-fridges stocked with beverages and snacks (the latter for a fee).
The Cons: Midtown East isn't the most exciting neighborhood in Manhattan. You'll have to walk about 15 minutes west to hit Central Park or Rockefeller Plaza.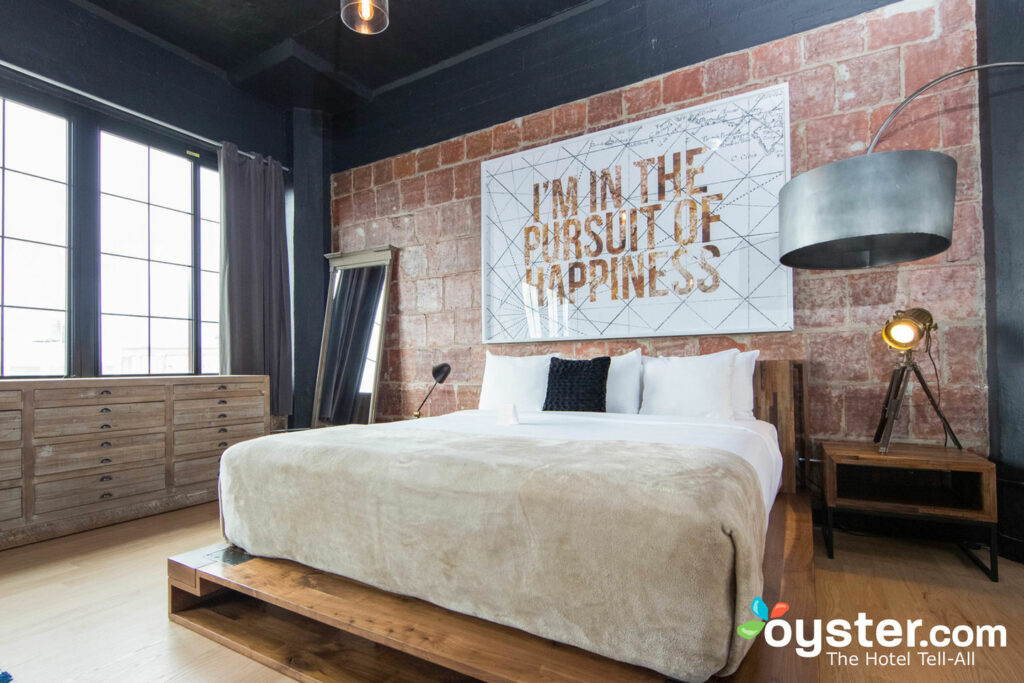 The Pros:The Paper Factory Hotel is a boutique property with 123 loft-style guest rooms and suites. Located in Astoria's trendy Kaufman Arts District, this hip hotel occupies a former 100-year-old paper factory and retains many industrial accents and unique vintage details. Guest rooms are spacious and filled with light. Mundo, the on-site restaurant and bar, is known for its quality Peruvian and Argentinean cuisine. Other features include a 24-hour fitness center, a game room, and a guest lounge with a kitchen.
The Cons: The Queens location means taking the subway to and from Brooklyn and Manhattan. Past guests have occasionally complained about noise issues.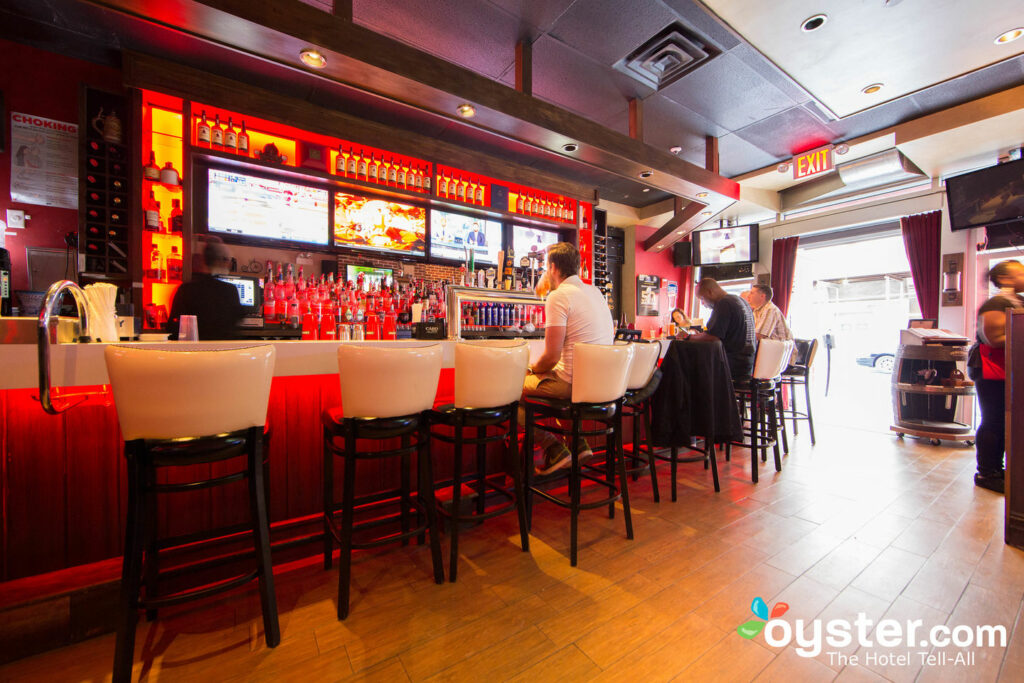 The Pros: For travelers who want to be in Brooklyn, Hotel Indigo is an ideal choice. The Barclays Center and Fort Greene neighborhood are within a short walk. Brooklyn Brewhouse serves classic pub fare and breakfast, and there are lovely city views available from the rooftop terrace. The boutique vibe is evident in the stylish and bright guest rooms that come with coffeemakers and free Wi-Fi.
The Cons: Rooms are on the compact side and noise can be an issue, since the hotel tends to draw younger travelers.
The Pros: It doesn't get much more affordable (or glamorous) in the West Village than The Jane Hotel. It's home to an outpost of Nolita's popular, celeb- and model-filled Cafe Gitane. The casual, shabby-chic restaurant serves light Moroccan-French food for breakfast, lunch, and dinner. There's also a swanky rooftop terrace (the space was once members-only; it's open to the public now, but retains an exclusive vibe thanks to a tight door) and the Jane Ballroom, a dimly lit cocktail lounge and nightclub oozing in atmosphere.
The Cons: Shared bathrooms and shockingly small rooms.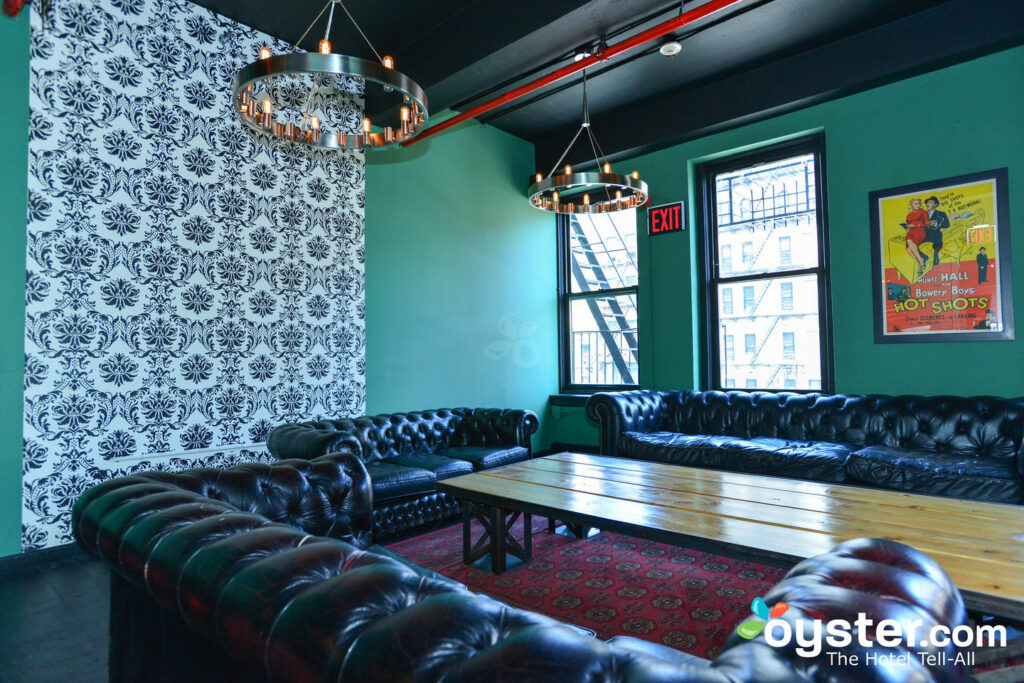 The Pros: The loft-style Bowery House (not to confused with the more expensive Bowery Hotel) is best suited for 20-something scenester types looking to be close to downtown nightlife. It falls somewhere between a hostel and a hotel. The Living Room is a great place to mix and mingle, and the rooftop deck is open in the summer months. The eclectic small plates at the downstairs restaurant are excellent, though the bill might cost more than room itself.
The Cons: Though snug cabin rooms are private, the latticed ceilings make for a lack of aural privacy (hence the earplugs). Plus, bathrooms have upscale touches like Italian marble and eco-friendly toiletries, but they're shared.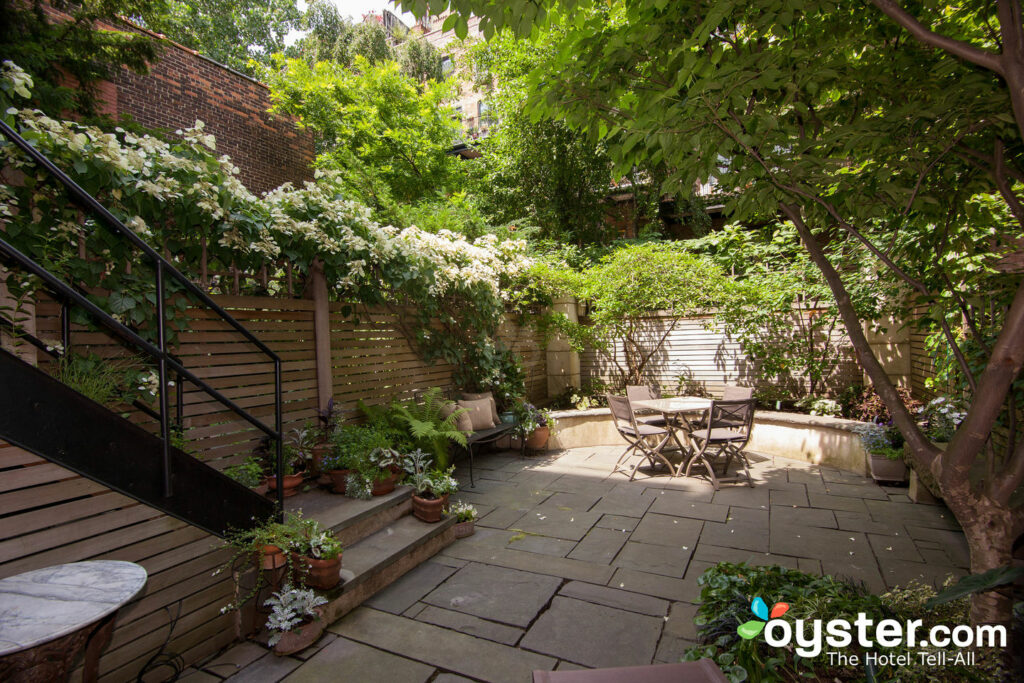 The Pros: If you've ever dreamed of staying in a 19th-century brownstone on one of the most picturesque blocks in Manhattan's expensive Chelsea neighborhood, A Garden in Chelsea is your spot. The one-suite hotel offers a kitchenette, leafy private garden, and two helpful innkeepers who live upstairs. Popular sights like the High Line, Chelsea Market, Madison Square Park, and the Flatiron are all within walking distance.
The Cons: Just one suite means this hotel books up fast.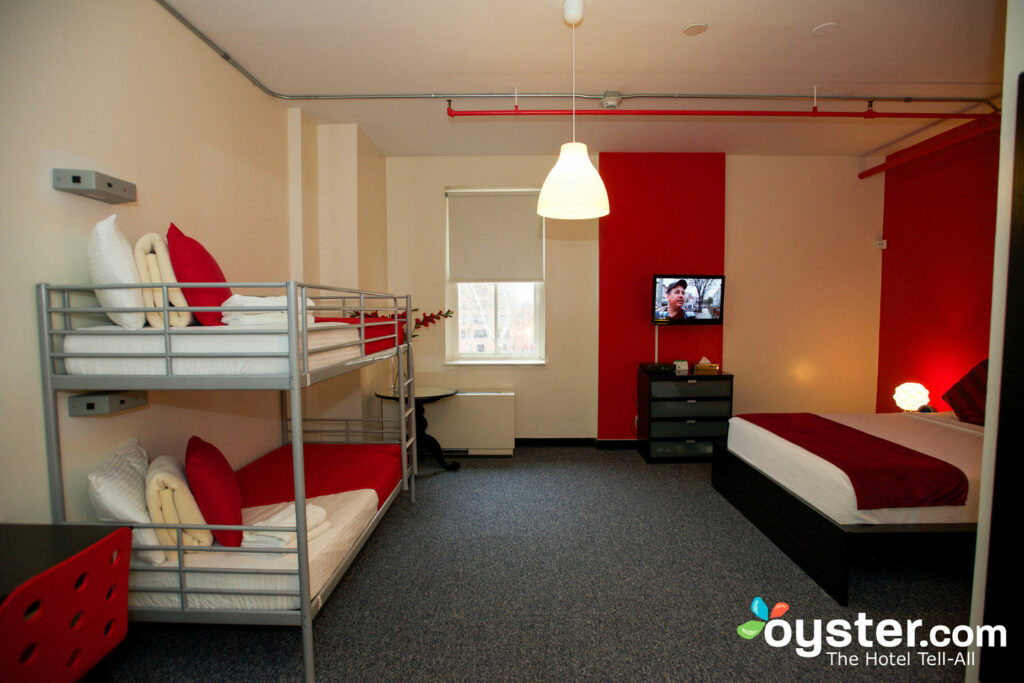 The Pros: Drawing international travelers and groups of young people, Hostelling International – New York is a well-run budget hostel with tons of features, including a theater, guest kitchen, and free walking tours and pub crawls. The Upper West Side location puts the property within walking distance of Central Park and several subway lines.
The Cons: The most affordable rooms are packed tight with bunk beds for 12 guests.
You'll Also Like:
All products are independently selected by our writers and editors. If you buy something through our links, Oyster may earn an affiliate commission.