Best Hotels in New York City
What makes a hotel qualify as one of the best in New York? At Oyster, we know that the "best hotel" is different for just about everyone. For some, the best hotel is the most luxurious, and for others, it's the one that offers the most for kids. We compiled lists of the best luxury hotels, value hotels, best kid-friendly hotels, most romantic hotels, "hidden gem" hotels, best honeymoon hotels, best business hotels, best hotel spas, best best party hotels, most pet-friendly hotels, most amazing hotel rooms, best hotel service, best hotel pools, hotels with notable restaurants, best bathrooms, and best hotel gyms. Don't have time to read all that? Not to fear. We selected one hotel from each list that bests its competitors (if only slightly). Below, we present the best hotels of New York.
See All New York City Hotels
1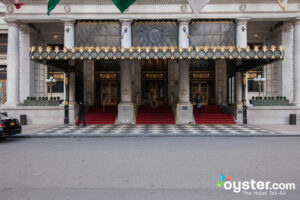 The century-old, 282-room Plaza is a New York landmark. A $400 million overhaul in 2008 gave the huge rooms gold-plated bathroom fixtures, but it also converted most rooms overlooking Central Park into privately owned residences. Still, the exceptional spa and 24-hour butler service make it worth the splurge. It could be said that no other New York hotel is as synonymous with luxury as the century-old Plaza, or has carved out such a place in 20th-century culture. Among the highlights -- a Rolls Royce to take you around town, a 24-hour concierge, 24-hour room service, and your own hallway butler on 24-hour call.
2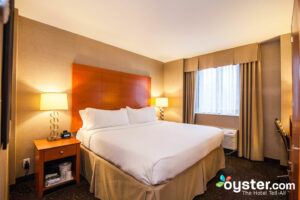 Opened in 2008, this modern 226-room Holiday Inn is a great value. Rooms are small but clean and all have flat-screen TVs, free Wi-Fi, and comfy beds. The on-site gym and business center are bonuses at these prices. And the location in artsy Chelsea is a 20-minute walk, or a ten-minute cab or subway ride, from the popular tourist draws like Times Square (to the north) and Soho (to the south).
3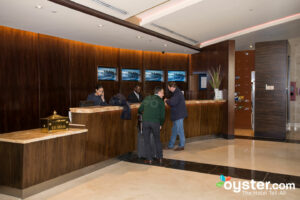 Large rooms, special kids' menus, an on-site movie theater, and plenty of nearby attractions in Times Square make the Hilton a great choice for families. Kids stay free in rooms with their parents, and standard and deluxe rooms with two double beds range from 330 to a palatial 360 square feet -- far bigger than the standard rooms in most New York hotels. The kids' breakfast buffet at Restaurant Above costs $10 and includes toast, eggs, pancakes, bacon, and juice.
4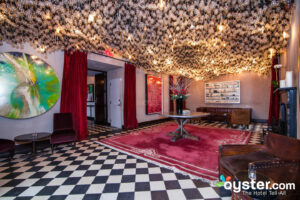 Pillow-top mattresses, luxuriously heavy comforters, and velvet throw blankets make these beds perfect for spending lots of time in. The old-world, boho-chic decor accentuates the romantic vibe, and the English Drinking cabinet -- essentially a flip-down bar -- allows couples to enjoy stylish cocktails without going anywhere.
5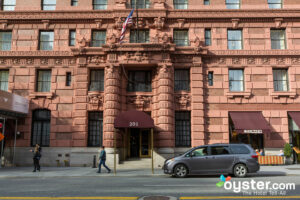 Tourists often overlook the lovely, residential Upper West Side--which is a shame. The 250-room Lucerne, in a tony red-stone building, gives tourists a taste of the local experience, and is close to great kid-friendly attractions like the Museum of Natural History and Central Park. Warm European decor and traditional, attentive service -- including 24-hour room service and a concierge who really knows the area -- make this a great pick for the price. The 1 subway line, which heads to Times Square, is only a block away.
6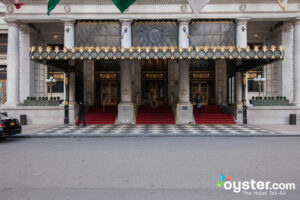 A prime 5th Avenue location on the edge of Central Park, newly renovated (and richly decorated) rooms, unparalleled service, and an overall feeling of opulence make this iconic New York hotel our number one pick for honeymooners. Hallway butlers, room service, and a concierge are available 24 hours a day. The 8,000-square-foot Caudalie Vinotherapie Spa is one of the city's best hotel spas. Step outside for a horse-drawn carriage ride through Central Park, or cruise Manhattan in the hotel's Rolls Royce for free.
7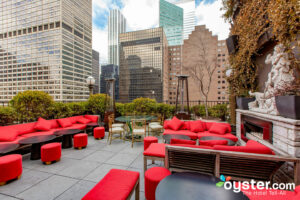 Enormous, 700 square foot suites equipped with personal fax machines make this 192-room boutique a favorite among extended-stay business travelers -- especially diplomats and politicians, thanks to the hotel's proximity to the U.N. The Secret Service has been known to bunk here, and a senator (the staff wouldn't name names) was in-house during our reporter's visit. And travelers of every political and national affiliation can get behind the cheap Wi-Fi -- it's free in public spaces and only $7.95 a day in-room. A stunning penthouse meeting space can be rented out for large meetings or events and is equipped with high-speed Internet, a PC/Laser Jet printer, fax machine, copy machine, and conference table.
8
The gorgeous spa, with Asian accents and fresh orchids throughout, offers a full range of treatments, from manicures to massages. They don't come cheap -- a 50-minute massage runs over $200, and most treatments are over $300 -- but if you splurge on a treatment, you also get access to Experience Showers, an Amethyst Crystal Steam Room, and a Vitality Pool. (Only guests staying in suites have free access to these facilities; other guests can pay $50 per stay to use them.) For the ultimate in luxury, guests can book a private, 650-square-foot VIP spa suite that replicates an Asian-style home and has its own fireplace, elevated bath, steam shower, and dual massage beds.
9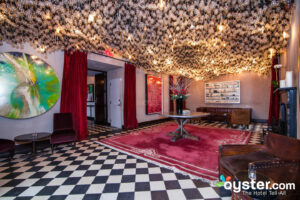 Loft rooms, the standard rooms at the Gramercy Park Hotel, are huge (370 to 440 square feet) and have a bold design that blends old-world elegance with a boho-chic that's heavy on velvet.
10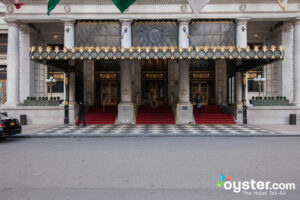 Service of any kind here runs 24 hours a day, whether it's guest laundry or room service or the concierge. A 24-hour butler, assigned to every hall, attends to your every need -- and won't hesitate to make you a cappuccino at 3 a.m. The house car, a Rolls Royce Phantom, will transport any guest for free around Manhattan (first-come, first-served). Turndown service includes bottles of Fiji water and glasses set up on each side of the nightstand.
11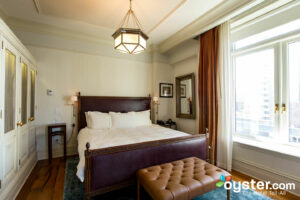 Greenwich Hotel's underground pool lies beneath a 250-year-old wood and bamboo Japanese farmhouse roof. The pool and spa were both designed by Japanese designer Mikio Shinagawa, who also designed Matsuri restaurant in New York's Maritime Hotel.
12
New York has no shortage of celebrity-chef restaurants, but a big name in the kitchen doesn't always translate into the meal of your life (just a memorable credit card balance). At Jean Georges, the namesake restaurant from famed French chef Jean-Georges Vongerichten, your odds are excellent. One of just four New York restaurants with 3 Michelin stars, Jean Georges garnered additional honors in 2009, winning the prestigious James Beard Association Outstanding Restaurant award in competition against the country's top eateries. Even with all the accolades, Jean George isn't out of reach. Sure, dinner's a pricey affair, but the restaurant also offers a two-plate lunch for just $28. Hotel guests can experience the master chef's culinary artistry without even leaving their rooms: Room service from both Jean-Georges, and his slightly less formal Nougatine, is available 24 hours/day.
13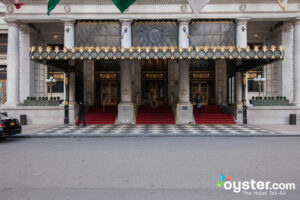 The Plaza's bathrooms have enough space for two twin 24-karat-gold-plated sinks and a partitioned-off toilet with its own window. A full-size soaking tub and shower has an intricate stone-mosaic walls, and the thick Mascioni Turkish cotton towels and robes (available in both adult and children's sizes) didn't disappoint. The body lotion and hand soap, are from Miller Harris, and the shampoo and conditioner comes from a the hotel's own line.