Best Pet-Friendly Hotels in New York City
While many New York hotels allow pets, only a small few really stand out as the best. We stayed in all of the hotels below and personally verified their high quality pet services, which include perks like gourmet food, doggie pedicures and dog walking. But animal lovers take note — not all pets are created equal. Most hotels allow only small dogs and gear their amenities specifically toward them. If your best friend is a cat, an iguana, or a 110-lb. Great Dane, The Muse and the Affinia hotels will be the most accommodating. When booking at any hotel, be sure to let them know you're bringing a pet, and confirm their policies haven't changed. You'll want to be wary of steep fees, weight limits, and off-limits areas.
See All New York City Hotels
1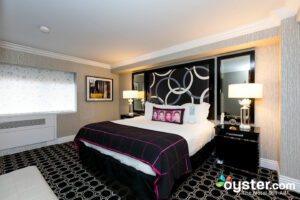 The Muse is an impressively pet-friendly hotel, having hosted everything from snakes (!) to penguins (!) to a pig (!) (many of them in town to appear on television shows that tape nearby). Ginger, a teacup Pomeranian, serves as the "Director of Pet Relations," a companion to one of the hotel staff members. On most days, Ginger can be found hanging out on her leopard-print bed near the concierge. She has even done the morning-show circuit, most recently on the Today show for a segment about pet-friendly hotels. The hotel has a Pampered Pooch and a Hers and Furs package, starting at $229, which provides in-room pedicures for a guest and her dog. Pets also receive a special welcome package upon arrival, with food and treats for both the dogs and their human companions. There is no surcharge to bring a pet to the Muse, though the hotel limits guests to two pets per room. Dogwalking, sitting, grooming, and food delivery can all be arranged for an extra charge. Bryant Park is four blocks away.
2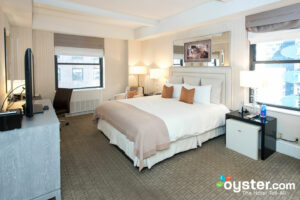 If snuggling up and taking a snooze with your pooch is your idea of a vacation, the sleep-themed Benjamin Hotel (part of the pet-friendly Affinia chain) is your best bet. The hotel's "Dream Dogs" program provides a plush doggie bathrobe, a doggie DVD (to keep dogs from getting bored when alone in the room), and a dog room service menu. The doggie bed menu offers different sizes of specially-designed beds to help your pet slumber soundly.
3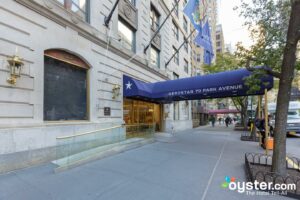 70 Park Avenue is part of the pet-friendly Kimpton hotel chain, and like at the Epic in Miami, pets get the royal treatment -- doggie manicures and pedicures, squeaky toys, robes, and a bed are all available. There are no extra fees for bringing a pet -- unlike at many hotels in New York -- but owners are responsible for any damage caused by their animal. 70 Park Avenue is a great choice for pet owners with special needs, as it is willing to accommodate pets of any weight or type. Bryant Park is three blocks away.
4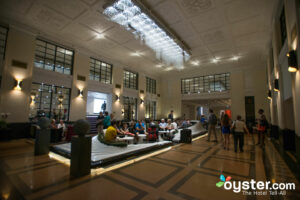 Affinia Manhattan isn't as snazzy as its other Affinia sisters, but during the annual Westminster dog show, it becomes one of the hottest pet-friendly hotels in town. It's located just around the corner from Madison Square Garden, and although it raises its usual pet fee during the event, it does provide additional pet amenities for the four-legged competitors, including a dog run and Doggie Day salon.
5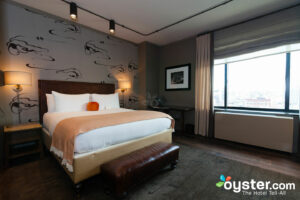 Pets get special treatment at the Soho Grand--and they get it for free. There is no fee to bring a pet; the hotel asks only that visitors inform the staff ahead of time so that the reservations department can book a room on one of three pet-friendly floors and ensure that food, bowls, and a crate are available -- all at no extra charge.The hotel doesn't even put a restriction on animal size or weight -- so it's as willing to welcome a Saint Bernard as a Chihuahua hitching a ride in a handbag. The hotel is owned by Hartz Mountain Industries, and room service delivers Hartz-brand animal chow and some special treats. Dog walking, a more extensive menu, and grooming can all be arranged through the concierge for an extra fee. If guests can't bring their own pets, the hotel offers "surrogate animal companionship" in the form of a pet goldfish in your room, which you can even take home with you.
6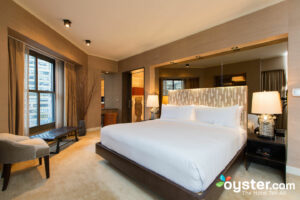 Like its sister hotel, the Soho Grand, the Tribeca Grand Hotel is owned by Hartz Mountain Industries, which also produces pet products. It's free to bring a pet, and four-legged friends of any size are welcome. Just notify the hotel ahead of time to get placed on a pet-friendly floor, where food, bowls, and a crate will be waiting in the room -- all at no extra charge. Dog walking, a more extensive pet-food menu, and grooming can all be arranged through the concierge for an extra fee.
7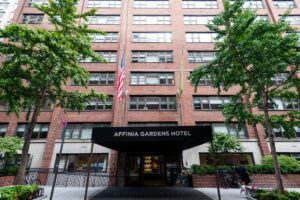 Affinia charges a one-time $50 pet fee, but for that price your pet will get treats, food and water bowls, and (for dogs) a welcome walk as part of the VIPaws pet program. Central Park is four avenues away -- a bit far, but not too far to walk to.
8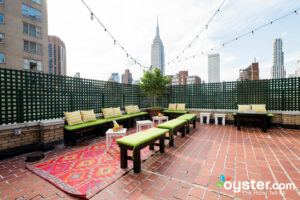 The quiet, upscale Affinia Shelburne draws a wide range of travelers, from business travelers to tourists in their golden years to, of course, travelers who bring their pets. Like the Affinia Dumont, it's located in the sleepy Murray Hill neighborhood and offers a variety of pet services through its VIPaws pet program.
9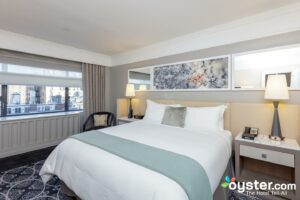 As part of the pet-friendly Loews Loves Pets program, pets are treated to a complimentary welcome basket with a pet bowl and treats, and amenities such as cat or dog beds, scratching poles, litter boxes and food ordered off of gourmet pet room service menus are available for a fee. Unlike most hotels, which arrange dog-walking and pet-sitting through third parties, Loews provides these services in-house; dogs left in the room will be walked for $20, and the front desk will watch your pet for $10 an hour, which gives guests a lot of flexibility if they have to run some errands sans-pet. Pets are limited to two per room, but there's no weight limit and only a one-time $25 cleaning fee.
10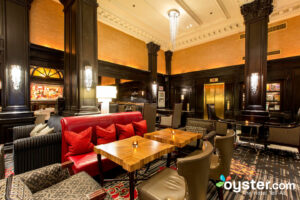 Since owner Frank Case first adopted a stray cat as the Algonquin's house pet back in the 1930s, the hotel has always kept a cat, naming it Hamlet if a boy, Matilda if a girl. The current resident, probably Matilda XXXVI, stays at the hotel for free -- and so may your pet. But you'll have to sign a waiver to pay for any damage incurred. When our reporter inquired about weight limit, management said they judged it on "an individual basis" -- but have welcomed everything from Irish setters to Snowball the Backstreet Boys-dancing cockatoo. Pet owners who do participate in Algonquin's pet program receive a welcome kit with a list of services in the area, and their room will be stocked ahead of time with food and water bowls, a floor mat, litter box, and gloves and waste bags.
11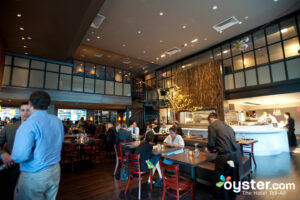 W Hotels' 270-room Union Square property greatly resembles other Ws in New York: comfortable beds, modern rooms, an excellent gym, and plenty of business travelers in the chic lobby. For pet owners, this is a stellar pick thanks to its pet-friendly policy that allows one pet up to 40 pounds for an additional cleaning fee of $100 per stay, plus $25 per night. It comes with doggie amenities include a dog bed, bowl, organic treats, and chew toy. An added perk is that the dog park at Union Square is just a quick walk away.
12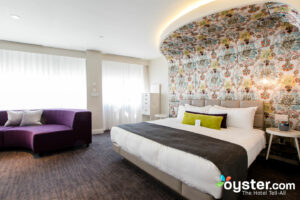 The 220-room Dream Manhattan is a solidly upscale New York hotel. Decor is stellar throughout, offering a chic pairing of vintage and modern style. Stellar drinking and dining spots are on-site, including a hip rooftop terrace lounge with cozy seating. Dream Midtown welcomes pets -- including dogs, mini-pigs, and groundhogs -- less than 25 pounds in their pet-friendly rooms for a one-time, non-refundable fee of $75.00. Having the expansive Central Park just a short walk away makes it god pick for dogs needing to stretch their legs.