Best Honeymoon Hotels in New York City
Couples planning a honeymoon in New York have no shortage of romantic options, from charming old-world hotels to chic downtown boutiques. A team of Oyster reporters stayed at more than 100 New York hotels. We slept in the beds, ate in the restaurants, ordered from room service, and checked out the neighborhoods, all with an eye toward selecting the most distinguished properties. Here is our list of the best honeymoon destinations in New York.
See All New York City Hotels
1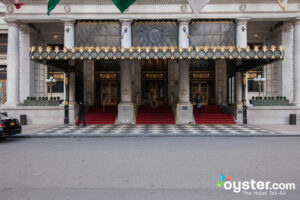 A prime 5th Avenue location on the edge of Central Park, newly renovated (and richly decorated) rooms, unparalleled service, and an overall feeling of opulence make this iconic New York hotel our number one pick for honeymooners. Hallway butlers, room service, and a concierge are available 24 hours a day. The 8,000-square-foot Caudalie Vinotherapie Spa is one of the city's best hotel spas. Step outside for a horse-drawn carriage ride through Central Park, or cruise Manhattan in the hotel's Rolls Royce for free.
2
Located on the southwest corner of Central Park, the Mandarin Oriental is home to one of New York's top spas, where the private VIP spa suite is perfect for newlyweds. Treatments, though pricey, give you access to the Experience Showers, the Amethyst Crystal Steam Room, and the Vitality Pool. Afterwards, head downstairs to Per Se or Masa, two of New York's top restaurants. Or stay in your guest rooms to enjoy the romantic river views.
3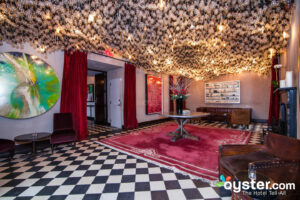 For an entirely different type of New York honeymoon, skip the opulence and get close to the action at this boho-chic hotel. Sip cocktails in the sexy, celebrity-frequented Rose Bar, and eat breakfast in the ivy-covered Roof Club and Garden. With pillow-top mattresses and luxuriously heavy comforters, the beds are perfect for spending time in. An added bonus: access to Gramercy Park across the street -- a park most New Yorkers have never even entered.
4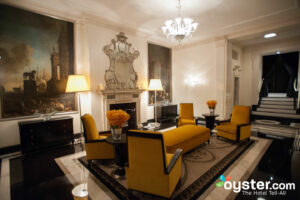 Step into The Carlyle, and you've returned to a bygone era of a more aristocratic New York. Respectful, formal service helps take you back in time: Helpful front desk staff calls guests by their last name, and bellhops stand at the ready 24 hours a day. The elegant lobby furniture, white-gloved elevator attendants, and revered Carlyle Restaurant contribute to the mood as well. The apartment-style rooms are bigger than what you'll find at many other iconic New York City hotels. For pampering, Sense Spa is a pricey but top-notch facility with a stunning mosaic-tiled staircase leading down to the treatment rooms.
5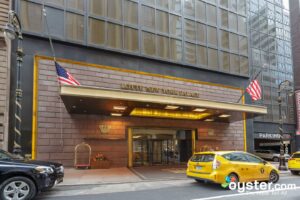 Built in what was originally a private mansion, the Palace is visually one of New York's most stunning hotels (gold flourishes, crystal chandeliers, and the like). The rooms, many of which were renovated in 2008, are large by New York City standards. We found the warm and attentive service to be possibly the most impressive in New York City. Once inside, you won't want to leave, which is fine because the hotel houses a 7,000-square-foot spa and a chic Michelin-star restaurant (Gilt).
6
Honeymooners can feel hip as well as sexy at The Standard New York, the ultramodern hotel straddling the city's trendy new elevated High Line park. The much-praised design includes glass-walled showers and tubs that are visible from the main guest room. But your sweetie's derriere isn't the only view you'll get: All rooms have impressive city views. Splurge on a Standard Suite and enjoy 180-degree views of the Hudson River from your freestanding tub. Guests can hobnob with celebrities and stylish New Yorkers at the hotel's five bars and the Standard Grill restaurant.
7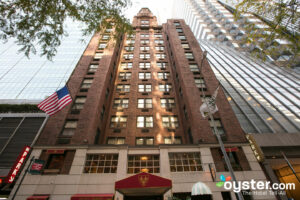 This hotel has the charm of a French B&B -- an impressive feat in bustling Midtown East. The French romantic mood is set in the marble-floored lobby with fresh-cut lilies, a crystal chandelier, and gold brocade wallpaper, and continued upstairs in the charming French-inspired rooms. Notify staff of your honeymoon in advance, and you may find a box of chocolates and a bottle of champagne in your room when you arrive.
8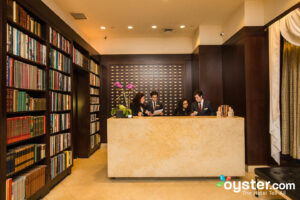 For a one-of-a-kind hotel stay, check into this quiet literary-themed boutique hotel right by Bryant Park in midtown Manhattan. In the 2nd-floor book-filled reading room, the hotel serves free coffee all day and wine and cheese from 5 to 8 p.m. Don't want to read on your honeymoon? Ask for the love room -- a junior suite on the 11th floor with a balcony. (Room names are based on the Dewey Decimal System.) Rooftop bar Bookmarks Lounge is a romantic spot for unwinding.
9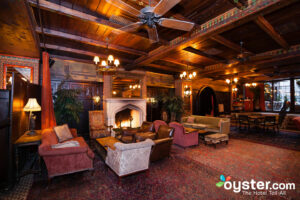 Located in a downtown neighborhood that was once home to the city's punk rock music scene, the Bowery Hotel transports honeymooners to another New York altogether. In the shabby-chic lobby, wooden fans whirl beneath the dark wood ceiling, and vintage furniture (or faux vintage) sits on oriental rugs. Bright, comfortable rooms with wainscoted ceilings and floor-to-ceiling windows are flawlessly appointed. Gemma restaurant, with rustic wooden tables and candelabra chandeliers, and the stylish lobby bar are cozy spots for couples to unwind.