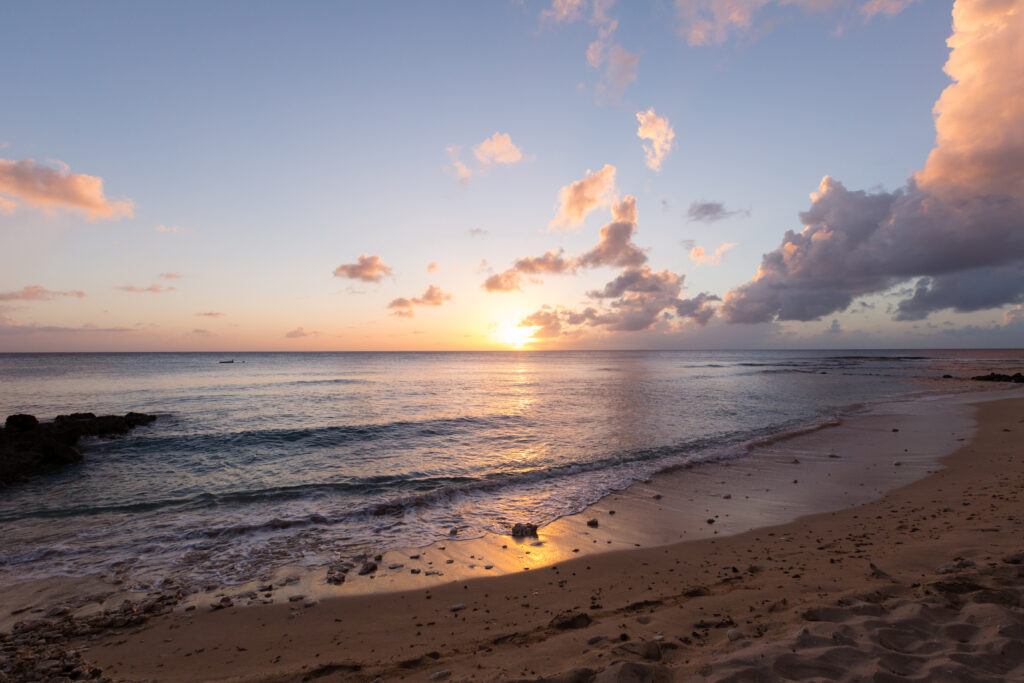 Beach at Saint Peter's Bay, Barbados/Oyster
Here's a fun exercise: Close your eyes and pick between the Bahamas and Barbados. At first thought, you might think the two Caribbean destinations are one and the same. After all, both are popular vacation spots for North Americans and Europeans, plus they boast warm weather year-round, pristine sand and turquoise water, activities to break up the beach time, and killer rum punch. However, these two locations are quite different, especially when factoring in travel preferences and hurricane season. Your vacation days are precious, so let us help you choose the right destination for you.
Traveling to the Bahamas and Barbados
Both countries are easily accessible by plane, and most major cruise lines have frequent Bahamas- and Barbados-bound sailings. (Given its location, the Bahamas offers shorter cruise options for those who have a long weekend to spare.)
Bahamas: The islands that make up the Bahamas are located 50 miles off the coast of Florida, making the destination easy to reach for North Americans. The archipelago consists of approximately 700 islands and islets, but only about 30 are inhabited, and each one offers its own vibe. If you can only visit one, you will want to find the island that most suits your style and budget.
Most people will arrive at Lynden Pindling International Airport (formerly Nassau International Airport) near Nassau or Grand Bahama International Airport in Freeport. You'll find plenty of direct flights or options with just one stopover to reach the capital of Nassau. Direct flights from Miami last under an hour, while New Yorkers can arrive in around three hours. Meanwhile, those traveling from Los Angeles can get to the Bahamas in under seven hours with one stopover.
To travel between the islands, there are fast air-conditioned catamarans, which mostly depart from Nassau. This is a more popular and reasonably priced option than taking a charter plane. Most people heading to a resort in Nassau, Paradise Island, or Grand Bahama Island will take a taxi from the airport or rent a car if they'd like to explore a bit. Beyond that, the public transportation systems are well-developed, with several options such as minibuses (known locally as the Jitney), scooter and bicycle rentals, and horse-drawn carriages for local sightseeing tours.
Barbados: Rather than a series of islands, Barbados is an independent island nation within the British Commonwealth. The two destinations are not close together — Barbados is located 1,420 miles southeast of the Bahamas in the Lesser Antilles of the West Indies, making it a longer jaunt for those coming from North America. Most will arrive at Grantley Adams International Airport in the capital of Bridgetown. Direct flights from New York will come in just under five hours, while Los Angeles will clock in under 10 hours with one stopover.
Upon arriving, many choose to rent a car, but taxis are also a popular way to get to and from the hotels. The island is divided into 11 parishes (similar to states or provinces), each with its own unique character and special attractions. The taxi drivers in Barbados — many who have lived here their whole lives — tend to be friendly and knowledgable about the history. It's quite easy to get around Barbados by public transport, too. The standard bus fare is about $1.75 USD. These are commonly called "reggae buses," since drivers often play upbeat music. Bicycles are also available to rent for the day or week (reservations can be made through your hotel or one of the bike rental companies on the island).
Beaches in Barbados and the Bahamas
Both destinations offer picture-perfect beaches and gorgeous scenery, so you're in good hands in either locale.
Bahamas: Whether you're searching for white or pink sand, there are plenty of stunning beaches in the Bahamas. Perhaps the most famous stretch is Cabbage Beach on Paradise Island. Here, you'll find small to mid-sized waves (great for swimming) and plenty of sand to stretch out, especially if you skip the Atlantis crowds and walk toward the lighthouse. In busier areas (near all-inclusive resorts and in Grand Bahama), beach vendors might try and sell you jet-ski rentals, jewelry, beer, and even marijuana. Offer a firm "no thank you" and they'll leave you alone. The further you travel to the Out Islands, like the Abacos and Exumas, the fewer crowds you'll find.
If you're dreaming of the famous pink-sand beaches, then you'll want to head to Harbour Island by water taxi from Eleuthera. The three-and-a-half miles of soft pink sand and calm, turquoise waters are perfect for romantic beach walks and leisurely swims. It's best to stay at a hotel on the island, so that you can take advantage of the lounge chairs and umbrellas as well as water sports equipment (think snorkel gear, kayaks, and paddleboards).
Barbados: Barbados offers a staggering number of beautiful beaches and all of them are public. There are white- and pink-sand stretches with cerulean waters on the Caribbean side, as well as spots with perfect swells and dramatic scenery on the eastern Atlantic coast. If time allows, you may want to rent a car and visit a range of beaches across the island. The island's west coast sees slightly narrower beaches with more people, but these are excellent areas for swimming, watching the sunset, snorkeling, and stand-up paddleboarding. Large resorts on the south coast tend to offer bigger stretches of sand and heftier waves for those who like to boogie board. Meanwhile, the biggest waves can be found on the island's east coast, where you'll spot professional surfers from around the world. Also on the east coast is the pink-sand Crane Beach, flanked by lush vegetation and turquoise waters.
Things to Do in the Bahamas and Barbados
Water sports, British colonial history, and long walks on the beach are popular in both destinations.
Bahamas: It's all about getting in the water in the Bahamas. Teeming with fish, coral, and underwater adventures, the Bahamas are perfect for snorkeling and scuba diving. All Atlantis guests have free access to Aquaventure — the massive water park — and the largest outdoor marine habitat in the world. It's a 141-acre, 200-million gallon water park that combines a series of slides, a lazy river, and the Current (a mile-long water ride with waves and tidal changes). There's also a 14-acre Dolphin Cay for swimming with dolphins, playing with sea lions, and snorkeling with manta rays. You can find local culture in the form of shops, night markets, and rum houses in Nassau, while Lucayan National Park in Grand Bahama offers mangrove swamps and beaches, pine forests, and boardwalks for those looking to get active on-land.
Barbados: Barbados is relatively flat compared to St. Lucia, its mountainous, volcanic neighbor. Much like the Bahamas, Barbados offers plenty of water-centric activities, like snorkeling and wreck diving, boogie boarding, stand-up paddleboarding, windsurfing, kitesurfing, and surfing. Since all beaches are open to the public, swimming at sunrise or sunset is a popular pastime.
The island blends British cultural traits (think cricket and afternoon tea) with strong Afro-Caribbean influences. Barbados was under British rule for 340 uninterrupted years, and its history can be felt strongly. Make sure to learn about plantation life and visit the many rum shops, distilleries, tropical gardens, and quaint churches. For more ideas, talk to friendly locals (or Bajans), who are happy to share information about their island. Plus, there are plenty of inland biking and hiking opportunities, as well as limestone caves to explore.
Food and Nightlife in Barbados and the Bahamas
Both destinations offer similar food and drink, while the Bahamas has a leg up in terms of nightlife thanks to its major resorts.
Bahamas: Local cuisine in the Bahamas includes plenty of seafood such as fish, shellfish, rock lobster, crab, and conch — simply cooked or in the form of fritters, ceviches, and spicy fish stews. Meat dishes are available (especially pork) as are tropical fruits, rice, peas, and potatoes. Overall, the lesser-visited islands offer a laid-back party atmosphere with beer and rum punch.
Due to the influx of resorts and cruise ship passengers in Nassau, you can easily find more Americanized restaurants, shopping centers, and recognizable chain names ranging from Starbucks to Nobu. Nightlife in Nassau and the major resorts tend to center on sundowner drinks by the beach, nightclubs with DJs, casual bars, and casinos. Gambling is legal in the Bahamas, and many tourists take advantage of the flashy, Vegas-style tables. Tip: Take a taxi if you're visiting a restaurant, club, bar, or casino that's away from your hotel.
Barbados: Similar to the Bahamas, a wide variety of seafood and meats are available in Barbados. The national dish is cou-cou and fried flying fish with spicy gravy. Another traditional meal is pudding and souse (pickled pork with spiced sweet potatoes). Bajans also take pride in their tap water, saying it's some of the purest H2O you'll find, thanks to the natural filtration system of the limestone. Meanwhile, rum punch is a popular welcome drink.
Dine at your hotel or resort, or choose between a wide range of restaurants around the island, which can be reached by taxi. Many restaurants cater to travelers with a range of New American or European dishes. You'll likely hear mention of the Oistins Fish Fry, which takes place every Friday night. When it comes to nightlife, St. Lawrence Gap (also known as "The Gap" by locals) is a small street in the parish of Christ Church with energetic bars. However, it's easy to skip this scene if it's not your thing.
Weather and Safety in the Bahamas and Barbados
Both countries are safe for tourists, as long as you keep your wits about you, especially while walking around at night.
Bahamas: The most popular time to visit the Bahamas is from mid-December to mid-April. Although temperatures are hot and humid year-round (they rarely dip below 60 degrees Fahrenheit), trade winds on certain islands help keep things cool. Hurricanes are a concern between June and November (the Atlantic hurricane season), and unfortunately, the islands are hit by one every two years on average. You're more likely to see rain during this time of year, especially in July. In September 2019, the destination was hit by Hurricane Dorian, a Category 5 tropical cyclone. The storm, now considered the worst natural disaster in the country's history, left a devastating trail of destruction in its wake — Grand Bahama and the Abaco Islands were left uninhabitable. Most of the Bahamian islands, including popular tourist destinations like Nassau, Paradise Island, and the Exumas, were minimally impacted by the storm.
As for safety, Numbeo reports that the Bahamas have a safety rating of 38.88 and crime rating of 61.12, with most crime falling into the theft category. That being said, millions of people visit the islands with no problem.
Barbados: Due to its location outside the hurricane belt, Barbados usually escapes the wrath of severe tropical storms and hurricanes. The island hasn't experienced any significant hurricanes since Hurricane Janet in 1955. The rainiest weather usually occurs from September through November, though many argue that this is the best time to visit, thanks to cheaper flights and accommodations as well as fewer crowds. While it's always hot and humid on the island, consider the south and east coasts for bigger waves and ocean breezes.
Barbados is generally a safe place to travel, according to the U.S. State Department, which gives it a low Level 1 travel advisory. Numbeo reports that Barbados has a safety index of 48.89 and a crime index of 50.11. There are excellent medical facilities in Barbados, too. For minor illnesses, nearly all hotels will have a doctor on call or be able to help you find assistance.
Where to Stay in the Bahamas and Barbados
Both destinations offer various lodging options for all types of budgets.
There's nothing quite like The Ocean Club, A Four Seasons Resort, on Paradise Island, or anywhere in the Bahamas for that matter. The 105 rooms and suites are luxurious, while the expansive grounds have three outdoor pools (including a beachfront infinity option), a romantic garden and statuary modeled after Versailles, and a pristine white-sand beach. Other highlights include free yoga classes, an 18-hole golf course, tennis courts, an indoor/outdoor fitness center, a Balinese-style spa with private villas, a running trail, and free bike rentals. After a day in the sun, guests return to free Champagne and strawberries, and many begin their evening with sunset drinks at Jean-Georges Vongerichten's Dune restaurant. What's more? Visitors have access to the amenities at the Atlantis, but the advantage of being removed from the crowds.
Our Top Pick for a Barbados Hotel: Sandy Lane Hotel
With impeccable service and attention to detail, the 112-room Sandy Lane Hotel is the creme de la creme of resorts in Barbados. There are plenty of facilities to enjoy, including a Rolls-Royce Phantom, a top-notch spa, outstanding restaurants, and celebrity sightings. Perhaps the most noteworthy amenity, however, is access to the exclusive Green Monkey golf course. Of course, you can expect the high-end hotel to come with an equally high price tag.
You'll Also Like:
All products are independently selected by our writers and editors. If you buy something through our links, Oyster may earn an affiliate commission.