We've seen a lifetime's worth of beachfront all-inclusives. But intimate, boutique-style all-inclusive resorts on the beach? Those are another story altogether. The boutique all-inclusive is a rare bird, but trust us, they're out there. We've cast a wide net to find the best ones throughout the Caribbean, and picked up some favorites along the way in places like Jamaica and the Dominican Republic. Now, we're turning our eye to the island of Barbados, where hotel rates can be painfully high. The below hotels offer optional set fees that include food, drinks, and activities -- as well as lovely, one-of-a-kind (read: not big-box) experiences.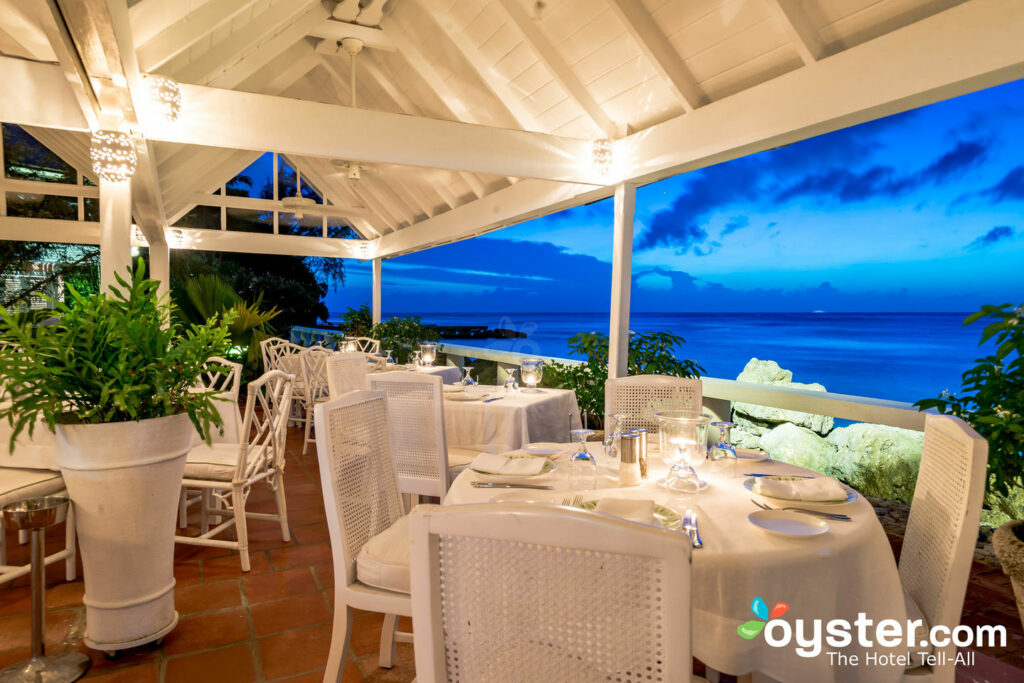 Beginning as a plantation owner's private beach house, Cobblers Cove is an elegant, colonial-style boutique resort with Pinterest-worthy looks. The preppy beach hideaway consists of charming two-story cottages (containing guest suites), green gardens, and the central, bubblegum-pink 1943 Great House, where free afternoon tea is served. The beach is too narrow for sunbathing, but water sports, including waterskiing and paddleboarding, are free, and the hotel has a modest beachfront pool and large sundeck. At sundown, guests mingle at the bar — rum cocktails in hand — before making their way to the renowned fine-dining restaurant for local seafood.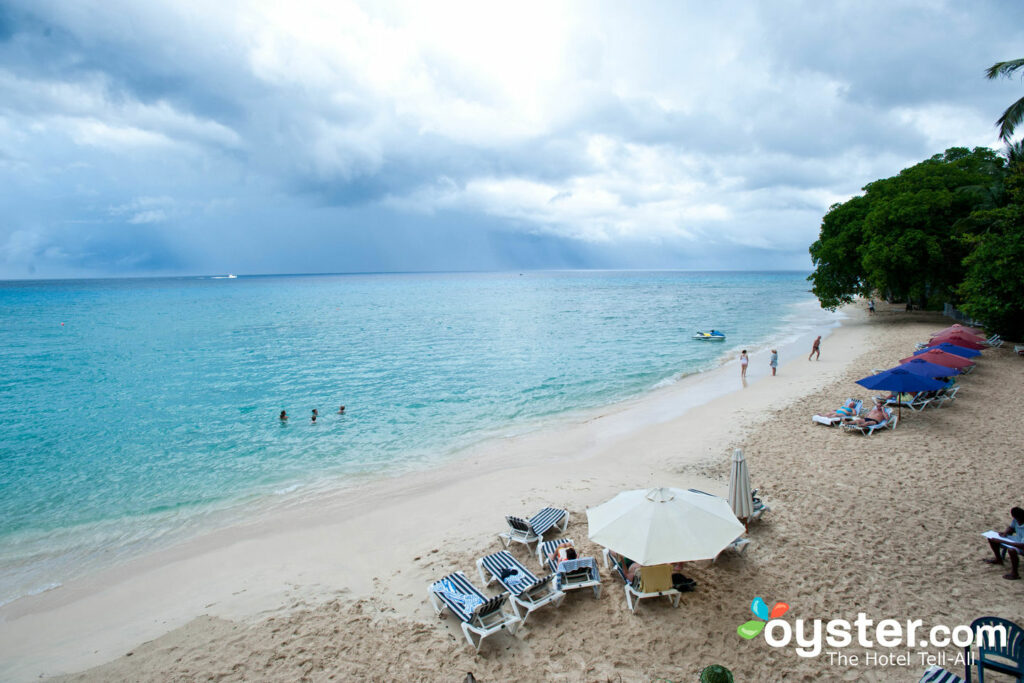 "Just superb," "fantastic hotel," "Barbados heaven": These are the sort of gushing accolades Waves tends to get from guests after a (seemingly flawless) visit. Nearly everyone who stays at this contemporary boutique raves about three things in particular: the quality of the food (which includes a la carte dinners), the many free water activities (kayaking, waterskiing, tubing, and sailing), and the sincere and thorough service (which begins with rum punch at check-in and includes the distribution of cold drinks, chilled towels, frozen grapes, and ice cream by the pool and beach). That beach, by the way, isn't especially large, but it's memorable for its soft golden sand, clear blue water, and beautiful sunsets.
Rambling along a beautiful and calm south coast beach, Sugar Bay Barbados is an upscale all-inclusive that reopened in 2015 after a major design overhaul. It's a stylish step up from the average all-inclusive, but packs in everything you'd expect from a resort: free water sports, four restaurants, a pub, a full-service spa, and lots of activities for kids and teens. Some areas can get crowded, particularly in and around the main pool (anchored by a swim-up bar) and in the buffet restaurant.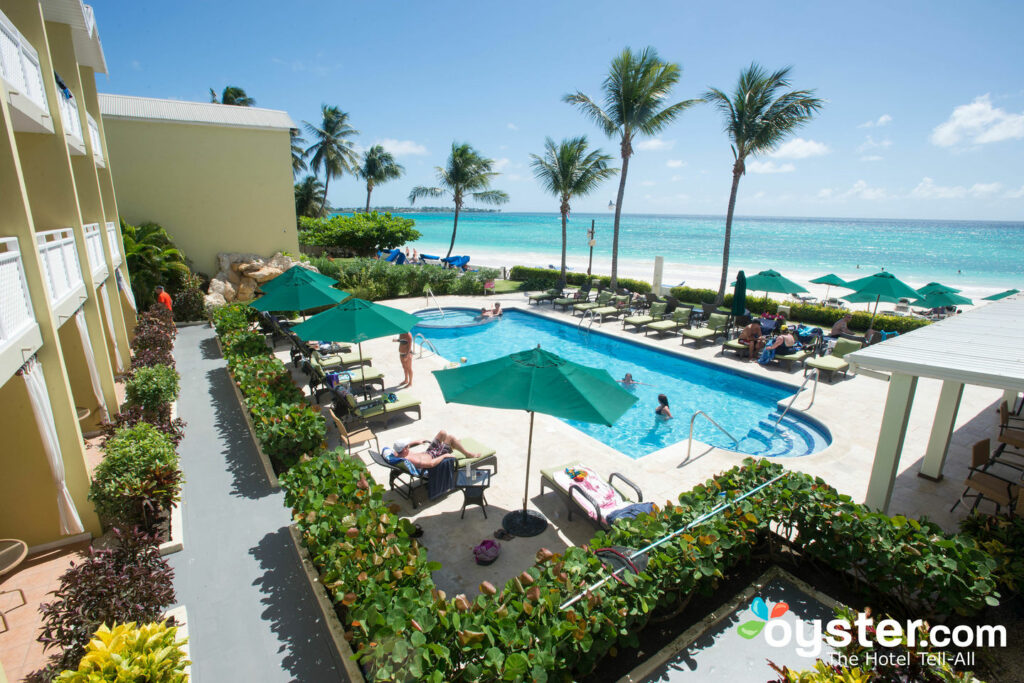 A million-dollar renovation in 2013 didn't totally rid the Sea Breeze of its innate 70s-ness (think red tile floors and boxy room buildings), but this casual all-inclusive has a very nice checklist of features that includes two beaches, three pools, four restaurants, and a kids' club. Even with so many public spaces, the atmosphere always stays relaxed and friendly, and is never rowdy. There are no daily organized activities, except for the occasional rum tasting, and most guests can be found bodyboarding on the beach, playing tennis, floating on an inflatable raft in the pool, and taking a Hobie Cat out for a spin. Dinners alternate between a la carte and buffet, and are capped with steel bands and limbo dancing. Note that Sea Breeze's beaches have been inundated with smelly sargassum seaweed (happening this summer throughout the Caribbean, including Barbados' south coast), but the hotel offers a free shuttle service to Carlisle beach with free sunbeds, umbrellas, and drinks.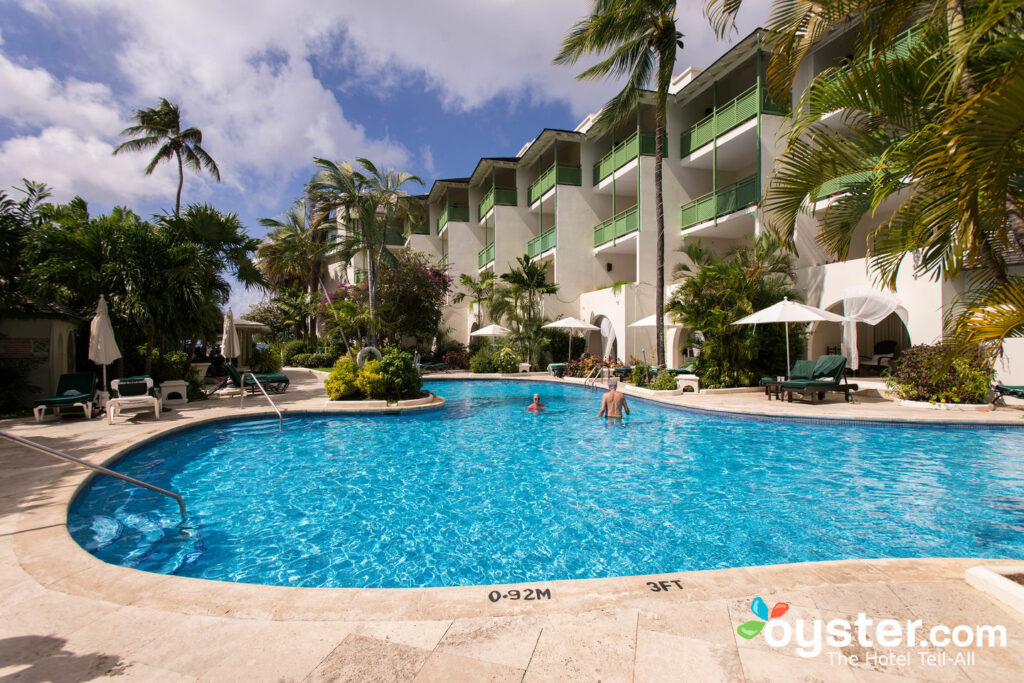 Parked on a pristine beach, Mango Bay is a small-scale hideaway off the main Holetown drag. The crowd includes a few families, but the vibe is mostly geared toward couples. The inviting pool serves as the resort's centerpiece, and other hubs include the open-air restaurant (breakfast is buffet-style and lunch and dinner alternate between buffet and a la carte), the all-day bar, the beach, and the sea itself, which can be explored using the resort's free kayaks, Hobie Cats, pedal boats, and snorkel gear. There are also free glass-bottom boat tours departing throughout the day, and free catamaran trips to see turtles. With only 76 rooms, Mango Bay feels cozy and intimate, especially at night when guests gather to watch limbo dancers and fire-eaters perform, and torches are lit around the grounds and beach.
Instead of the overwrought colonial decor found at many Barbados hotels, SoCo springs for a modern, mostly white look. And while most island resorts are kid-centric with lots of water sports and activities, this mini all-inclusive offers neither. It's the sort of chilled-out place where guests — couples and groups of friends — often get to know each other and keep in touch. As there are only 24 rooms in the hotel (all of which have gorgeous views of the pool and ocean, even those on the lower floors), the beachfront pool doesn't get too crowded, although some past guests have complained that lounge chairs get taken up quickly.
Crystal Cove is a compact and pretty resort on the ritzy west coast. Highlights include the three-tier pool, the built-into-a-cave bar, and the scenic white-sand beach. Here, all manner of water-sports equipment — from stand-up paddleboards to banana boats — are free to use. Past guests have brought up random maintenance issues that they encountered, but most said these didn't override the overall experience.
You'll Also Like:
All products are independently selected by our writers and editors. If you buy something through our links, Oyster may earn an affiliate commission.