From sea to shining sea, there's no shortage of spectacular sights to see. In addition to beautiful beaches, lush national parks, and epic waterfalls, the U.S. also boasts an incredible array of canyons. In technical terms, a canyon is a deep gorge that typically has a river flowing between it. In terms of wanderlust, a canyon is a mind-blowing natural wonder that evokes a sense of wonderment. So without further ado, here are some of the most gorgeous gorges. And contrary to popular belief, they're not all located in the West.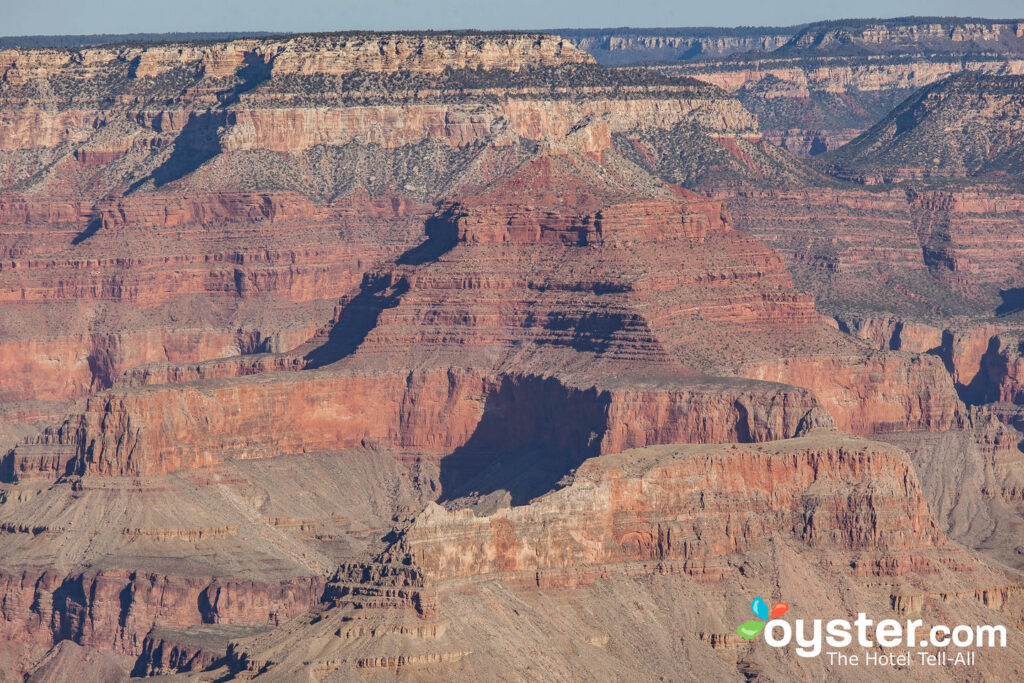 You can't talk about canyons without mentioning the granddaddy of them all — the Grand Canyon. Set within Arizona, the geological wonder sets the bar pretty high — more than 8,000 feet above sea level, to be exact. The higher elevation of this stunning national treasure also means you'll find an array of ecosystems here: along the rim of the canyon, for example, expect to see pine forests packed with elk and other wildlife. If you're visiting the south rim of the canyon, chances are you're coming from either Williams, Arizona (the closest nearby town) or Page, Arizona. Spend the night in either city or grab a room at one of the hotels within the park.
Where to Stay: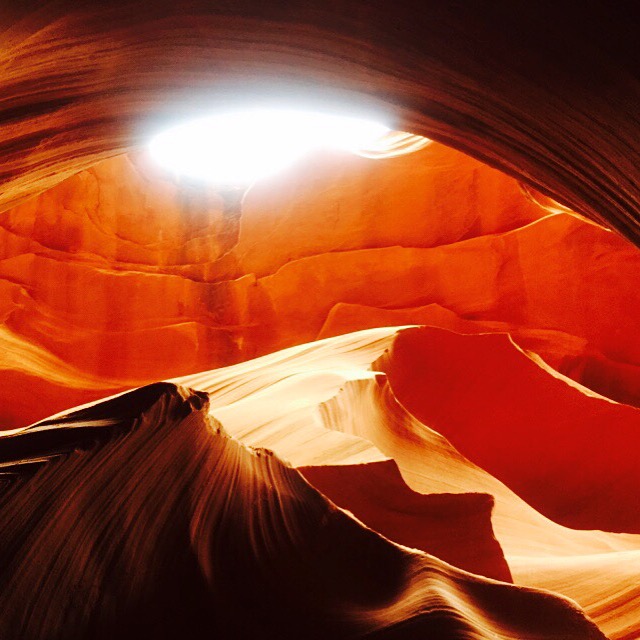 Located a few miles east of the Grand Canyon, Antelope Canyon draws travelers from across the world to revel in its gorgeous red rock slopes. Here, the changing sun brings light beams at different times in the day. Its accessibility to nearby Lake Powell and the town of Page, Arizona also makes it a great stop while seeing some other incredible sights. The canyon is split in two parts: upper and lower. The former is flat and sandy and you can drive up to it (with a guide), while the lower canyon is accessed via a set of stairs that lead down through a crack in the earth. If you're looking for accommodations, rent a houseboat on Lake Powell at Antelope Point Marina (just down the street from the lower canyon) or book a stay at Lake Powell Resort.
Where to Stay:
The Wave, Utah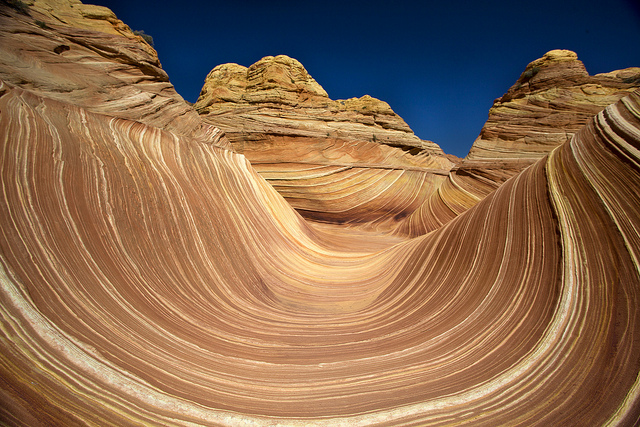 We'd love to tell you to work a visit to The Wave during your trip to Antelope Canyon and Grand Canyon, but the truth is, this marvelous space takes some thorough planning. The U-shaped sandstone formation lies on the slopes of the Coyote Buttes in the Paria Canyon-Vemillion Cliffs Wilderness and is governed by the Bureau of Land Management. Because of its popularity, only 10 next-day permits are issued per day in person at the Kanab visitor center. An additional 10 permits per day are issued online, if planned four months in advance. If you're lucky enough to score a permit, you'll have to trek out to The Wave — the shortest walk is three miles through the desert (six miles round-trip). There are no markings on the trail to indicate where The Wave is located, so hikers make their own way there or hire an expert guide. If this sounds like your kind of adventure, try getting a permit online. Or, show up each morning at 9 a.m. for the lottery at the Grand Staircase-Escalante National Monument visitor center in Kanab, Utah.
Where to Stay:
Utah's Bryce Canyon is known for its unique hoodoo formations, peculiar-shaped pillars of rock that are left standing from years of erosion. Oddly enough, the park isn't actually a canyon at all, but a collection of natural amphitheaters with red, orange, and white rocks. Named after Ebenezer Bryce, a Mormon pioneer, Bryce Canyon became a national monument in 1923 and took on national park status five years later. If you're walking, hiking, and exploring the area — or even nearby Zion National Park — spend your night in Bryce, Utah.
Where to Stay:
Nestled between I-87 and Lake Champlain in northern New York, the Ausable Chasm draws thousands of visitors per year. Often referred to as the Grand Canyon of the East, the sandstone gorge offers plenty of nature trails and scenic views plus rafting, tubing, camping, and kayaking opportunities. Check it all out for yourself on your next trip to the Adirondacks. And while you're there, camp in the park or at a nearby hotel in Plattsburgh.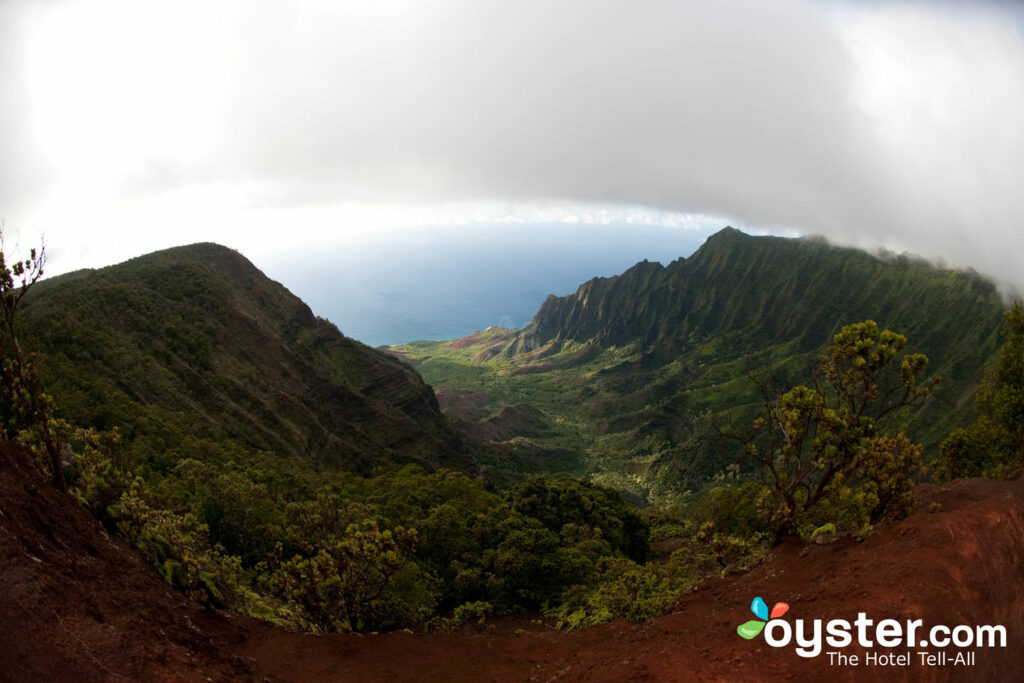 Referred to as the Grand Canyon of the Pacific, this lush natural wonder in Kauai might not be as big as the one in Arizona but it certainly doesn't lack in dramatic views. Spanning about 14 miles long and 3,600 feet deep, the canyon boasts drop dead gorgeous peaks and deep valleys. Embark on a hike — there are 45 miles of trails that wind through the abyss, with scenic lookout points en route.
Where to Stay: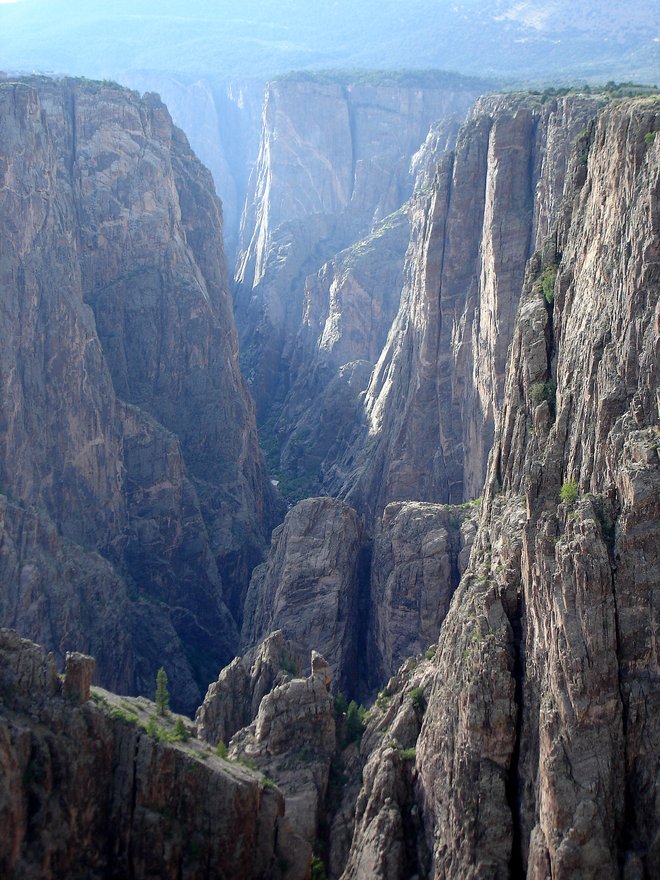 Over two million years, the Gunnison River carved its way through the earth. What's left is the 2,722-foot-deep Black Canyon, a rock climber, kayaker, and all-around adventure-seeker's paradise. Those looking for something a little more tame can take a hike (the steep cliffs make for the ultimate backdrop) or go fishing for trout in the river.
Related Stories:
All products are independently selected by our writers and editors. If you buy something through our links, Oyster may earn an affiliate commission.