From most of the eastern U.S., the Bahamas are an easy getaway. There are 700 islands in the Bahamas, and 30 of them are inhabited. One thing they all have in common is beautiful beaches with soft pink or white sand and turquoise waters. But outside of this common bond, they are unique, each with its own energy and scene.  If you can only visit one, you want to find the island that most suits your style and soul. Here are a few thoughts to help you decide where to go.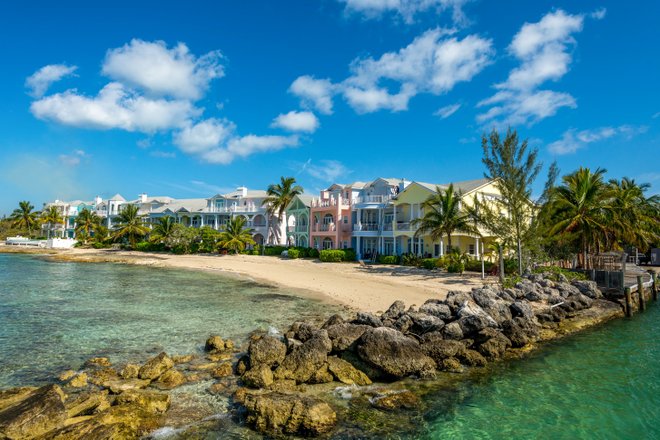 If what you really want is a walk on the wild side, with the beach as refuge when you're tired of all the action and need to recover, head to New Providence Island (home to Nassau and Paradise Island). It's the most populous of the Bahamian islands, and the most visited by tourists. As such, mega resorts have cropped up across the island. The new Baha Mar resort is where you can indulge all those naughty urges, from shopping at the finest boutiques and shops, to gambling like a high roller at the largest casino in the Caribbean. On Paradise Island, there's plenty of hoopla at Atlantis, the iconic mega resort with a 141-acre waterscape, 11 pools, four miles of beach, an 18-hole oceanfront golf course, shops, restaurants, a comedy club, casino and much, much more. These are but two of the lively properties spread between Nassau and Paradise Island — we bet you'll be able to find the right one to suit you (check out our photos and reviews for Nassau and Paradise Island if you need help!).
A Beachfront Hotel Pick: The Cove at Atlantis
This hotel offers chic open-air surroundings, oceanfront suites, and an air of exclusivity attracts families and couples who prefer to be slightly removed from the thickest crowds. Modern, sophisticated suites (many with views) have modern technology, balconies, and extra large bathrooms. The property shares a separate beach and large family pool with neighboring Reef Tower, but only Cove guests have access to the party pool called Cain at the Cove — for adults only — with private cabanas, outdoor gambling, and a live DJ.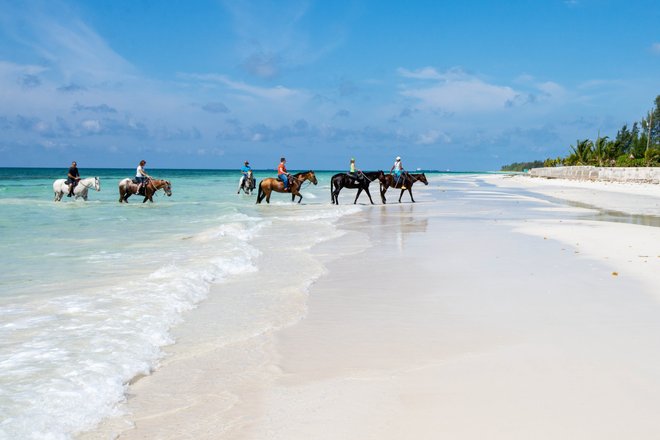 Grand Bahama, a mere 53 miles off the coast of Palm Beach, Florida, is a delightful mashup of historic towns, one of the world's largest underwater caves systems, three national parks, and more. For a natural adventure, you can take the Lucayan National Park Kayak and Cave Tour, then eat lunch overlooking Gold Rock beach — and go in a dip, if you choose. There's also a guided nature walk where you'll see an array of Bahamian birds. You can finish the trip exploring the caves. For the more commercial side of Grand Bahama, you can check out the Port Lucaya Marketplace, a nine-and-a-half-acre waterside facility loaded with shops, dining, bars, straw vendors, and more. For a fun spectacle, you can catch a Junkanoo parade here.
A Kid-Friendly Hotel Pick: Island Seas Resort
This 189-unit condo complex is located on a quiet stretch of beach called Silver Point, on the southern coast of Grand Bahama Island. Despite its aging exterior, most of the spacious one- and two-bedroom units have been spruced up with new appliances, mattresses, and fresh decor. The relaxed vibe gives those who want a simple vacation (think turquoise waves, an outdoor pool, and fully equipped kitchens) a chance for real peace and quiet, save for the occasional vendor.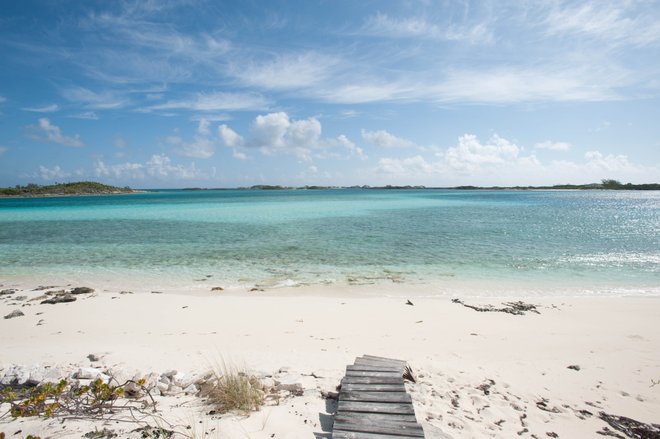 There's a good chance you've heard of the Exumas — or at least seen videos filmed there. After all, swimming with the pigs at Pig Beach just keeps getting more popular, especially on social media. It's one of the biggest draws to the island group, so you'll find a good number of tourists at Pig Beach. (That being said, many of these pigs have died, likely due to their interactions with tourists.) For some solitude, there's Fowl Cay, a 50-acre private island (home to Fowl Cay Resort) in the quiet center of the Exumas. It's ideal for boating, fishing, diving, snorkeling, or simply soaking up the rays on several beaches. Talk about exclusive — there are just six villas on the island as part of the resort. If you're looking for serenity and seclusion, this is the place. Not only are meals and beverages included with accommodations, but so is your own personal motor boat (with unlimited gas) to get you to secluded beaches.
An All-Inclusive Hotel Pick: Fowl Cay Resort
Crowded beaches are unheard of on this private island resort where a maximum of 28 guests at a time have free range of 50 acres and three beaches. Personal boats for daily excursions, on-call service, spacious villas with fully stocked kitchens and wet bars, and a host of all-inclusive activities make Fowl Cay a standout gem in the Exumas.
The Abacos Islands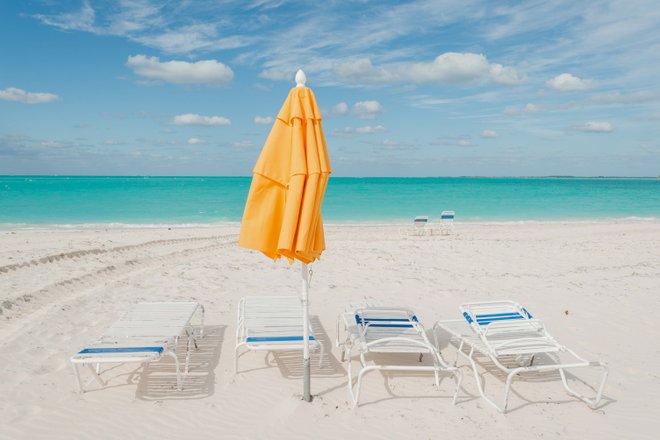 Here's a question for you. What's most beloved in the Abacos, fishing, boating, sailing or playing golf? Well, it's all of the above. The Abacos are a group of islands and cays that form a 120-mile-long chain. Golfers should know that the number one golf course in the Bahamas is at the Abaco Club on Winding Bay. The course was designed by golf course architects Donald Steel and Tom Mackenzie and the seaside setting is tough to beat. Fishing fans flock to Marsh Harbour, Treasure Cay, Walker's Cay and Great Abaco for bonefish. Not far from the cays, you'll find great deep-sea fishing.
A Romantic Hotel Pick: Abaco Beach Resort and Boat Harbour Marina
Overlooking the ocean, Abaco Beach Resort and Boat Harbour Marina has the largest marina in the Bahamas, with 198 slips. The 89-rooms are spacious and mostly modern, ranging in size from contemporary Standard Rooms to sharp condos or homey stand-alone cottages. The secluded upper-middle-range hotel has several pools including the main pool with a lively poolside bar plus a lovely little beach.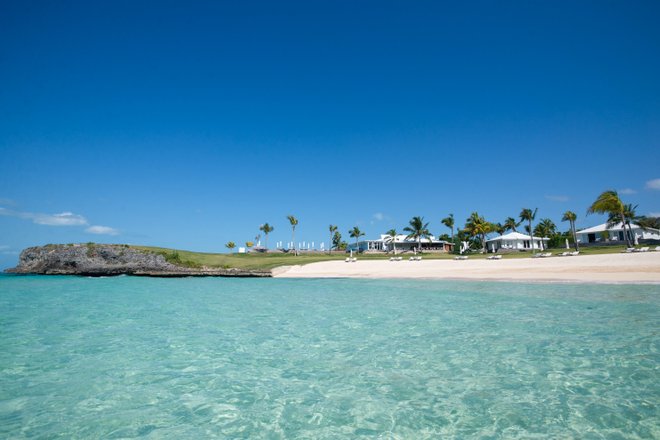 If you want to avoid the crowds, Eleuthera is ideal — there are less than 15,000 residents on the island. Eleuthera means "freedom" in Greek, and the name fits. The towns are charming, like bustling, historic capital city, Governor's Harbour, with its colorful New England-style architecture. It is the birthplace of the Bahamas. You can dine at 1648 Bar & Grill for local fare like grouper, jerk chicken wraps, and conch, or grab pizza and tacos at the French Leave Resort. You'll likely want to visit Governor's Harbour on Friday, when the low-key fish fry at Anchor Bay becomes the hot spot for locals and visitors to feast on the catch of the day, down drinks like Sky Juice (fresh coconut water, gin, and condensed milk topped with nutmeg or cinnamon), and enjoy much music and dancing. If you're heading off the beach for an adventure, there are hiking trails and waterfalls in the Leon Levy Native Plant Reserve. Or a tour group like Fishbone Tours can set you up for snorkeling, fishing (from deep sea to reef fishing) on half or full day outings.
A Luxury Hotel Pick: The Cove Eleuthera
Far, far removed from the crowds of Nassau is this 40-acre boutique resort on Eleuthera Island. This property, which opened in 2013, is a hot spot for celebs seeking privacy, and features a jaw-dropping infinity pool and cliffside bar sitting between two man-made, pink-sand beaches. Chic, airy rooms have white decor, and enormous villas with private plunge pools and state-of-the-art kitchens are on offer.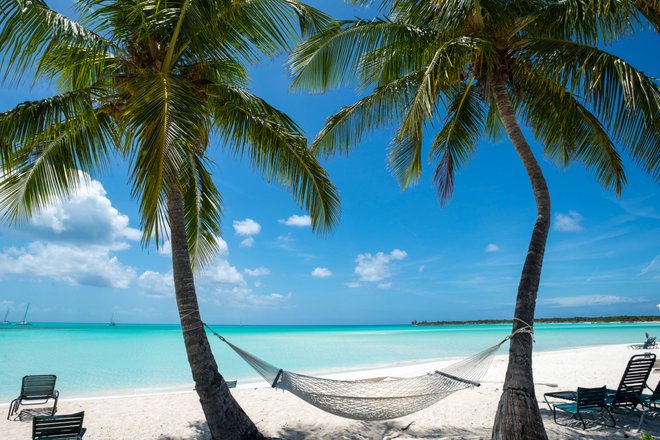 Not far from the Exumas is Long Island, a great spot for fishing, diving (including shark dives), snorkeling, and eco tours. You can head to a different beach every day and find virtually nobody on each one. The fearless can tour a huge Lucayan Indian cave or dive into Dean's Blue Hole, the world's deepest blue hole. History buffs might enjoy Dunmore Town, which is home to centuries old churches and the Dunmore Plantation, filled with ruins and relics of the old estate. There are small restaurants up and down the island that will satisfy your craving for great island fare — Max's Conch Bar, Tiny's Hurricane Hole, and Chex Pierre, to name a few.
An All-Inclusive Hotel Pick: Stella Maris Resort Club
On beautiful and remote Long Island, the mid-range Stella Maris Resort Club is a large and natural property with competitive rates and a range of accommodations. With hotel rooms, cottages, and villas with up to four bedrooms, the resort has lodging to fit most parties and budgets. Stella Maris has three pools, a rugged, scenic (but not swimmable) beach, and an on-site restaurant and separate beach bar.
San Salvador Island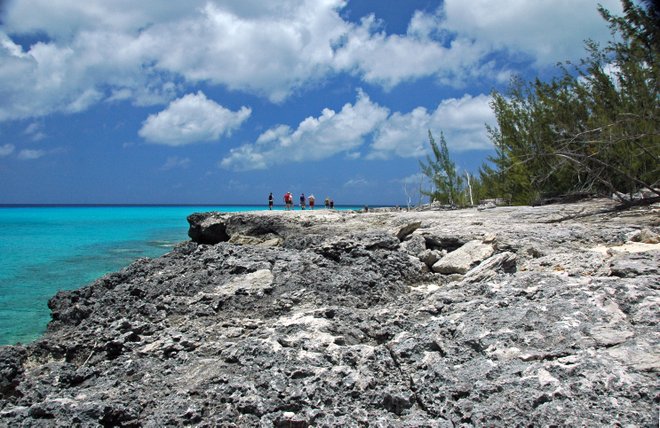 Lore has it that San Salvador Island was Christopher Columbus' first stop while on his famed voyage of 1492. There are five monuments on the island that pay homage to his arrival. As Bahamian islands go, San Salvador is a hidden gem and not often on the top of the list for tourists — but it is highly sought after by serious divers. There are more than 50 dive sites with ruins, shipwrecks, and no shortage of stingrays and sharks. Popular spots include Devil's Claw, French Bay, and Vicky's Reef. Mother Nature's blessings also include the Great Lake Preserve, a protected, lake-filled area 10 miles long and two miles wide — essentially the entire interior of San Salvador. There are less than 1,000 residents on the island, with approximately 300 living in the largest community, Cockburn Town. There are a handful of hotels on the island, with one of the largest being Club Med Columbus Isle.
As beautiful as the Bahamian sun can be, sometimes she can become super brutal. Protect your head with this stylish, easy to pack fold-down sun hat and make sure that scalp stays safe.
You'll Also Like: