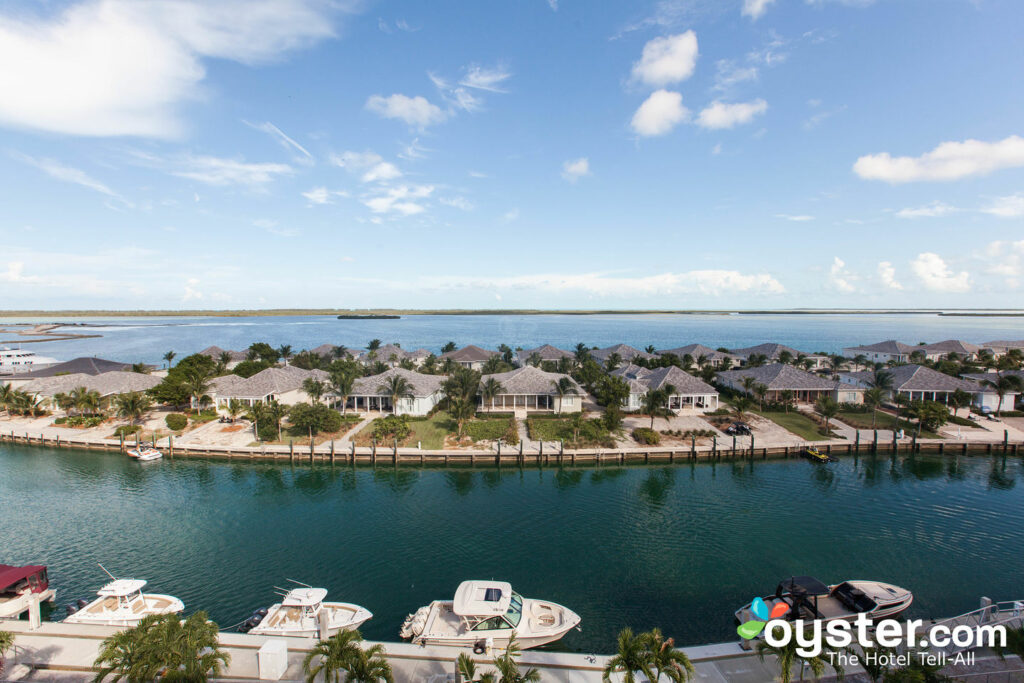 If you thought you had to travel halfway across the world to reach paradise, think again. Bimini, a small triplet of islands in the Bahamas, is just 30 minutes from Miami. Colonizers from the U.K. started visiting the islands over 200 years ago, though it has largely managed to keep itself a secret. Full of stunning beaches, rich marine life, delicious local food, and ties to history and legends, Bimini might just become the next "it" destination. Though small, the islands have had a big impact on history, from being a source of inspiration for Dr. Martin Luther King, Jr., who wrote three speeches on the island, to holding the Fountain of Youth and a possible underwater road to the lost city of Atlantis. Although you'll see several tourists around town, the area never feels too touristy. However, developments are in the works. Soon there will be a new cruise pier and real estate projects spreading out over the island, so it's worth putting this small Bahamian paradise on your radar before it's slow, quiet vibe becomes as touristy as Nassau. Here's everything you need to know about visiting Bimini -- before the crowds take over.
Best Time to Visit Bimini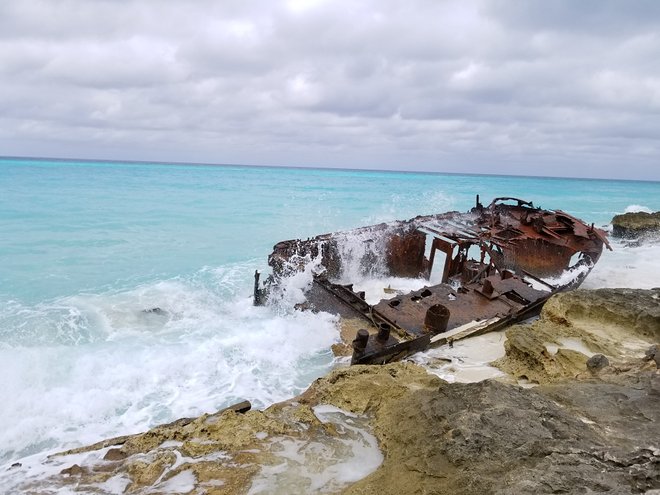 Like the rest of the Bahamas, is blessed with year-round warm temperatures. Expect a tropical climate with hot summers and mild winters that rarely find temperatures falling below 60 degrees. The islands see tourists throughout the year, with a high season that predictably peaks between mid-November and late April. Coincidentally, this is also shark season, and several dive enthusiasts come to swim with wild hammerheads that take advantage of the cooler waters. Summer visitors will have to deal with occasional showers, high levels of humidity, and the possibility of hurricanes (though rare) since the islands are situated along the Atlantic hurricane belt. This lower season has its benefits, though, as there are fewer tourists and good hotel and flight deals.
How to Get to Bimini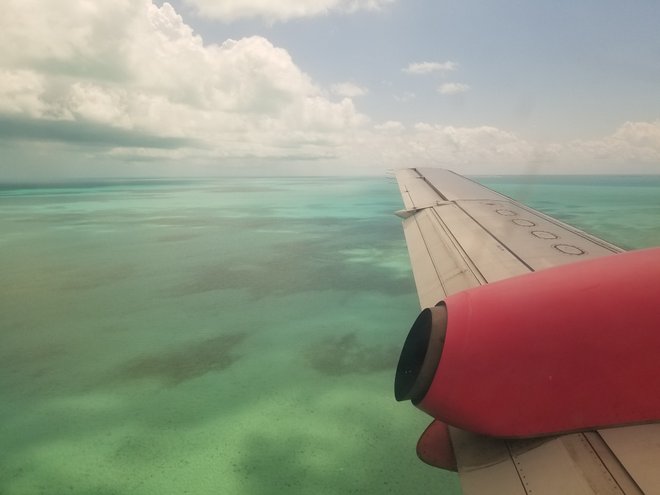 In addition to stunning turquoise waters and sandy beaches, a big draw of Bimini is how close it is to the U.S. — just 50 miles from Miami. In fact, Bimini is about 10 miles closer to Miami than the start of the Florida Keys. These islands are a hot spot for South Florida locals, who simply drive their own boats over for the weekend. Other ways to reach this paradise include a 30-minute seaplane flight from downtown Miami, a 45-minute commercial flight from Fort Lauderdale-Hollywood International Airport on Silver Airways, or a two-hour ferry ride from Miami. For those opting for one of the commercial flights from Fort Lauderdale, know that you're going to land on South Bimini. Since most of the action happens on North Bimini, you'll want to catch the shuttle right outside the tiny airport's front door. It'll take you straight to the Resorts World ferry port, where you can take a scenic ride right to the resort in North Bimini (you don't need to stay at the resort to hop on this ferry).
Best Beaches in Bimini
No matter where you are on the island, Bimini's beaches are drop dead gorgeous. We're talking crystal-clear, electric-turquoise water and soft, white-sand beaches that put Instagram filters to shame. However, the most popular beaches stretch along North Bimini's western side. If you're looking for a beach club vibe, head to Bimini Beach, where you'll find the Resorts World beach club blending frozen drinks and serving up a casual menu of wings, salads, and conch fritters for lunch. Cushioned cabanas line the deck and sun loungers and umbrellas are out on the sand, all facing the ocean and set up for beautiful sunset views. If a deserted island getaway is more your speed, head over to Radio Beach. There may not be any services here (just bring a towel and a picnic and you're good to go), but there's a good chance you might have this wildly stunning stretch to yourself. Other popular beaches include Blister Bay off King's Highway, the cemetery-adjacent Spook Hill Beach, and Honeymoon Harbour Beach on Gun Cay (only accessible by boat or jet ski).
How to Get Around in Bimini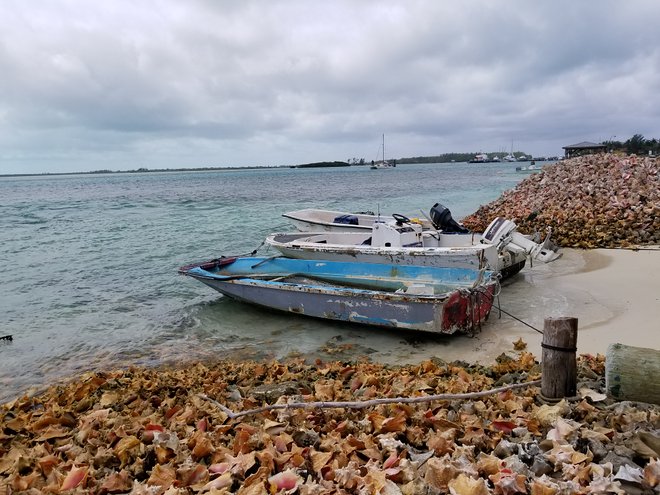 Bimini is a small island and there are only a few main roads, opening up the surrounding waterways as transportation routes. On land, locals tend to drive cars while tourists mainly get around by renting golf carts or bikes or taking shuttles. Ferries leave several times a day and shuttle visitors between the North and South islands, but you'll also find folks scooting around on jet skis, yachts, and small private boats. Golf cart rental costs vary by season, but usually hover around $60 to $80 a day. If you're on foot, remember to look right and then left before crossing the street.
Things to Do in Bimini
If you're looking to stay on land, we suggest jumping in a golf cart or on a bike and exploring the attractions off King's Highway. Treat yourself to a lobster and conch pizza at Edith's Pizza, stop at the local roadside shacks for conch salad and conch fritters, or be adventurous and suck down an island delicacy that's rumored to double as an aphrodisiac. For a dose of the island's history, visit Ansil Saunders, a local boat builder, bonefish angler champion, and former guide to Dr. Martin Luther King, Jr. There's also the Dolphin Museum, a three-story structure built over the last 25-plus years with recycled, found, and repurposed materials. Or, grab excellent photos of the Gallant Lady, a shore-wrecked ship, hunt down the legendary Fountain of Youth, peep the house where Hemingway wrote "The Old Man and the Sea," and grab a cold beer with friendly locals at The Island Bar.
Visitors are also spoiled for choice when it comes to water sports. The calm waters make it a great place for jet skiing, boating, fishing, paddleboarding, and kiteboarding, while the surrounding mangroves offer a serene respite accessible by boat or kayak. If you're looking to get into the water, the visibility is fantastic and the marine life plentiful. In addition to swimming with wild hammerheads, other popular wildlife activities include feeding and swimming with stingrays and spotting pods of wild dolphins. Shallow reefs and a partially submerged shipwreck (the S.S. Sapona) are perfect for snorkeling, while divers don't need to go too far down to spot sharks and other underwater creatures.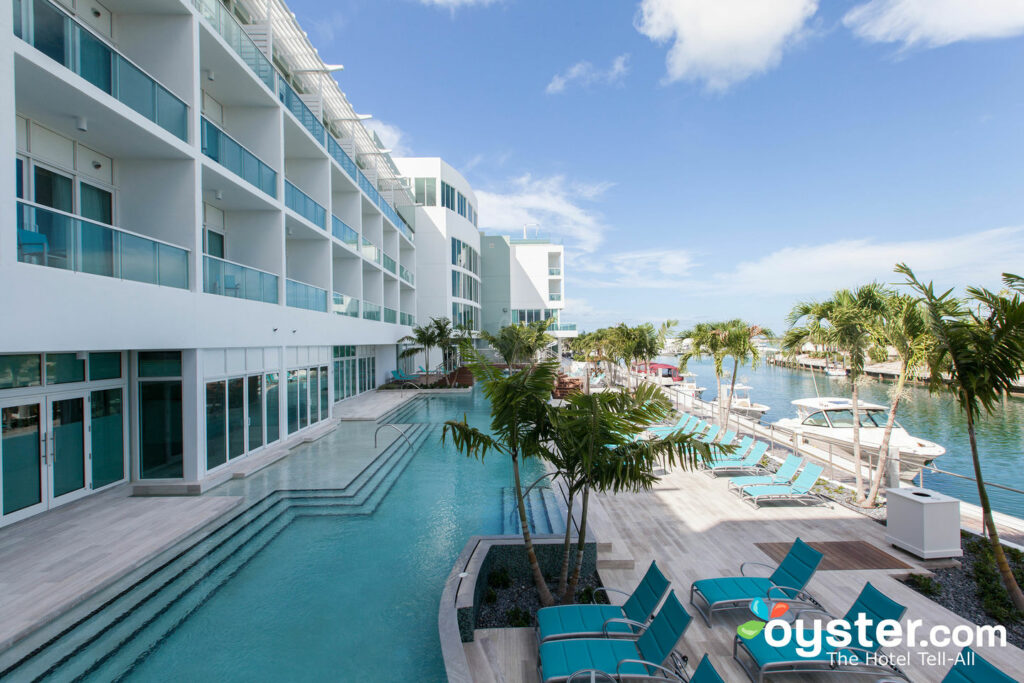 If you're the type of traveler who agonizes over where to stay, you're in luck: There's only one big resort on the island. Better yet, the resort is such an integral part of the island that staying here is like having a key to North Bimini. Hilton at Resorts World Bimini is an upscale waterfront resort with 305 rooms, a 24-hour gym, beautiful spa, three restaurants, and a live-action casino. All rooms feature walk-in showers, mini-fridges, and comfortable beds, and the apartment-style condos add kitchens, swim-out pool or personal garden access, and large living rooms. Big flat-screen TVs, air-conditioning, and balconies overlooking the waterfront are big pluses, too. A narrow pool meanders along the back of the hotel and serves drinks from a swim-up bar, while the rooftop pool boasts an infinity pool overlooking the marina, dry bar seating, and a bar with food and drink options.
Guests also have access to a free shuttle that travels to and from the beach club, where you'll find another bar and restaurant, loungers, cabanas, and picture-perfect views. It can be a little hard to pin down which restaurants are open on what nights, but we highly suggest booking into The Sushi Bar for a good selection of sushi and Asian dishes curated by season three Top Chef winner Hung Huynh. Plus, getting here is easy since the resort operates the ferry between South Bimini and North Bimini, which arrives and departs right off the back patio.
Don't let the sun ruin your Bimini vacay, bring along your favorite sunscreen before you head over and make sure to lather up!
You'll Also Like:
All products are independently selected by our writers and editors. If you buy something through our links, Oyster may earn an affiliate commission.